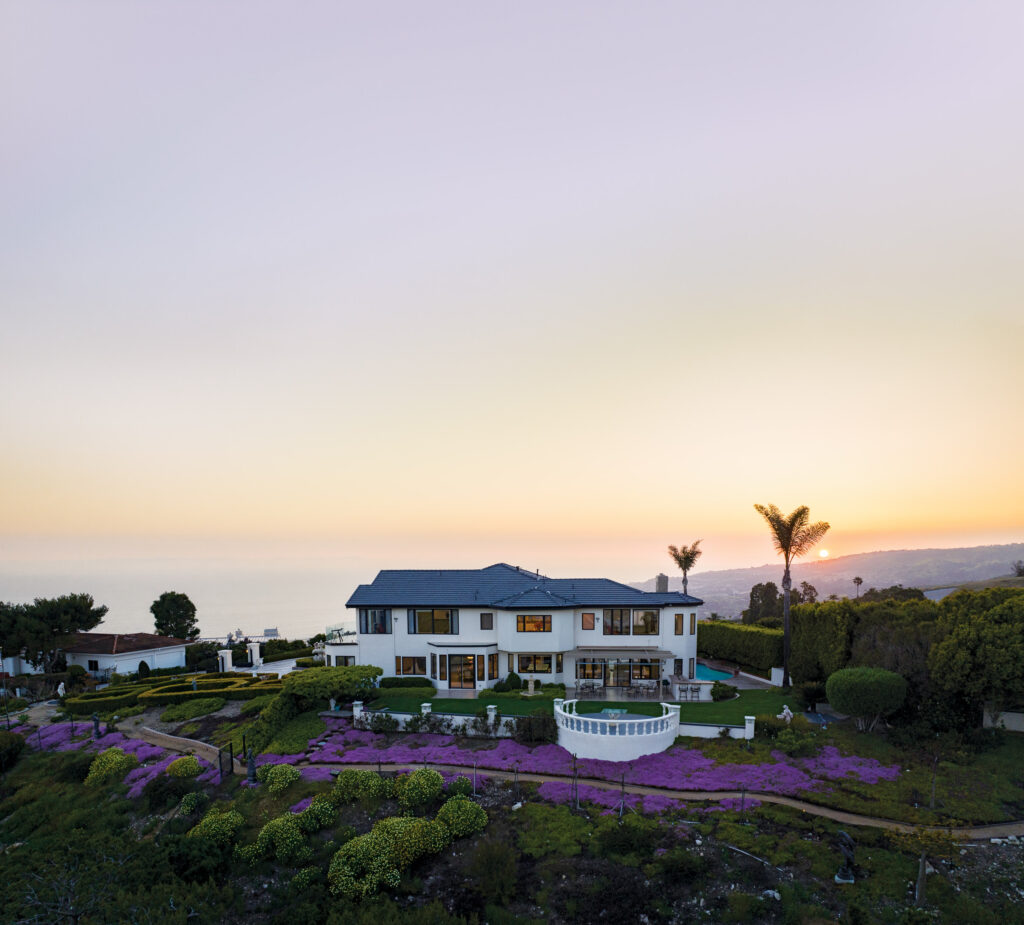 With Views Spanning From Harbor and Ocean, to Golf Course and Catalina Island—this One-acre Palos Verdes Retreat is a Study in Enchanted Palos Verdes Peninsula Living
Views of ocean and coastline in Palos Verdes real estate are not so uncommon—after all, it's a place where topography and climate lend themselves to luxury properties with a rich stock of both. At the end of Vista Del Mar in Rancho Palos Verdes—a quiet cul-de-sac perched along the winding oceanview heights of Palos Verdes Drive East—there's a 5-bedroom, 6.5-bath home that manages to out-do even the most view-optimized residences on the Peninsula.
"It is located on one of the highest points on the Hill, extending out from a knoll," describes real estate agent Neil Chhabria of Chhabria Real Estate Company. "This allows you to look out over the surrounding areas, with 270 degrees of view. It's exceptional even for Palos Verdes."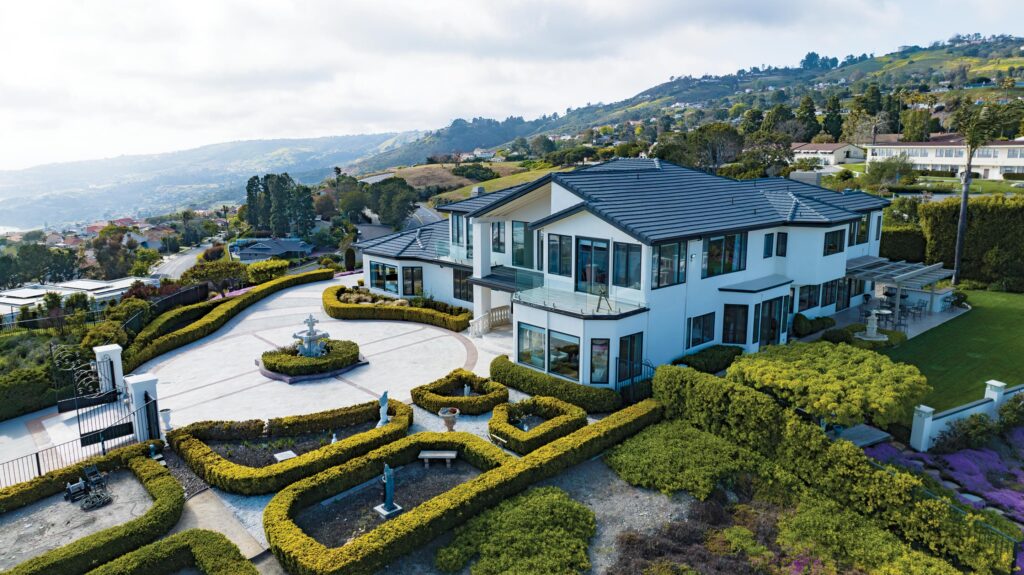 The inviting contours of Catalina Island. The rich blue depths of the Pacific Ocean. Watercolor skies of white clouds and pale aqua. Manicured acres of golf greens, and a busy harbor where a glowing constellation of lights sparkle after dark. These are the views captured—panoramic and unblocked—throughout the approximately 7,088-square-foot home, which has been designed to open up its unique vantage point, its cream-hued silhouette angled in such a way that east and west-facing views are captured from nearly every room.
The residence, tucked behind a double-gated entrance sequence, features a wide driveway that culminates in a circular motor court, clad in oversized stone pavers and with a carved water fountain at its center.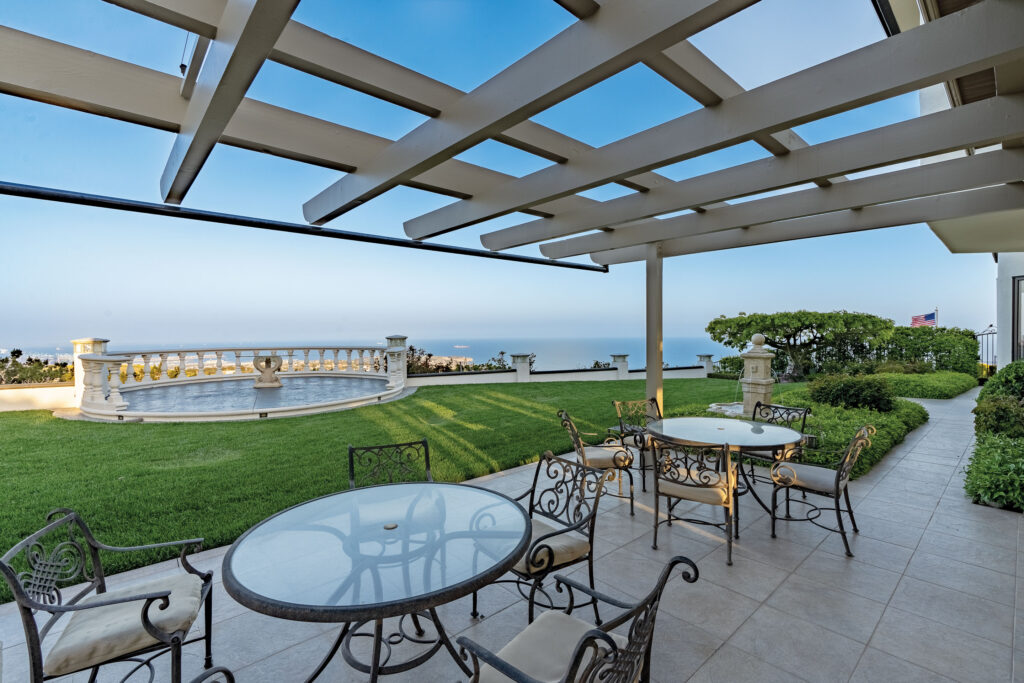 "The house accommodates 12-plus guests with ample parking space, and features a safe, double-gate system for both primary and secondary entrances," points out homeowner Brian Kim.
Leagues of cars could park here for a big party—it's also here that you feel yourself settling in, surrounded by the striking natural beauty and broad spaciousness of the tucked-away, one-acre property. Tidy box hedges and sculptures add to the serenity of the place, as do the graceful walking paths and meditation gardens that mix old-growth California trees and color-burst flowers with native landscaping.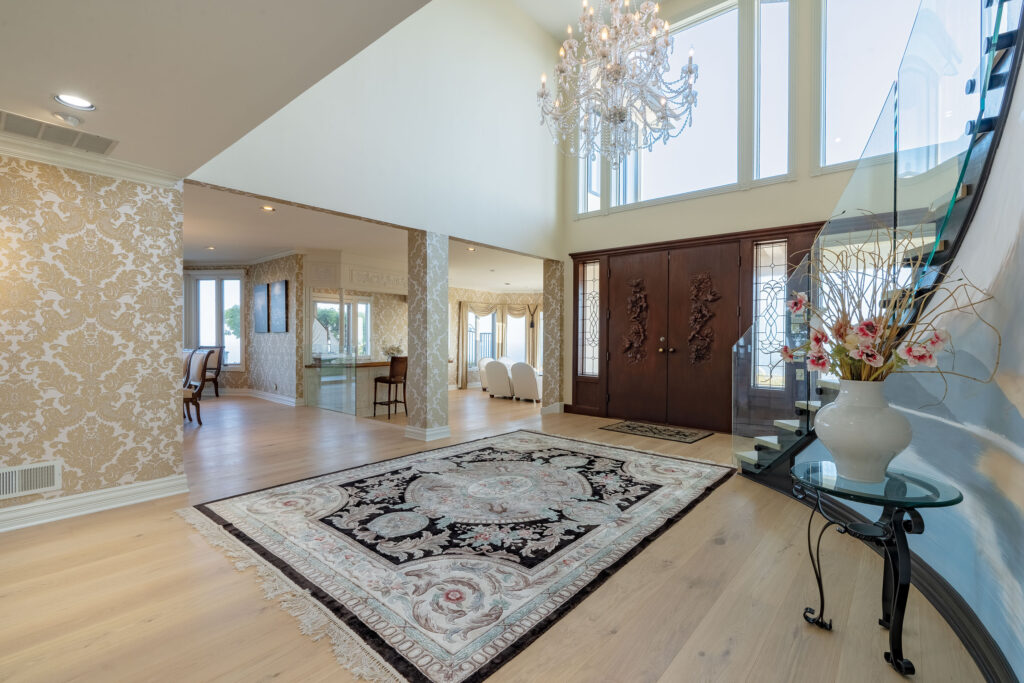 "Located in a natural preserve area, the house boasts a very natural atmosphere," says Brian Kim. 
It's a feeling that steepens as you step indoors. A double-height foyer with a graceful curved staircase, glowing with natural coastal light, introduces you to the interior—where the scale is appropriately roomy, and spaces feature an open, elegant atmosphere boosted by endless windows and soft-hued wood floors. The grand size of the home is put to use in a number of gathering spaces, each offering a different take on the landscape. 
Near the entrance, an oceanview lounge is a welcoming space for guests, who can congregate at the hand-carved bar before heading to the private dining room where formal dinner parties take place over glittering harbor views. Yet another room—this one akin to a ballroom, complete with an ornate bar and a dramatic tray ceiling inlaid with a chandelier and decorative gold—invites unforgettable gatherings, particularly as a wall of windows shuttle in the bold scenes of sunset while flames flicker in the fireplace.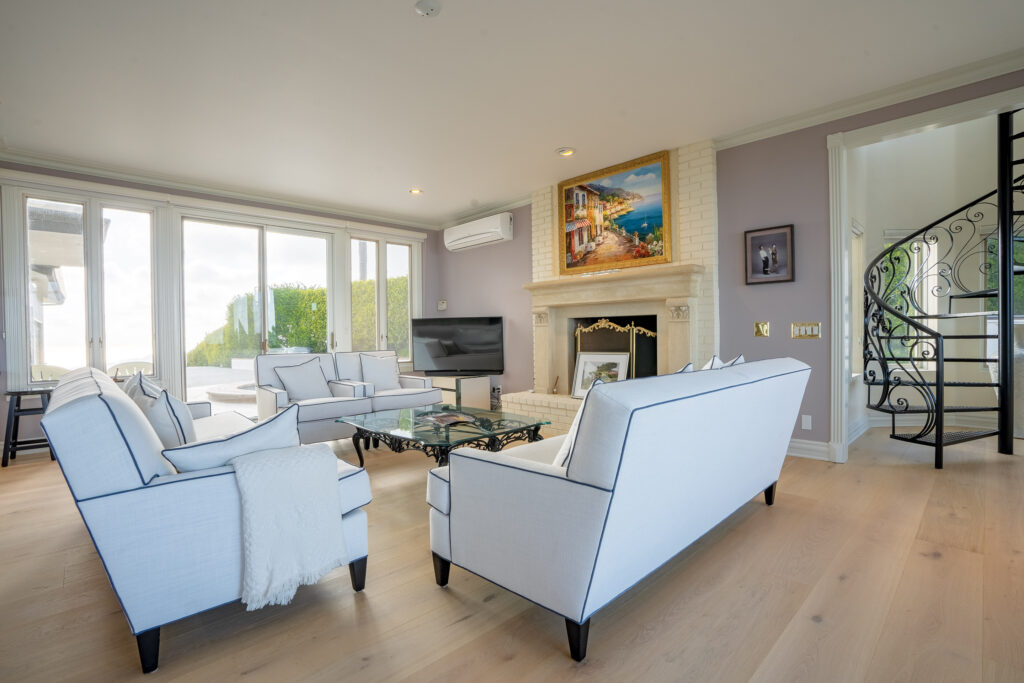 The kitchen is scaled to switch, from everyday family usage—where you cook, dine and gather over lush garden and ocean views—to a place where large-scale events are accommodated with sprawling dual islands and an arsenal of gleaming Viking appliances.
Adjacent to the kitchen, you imagine the great room as the main gathering space, where you can relax surrounded by bold coastal beauty: To the east is an airy patio, perfect for hosting parties with its trellis-shaded outdoor lounge and majestic sea views, plus an expansive green lawn that's ideal for games and gatherings. To the west is a fresh-air paved deck where you can swim in the pool and soak in the warm spa while overlooking the ocean.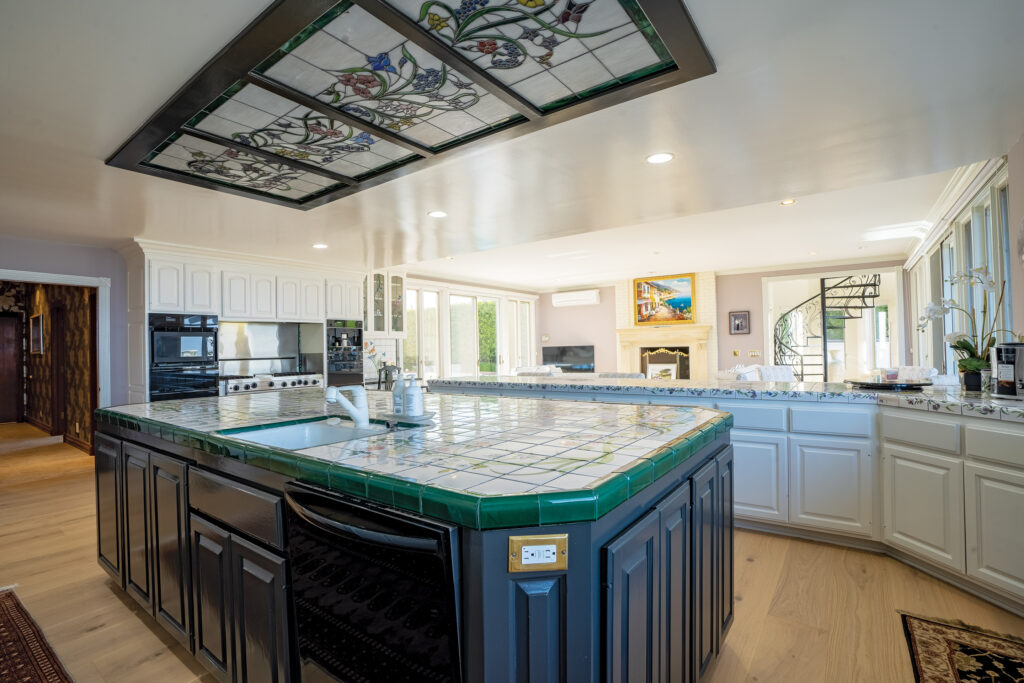 Nearby, you can tuck away upstairs via a spiral staircase, which brings you to the sizable oceanview office. This is a calm, sunlit space with built-in custom cabinetry and an elegant fireplace where work breaks are punctuated by gazing out at the changing landscape, ranging from green hillsides to white-capped ocean scenes and the rugged coastline.
Also upstairs is an oceanview primary suite, which is notable for its size and grand views. A white soaking tub takes center place in a marble bathroom that rivals the size of an apartment.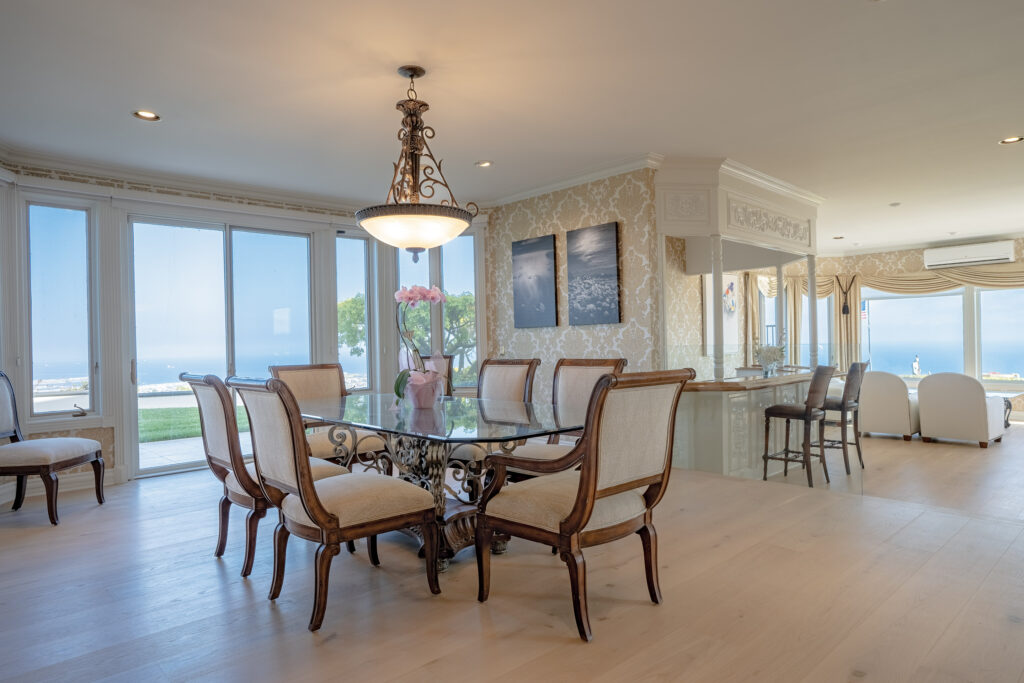 In the bedroom, vaulted ceilings and exposed beams heighten the breezy elegance of the place, where you awake to a refreshing panorama of ocean and green landscape before stepping onto the generous balcony with regal stone columns—the perfect place to soak up morning light and views, complete with waving palm trees. 
"A great thing about this property is that it's very private," notes Neil Chhabria, "and there are sunrise and sunset views, which is very rare."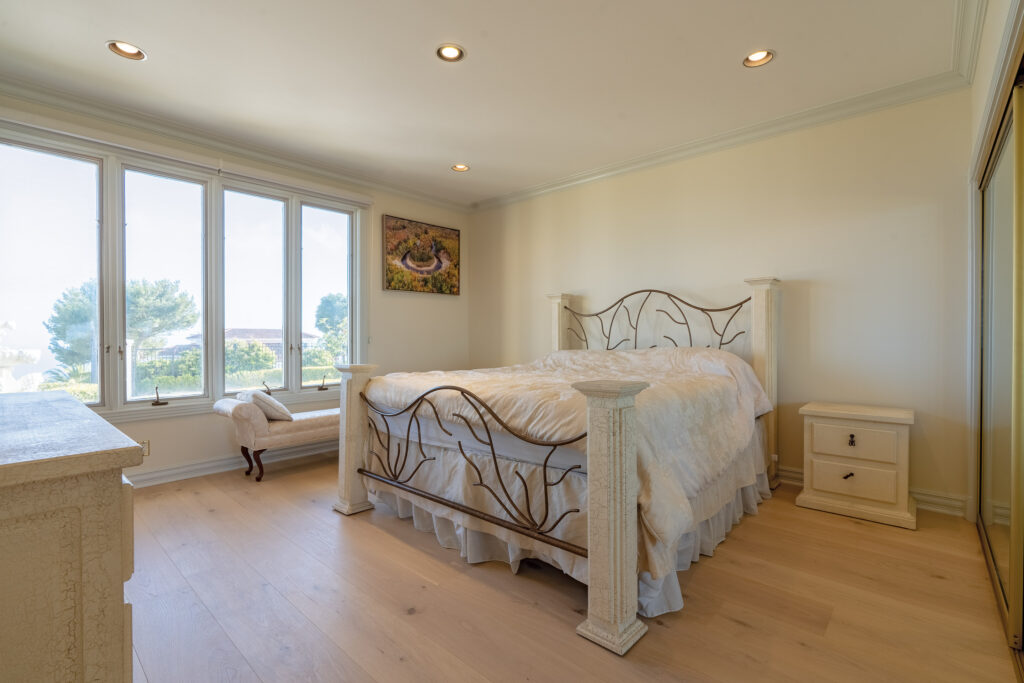 You seem to be blissfully alone here, surrounded by nature and nicely removed from the rest of the world. Yet daily conveniences are never far. A delightful 10-minute (or less) drive brings you to grocery stores and local eateries, or to award-winning Terranea Resort for fine dining and spa treatments.
But back at 2903 Vista Del Mar—with its top-of-the-world views and atmosphere of free-flowing ease—life is inordinately nice.
Neil Chhabria | 310.902.7227 | DRE# 01821437
Chhabria Real Estate Company
List Price: $7,200,000
Photography by Bayno Shoots
(Bayan Kabbani and Daniel Balver)