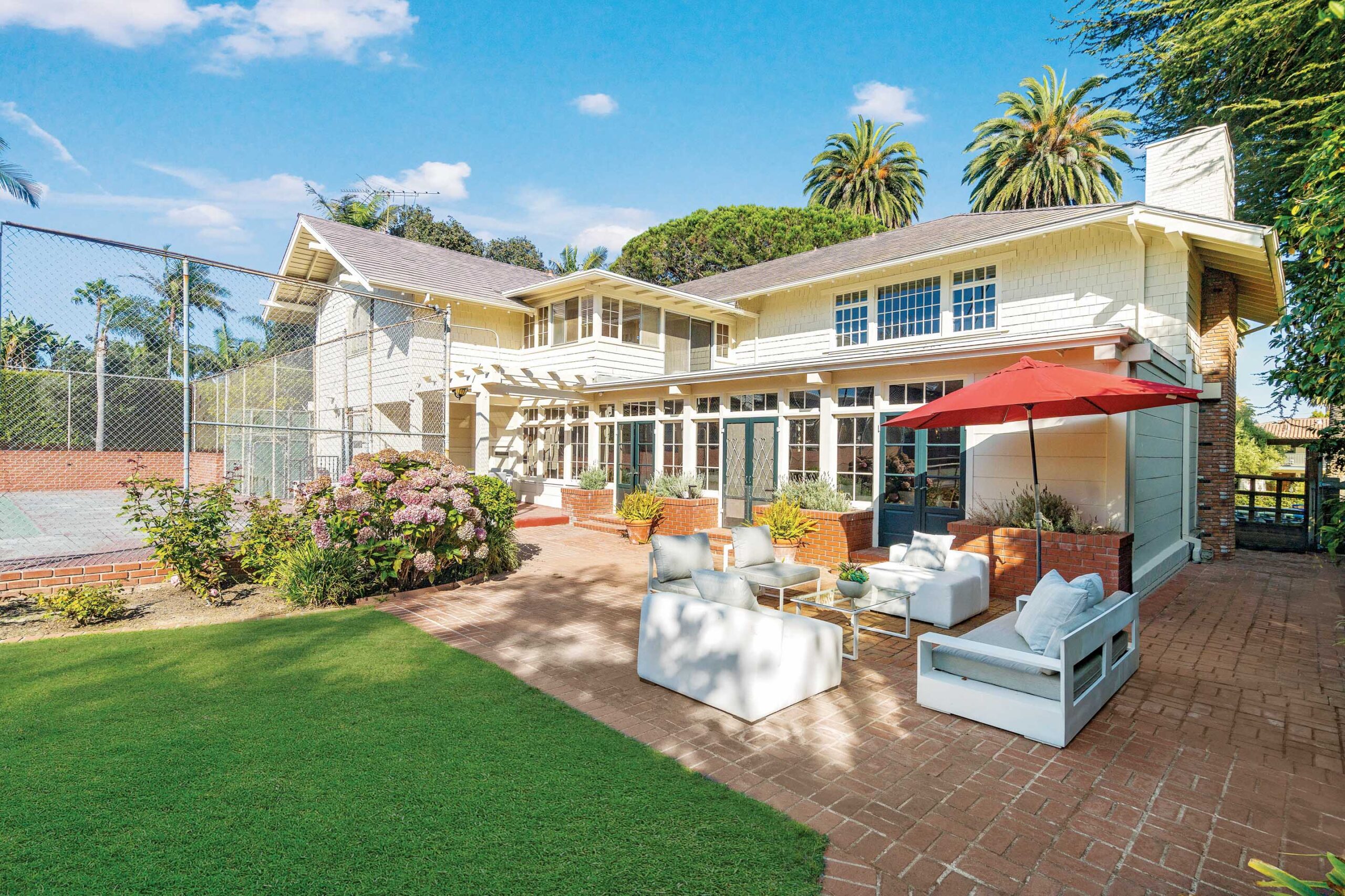 An Early 20th-century Residence by Frederick Roehrig, 325 Georgina Set on a Sprawling Lot North of Montana, Within Sight of the Pacific Ocean, Showcases the Enduring Appeal of the American Craftsman Home
The year was 1910. William Taft was president and the most popular song in the nation was Let Me Call You Sweetheart by Peerless Quartet. In Santa Monica construction had begun on a luxurious new Craftsman home on a spacious plot of land at Georgina Avenue and 4th Street.
Frederick Roehrig was a prominent architect working mainly in Pasadena—the epicenter of the Arts & Crafts Movement, and Craftsman architecture in particular—who designed many notable works in the area, including the city's landmark Hotel Green and several mansions along "Millionaire's Row," including Fleming's primary residence. (Neff Mansion in La Mirada, California, and the Los Angeles mansion of Frederick Hastings Rindge, both listed on the National Register of Historic Places, are also among Frederick Roehrig's works.)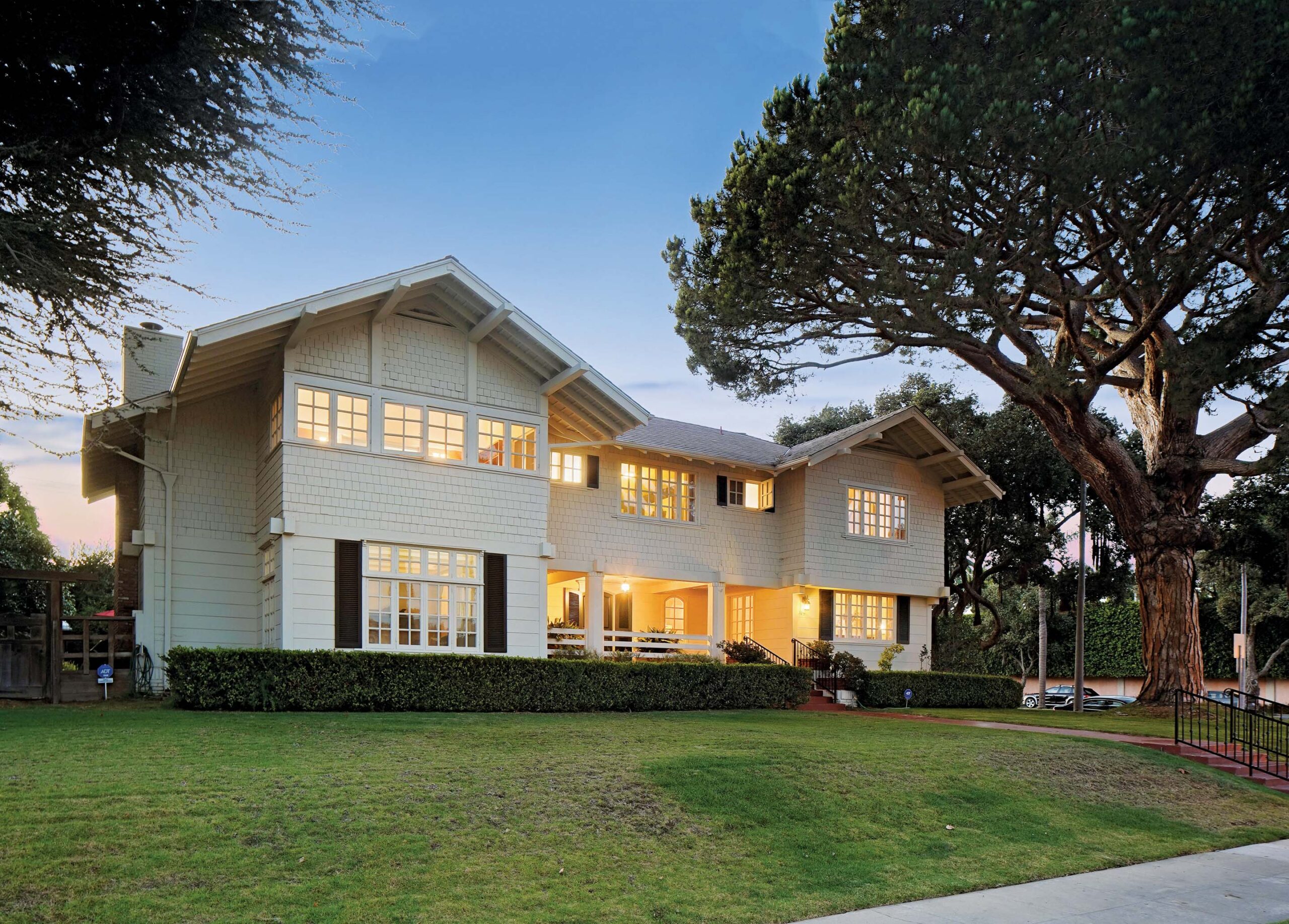 When complete, Fleming's two-story beach house stood as an example of Craftsman architecture done in a patrician vein: a roughly 5,783 square foot residence expertly articulated in wood and stone, and planted amid the airy, coastal beauty of the just-developing Southern California city. 
And its location—north of Montana Avenue and west of 7th Street—was as special in the early 20th century as it was now.
"North of Montana was all bean fields, and west of 7th Street was one of the first areas between Montana and San Vincente where very wealthy Pasadenians began building on the city's largest lots," says real estate Charles Pence of Pence Hathorn Silver (PHS) of Compass, whose specialty is luxury Santa Monica properties.
Arthur Henry Fleming's home, he describes, was one of the first in this enclave to be constructed, and no doubt chosen for a corner address that was particularly spacious.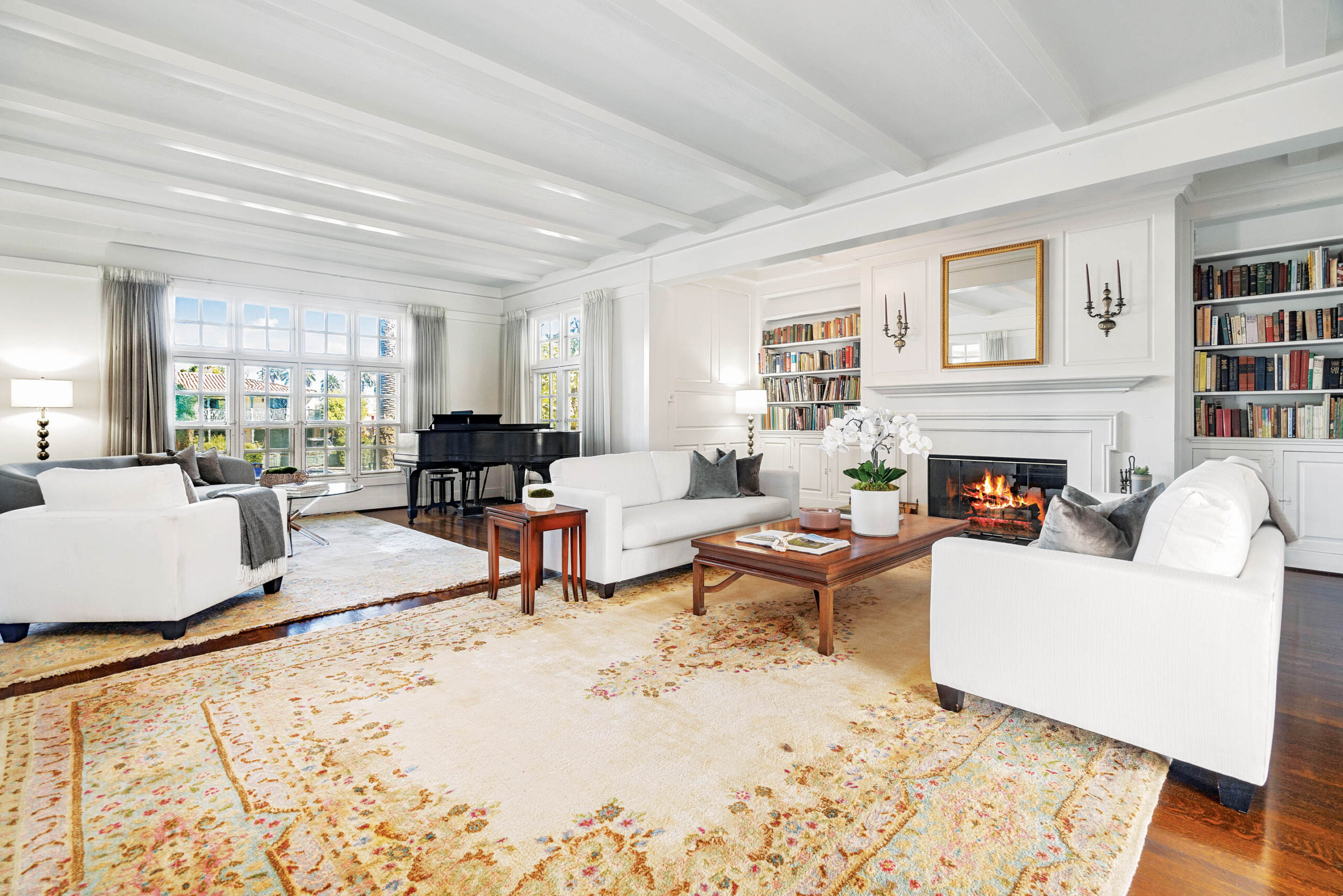 "The standard-size lot north of Montana is between 7,500 and 9,000 square feet," says Charles Pence.
By contrast, he points out, this lot is nearly 21,000 square feet; more than double the average.
"It was designed and built as a luxury home of the day," says Charles Pence of the 5-bedroom, 5-bathroom residence. "It's larger than most of the big homes that were being built back then, and the interior details were clearly created by someone who didn't have a budget."
The main public areas include a formal dining room where wainscoting and exposed ceiling beams provide an elegant contrast to soft light streaming in from multi-pane windows, casting reflections on richly hued, glossy wood floors. Not surprisingly, the home still features extensive, original woodwork—appropriate given Arthur Henry Fleming's lumber trade—which was crafted by its builder H.X. Goetz. A well-known local contractor and craftsman of his time, Goetz also built Santa Monica's first city hall (an ornate Mission Revival structure that was located about a mile away), and the impressive North Beach Bath House along Ocean Avenue.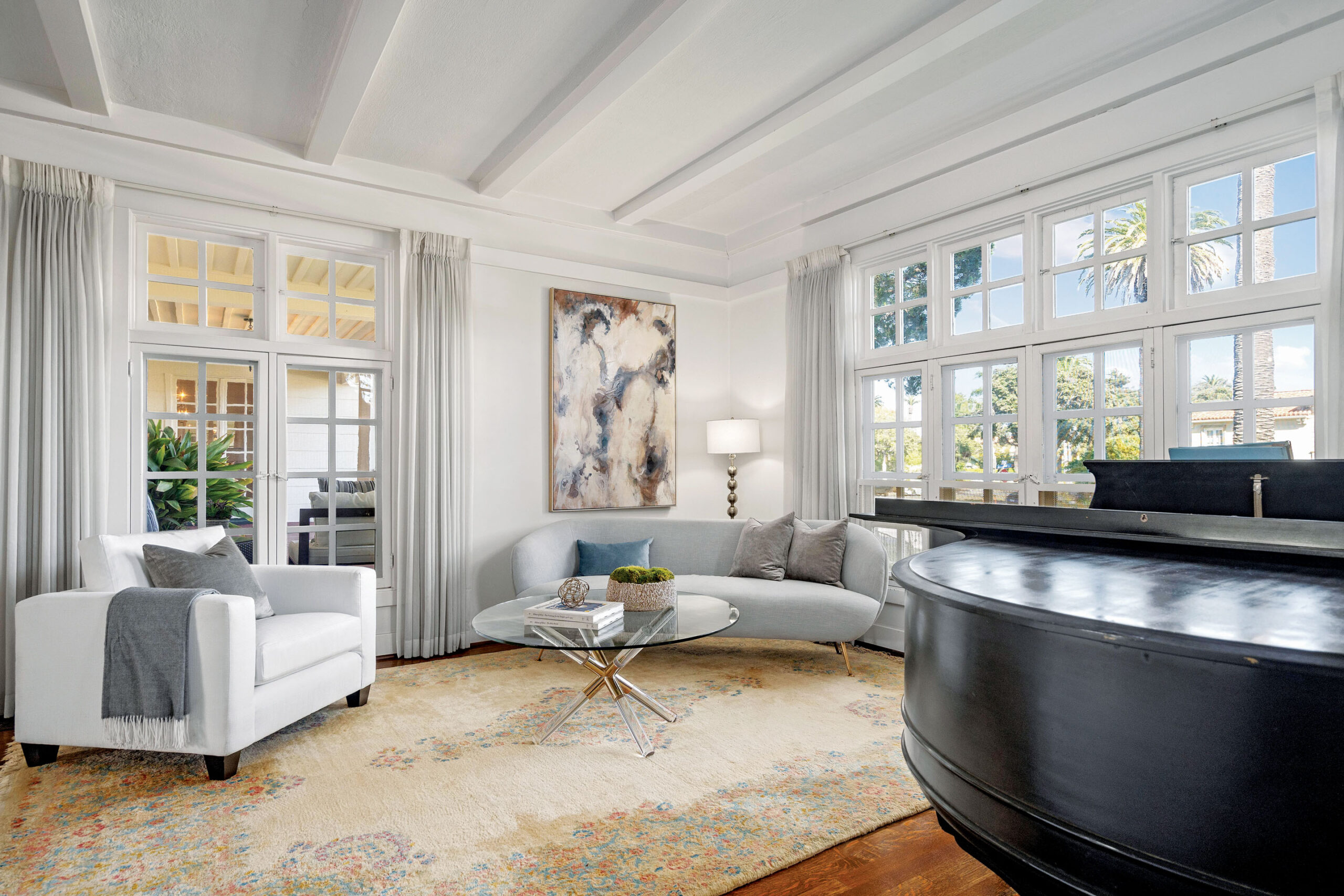 Examples of Craftsman-era precision are found throughout the home: in the graceful series of archways that announce main rooms, appropriately scaled in size and featuring high ceilings; and in spaces like the living room, where built-in bookcases frame a crisp white fireplace. The primary bedroom is where you can wake to morning scenes of blue skies and wafting palm trees in the sitting room, and relax before bed in a tucked-away nook embellished with crisp line moulding and geometric wood panels, where flames flicker in an elegant white fireplace.
"It has luxurious detailing you don't see very often," Charles Pence says of the home. "To build something with that kind of detail today would probably cost $800 to $1000 per square foot."
Consistent with the Craftsman emphasis on practicality, the home's floorplan is as functional now as it was in Arthur Henry Fleming's day. Public and entertaining spaces are found on the first floor, and sleeping spaces are located on the second. There are three bedrooms, all en-suite, located in the main wing of this floor, and the servants' wing—which you can access via the sweeping main staircase or a secondary staircase, originally created for easy access to and from the kitchen, is home to two bedrooms joined with a full bathroom, plus a charming sunroom adjacent to a rooftop porch where you can watch over activities in the backyard. 
Given its roots as a house of leisure, the large lot is geared towards fresh-air activities and entertaining. One can play tennis on the full-sized court, one of the first private tennis courts in Santa Monica, or catch up with friends along the spacious red-brick terrace, nicely shrouded by old-growth landscaping.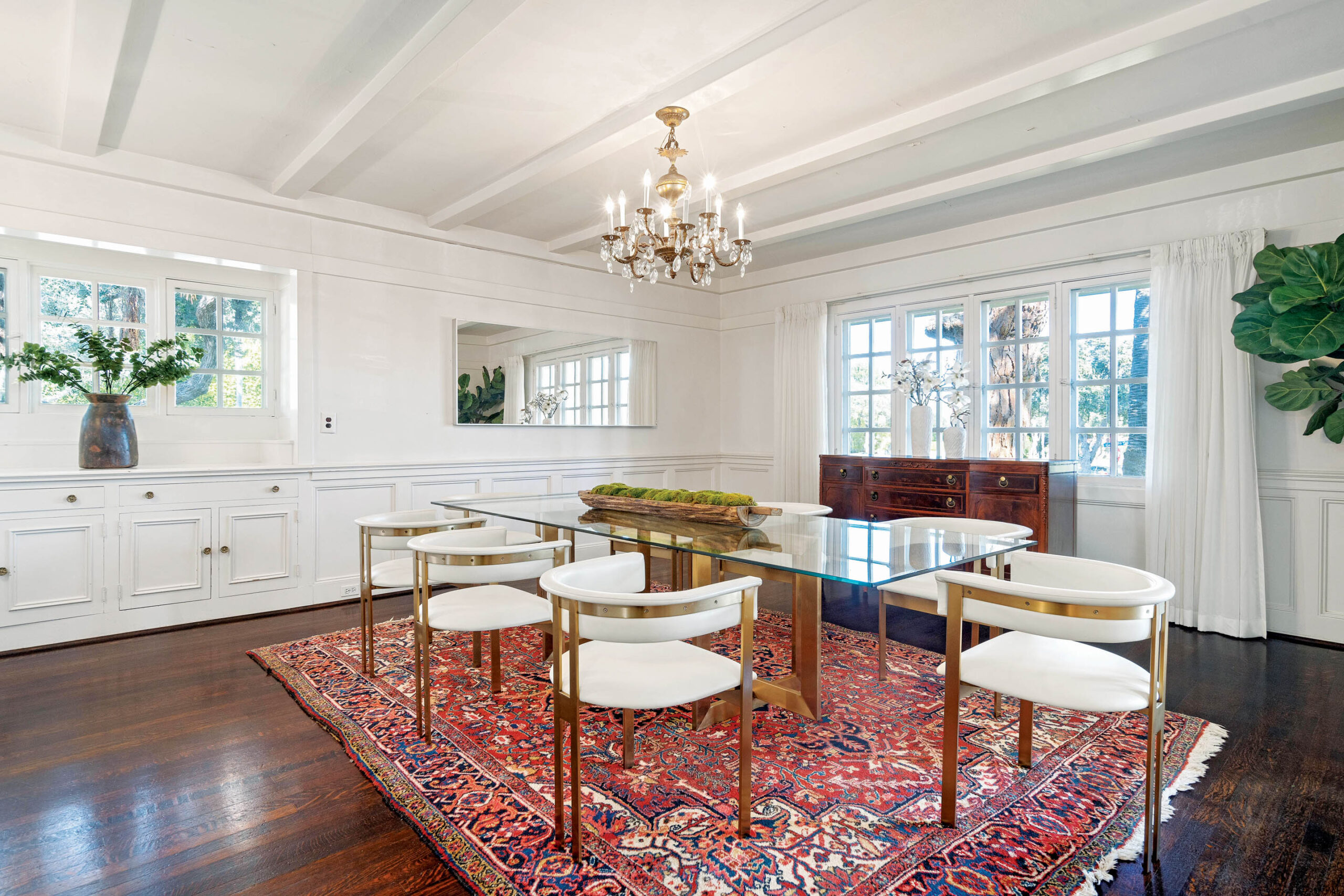 "The yard is quite private," notes Charles Pence.
There's a grass yard for playing games and a covered dining area with a built-in brick-oven barbecue. Additional space, perhaps for a wine cellar, can be found in the basement, which measures approximately 380 square feet.
On the green lawn of the front yard stands two towering old-growth California trees. One is an Italian Stone Pine, a brushy green perennial most likely planted when the home was being constructed.
"It adds to the charm of the walk to the front porch," says Charles Pence of the hundred-plus-year-old tree, which looks right at home next to the shingled residence with all of the warm signatures of its Craftsman heritage—from its gabled roof with overhanging eaves and exposed rafters, to its exterior brick chimneys and covered porches.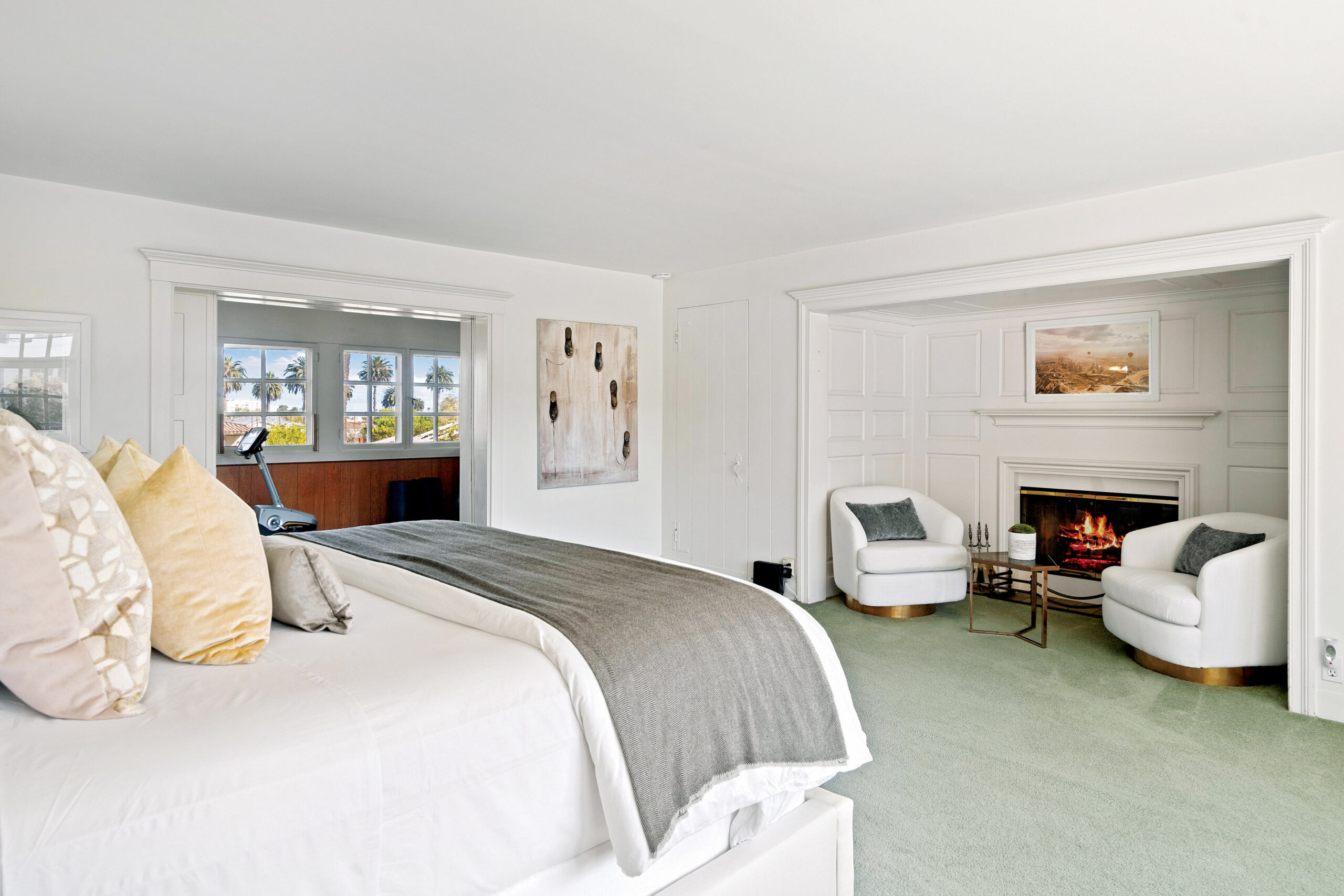 Created during the crux of the Arts & Crafts Movement by an architect and a builder who were among its leading practitioners, the home has been carefully overseen for decades by its current owners. Today it remains a vibrant artifact not only of a charming time and place in California history but of an architectural style that remains as elegantly inviting and user-friendly in 2022 as it was over 100 years ago when the ground first broke at 325 Georgina Avenue.
Charles Pence | DRE# 00670728 | 310.403.9238
Pence Hathorn Silver (PHS) | Compass
List Price: $9,788,000
Photography by Noel Kleinman Real Estate Photography