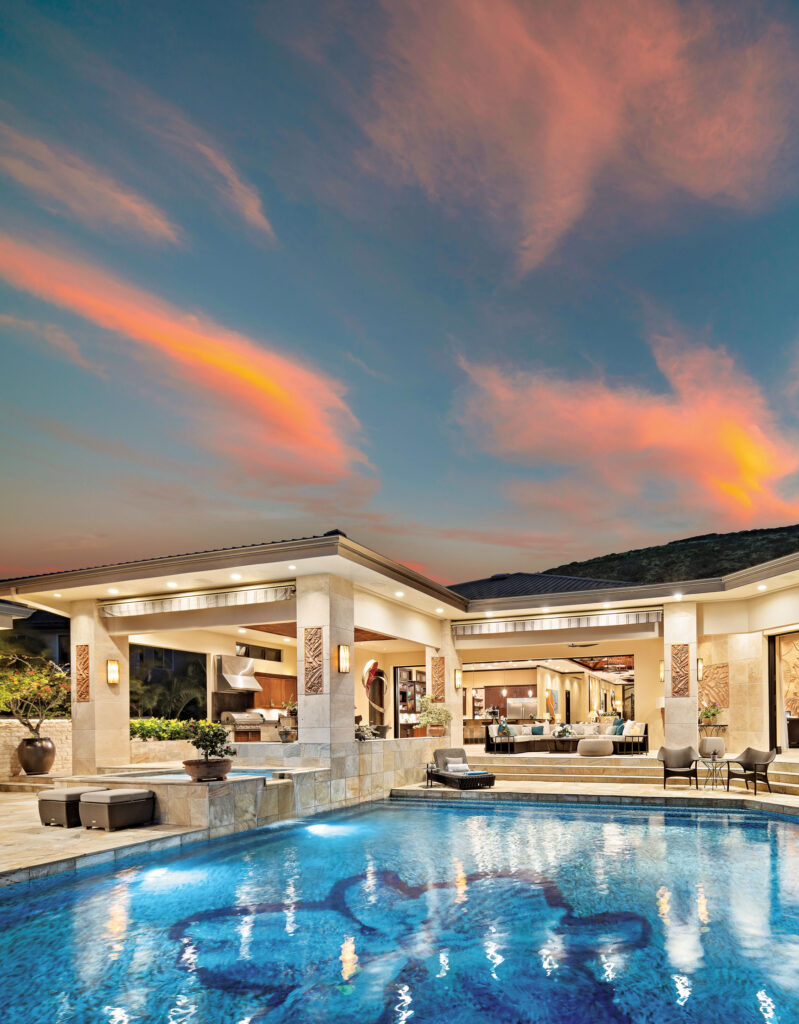 280 Poipu Drive is a Resort-like Retreat is a Perfect Perch, Overlooking Maunalua Bay and the Peaks of Diamond Head
Hanauma Bay is an only-in-Hawaii wonder found along Oahu's eastern shore where you can lounge on warm, golden sand or snorkel alongside bright fish in its mellow, clear waters.
Travel a few minutes west and you're overlooking Maunalua Bay, where the picture-postcard seascape includes a white sand coastline and the majestic peaks of Diamond Head, named for the glistening calcite crystals British sailors spotted on the face of this ancient volcanic crater in the 19th century.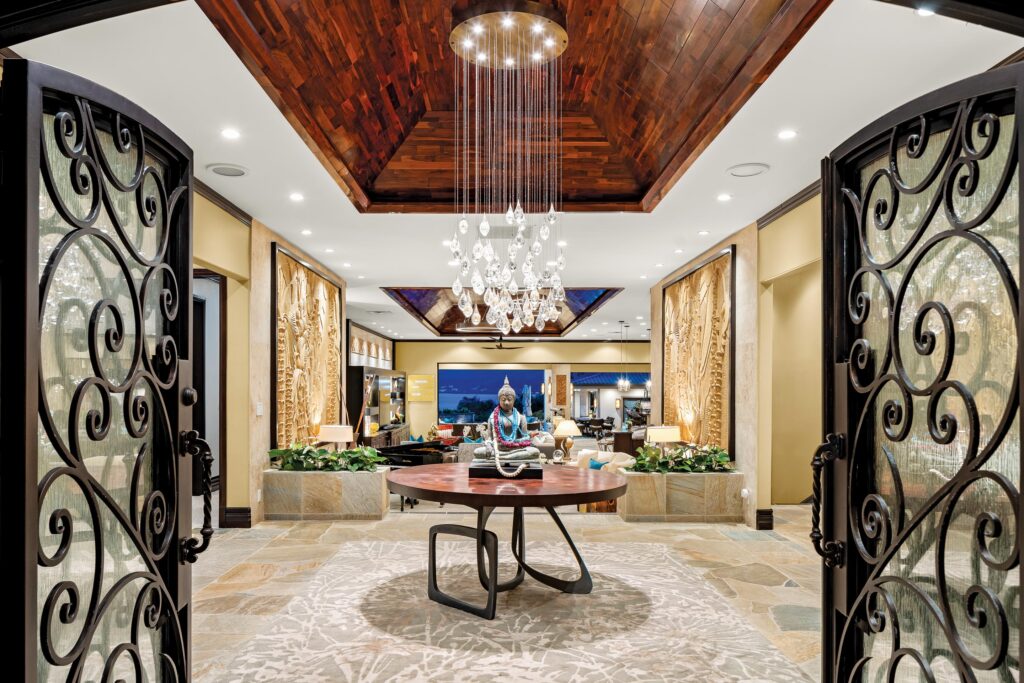 At 280 Poipu Drive in Honolulu, you're neatly situated between these two otherworldly destinations. Town is nearby, too, when you feel like venturing out from this bespoke Hawaiian residence that's been smartly crafted around such a charmed location: Designed to maximize its splendid views, with a level of craftsmanship and features setting it leagues apart from other properties in the area.
"It's like walking into your own resort," describes luxury real estate agent Tracy Allen. "There's nothing like it in this area."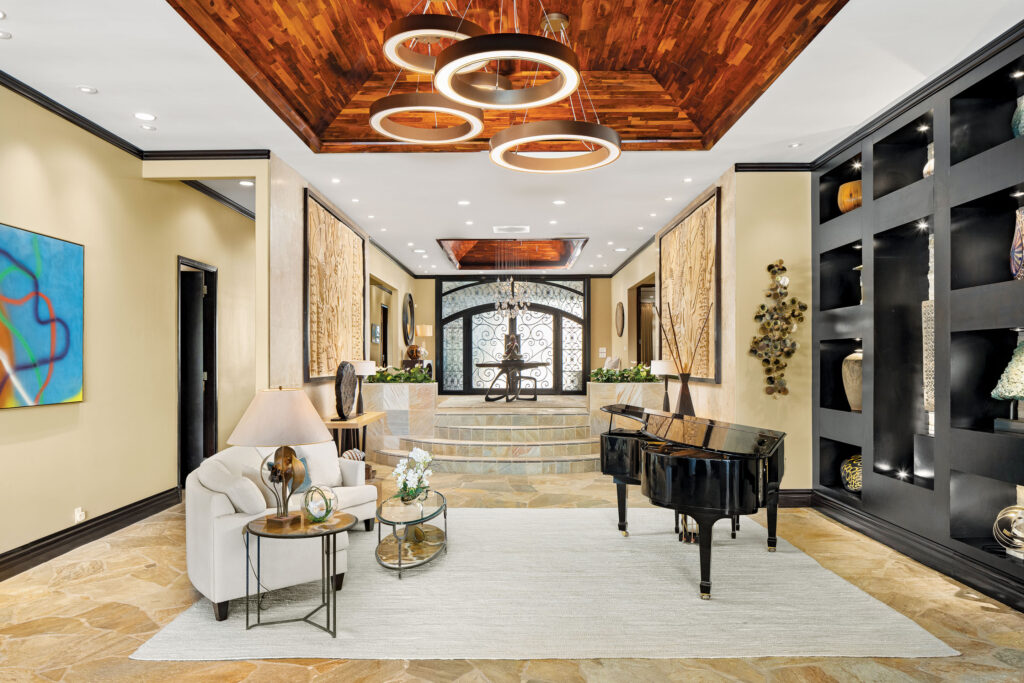 Tracy Allen, number one among individual Coldwell Banker agents in Hawaii, knows of what she speaks: "We don't have many homes of this caliber in Oahu. I can count them on two hands."
Spanning approximately 8,945 square feet, with 5 bedrooms and 7 bathrooms (5 are full; 2 are half-bathrooms), 280 Poipu Drive is a sprawling retreat with an open-air floor plan that's seamlessly at one with its island setting. It's completely private as well, from the moment the hefty front gate closes behind you and you glide into the sizable garage.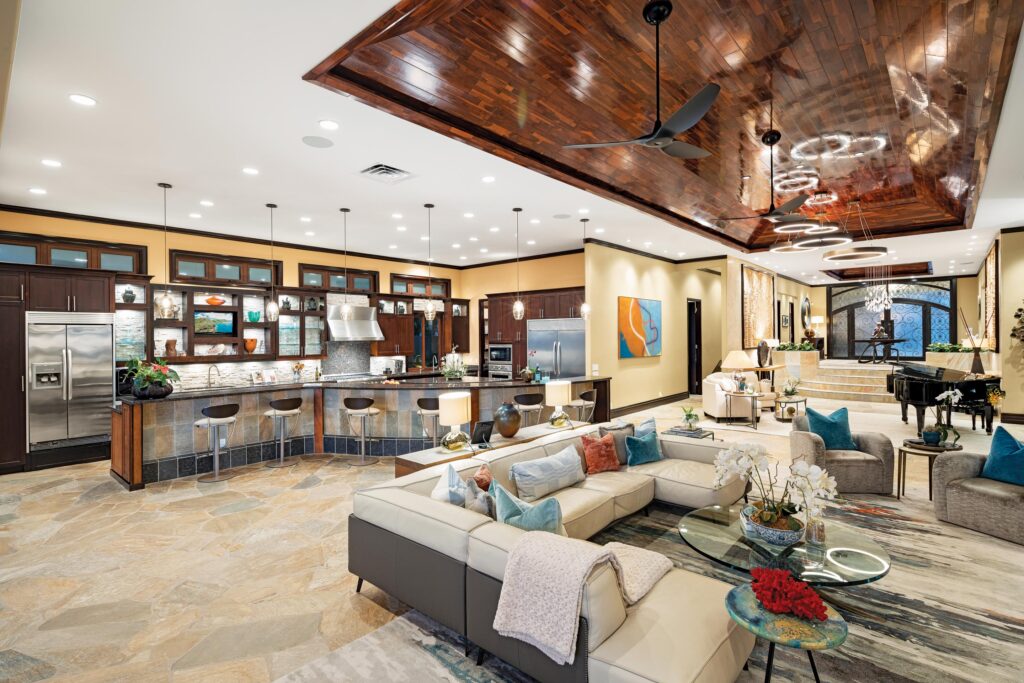 At 900 square feet, the garage, outfitted with hydraulic car lifts and space for up to 5 vehicles, is a fitting introduction to the luxurious home. So too are inlaid ceilings dressed in striking chandeliers and glossy hardwood that greet you at the majestic foyer.
Notable is the airy scale of 280 Poipu Drive. Ceilings soar and every room is sizable, adding to the grand atmosphere. Even the lushly green manicured lot is oversized at nearly one-half acre. You can spend days relaxing along the sun deck, pondering ocean views, and wafting palm trees, before slipping into the bubbling spa or refreshing pool.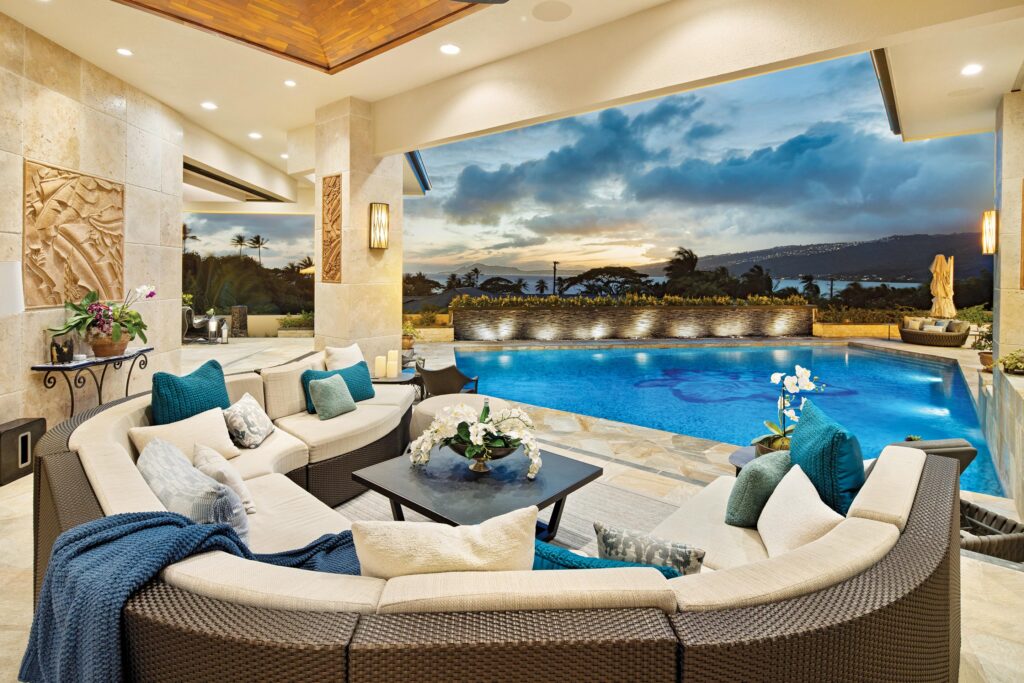 There's a spacious pool house, too, nicely separate from the main house—with a fitness center, bathroom, and a flex room—that can easily morph into a standalone guest cottage, complete with its own laundry and wet bar.
"When you have friends over, you have a secondary structure they can enjoy," points out Tracy Allen.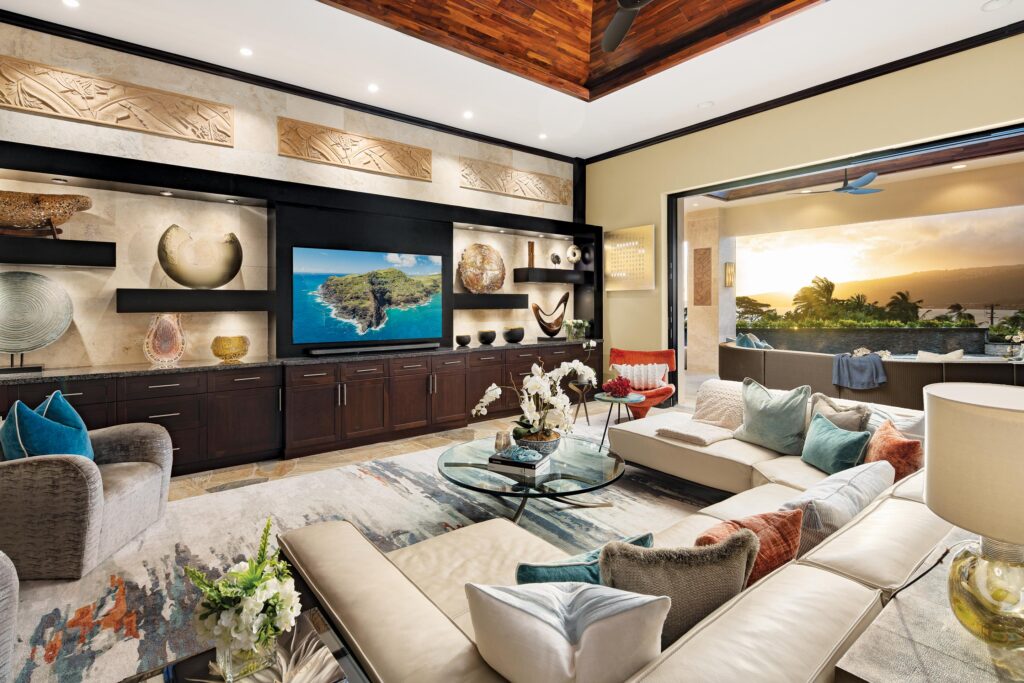 Speaking of guests, there's an airy lanai, adjacent to the main living spaces, that functions as the outdoor heart of 280 Poipu Drive. Neatly shaded from the sun and elements, the space is a magnetic destination to meet for coffee while watching the sunrise, or to study the brilliant hues of sunset descending over Diamond Head while grilling the day's catch on the gleaming barbecue and enjoying cocktails at the bar.
"This part of the island is known for having the best sunset views," notes Tracy Allen.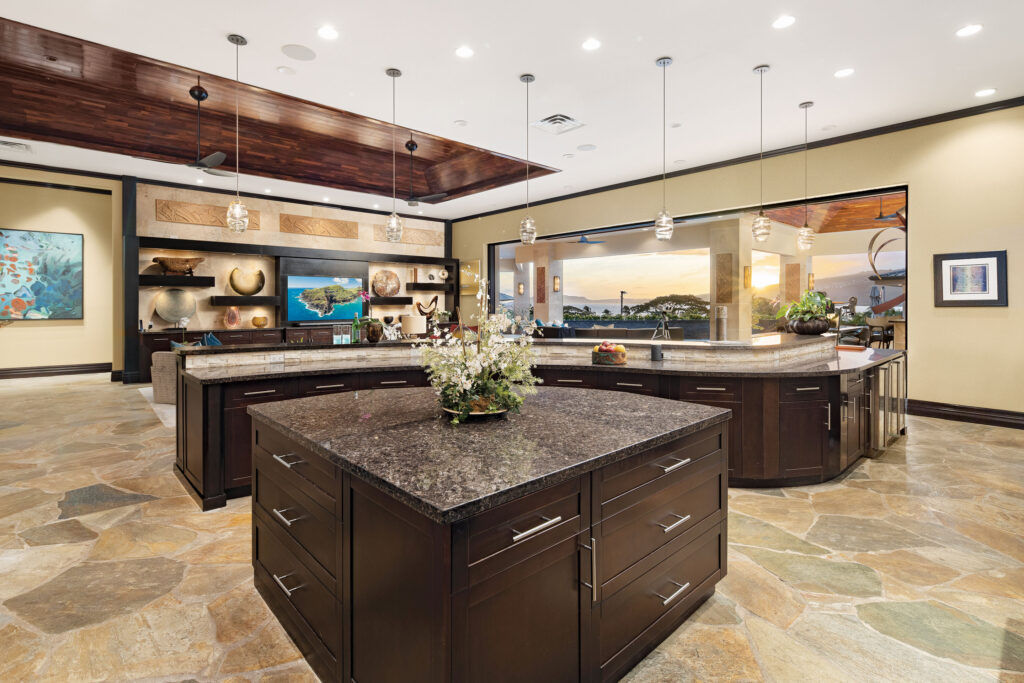 Even on rainy days, it's a comfortable perch to experience the unique beauty of the island. Alternatively, you could settle into one of the oversized recliners in 280 Poipu Drive's plush theater for an afternoon of movies.
Whether indoors or outdoors, 280 Poipu Drive's atmosphere is one of contemporary elegance set within a sheltered cocoon of grand island views. There's a decked-out chef's kitchen with a glossy half-moon island that beckons guests and family to gather. Sliding Fleetwood glass walls and windows that link indoor and outdoor spaces. And a whole-house smart technology package that includes lighting, glass and sound, along with a complete solar package with 96 dedicated panels.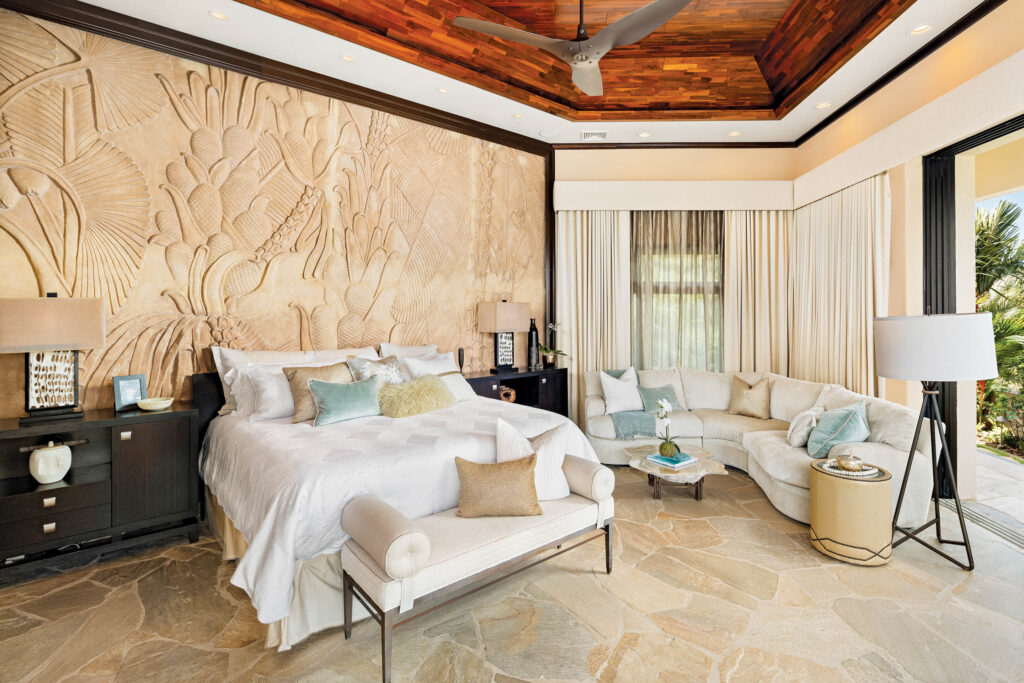 "It's fully gated and automated," Tracy Allen says of the property. "Everything operates off apps on your phone."
The floorplan does a wonderful job of shifting between private and public moments—serving as a place to host large and small gatherings while offering quiet spaces to tuck away in solitude.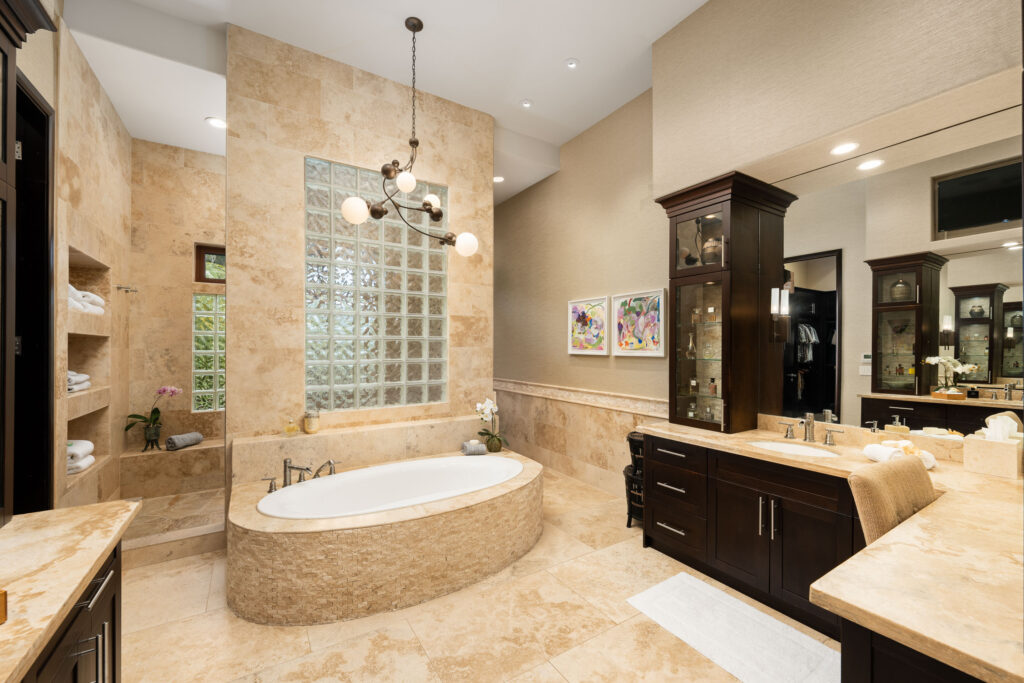 The oceanview primary bedroom, for instance, is a self-contained suite with front-row views of the pool that you can sequester, or open up, with sliding glass. Also in the suite is a tranquil spa bathroom with a soaking tub, and a generous walk-in closet with with custom storage and glass displays. Two more big en-suite bedrooms in this wing make up a family-friendly hub of sleeping spaces.
"Even the secondary guest bedrooms," says Tracy Allen, "have wet bars, big soaking tubs, and walk-in closets."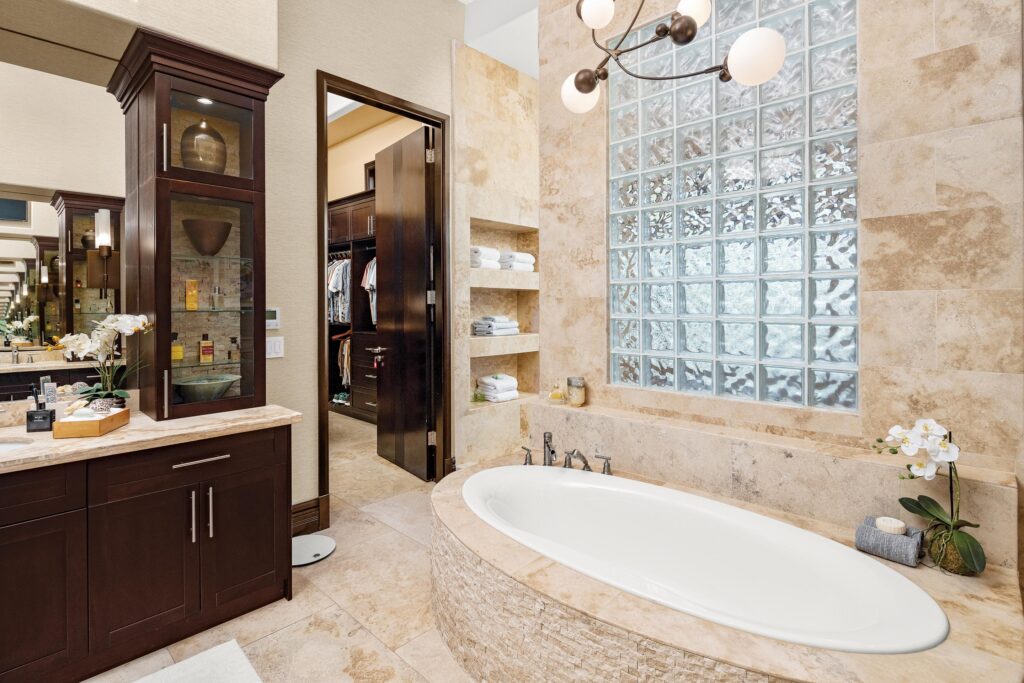 Days here are designed for endless, sunlit pleasure, from delightful afternoons spent at the pool and beach to epic local hikes. You can always head to the cafes and shops at Koko Marina, 5 minutes away on bicycle; and nearby destinations, all about 15 minutes away by car, including Kahala Mall for boutiques and groceries, and scenic Diamond Head and Waikiki for fine dining.
Though it's always nice to stay right home at 280 Poipu Drive—one of the finest residences in Honolulu—where you're in a private world of your own, surrounded by warm Oahu breezes and ever-enchanting views.
Tracy Allen | 808.927.6415 | Lic #RS-46610
Coldwell Banker Realty | tracyallenhawaii.com
List Price: $8,895,000
Photography Courtesy of Tracy Allen of Coldwell Banker Realty