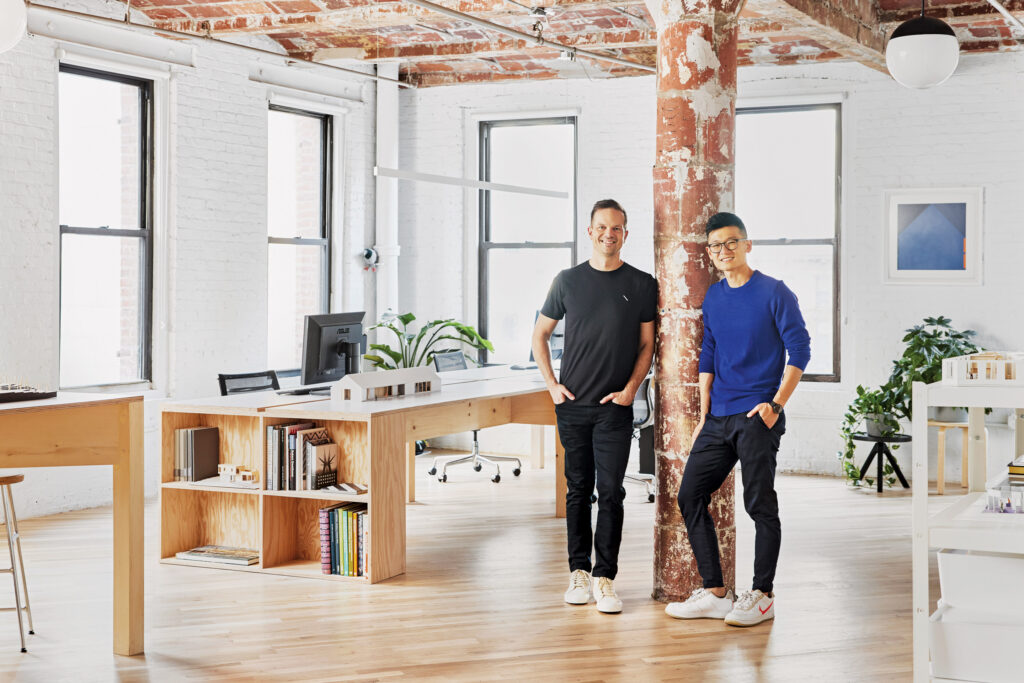 A Contemporary Take on Classic Camphouse Design, Lake House Offers an Expansive, Glass-walled View Into the Principles and Practice of Award-winning Architects Worrell Yeung
On the banks of Candlewood Lake in woodsy western Connecticut, a new house spills down toward an old shore. Marked by its stacked volumes, strong lines and piled roof planes, the timber and concrete form strikes a current tone and was designed with great scrutiny and sympathy for its surround by New York City-based architecture office Worrell Yeung. That the home's connection to the landscape is unambiguous and insistent is both a credit to, and a code of, the design team behind it.
In less than a decade, Worrell Yeung—headed by the simpatico partnership of founding principals Max Worrell, AIA and Jejon Yeung, AIA—has distinguished itself as a practice of some gravitas, completing a range of architectural solutions that are unconcerned with spectacle yet highly interested in rigor and simplicity. Theirs is not loud work. But it's sharp. Studied.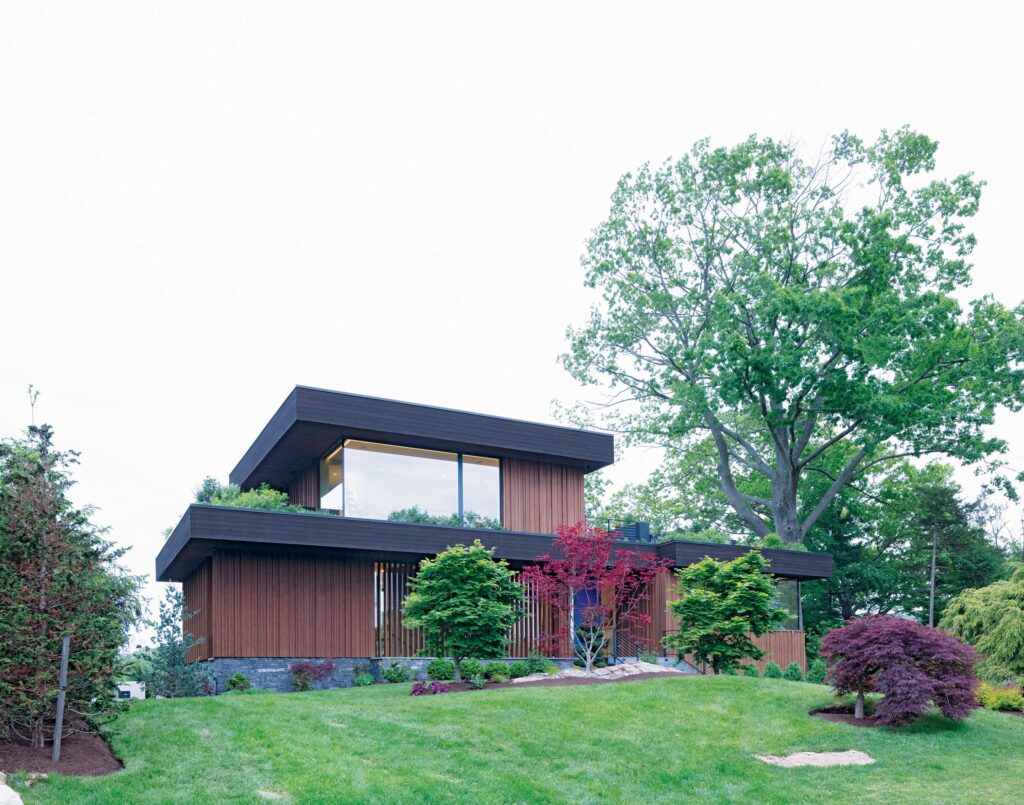 An architecture that allows for stillness, demands clarity and, as the practice puts it, "embodies a concise, poetic pragmatism that encourages discovery and wonder at multiple scales."
Lake House is illustrative of this ethos.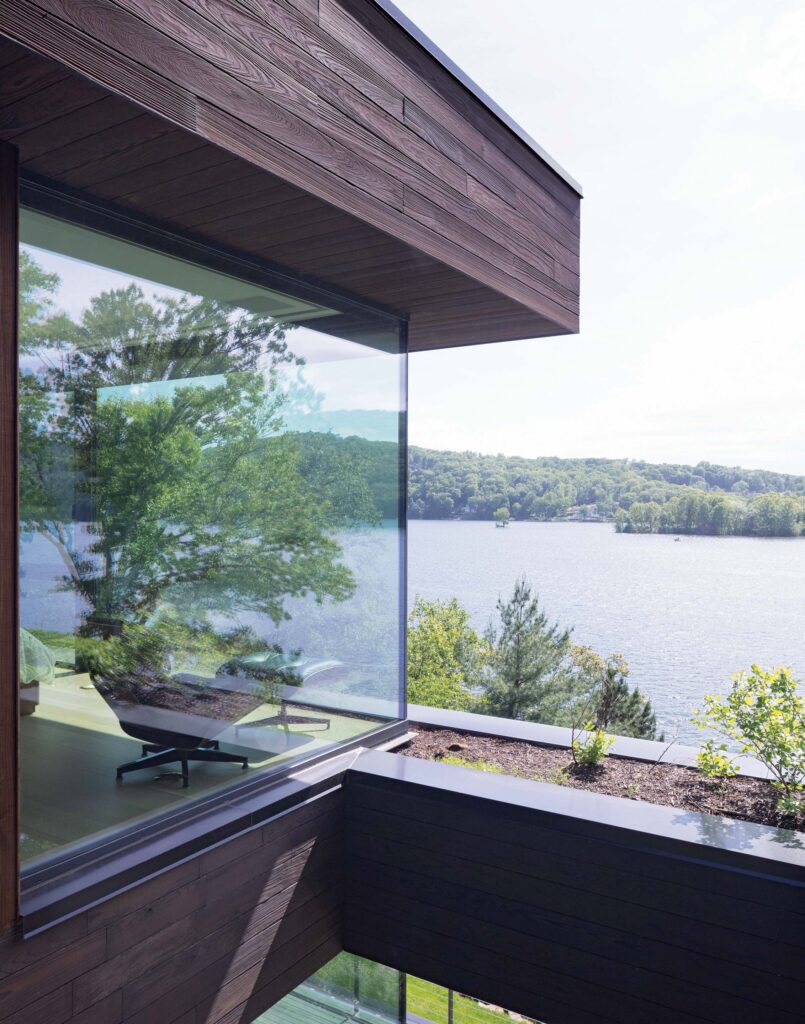 "This project is a good example of a common interest of ours to explore layering of rooms and views," says Jejon Yeung, partner in charge, working in collaboration with Worrell, Manager Beatriz de Uña Bóveda, and Project Designer Yunchao Le. "We do not think of houses consisting of a singular envelope for shelter from the elements, but as an assemblage of thresholds that create a rich layered experience."
Consider the home's entry courtyard spotlighting a sublime Japanese maple tree. Central to the floor plan, separating and organizing the layout both horizontally and vertically, it also "provides dynamic framing of rooms and views looking externally from the interiors, and also internally from the exterior spaces," Jejon Yeung explains.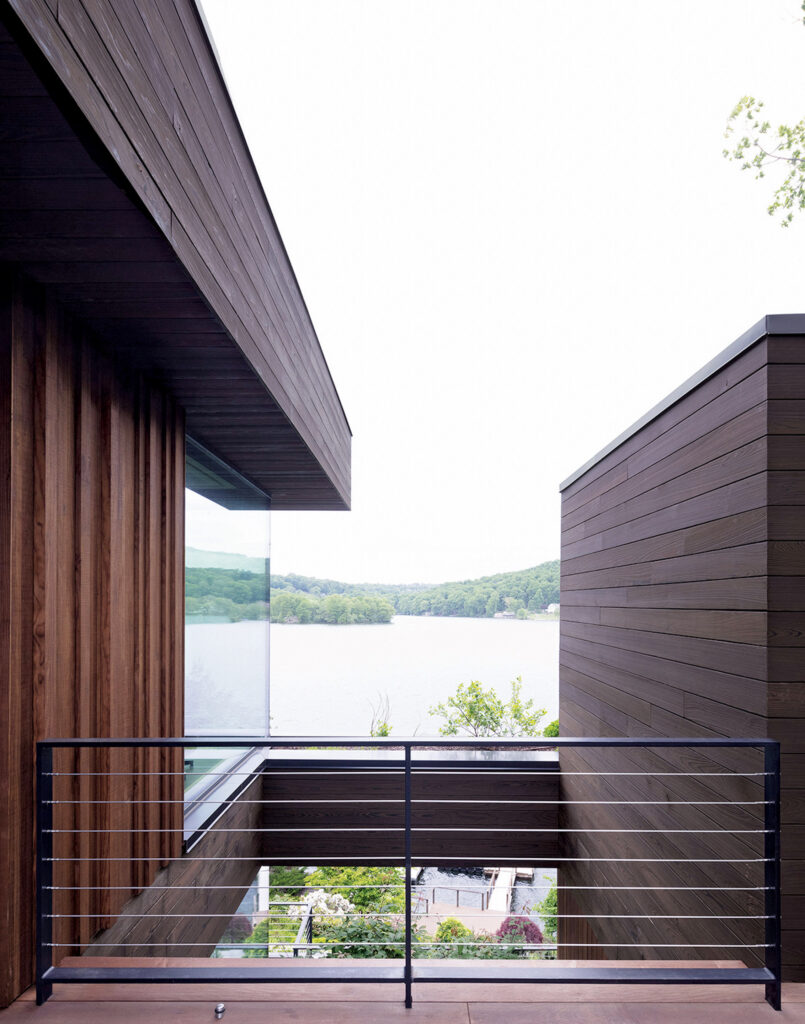 Sited to protect the root zone of a glorious old oak tree that is adjacent to the house (and even leaving an existing retaining wall buried in place to minimize disturbance, as well), the 4,900-square-foot family retreat is, more broadly, a response, and in some ways a return, to nature, but one that considers the residential landscape, as well. The local vernacular—modest cottage-scale homes—meant that minimizing the house's presence, as seen from the street, was a priority for the client and architects alike.
"Being at the highest point of the island ridge, the clients were very sensitive about building a large modern house at the top of a prominent hill," Jejon Yeung says of the decision to downplay the house's volume.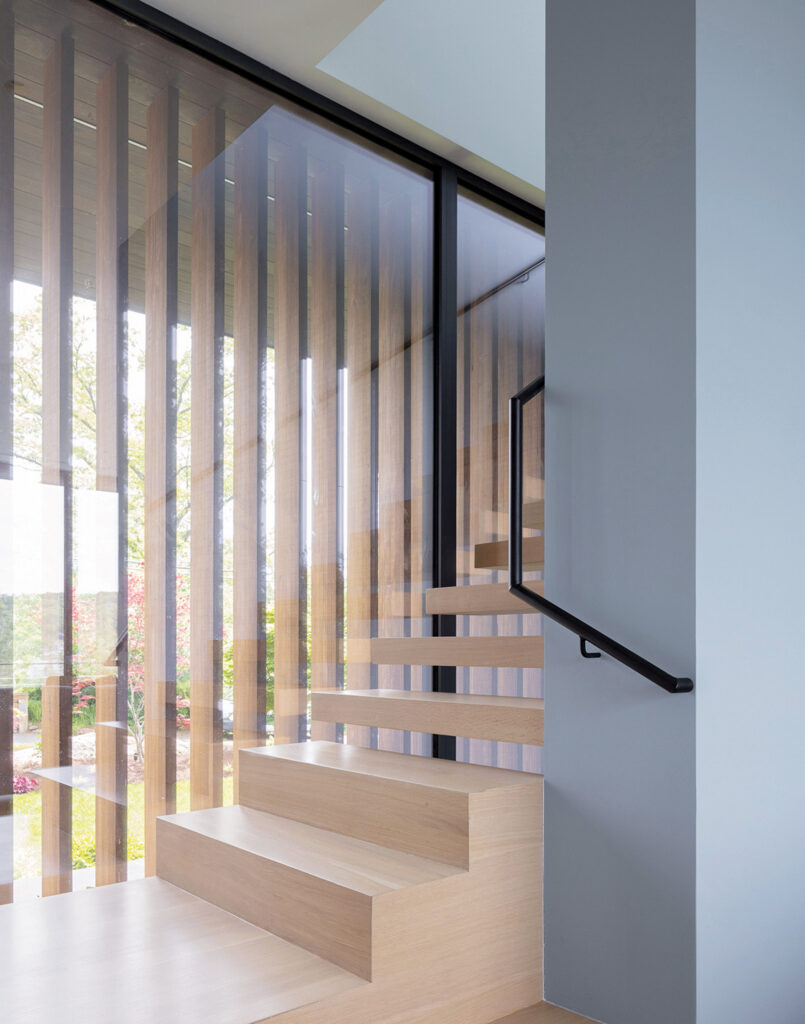 This meticulous edifice does not, however, escape notice. Then again, it couldn't. It is handsomely linear with a strong geometric profile and a neatly manicured yard accented by a vibrant blue door. Combined with its wooded, tree-laden environ and the property is particularly picturesque, forming a subtle, beautifully synthesized whole.
The interior of the house responds in kind with neutral tones and natural materials. Oak flooring, walnut cabinets and quartzite countertops reference the rocky shore; wooded knolls and deep gray and blue tones reflect the water. Elaborately open, with enormous glass walls and serene deck space that bridge indoor and outdoor thresholds, the space is quiet, harmonious and a study in decorative restraint.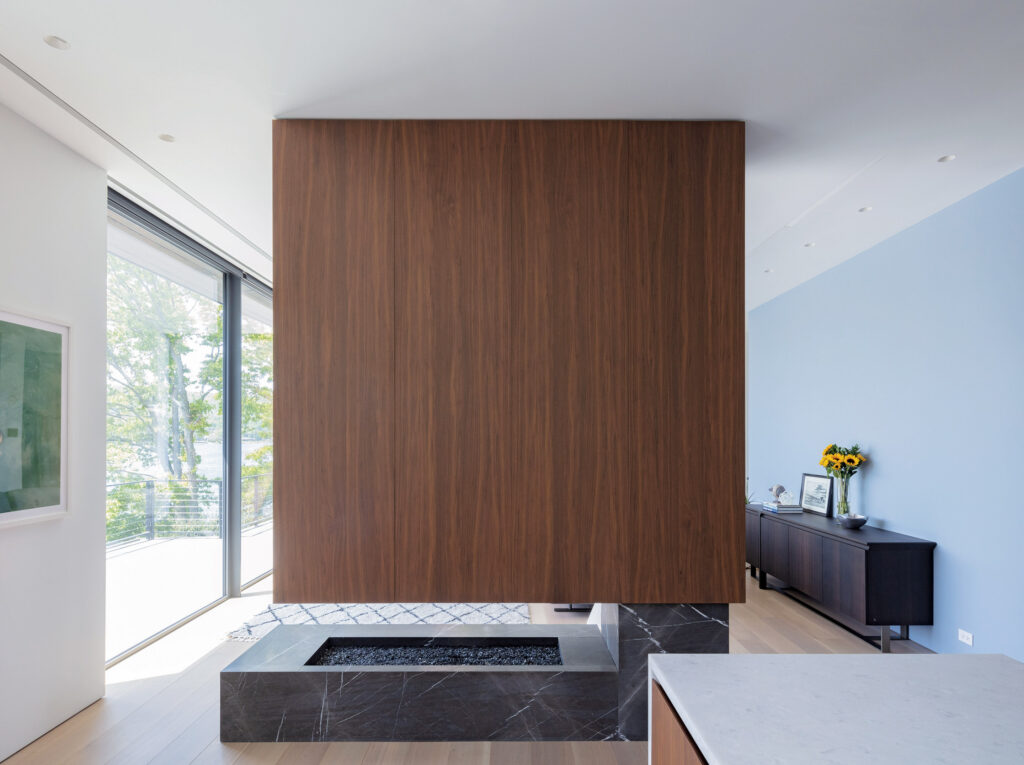 Lake House is not showy. Any notes of drama—the courtyard, the floating staircase, the refined finishes—are supporting players in a larger plot, which is the home and its inhabitants' communion with nature. To that end, Jejon Yeung employed a series of green strategies.
"The expressed horizontal roof planes that project and cantilever in multiple directions were nice opportunities to vegetate with native plants as a vibrant roof garden feature, but also to absorb rain runoff," Jejon Yeung points out.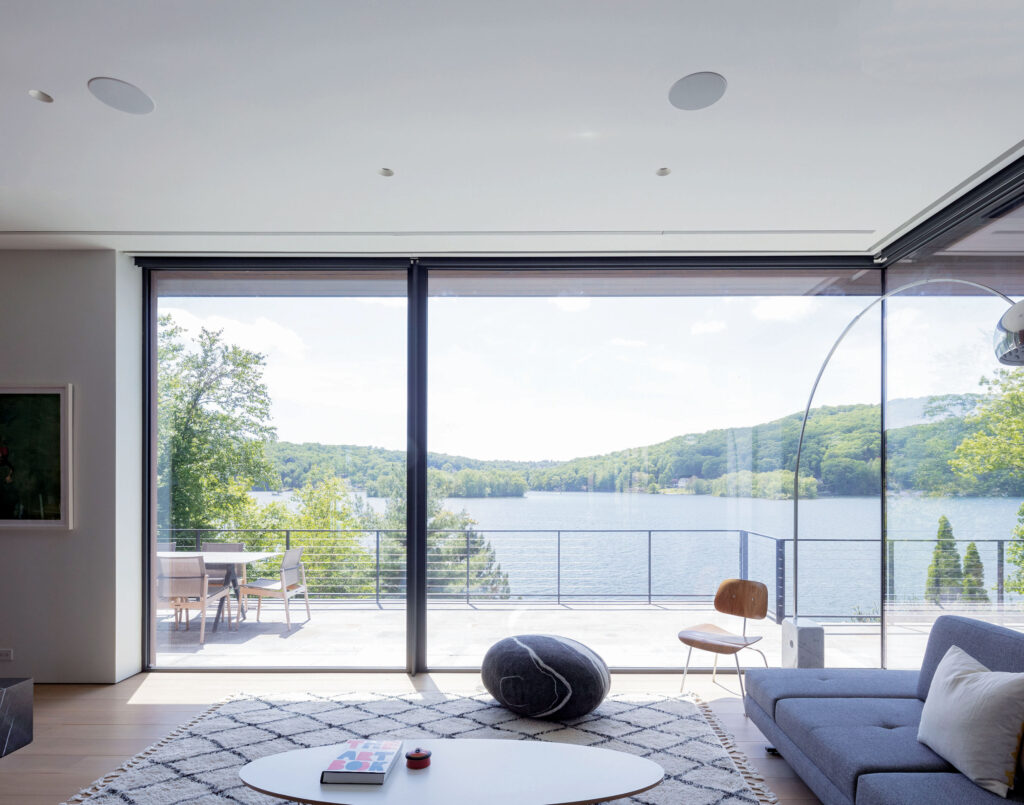 "Water not held immediately by the plant soil is distributed into a rain garden detention system in the front yard as passive stormwater management that adds biodiversity." The cascading roof planes, he adds, "become an architectural expression of their function as shelter, outdoor living, and water movement."
What's more, although the entire house structure is concrete, client sensitivity to the neighborhood vernacular meant that every concrete surface is clad in a wood rain screen system. Covered in the same sustainable timber—the New Zealand wood Abodo by reSAWN—the undersides of the projecting roof planes provide ample solar shade to the large glazed openings.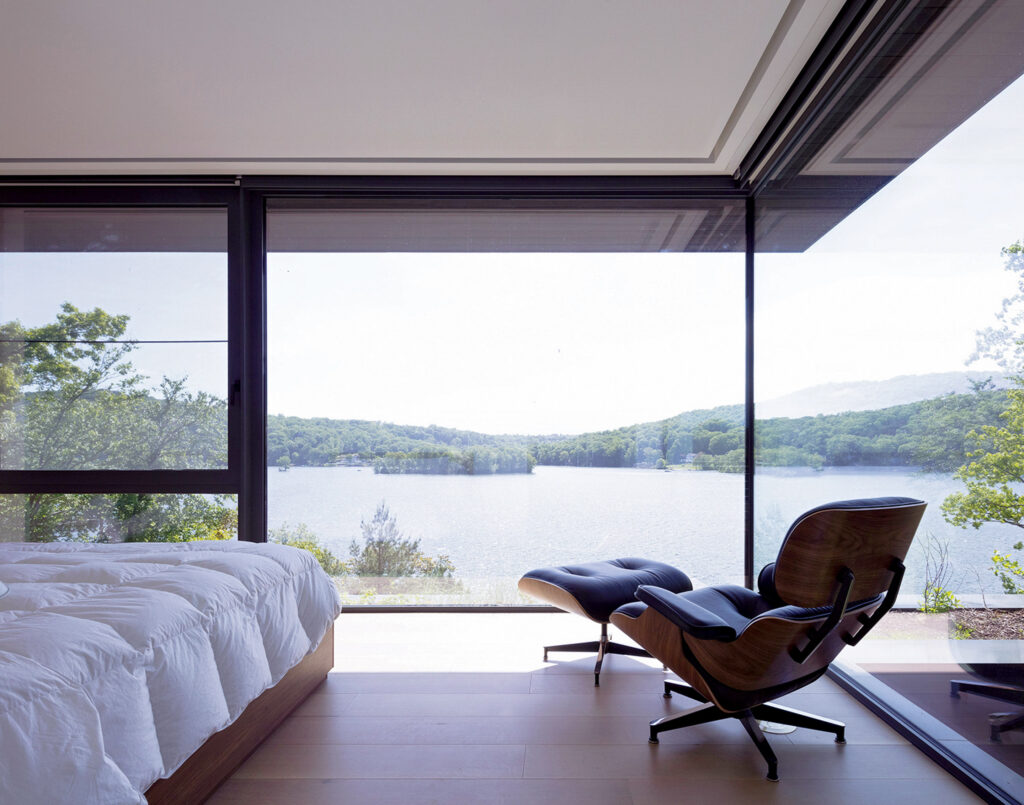 Looking out to the lake and its lush fringes, with the water, trees and views all central to the project, Lake House is all one hopes for but more than one expects from an architecture so specifically named.
In shedding the typical camp house skin for a sleeker contemporary interpretation, Jejon Yeung has expanded the possibilities of a beloved architectural style—and a home's residential horizons, all in one stroke.
Architects Worrell Yeung | worrellyeung.com
Photos: Naho Kubota