Visionary Design
An Ultra-open Contemporary home in the Sand Section makes the most of its Pacific Ocean perch
Occasionally, a new home can act like a bellwether—a sign of what is new and next in design, and a cue to how people are arranging their living spaces for optimum ease and pleasure. Such is the case of a contemporary home in the Sand Section in Manhattan Beach. The area is lauded for its location, blocks from the beach and the upmarket boutiques and sidewalk eateries of both Downtown and North Manhattan, while still being neighborly and family-friendly. And the home is a striking structure that fuses high-style good looks with a practical ease, pushing the fusion of indoor and outdoor spaces much more than most.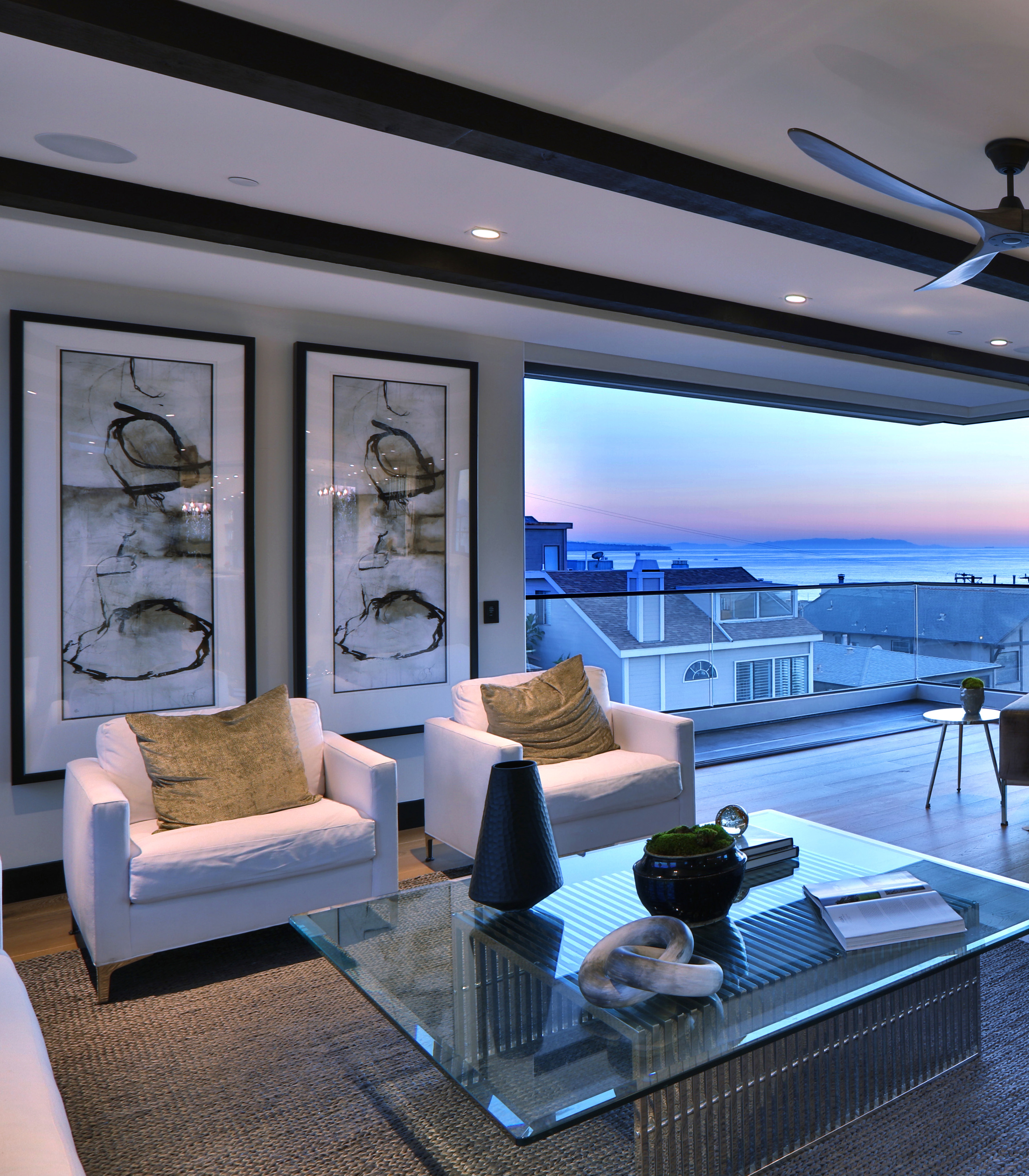 Over 4,200 square feet and spanning four bedrooms and four-and-a-half baths, the property was created by Jay Refold and is a project that represents a homecoming of sorts. "I built my first home in Manhattan Beach 20 years ago," says the veteran developer, who grew up in the area before moving away. Now back, the developer of more than 100 projects claims this property as one of his best. "It's one of the top three projects that I've done," he states.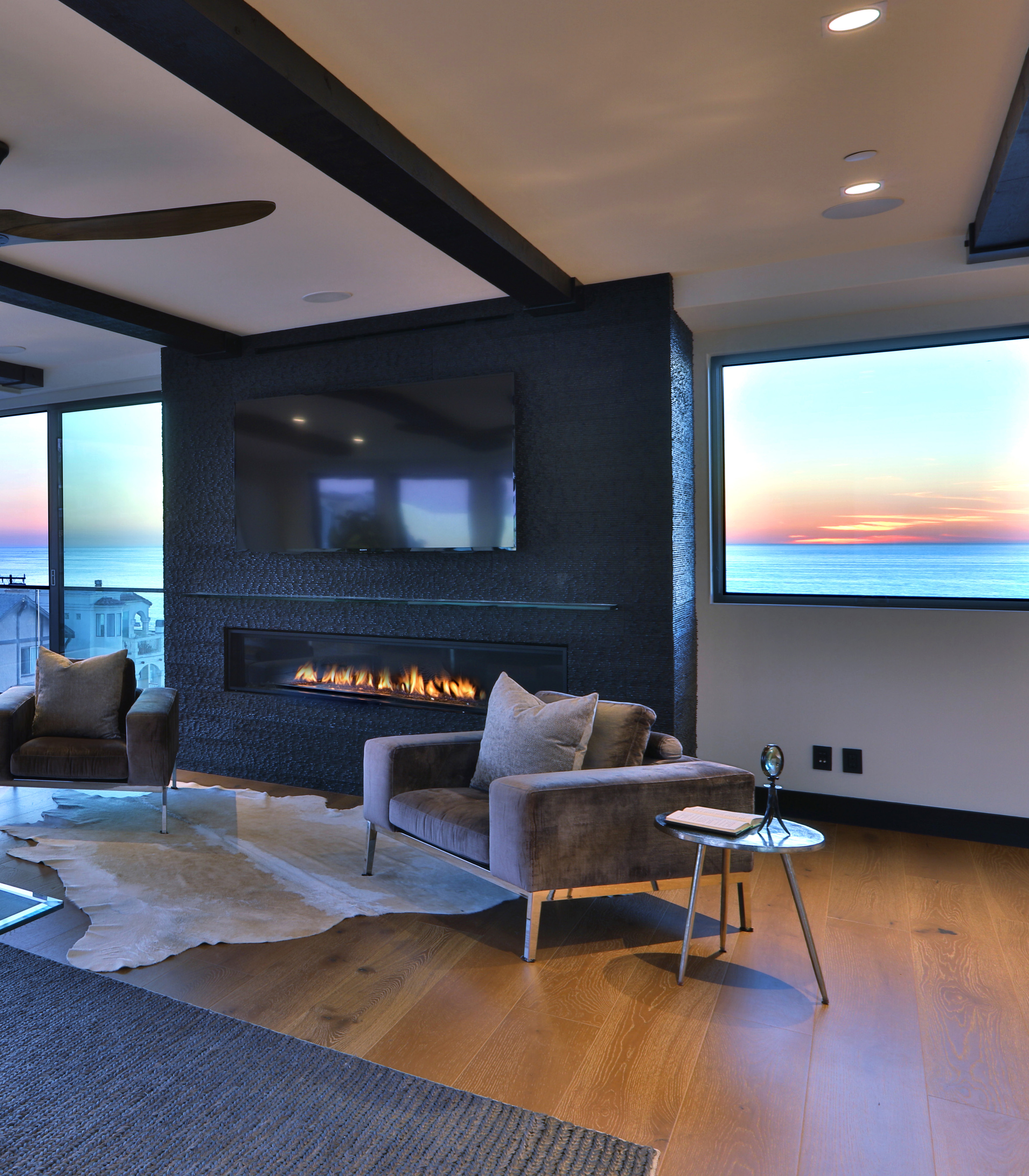 Refold and his design team, which included Harry Abhichandani of Harry Designs and Tom Sanford of Elwood Design & Construction, started with a great canvas. The house sits on a lengthy corner lot along Alma Avenue, where it meets Marine Avenue at its highest elevation. The inspired location allowed them to take advantage of ocean views that include Catalina Island and the Palos Verdes Peninsula. Their vision is stated plainly on the exterior of the home, a concert of glass alongside smooth and textured materials, and capped with a flat roof featuring slender, overhanging eaves. The color palette is warm beige, browns and reddish tones that harmonize with the sunlight by day and glow from interior lights after dark. This duality—a sharp contemporary profile softened by earthy elements—is consistent throughout the design. It's an accessible yet standout style that developer Refold calls Soft Contemporary. "There's people that just don't like contemporary that love the house—and there's people that like traditional homes that love this house," he says.
The earthy, red-hued material that hugs the exterior and resembles exotic wood, meanwhile, is actually a fiber-reinforced hybrid product made of rice hulls, rock salts and mineral oil. Chosen for its low-maintenance good looks, the material is also environmentally-friendly and highly durable in the face of beachside elements like sun and salt water.
To create a beach and sunshine atmosphere cloaked in total sophistication, the design team relied on a tempered mix of materials, such as grainy wood floors burnished to a matte finish, steel beams warmed to a rusted shade, clean white walls and lots of glass. They also doubled down on opening the floor plan to the hilt. "This house has the quintessential floor plan that I believe will be the new standard on all [of these types of] Sand Section lots," says leading South Bay real estate agent John Altamura. "The top floor has an open floor plan—with no columns or posts—creating an easy flow between living spaces."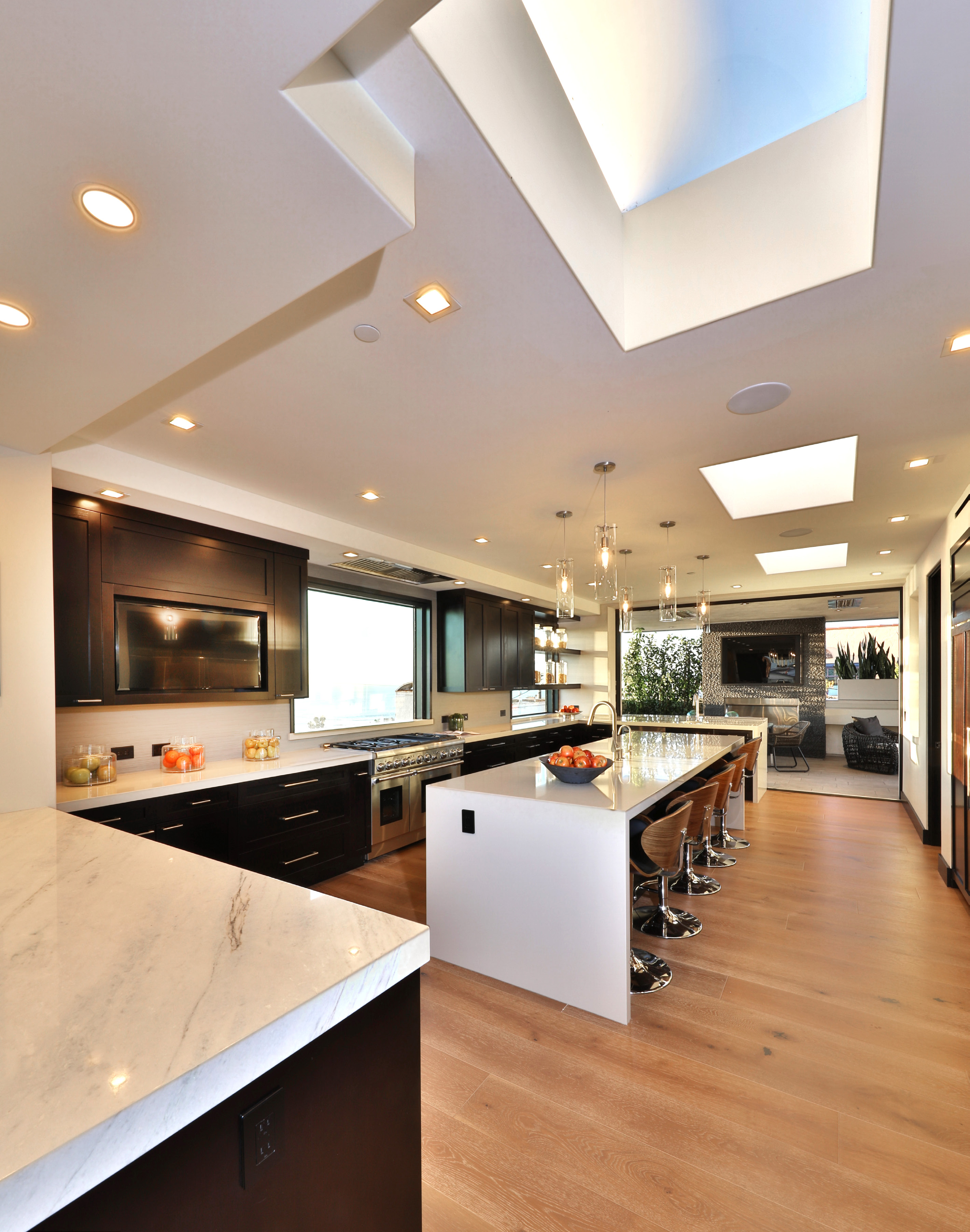 It's a strategy Refold began employing about 35 years ago while building upmarket homes on the Venice canals. "It all developed around getting rid of a formal dining room and formal living room," he says. Granted, open floor plans are used liberally in modern homes these days, particularly in the Beach Cities. In this case, however, Refold and his team did things to up the ante and create what he calls "an unusually open floor plan."
First, rather than interrupt the flow of the open top floor (which houses a great room, dining and kitchen areas, plus an office) with a staircase placed in the center of the floor, a minimalist staircase was tucked along the side of the home. This helped the designers achieve fully open corners in the master bedroom and in the fireplaced great room on the top level.
It's a striking feature of the home that amplifies one's connection to the outdoors while comfortably indoors, and makes for a head-turning Modernist look while outside looking in. "The doors are 'XO' type," explains Abhichandani. "They both interlock at the corner without the need for a post that would have blocked the beautiful southwest view." Having the entire glass pocket neatly into the wall, in tandem with an absence of interior walls or other structural blockages, transforms this floor into an ideal stage of ocean, sky and light.
Adding to the unusually open feel of the home is a fresh-air family room complete with bar and fireplace that seamlessly merges with the kitchen by virtue of disappearing Fleetwood windows. It's a comfortable, elegant space for lounging or entertaining, and a top feature of the home. "The most unique style of the floor plan is the outdoor patio," notes Altamura. "I thought it was very clever to have the windows and doors that separate the kitchen from the patio slide into wall pockets to create a perfect open living space."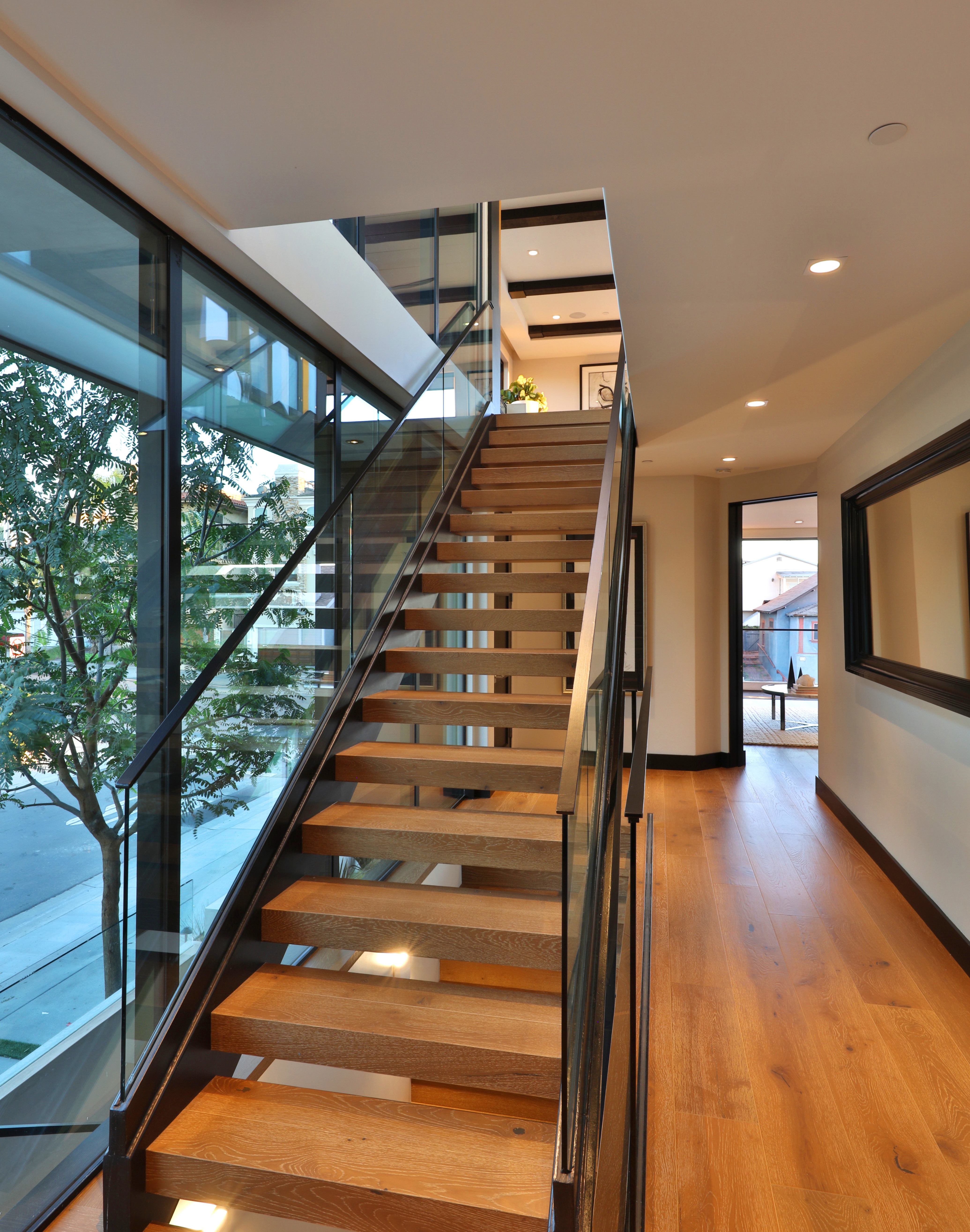 The result of such features, along with strategic and generous window placement throughout the home, is a place that feels different throughout the day—from the first hush of daylight, to the cheerful midday sun, to the vivid haze of purples, blues and orange at sunset. At night, the home stays open to stars and ocean breezes.
Each of the bedrooms is a suite with a bathroom, with the oversized master also boasting a fireplace, a chandelier bathroom and a sliding corner wall that opens the room to an unfiltered, unblocked palm tree and sunshine California view (via the same XO doors used on the floor above, interlocking at the corner without posts or beams).
The media room can double as an additional bedroom, bringing the count to five, and there's a ground-floor beach room equipped with fireplace and wet bar that opens up to a generous fresh-air lounge. The result is a mellow terrace that feels like one is relaxing on a walk street versus a drive street. Another plus of the home, particularly in this high-density area, is its parking capacity for up to seven cars.
"Anybody can live in it. You can put a family in it, you can put a bachelor in it," says Refold. Musing about how the home manages to bridge two important design goals—for a home to be both a comfortable domestic sphere and an inspired one, he points out a singular success of its design: "It's the best of both worlds."
JOHN ALTAMURA OF ALTAMURA REAL ESTATE GROUP
310.751.7009
LIST PRICE: $7,300,000
Written by Constance Dunn | Photography Courtesy of Paul Jonason
Related Post
A timeless Playa del Rey retreat is home to private bliss and endless ocean views Written by Constance Dunn | Photography&n...
A private hilltop villa in Hermosa Beach proves the perfect retreat for the finest in resort-style living Written by Joclene Davey&nbsp...
A custom Mediterranean Revival brings home size, beauty and features galore Written by Constance Dunn | Photography by Paul...