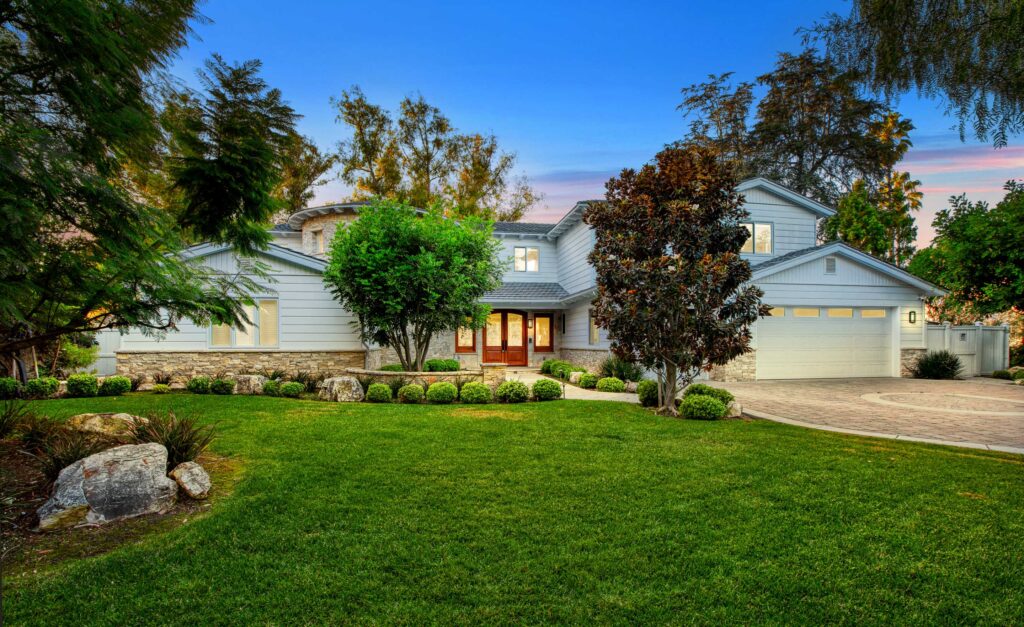 Chhabria Real Estate Company Brings Stunning Rolling Hills Estates Custom Home to Market
"Everything in this home was about the vision, and making it the best it can be," says homeowner Donovan Ivan of the crisp white estate he built over scenic green canyon views in Rolling Hills Estates.
With Donovan Ivan overseeing every phase "As much challenge as there was, I kept pushing, regardless of the cost or time," he recalls good-naturedly. "It's nice when people see the details because there are a lot of them."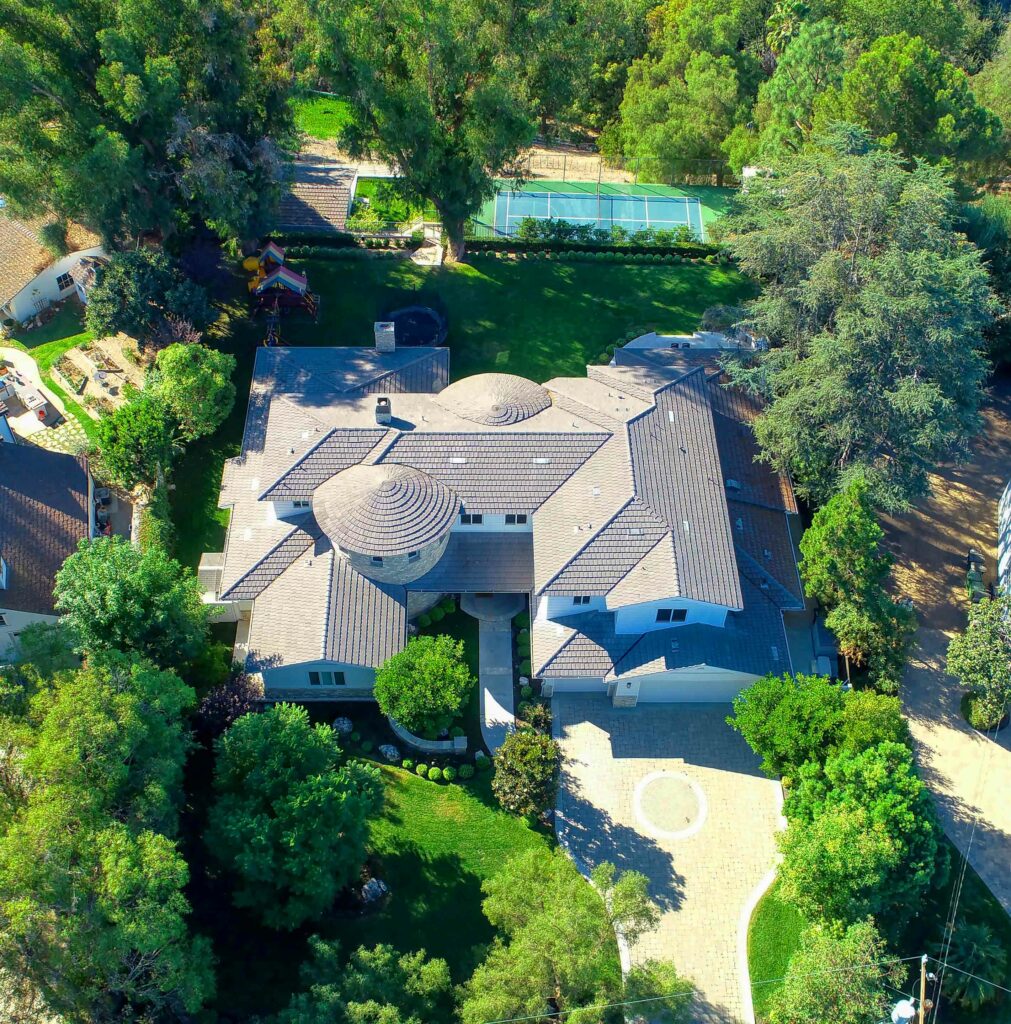 One steps into the contemporary ranch's light-filled foyer to find a gallery of living spaces—all voluminous and luxe by way of pale walls set against gleaming floors of imported stone, and distinguished by unique finish details. Ceilings in main living spaces, for instance, are typically raised or glowing from light-box details. Of note is the raised wood ceiling in the family room, its sleek geometric panels amplifying the island notes established by full-size sliding doors that connect the room to a fresh-air dining room and kitchen stocked with a barbecue, built-in beer tap and refrigerator.
Such details, along with amenities like a fitness studio filled with mirrors, a bright playroom and a tranquil spa—on the main floor alone—give the home the feel of a well-heeled, welcoming resort somewhere in the canyons. As does the nearness of outdoor recreation and resting spots, such as the home's outdoor living room, over 700 square feet in size and warmed by a stone fireplace, where one can lounge after a spell in the steam room or sauna, both just steps away.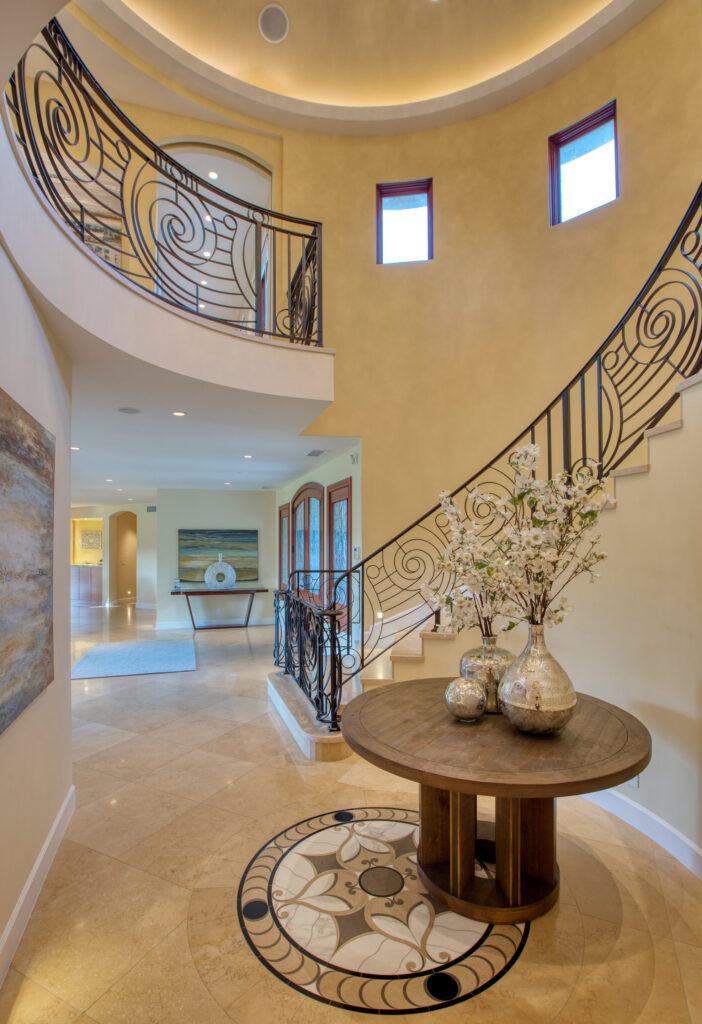 "When I have guests and friends come over, they look at the house and it feels right and it feels good," says Donovan Ivan.
"The house has an amazing feeling—warm yet open. Comfortable. Every single room has a view to the backyard, and one can see all the nature and beauty," he says.
Making the most of the home's views was paramount. For this, Donovan Ivan integrated round shapes, reinforced with steel, into the design. The payoff is that every room faces the outdoors.
When guests come over to dine, for instance, one can go into the sunken living room and enjoy peaceful views of the green lawn and old-growth trees, enhanced at night by an automated light system that makes the trees glow. The mood is magical, he notes.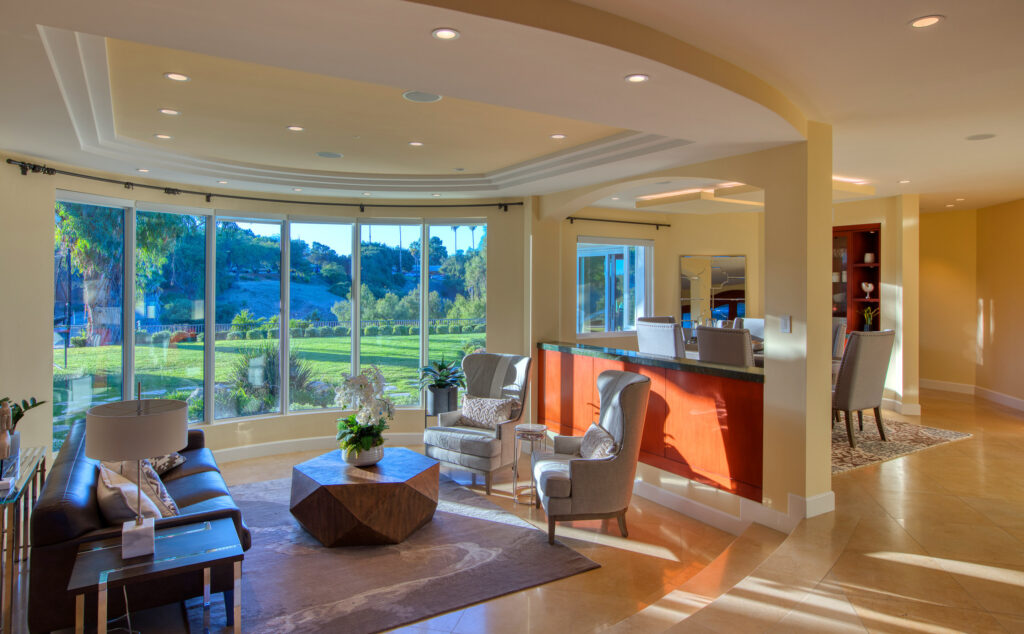 Donovan Ivan equates the home to a bespoke suit with a superb fit, one that's been engineered for optimum ease of use, whether the goal is entertaining or managing everyday family life. There's a home automation system that includes 10-zone climate control, along with control of shades, music and security, throughout the property.
"It's amazing how well the technology in this house works," points out real estate agent Neil Chhabria of Chhabria Real Estate Company.
The second level of the home is reached by a curving sweep of a staircase, made more splendid by a glittering chandelier and round ceiling, raised and glowing, that greets one at the top. (This staircase is housed in a turret covered with hand-cut stone, a process that took craftsman over 10 months.)
On this floor one finds the atmosphere of a family home balanced with a well-tempered grandeur: There are two cheerful bedroom suites, ideal for kids, that are steps away from a master wing that makes up much of this floor and includes dual walk-in closets, a marble bath suite and a serene, fireplaced library decked in sleek custom woodwork.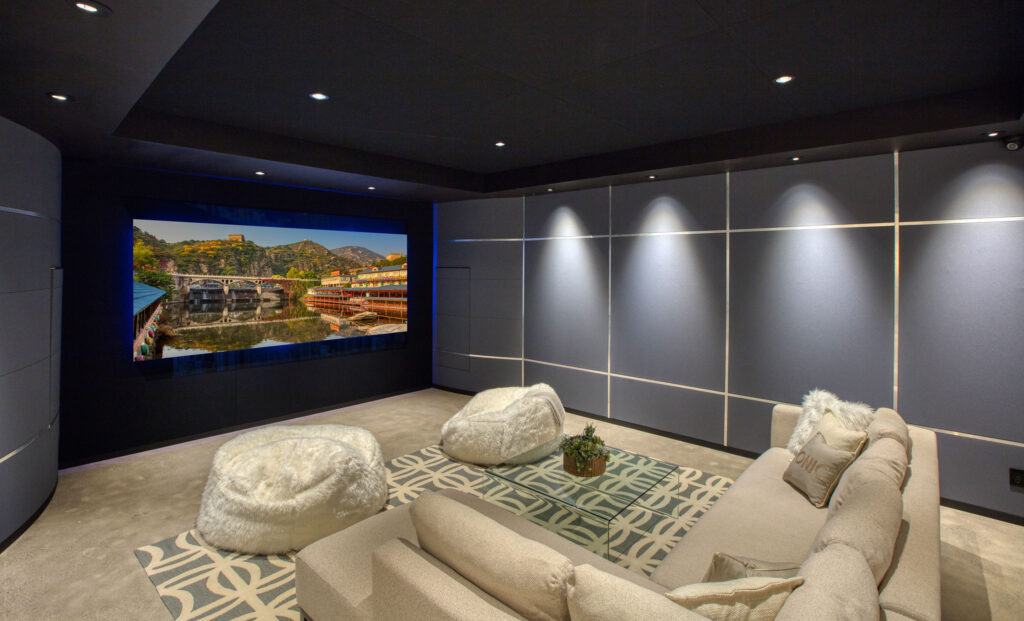 The home's basement is an animated den of escape, aptly introduced by way of a curved stairwell lined with diamond-plated chrome metal. It's an industrial-meets-space age look that continues in the sprawling recreation area that feels like a nightclub, with polished concrete floors, an onyx bar and lots of seating. Next stop is one of the home's most flashy highlights: a commercial-grade theater complete with a widescreen projector screen and a sound system (Dolby Atmos) that moves around viewers in three-dimensional space. "This is the nicest home theater I've ever seen in a home," remarks Neil Chhabria.
"The owner is a technology and movie buff."
Enter the property at Strawberry Lane and one enters a self-contained world of luxury and diversion. "There's a different level of quality that went into the project," explains Raju Chhabria.
"From the floor plan to the engineering and quality of finishes—every detail is just perfect."

Raju Chhabria of Chhabria Real Estate Company
The neat green lawn even extends all the way to nearby Strawberry Trail, and includes a fresh-air sports court, ideal for paddle tennis or basketball, plus a sunny guest house with many possibilities beyond housing visitors. The homeowner, for instance, used it weekly to host post-game dinners and card gatherings with friends.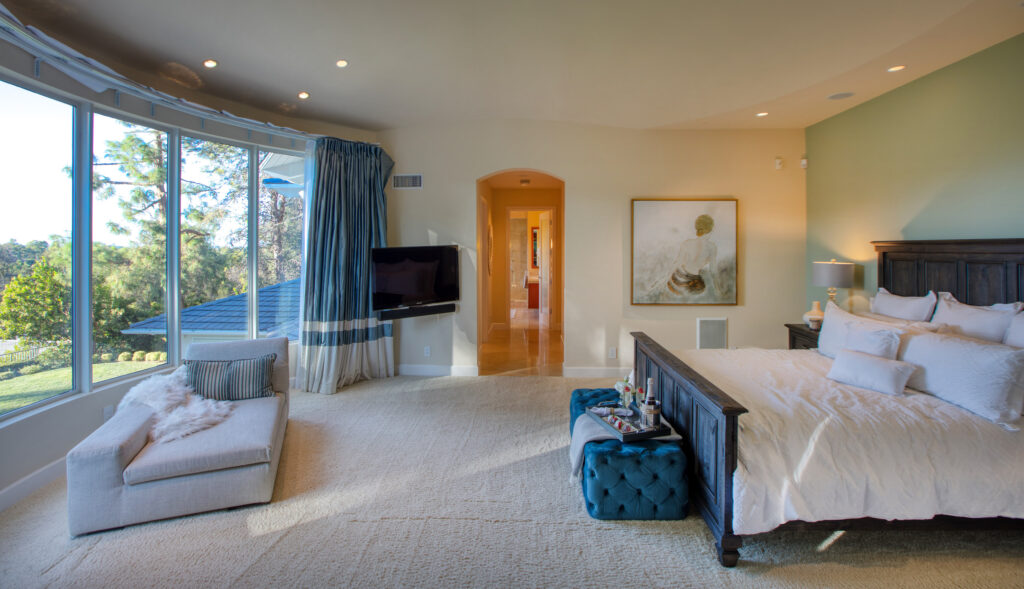 "The biggest selling point of this home is the overall package of what you're getting," Chhabria points out. "An extremely well-built home. A large home that's perfect for a family. And, you're getting an amazing value."
Raju Chhabria | Chhabria Real Estate Company
310.493.9533
List Price $5,950,000
Photographs By Paul Jonason