From downtown L.A. loft to browser's bohemia, The Last Bookstore is a reading refuge for bibliophiles
The independent bookstore, so ablaze with ideas, offers something tangible in a world when vast swaths of the population might go about life with little human interaction for days on end. With conversation and exchange (and almost always a few curious regulars milling about), bookshops are the lifeblood of communities still lucky enough to have them.
One of these enclaves is Downtown Los Angeles, where in 2011, Josh Spencer showed uncommon resolve in unsure digital times by opening the Last Bookstore in the Spring Arts Tower at 5th & Spring, the third chapter of a success story that started in an L.A. loft, moved to a small place at 4th & Main, then set up shop as a behemoth of a brick-and-mortar, with 22,000 square feet of retail space, art galleries and shops on the mezzanine level, an Art & Rare Books Annex, and a mammoth catalog of some 250,000 titles.
Now California's largest operator of new and used books, along with vinyl records, the Last Bookstore runs a brisk but selective buy-sell-trade business. Do you want a beat-up second-hander? How about a scratched-to-death record (CD or DVD)? Neither do these folks. The place trades in mint-condition inventory, much of it hard to find. (The original Sweet Valley High series? It's here.)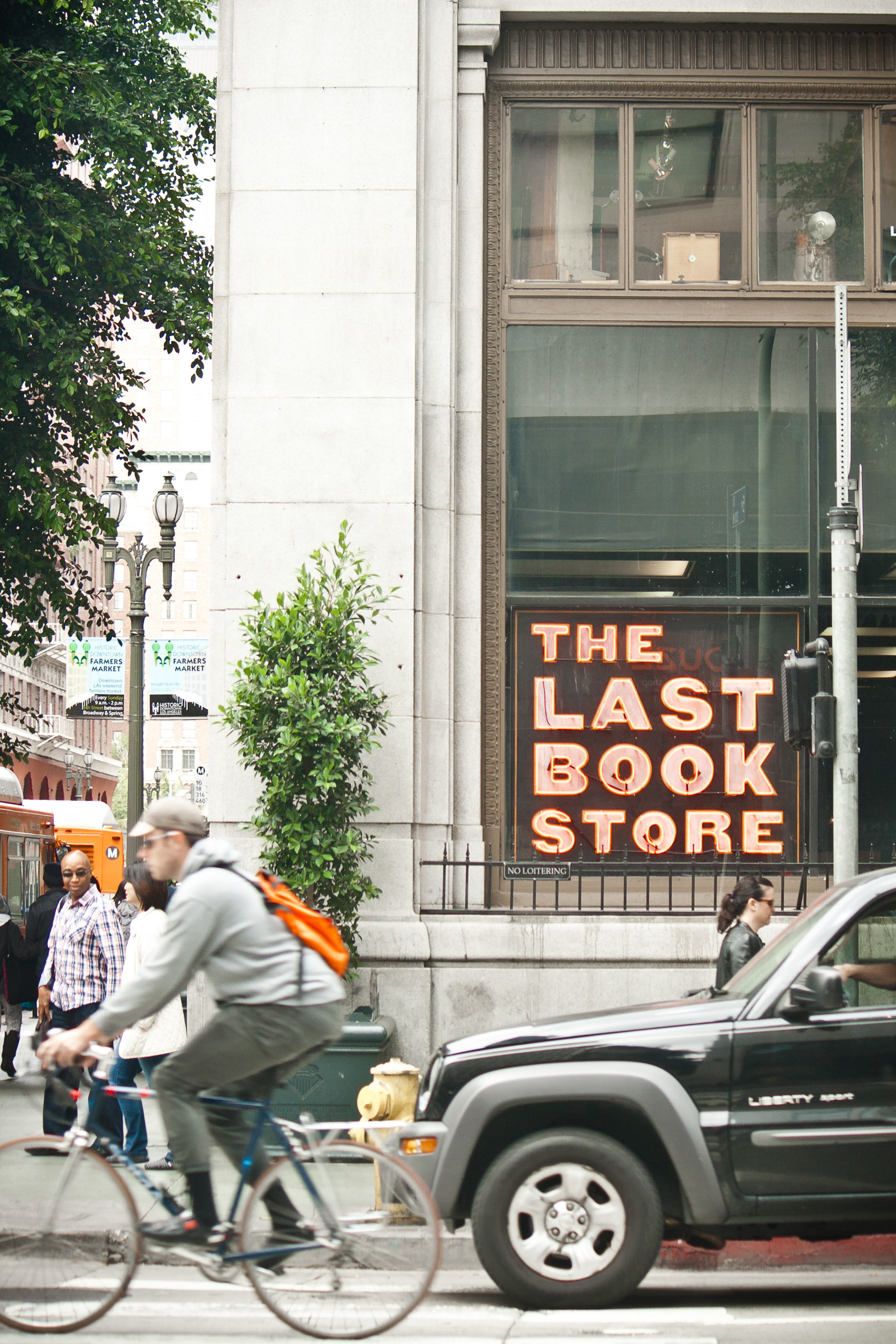 Housed in an old bank, the Last Bookstore is columned and maze-like, with ceilings as high as the heavens, bank vault reading rooms, a tunnel made of books and other curiosities. Together, these touches evoke what could easily be the prop department of a Baz Luhrmann movie. It's theater, the Last Bookstore, magical in the way old places can be—distressed here, dressed there, with period details of so much soul. Walls painted dark, a lustrous bit of custom lighting, all "makes the store feel like a trip to the past," says manager Katie Orphan. And a bit of a trip, period. There's also a stunning bit of local art from artists with galleries above the store, and an upstairs labyrinth that leads shoppers on a paper chase through a warren of books.
Spencer, the creative engine of the place and a born orchestrator with clear smarts, understands that for the Last Bookstore to survive in the age of Amazon, it needs to serve as a community's cultural core. This it does, with an atmosphere unlike anything else, with a rabbit hole of events, ranging from the expected (author talks, community meetings, book clubs for feminists, horror fans, etc.) to more unorthodox fare (an evening with the cast of Portlandia, pop-up dinners, the wedding of authors Ransom Riggs and Tehereh Mafi).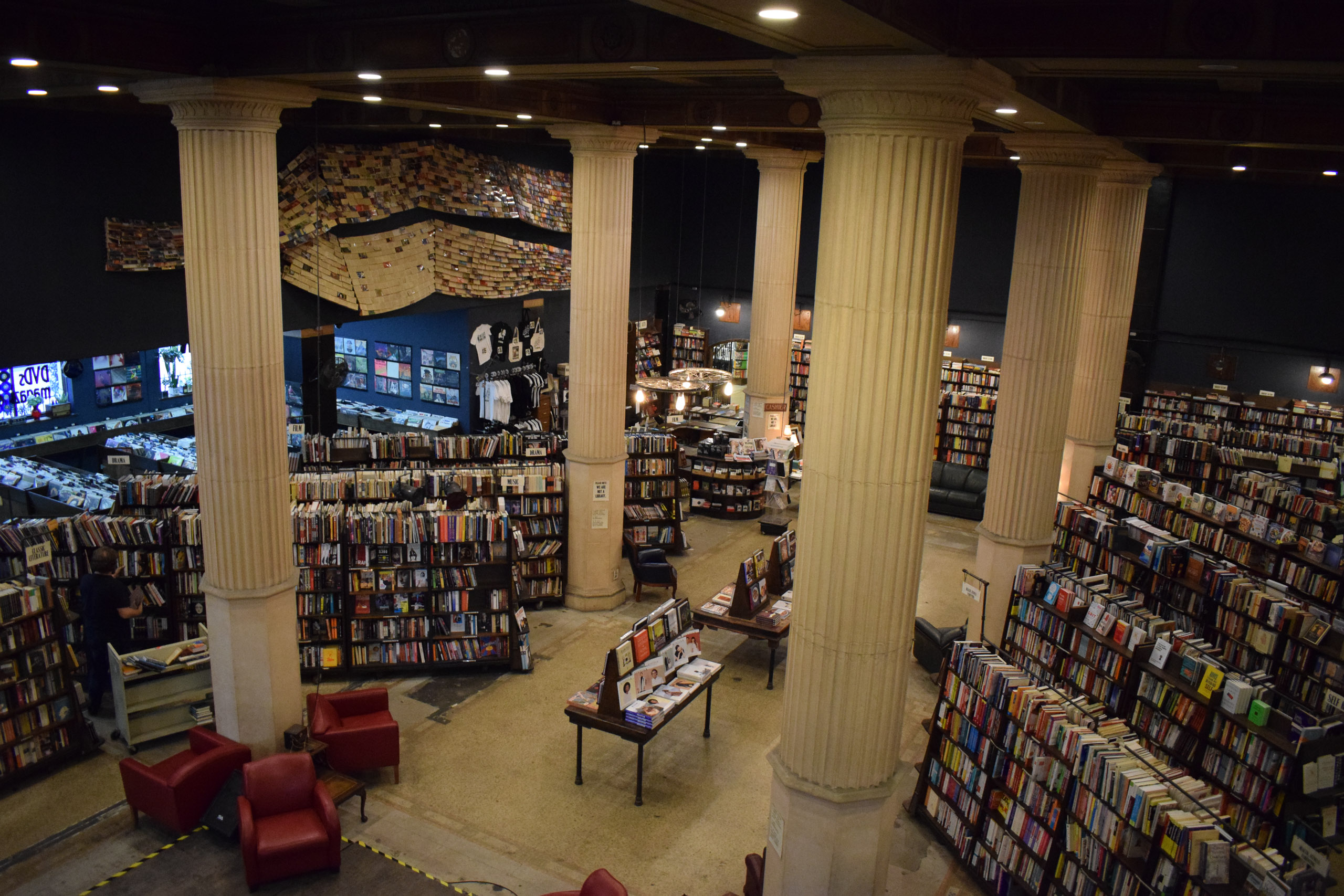 Engagement might just be the most important of all independent bookstore bona fides, its competitive leg up. "There are things at which an independent bookstore really excels, like having knowledgeable staff who can make personalized recommendations of books to customers, and that's hard to replicate online," says Orphan. "We can recommend sleeper titles and promote lesser-known authors in a way that other retailers aren't necessarily equipped to do."
With all the screen time we're logging these days, even the idea of a bookstore feels mooring, the flip of a page all the more reassuring in its consistency, the encounter of a new character a thrill in the finding. This is true everywhere, but poignantly so in Los Angeles, a city with a contradictory nature, progressive but rooted to the independent spirit of the West, that sense of willingness and freedom to do whatever one wants—be it build, or grow, or create. The revitalization of the city's downtown matches the Last Bookstore's ability to tap into our analog side while speaking to a larger literary renaissance.
"People don't like to lose something that they've loved for centuries," said Spencer in a Vimeo video. Not a new concept, perhaps, but novel — lastbookstorela.com.
Written by

Jenn Thornton |

Photography Courtesy of The Last Bookstore