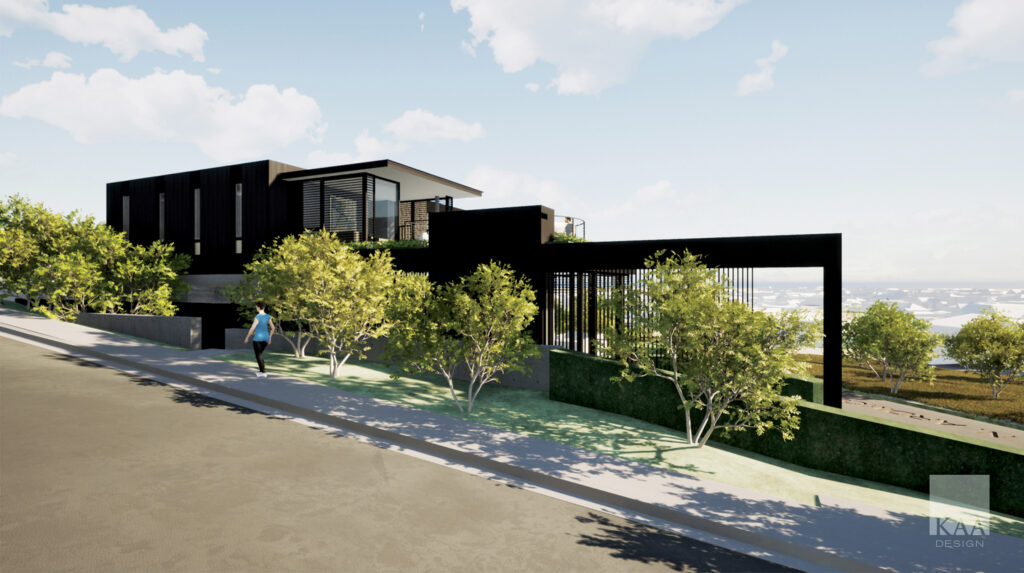 A Planned Contemporary Residence at 600 8th Street—by Award-winning KAA Design—on a Special Manhattan Beach Corner Lot Blurs Indoor-outdoor Boundaries With Sophisticated Terraced Living
There's a manicured greenbelt running through the heart of Manhattan Beach, offering a spacious park setting in the midst of the bustling beach town. Only a few blocks south of Downtown, on the corner of 8th Street, there's a Hill Section property neatly rising above the town, offering an energized panorama of blue ocean. Dressed up with green trees, the mountainous silhouette of Palos Verdes Peninsula and a boundless blue sky, it's a postcard-perfect site that's been ideally captured in a home design, named The Frame House, by standout architecture firm KAA Design.
"If you wanted to plant yourself in a location that gives you a taste of everything, it would be this," real estate agent Jeremy Shelton of Pacifica Properties Group says of the address: 600 8th Street.
There's easy walkability to town and beach, both reached in less than 10 minutes; and instant access to nature with the adjacent greenbelt and its easygoing walking paths.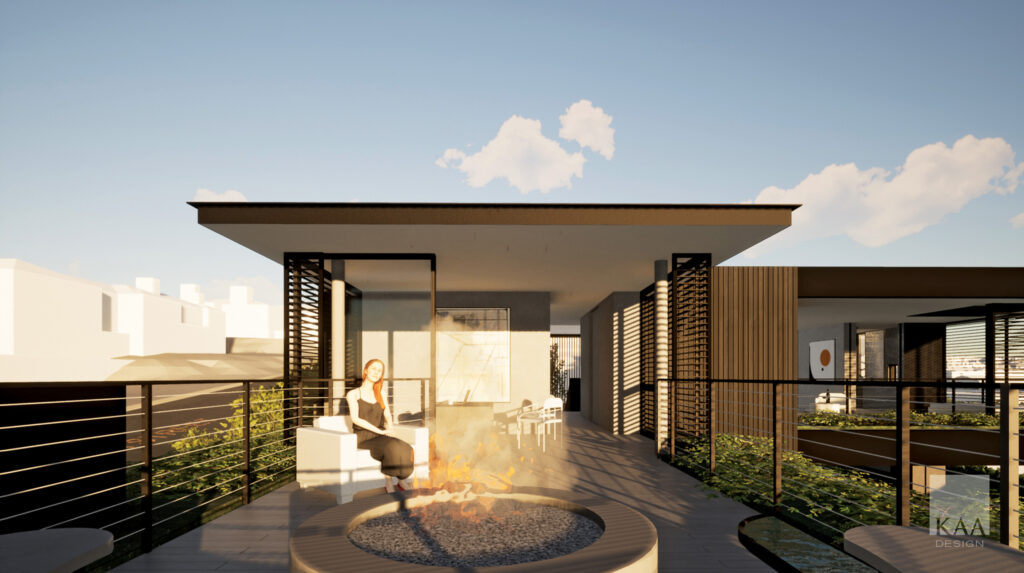 "The property faces due West so you get an incredible amount of natural light all day long, all year round," the agent adds: "Plus, the orientation and slope of the lot provide some sneaky ocean views."
Views that, along with a constant filter of glowing California beach light, are a constant in the design for a planned residence that's in the process of being built. With 6 bedrooms and 8 bathrooms, the contemporary residence was designed by KAA partner Duan Tran. As lead principal architect on the project, working with a team that included a dedicated landscape architect, Duan Tran spun the property into a resort-like atmosphere that makes the most of the 7,600-square-foot lot.
"One of the intriguing things about this project for us was that it was not a typical property," the architect points out, citing the trapezoidal shape of the land, along with the proximity to neighboring green spaces, and a near-absence of direct neighbors: "On a project like this, we found a way to capitalize on all of those odd spaces on the property so they became usable."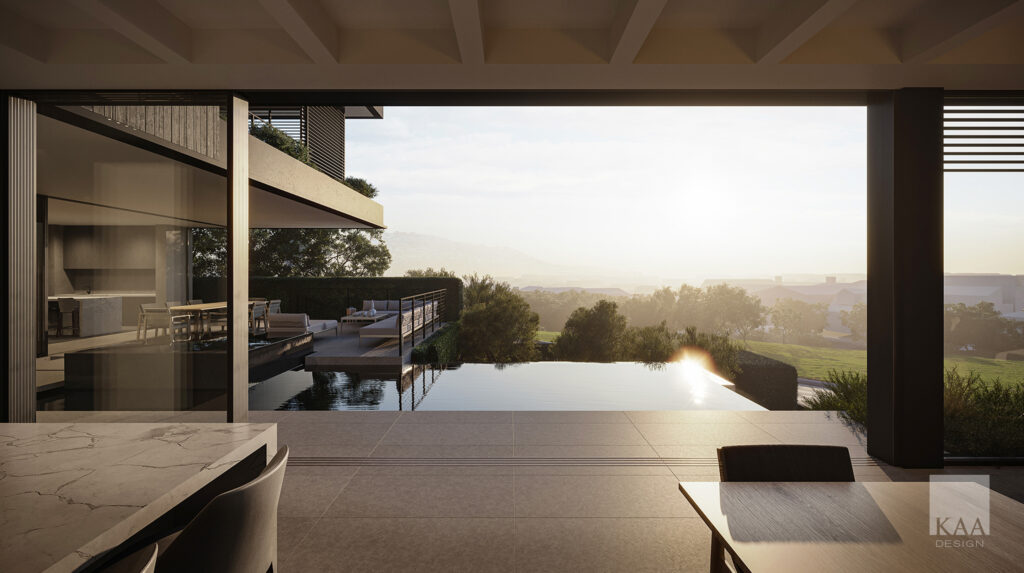 The design features approximately 6,000 square feet of airy living and entertaining spaces within an expert flow of crisp interior and exterior spaces. Baldwin Construction, a regular partner of the architectural firm, and responsible for building many custom luxury homes in the Beach Cities and Palos Verdes, has completed the foundation.
"Baldwin is exceptional when it comes to technical builds, which KAA homes often are," remarks Jeremy Shelton. 
The home's detailed plan emphasizes open, urbane living spaces starting on the third floor, where you take in color-soaked sunsets and high-altitude views of the horizon from the sprawling primary suite.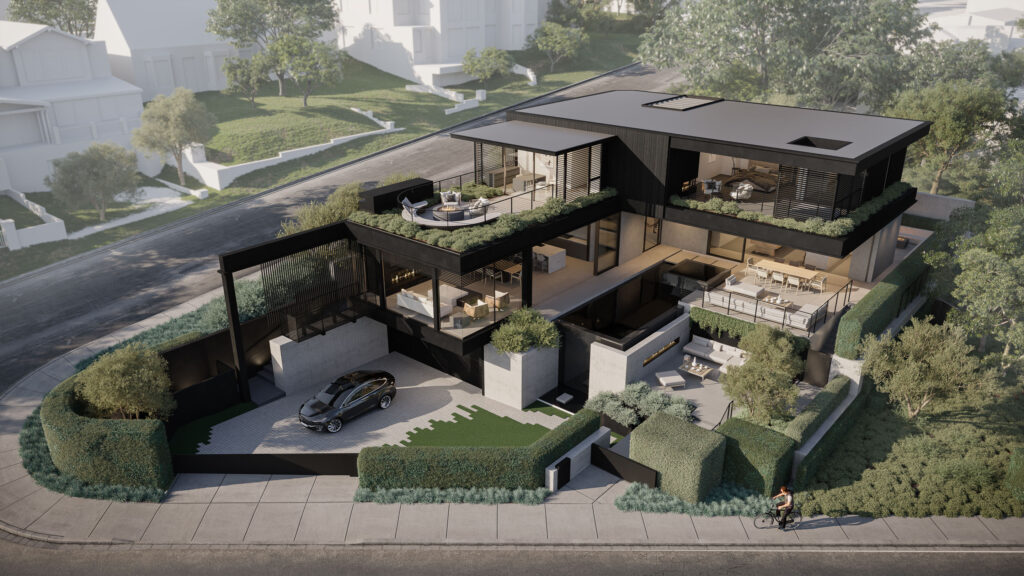 "Because you're situated so high above Ardmore Avenue, you get a tremendous amount of privacy," notes Jeremy Shelton, "and the elevation gives you great sunlight."
Whether perched on the covered outdoor lounge or soaking in the built-in bathtub, your eyes are fixed on unobstructed views of the water and coastline. Also on this floor are two additional bedrooms, both en suite, plus a sleek office where you step out onto a green rooftop garden to refresh amid the bird's eye views of the Pacific Ocean.
"It would be like waking up every morning in a five-star resort in a sunny location," Jeremy Shelton says of the design.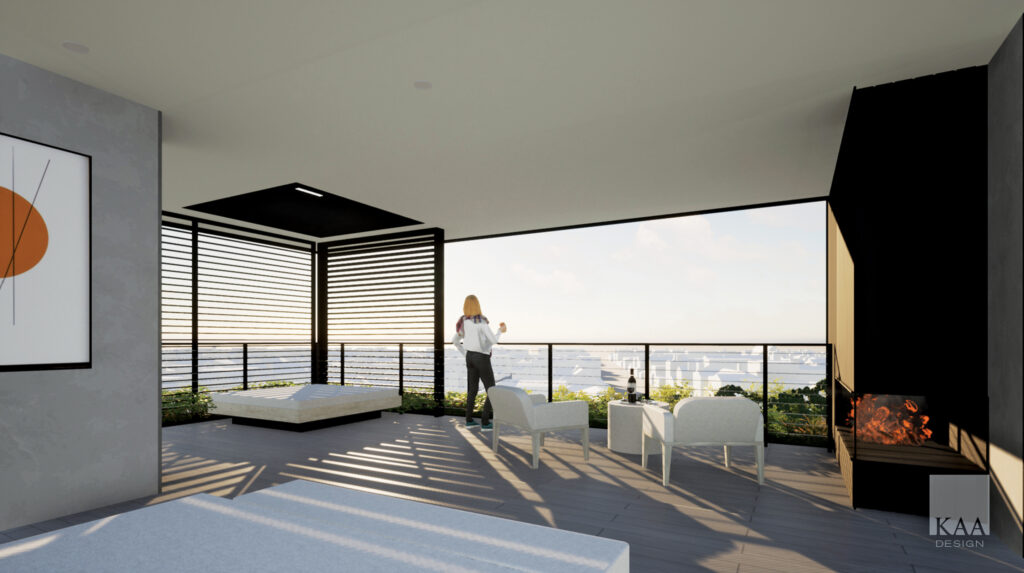 You can take the elevator to the second floor, where the main living and entertaining spaces are gathered around a jewel-like infinity pool and tranquil spa. Here, you imagine spending much time at the island in the open-plan kitchen or gathering around the fireplace in the great room.
In both cases, you're linked to the water via pocketing glass walls that run along the entire area. Step outdoors proper and a catwalk connects you to the pool deck and terrace—an ample space for lounging and dining that also merges with a sunny game room with a bar.
"There's an emphasis on living, entertaining and community spaces that are light-filled and exposed," Jeremy Shelton explains, "yet there's the privacy you want in a family home."
The home and its outdoor living areas are smartly shrouded by design and location—the home is situated on a corner lot, with no direct neighbors to the North; and due to the neighboring greenbelt, none at all to the West. There's a combination of walls and landscaping, notably tall hedges, built into the design that cloisters the property, starting at the main gate on North Ardmore Avenue which opens onto a roomy motor court and the entrance to a four-car garage.
It's an inviting entry sequence that leads to the ground level, where KAA's plan calls for luxurious amenities like a sauna and a spacious gym. This level, with two bedrooms and bathrooms, plus a kitchenette, also serves as a dedicated guest floor. A dedicated arts and crafts studio rounds out the lifestyle niceties on the ground level, as does an elegant private terrace— sunny yet shrouded in bushy trees and shrubbery.
This feature, like the property as a whole, balances a sense of openness, of being connected with nature, alongside the comfortable certainty that you're in a world of your own.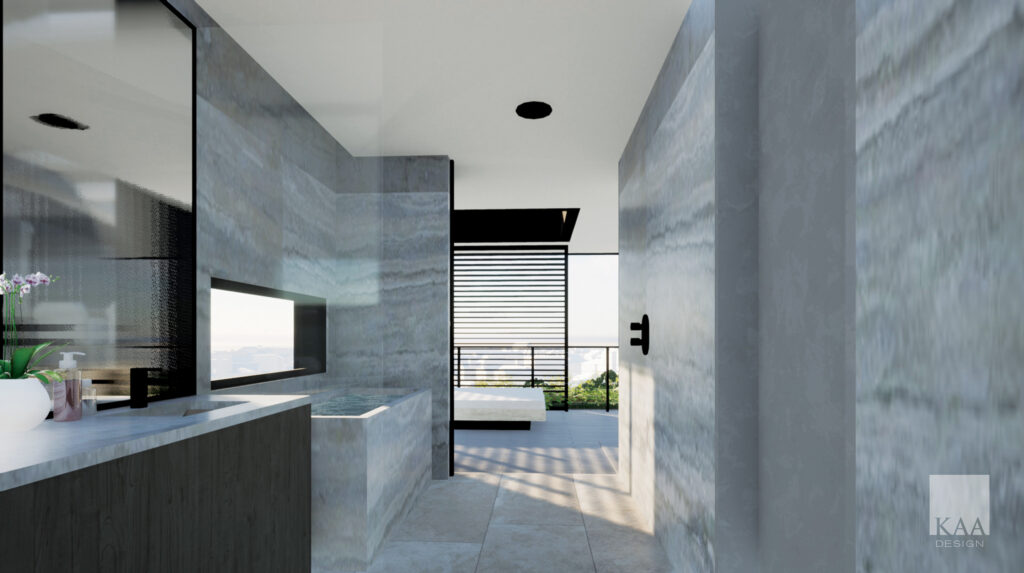 "From a site perspective, it offered a lot of opportunity to do something different, that wasn't of the cookie cutter mold," reflects Duan Tran. "The opportunity to do something where we had some elbow room to expand vistas and open up the house to capture views, light and air."
Within this visually dynamic atmosphere, the floorplan nonetheless remains remarkably accessible, possessing a user-friendly flow that connects with homeowners of all stripes.
"Everything has been considered and implemented in the home," declares Jeremy Shelton: "It's a true showpiece and one of the most impressive homes you're going to see in Manhattan Beach."
Jeremy Shelton | 310.245.3705 | DRE #01416145
Pacifica Properties Group
List Price: $6,500,000
Build in-progress
Renderings Courtesy of KAA Design & Shimahara Visual Renderings