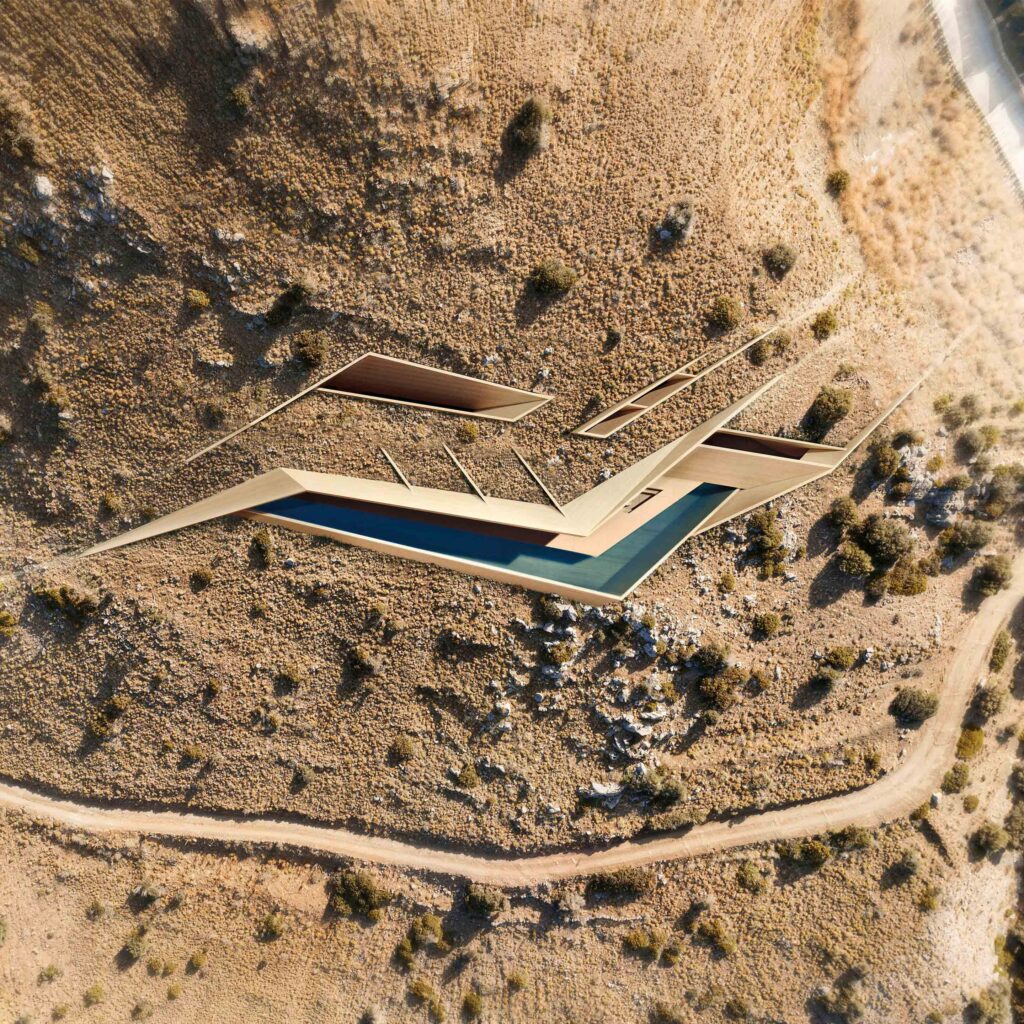 On the Greek Island of Crete, in Its Splendid South, KRAK. Architects Puts a Conceptual Subterranean House to the Sword
A slice in the earth so precise, as if rendered by blade—a single-edge Japanese katana sword, in particular—marks a highly conceptual residential design by Konstantinos Stathopoulos of Greece-based KRAK. Architects. Named for the instrument's sharp yet gentile cut, the leisure residence Casa Katana pierces the senses almost immediately, a sleek, ultramodern outlier in an ancient landscape in southern Crete. But in fact, this architectural experiment is integrated into the terrain, minimizing visual disturbance to the site and leaving its beauty unspoiled.
The subterranean dwelling is sympathetically situated to its mythic surround. How could it be otherwise? The birthplace of the divine archers Apollo and Artemis, Crete is steeped in a sense of wonder remembered in the gods and monsters of ancient Greece. That the place is still imagined as mythological is simply in the soil.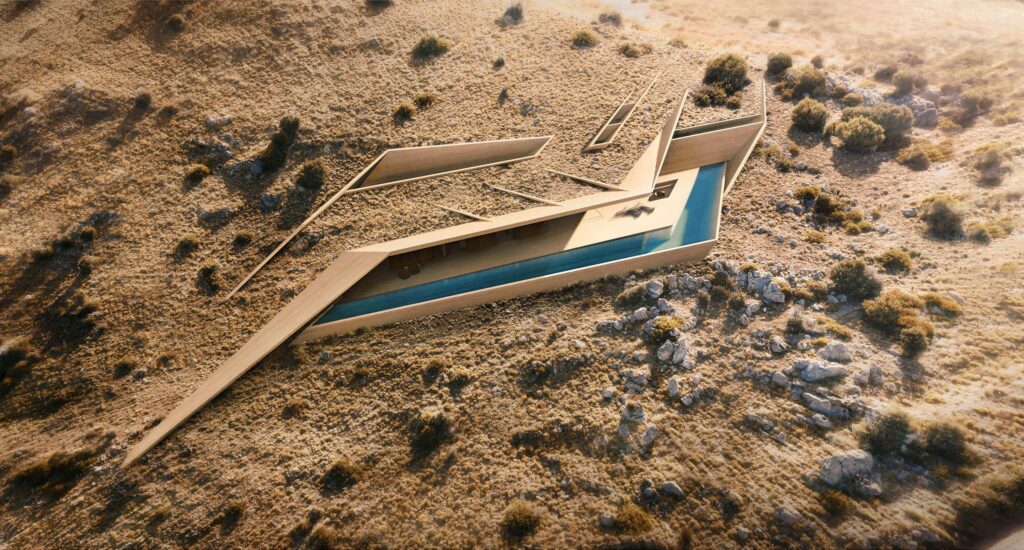 One of a distinctly Mediterranean persona, expressed in rocky coastlines, native scrub, and crystalline seas with the allure of a thousand treacherous sirens. In this cradle of land and lore, Casa Katana is a contemporary legend of a kind, a design as bold and visionary as the hand behind it but blazingly futuristic, as if sent here from a time centuries from now—maybe even worlds away.
This is not folly, however, but provocation, a searching piece of architectural work. Conceptualized with both virtue and logic, using light, shadows and the void as synthetic tools, the starkly angular form nonetheless defies conventional description. Predictably, it does not receive one.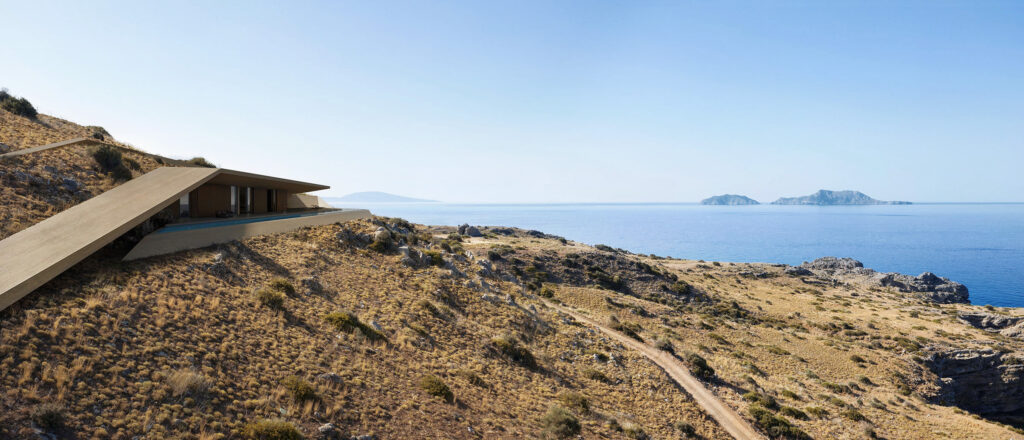 Not from Stathopoulos for whom "architecture is a field of constant pursuit and wandering" and also involves "a special kind of magic." The house, as he conceives it, sits in the terrain "as if it were made to live in its bowels a Minotaur and the engravings of movements like another thread of Ariadne"—a mythical Cretan princess, daughter of King Minos—"to lead your way inwards and from there back out towards the light of the Libyan Sea," he says with Homeric flourish.
The dwelling is, after all, epic, a mindbending, lacerating the landscape while hyperresponsive to its characteristics, climate conditions and light. The project is especially deferential to the timeless Japanese principles of minimalism and attention to detail. Embedded in the essence of the Katana sword, Stathopoulos explains, is a lightness and elegance of movement that translates to Casa Katana, as well. Symbolically, he notes, a Katana sword requires artisan knowledge and a great deal of refining work by human hands until it is hardened, functional, and aesthetically pleasing.
The process, he continues, "resembles, in an almost religious tone, the effort and work that an architect needs to add in order to produce a good design."
Casa Katana is that design. Located above the site's rocky formations—high enough to enjoy unobstructed views and privacy at the same time—the subterranean structure takes shape in the form of a continuous concrete blade done in a natural palette so that it might slip imperceptibly into the landscape—its seamless, spectacular extension. Durable and low-maintenance, the material lends a monolithic feeling and aesthetic to the structure. Entered underground, the dwelling offers inhabitants what Stathopoulos calls "a cave sense," but not, thankfully, its claustrophobia.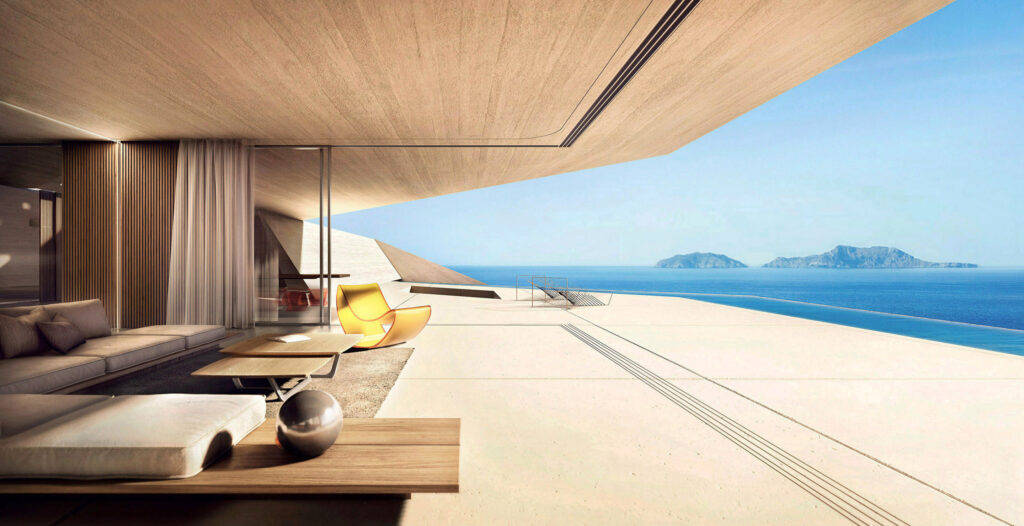 Quite the opposite, in fact. While protected, the interior is airy, ribboned in sunlight, and immersed in visions of blue—sea, sky, and a sparkling infinity pool that runs lengthwise across the edge of house and wraps one corner in a swift, razor-sharp turn.
"Since the Cretan climate promotes outdoor living," Stathopoulos explains, "a large part of the house is dedicated to the outdoor and semi-outdoor spaces in an open layout."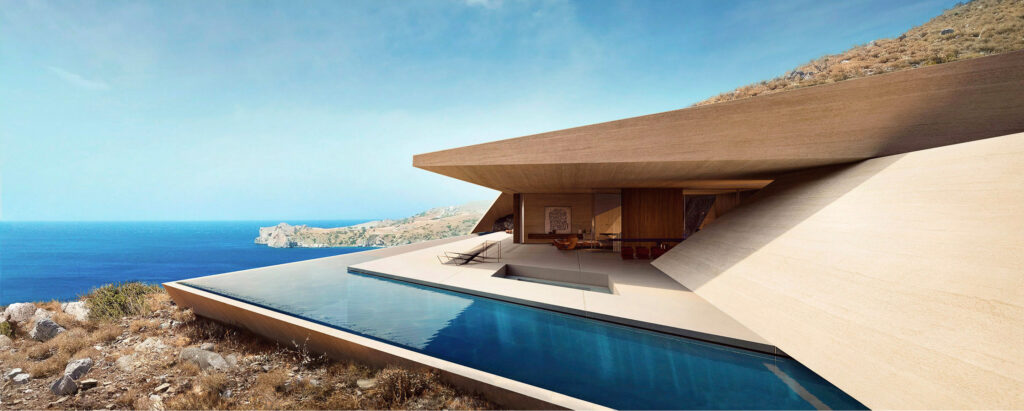 Exaggerated walls of glass are used to create a dramatic outdoor transition, availing the interior of panoramas in perpetuity, with elaborate overhangs providing shelter and discretion. Striving for discovery through a series of reveals, the interior approaches space as a sanctuary, with each room a safe harbor, a stop of time, an interlude with immensity. It is an arrangement made all the more breathtaking for its strategically placed liberations. In the inhabitants' search for light, there is freedom. The underground house ultimately lives en plein air.
At its core, the concept is an interaction between site and surround, shadows and light, the built environment, and the natural world.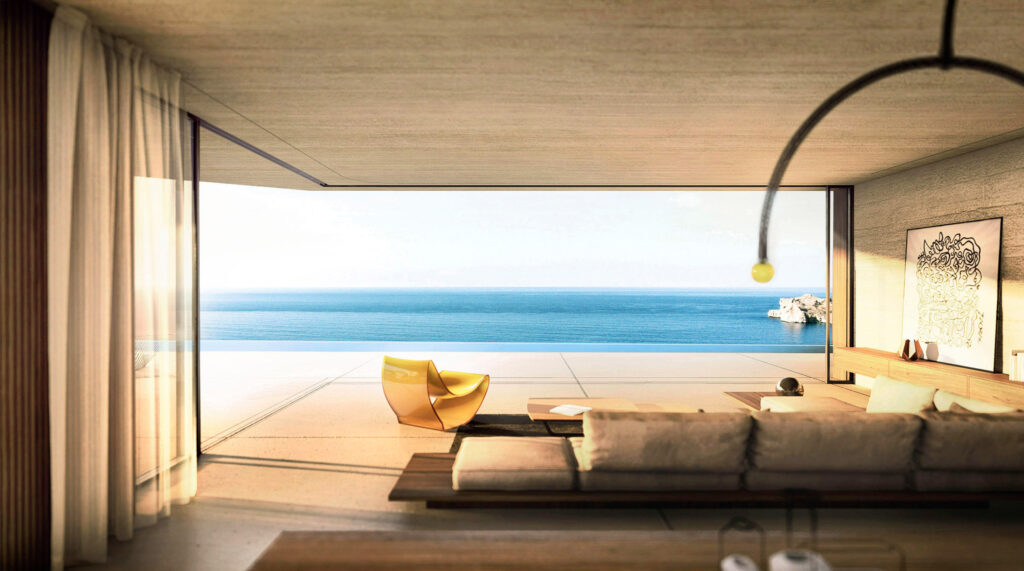 It also addresses the core challenge of the architect, which is, as Stathopoulos defines it, "to design a residence that combines reason and dream." A residence, he argues, "must possess the functional character according to the rules of building and bioclimatic design, but at the same time must be able to speak to the human soul."
Casa Katana is intensely sympathetic to this idea, an expression of living in appreciation of an elegant and immense beauty. But what are words when such an architecture leaves one speechless?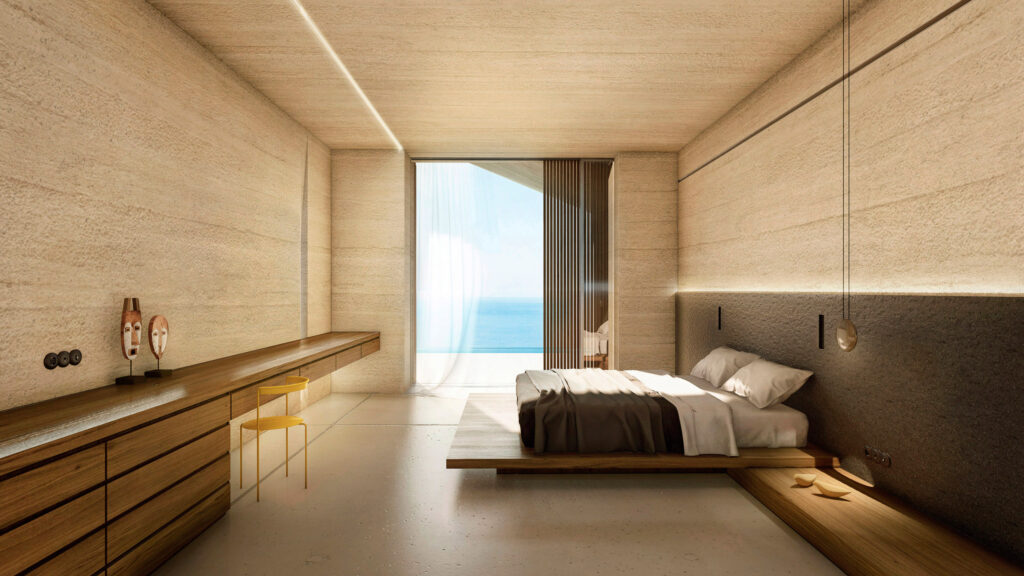 KRAK. Architects | @krakarchitects | krak.gr
Photos: © konstantinos stathopoulos | KRAK. Architects