Sweeping terraces and high-tone details set this unapologetically grand ocean-view villa apart.
Written by Constance Dunn
Photography by Paul Jonason
Offered by George Wong of Keller Williams
List price $8,750,000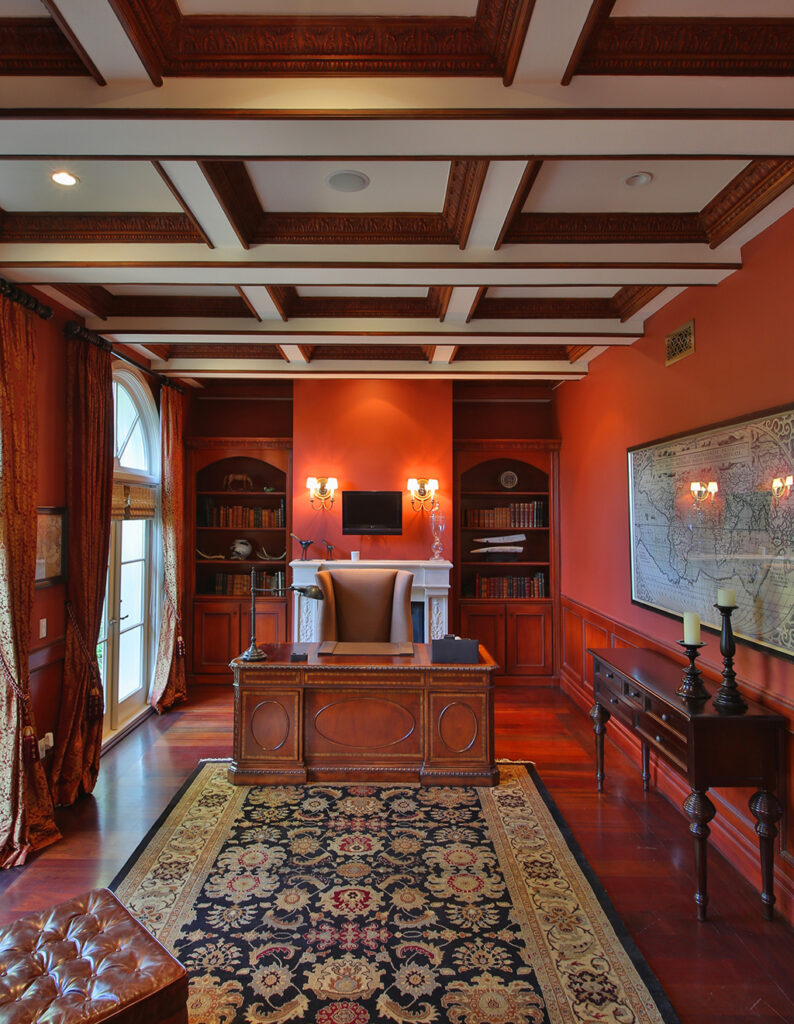 In ancient Greece, porticos were built along the front of temples to communicate grandeur at first glance. These covered entrances, shored up by impressive columns, were effective then, and are today, as experienced by a recent visit to  a palm-fringed Mediterranean villa poised atop the highest reaches of Palos  Verdes Estates.
While the property may sport the area's compulsory red-tile roofing, it distinguishes itself from the more casual Mediterranean-style homes that are so plentiful in this area by sporting the earmarks of a classic Italian Renaissance country home, starting with a flat roofline and elaborate entrance. The portico greets guests with decorative twin columns that meld into a half-moon archway and span the height of the home's second floor. Jumbo steel-and-glass doors swing open and an airy front entrance carries through on the promise set up by the home's exterior.
"The attention to detail in this home is phenomenal," notes realtor George Wong, pointing out a heavy crystal chandelier hanging in the rotunda foyer, a space that glows from a subdued constellation of recessed LED lighting. "It's full of custom features and high-end finishes." Beneath, heavy tile flooring forms the shape of a wily burnt-orange sunburst and a burnished handrail of curving petals follows the gently curved staircase up to the second floor, where it splits off to wrap around the landing.
It's on this floor where nearly all of the home's eight bedrooms are housed, most of them gifted with dainty balustraded balconies that lend visual harmony and the Italian Renaissance flavor to the exterior of the house. Attached to the second-floor master suite is an all-out living porch, recessed from the elements and overlooking the hills and ocean—a friendly spot to warm to the day over a cup of coffee.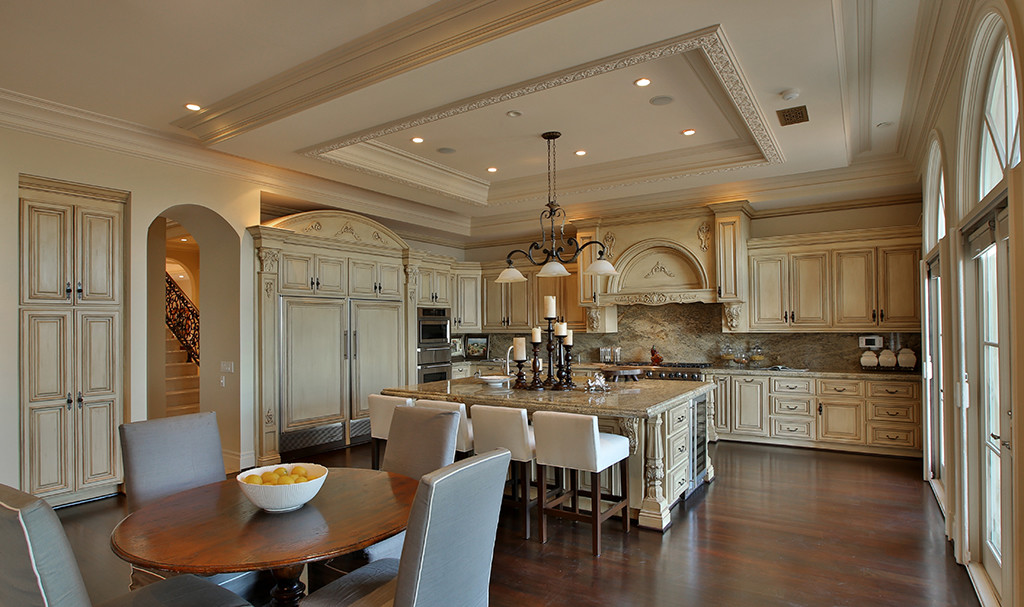 Constructed in 2005 and just under 10,000 square feet in size, this home follows a classic rectangular floor plan: there's a central square on the first floor, hemmed in on three sides by columned archways, and two wings that encompass distinct living spaces. The west side includes a formal dining room, set well apart from a granite-island country kitchen with polished wood floors that adjoins everyday dining and lounging areas. On the east side, an elevated play area complete with billiards and a spacious wet bar, decorously carved in wood and home to a plentiful wine storage area that's tucked behind a door of decorative art glass.
Rooms broad in scale feel open and spacious, but resist modern-day typecasting due to a persistent combination of traditional flooring—polished wood or glossy tile set in a classic pattern—in league with classically decorative ceilings, whether coffered or corniced.
"Usually in a house this size you can get lost," says Wong. "But the floor plan is exceptional, and has a great flow." That great flow is due in part to the integration of the home with the outdoors. No matter which part of the house you find yourself—east or west, front or rear—rows of floor-to ceiling-doors fling open to sunshine, palm trees and lots of blue ocean.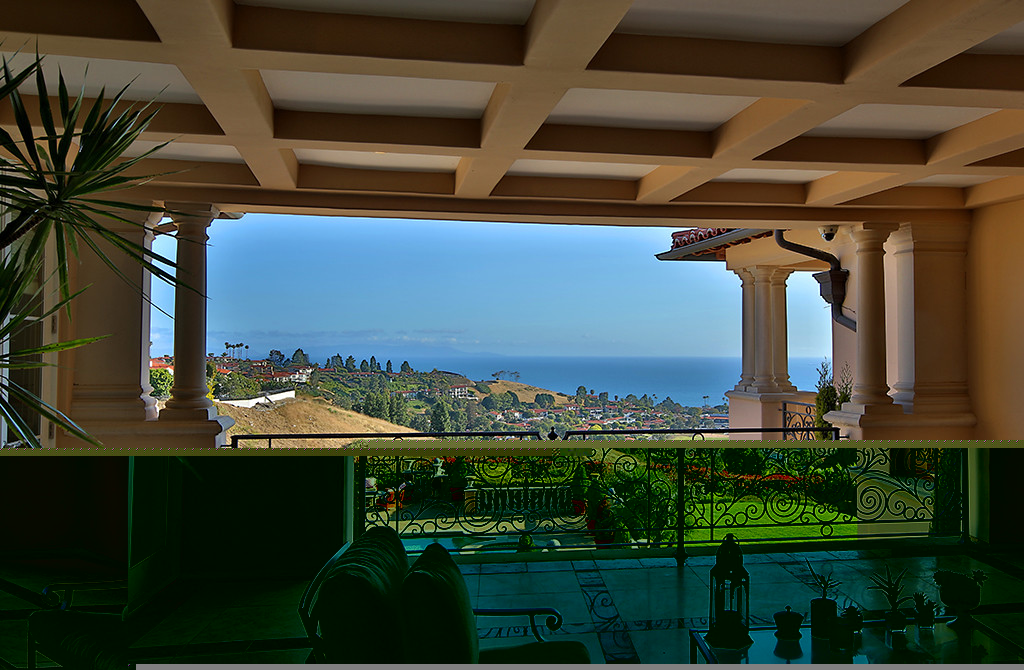 On the ground floor the doors open directly onto sitting and entertainment areas. These are smartly interspersed along an endless elevated terrace that presides over a free-wheeling expanse of green lawn, sloping hills and Pacific Ocean. The Italian Renaissance features are strong here, from tidy shrub landscaping and low-slung column fencing to a pool and spa, Double-Roman in shape, with rounded edges at each end.
Though thoroughly classic in its design, this home has a quirky outlier in the form of a subterranean man cave, complete with a private entrance that's just steps from the three-car garage. The festive spot is a mod departure from the rest of the home, with a bar and group of flat-screen TVs set into a decorative, sandy-hued stone wall. There's a powerful sound system, red pops of color and white-leather minimalist seating set along the walls.
As grand as the home is, its location—set along a wide stretch of Vía Zurita where it reaches its apex in the prestigious Monte Malaga neighborhood— put it in good company. "This is the best of areas," Wong points out. Possibly  the most high-value neighborhood in one of the nation's priciest ZIP  codes, Monte Malaga is home to a cluster of prime properties that have been  built in this high-elevation area, where homeowners enjoy free-flowing views  of gently sloping hills and panoramic Pacific Ocean views. Perched along the  south corner of a quiet residential square bordering George Allen Field, a park named after the famed football coach that's primarily used for local youth baseball games, this home's leisured design turns out to be a natural match for its surroundings.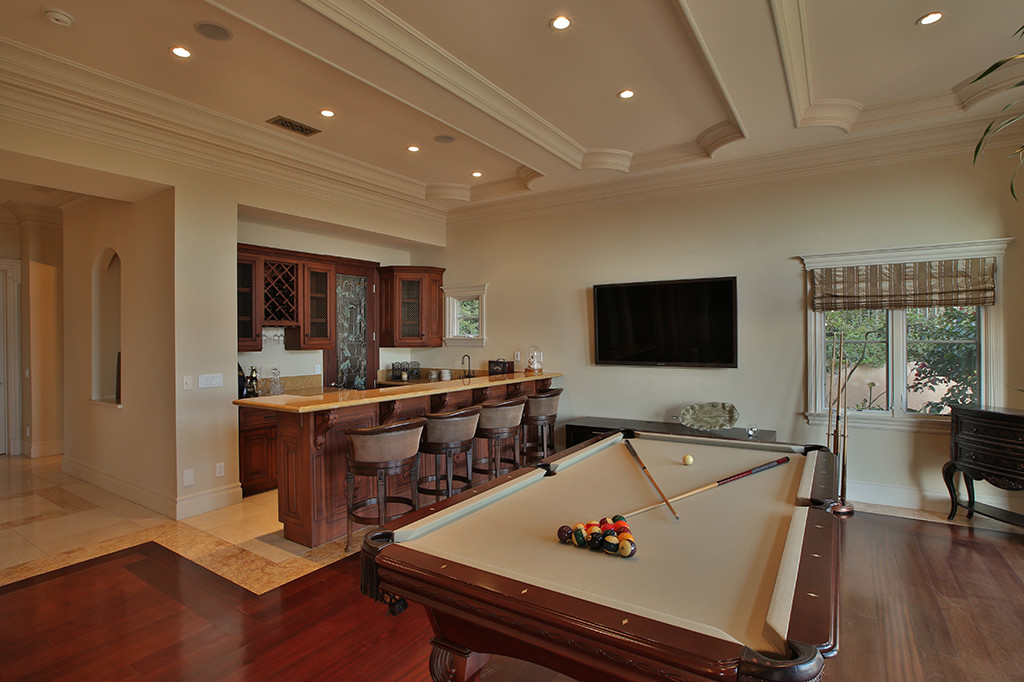 "The grand entrance, the unique design and layout of the house make this property different from others in the area," notes Wong. He's right. The South Bay is chock-full of homes that reflect its beach-casual lifestyle and aesthetic, complete with clever floor plans to maximize all available square footage.  This Italian Renaissance home, though, with its plucky grand scale and  ornamental details, manages to take a refreshing U-turn back to a traditional architectural style that enjoys great precedent when it comes to the art of fine, fresh-air living.