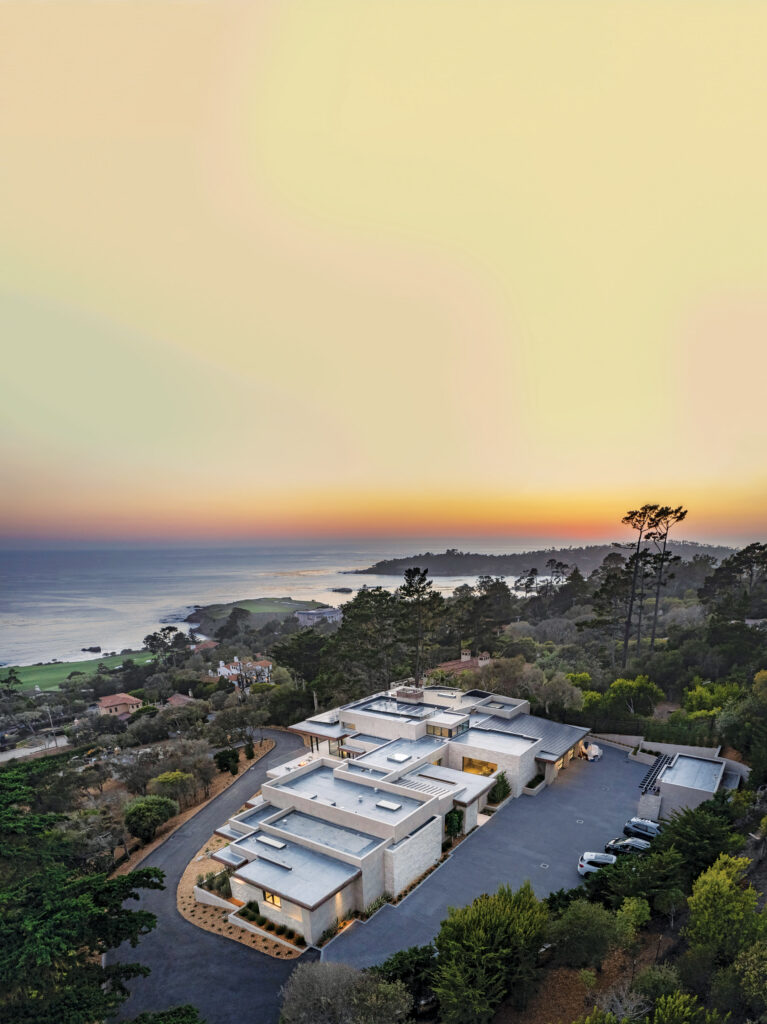 Prize-winning California Firm Sterling-Huddleson Architecture Does Pebble Beach Proud With Its Record-breaking Residence the Edge
Of the select enclaves in America to enjoy instant name recognition from coast to coast, Pebble Beach is one of the country's most idyllic and iconic locales. Positioned between picturesque Pacific Grove and Carmel-by-the-Sea on the Monterey Peninsula, the Pacific Coast-hugging community is better known as a superlative golfer's paradise than for its historically traditional architecture.
Among the grand old manses, however, is a new guard of extraordinary contemporary homes, including The Edge—an architectural opus by Sterling-Huddleson Architecture—that reflects a progression in local design preferences.
It also reflects the hand of accomplished pros. Headed by founders Braden Sterling and Hugh Huddleson, Sterling-Huddleson Architecture is a master architectural brand of high regard and limitless ability, delivering exceptional client- and peer-approved residential designs worldwide from Aspen, Napa, and Hawaii to Provence, France, as a matter of course. Having studied its work for many years, the client for this project approached the firm based on the diversity of its designs.
"They recognized the shift in the local architectural landscape, which encouraged the conversation to explore new ideas and a change in their lifestyle," says Braden Sterling, principal of Sterling-Huddleson Architecture.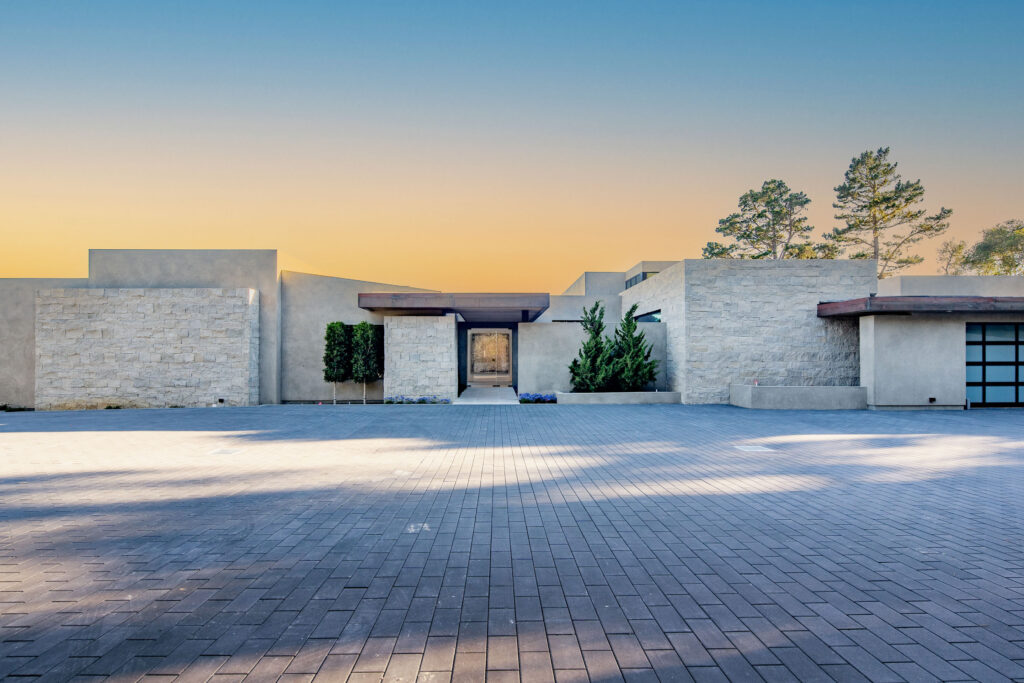 "More specifically," he adds, "they desired a home that is filled with natural light, accommodated family gatherings and entertaining friends while exhibiting a world-class painting and sculpture collection, all while showcasing what has been described as the most incredible panoramic views of Pebble Beach and the surrounding area."
This includes the top-dollar trifecta of Carmel Beach, Pt. Lobos, and Stillwater Cove. With preserving the vistas and the unique coastal environment a priority for Sterling-Huddleson Architecture, the firm commenced a six-year planning process whose result accounted for and solved a multitude of project requirements in concert with the owner's program.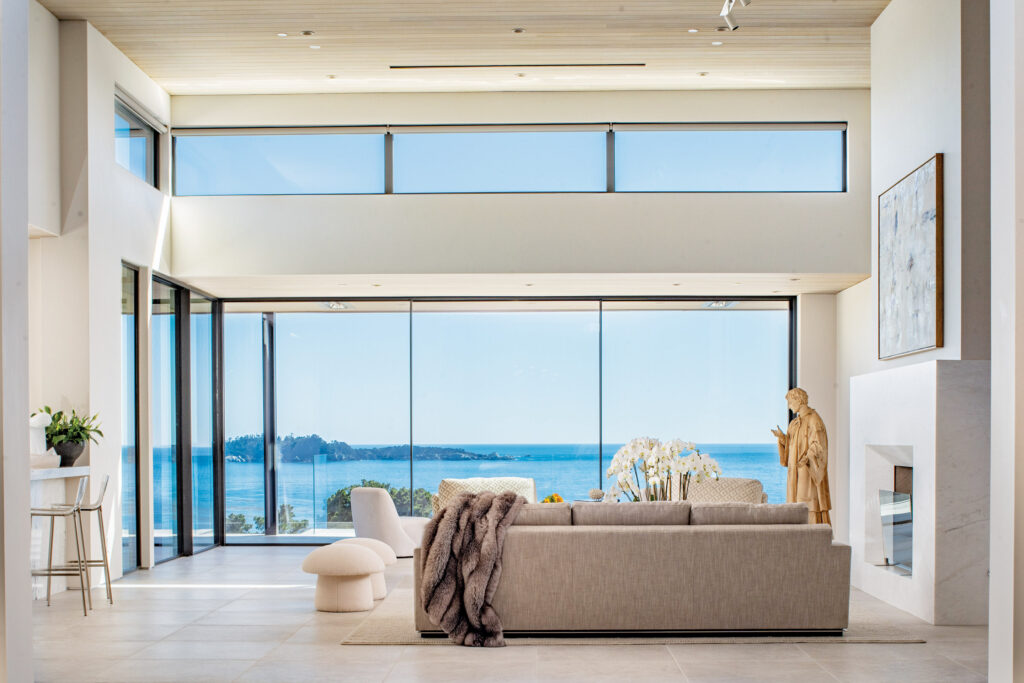 "This degree of project assessment is rare in the area and is one aspect that differentiates The Edge from neighboring estates," says Braden Sterling, noting that the home's architectural style was not a driving factor. The result can be categorized as a contemporary design, Sterling concedes, "but the reality is, the architectural massing is simply a response to the project perimeters."
All the better. The house is spectacular. Crowning a 2.12-acre ocean-view parcel, the painstakingly planned residence projects supreme confidence. One does not see in its sharp geometries, shifting volumes, or extravagant, light-reflecting glass—including a stunning sliding glass window wall—any effort at all. Only the elegant outcome, which comes straight from the Sterling-Huddleson Architecture playbook.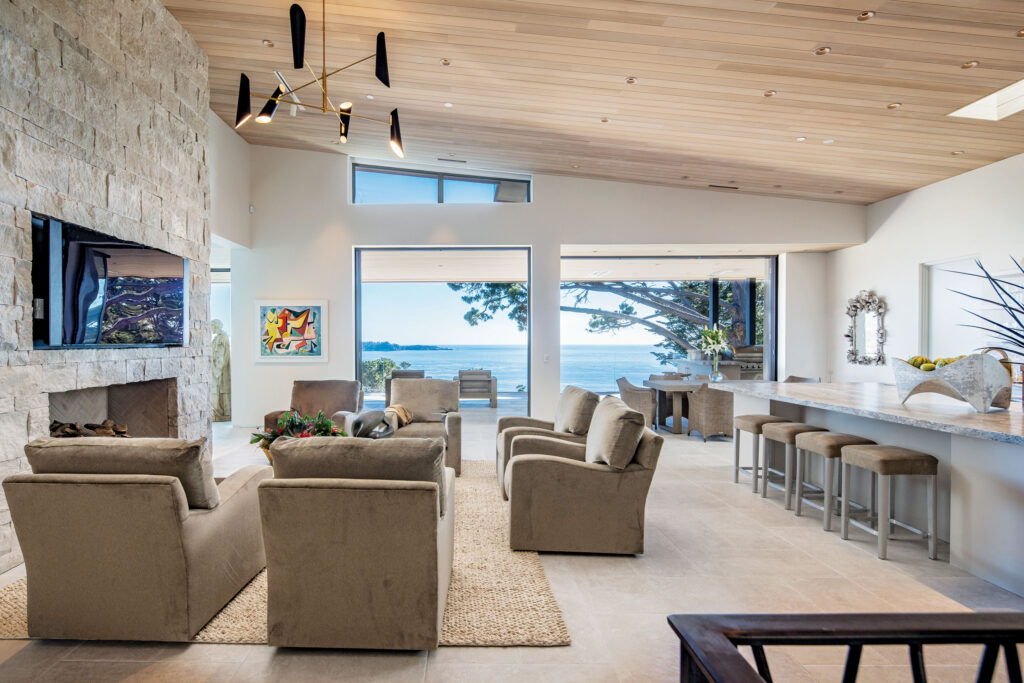 "Creating homes that exist harmoniously within their environment, and highlighting the soul of the land on which they are built, has always been a primary factor in our work," Braden Sterling explains. "The Edge prioritizes the inherent qualities of the built environment—space, light, and form—rather than a single, reworked signature aesthetic."
Skillfully sited to take maximum advantage of its landmark views, the Carrol and Strong constructed residence combines advanced building technology and timeless contemporary design with bronze gates, a drawn-out drive, and a meticulous motor court with ample parking, plus a four-car garage. The house announces itself in great style, first with its spotless facade, then with an enormous frameless glass door entry and a parade of designer spaces beyond.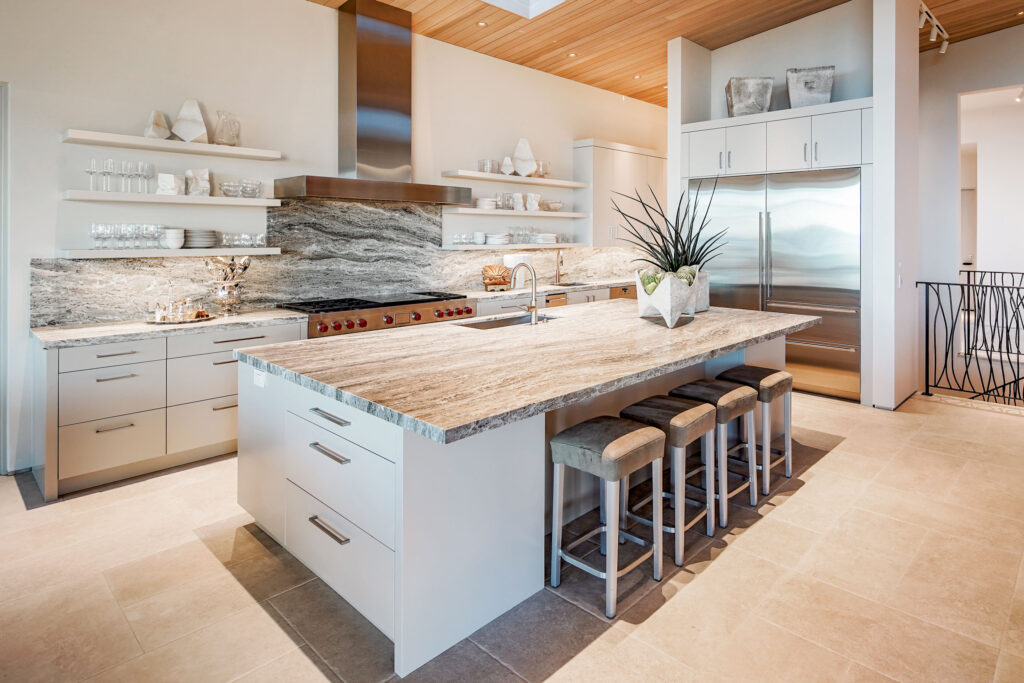 Of these is an ocean-view master suite with dual baths, wardrobes, office and massage/exercise room; three generously fitted guest suites; and gracious public spaces ranging from open and outdoor kitchens to a high-ceilinged home theater with full bar, wine storage and a tasting room, and a covered entertainer's terrace. There is a fully outfitted ADU on the property, as well.
That each space in the main residence is exquisitely accented and finished—think limestone flooring and fireplace surrounds, integral plaster walls, glass and iron rails, and gleaming quartz and limestone countertops throughout—is a credit to high-style interior work by John Newcomb and Sterling-Huddleson Architecture's belief in making material choices rooted in the natural environment.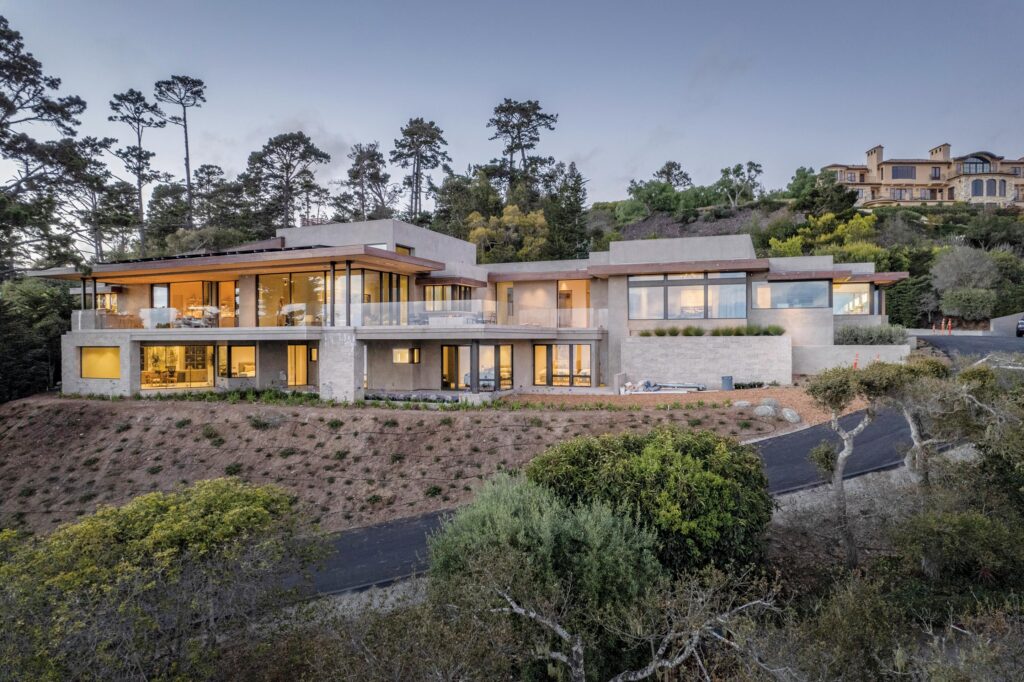 To that end is a mix of cut stone, integral colored plaster, copper metal, and natural cedar accents, all chosen for having an organic beauty that will improve over time as well as unaffected patinas and minimal maintenance. On the technical side, the home features a state-of-the-art lighting system and radiant heating and cooling.
"The Edge was designed to inspire and enliven the everyday experiences of our client and we feel the result is a successful example of our design philosophy," says Braden Sterling.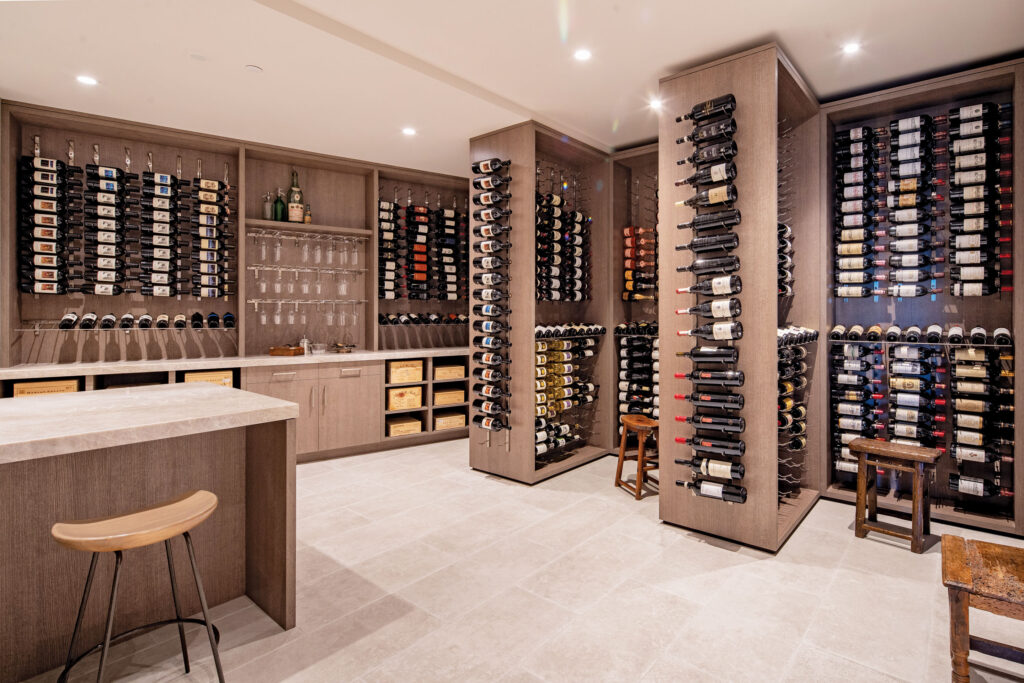 By that metric, the firm has shattered expectations. But this project becomes even more astonishing when one factors in the obvious: Whether hitting the links or building a beautiful house, it's pretty hard to impress in Pebble Beach.
And yet, with its sharp lines, crisp corners and elaborate panorama, The Edge commands more than customary attention—it holds the record for the all-time high home sale in Pebble Beach, too.
Sterling-Huddleson Architecture | sterlinghuddleson.com
Photos: Manny Espinoza