MessHall Kitchen presents an elevated reflection of L.A.'s comfort dining sensibilities
Written by Constance Dunn | Photography Courtesy of Paul Jonason and Courtesy of Messhall Kitchen
Though the legendary Brown Derby restaurant chain is long gone, the site of the Los Feliz branch still stands on the corner of Los Feliz Boulevard and Hillhurst Avenue, only now it's home to MessHall Kitchen, a sunny eatery that reflects L.A. style and eating sensibilities just as keenly as the Derby did before it went the way of the flapper in 1960.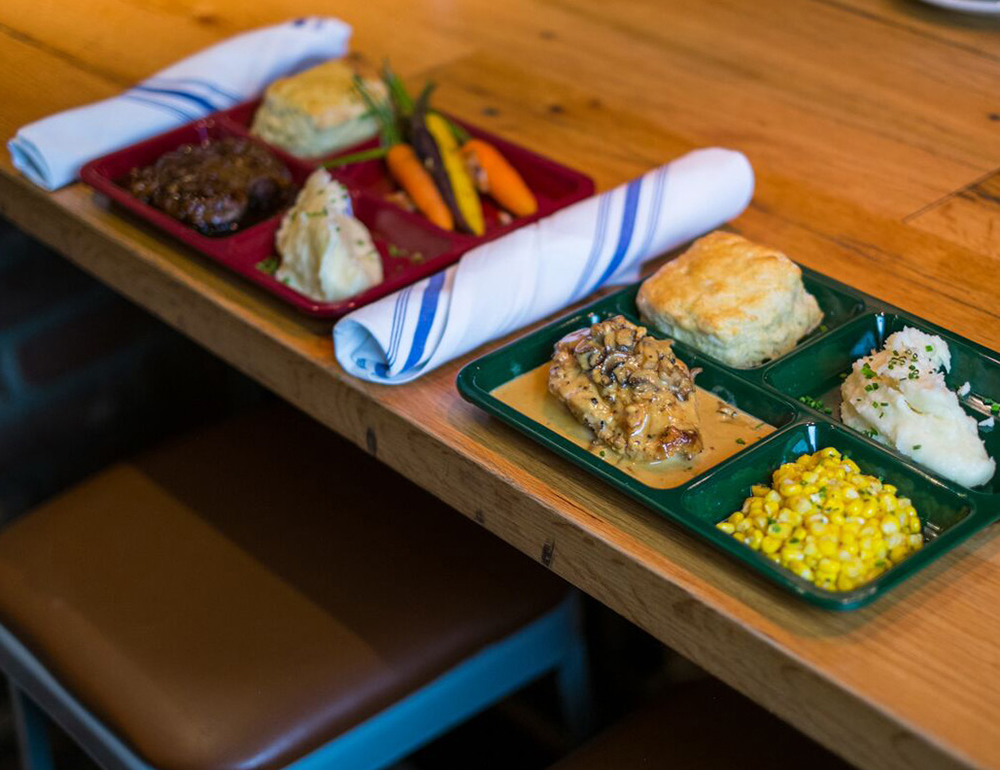 "It's got a camp vibe to it," says MessHall manager Anthony Ko, explaining how the restaurant, with its clean, welcoming lines and glossy wood (designed by Greg Bleier of Studio Unltd, responsible for Rose Cafe, Moruno and others), was configured as a place where people could mingle. "It was about bringing people together in a mess hall kind of environment." Whether one sits at a fireside patio table or keeps to oneself at a private booth, the atmosphere at MessHall is cheerful and welcoming, and a scan around the dining room shows a guest range spanning from children and artsy young locals to mellow, mature couples.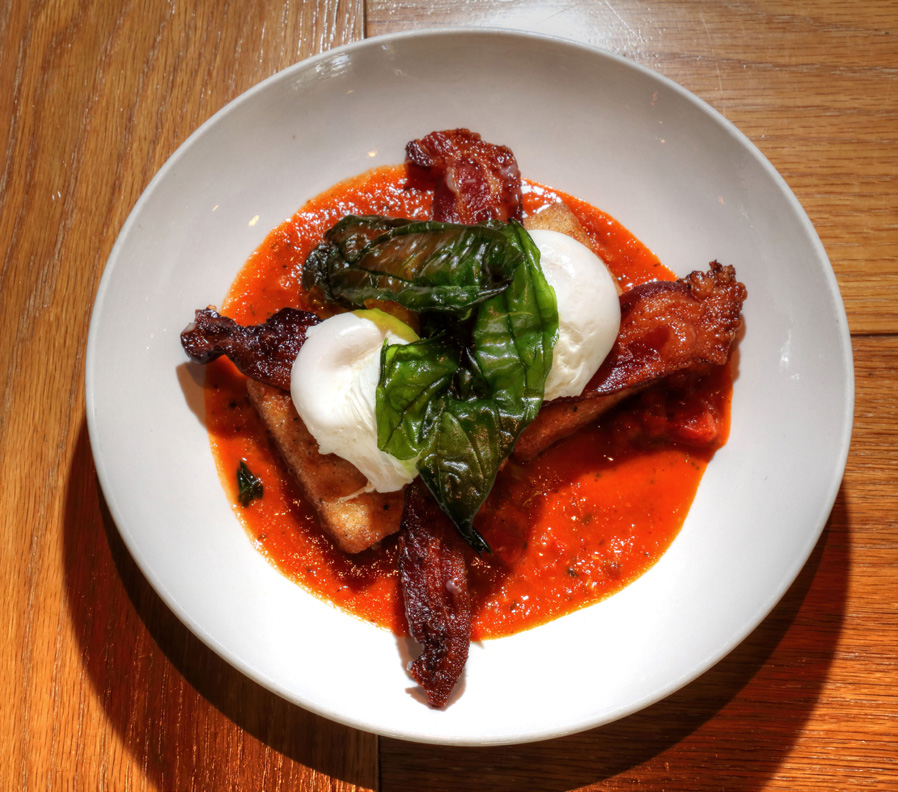 The focus is on American classics that have been creatively reinvented under the lens of local, organic and seasonal. "The chef works with what he can source fresh from our purveyors," says Ko. Which apparently is a lot. Menus are packed with items to satiate the entire kaleidoscope of the L.A. palate—from the most comforting of comfort foods to selections for vegan, gluten-free or allergy-prone diets.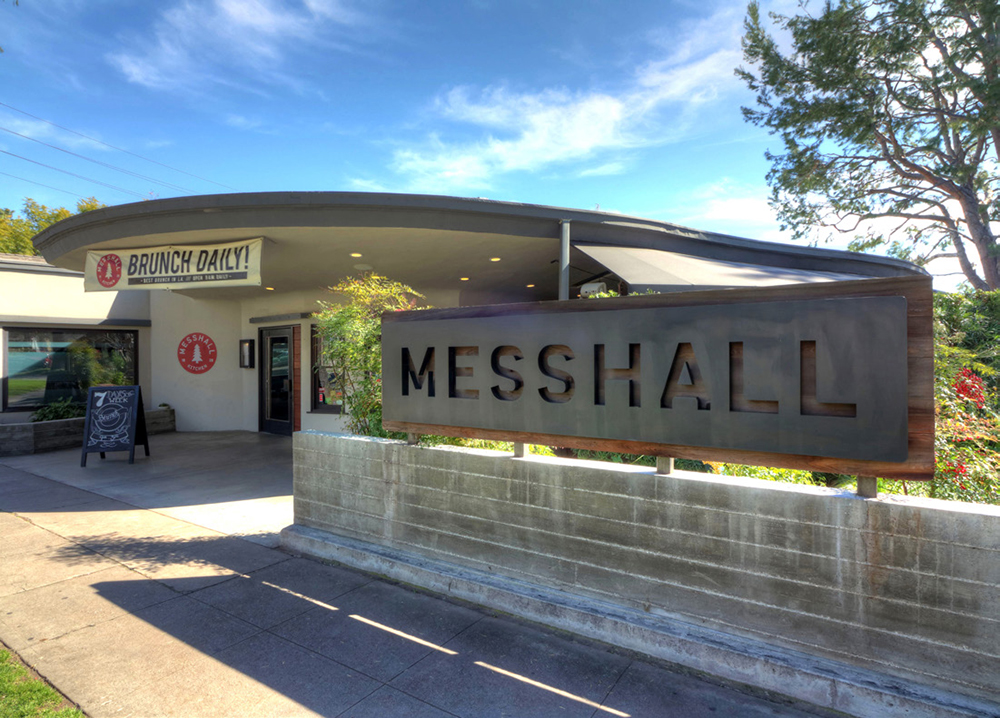 Brunch is a current rage, and on weekends Angelenos queue up to dine on Huckleberry Pancakes iced with Key Lime cream cheese or MessHall's famous Campfire Benny—eggs atop a pleasant mound of bacon planks and soft grit cakes, held together by a sultry smoked tomato bisque.
"We have our healthy options and our real brunch-y items," says Ko. "The food you need on a Saturday or Sunday morning after a night out, but with our own spin on it." Not to miss on such mornings are freshly squeezed concoctions like the Army Green Gale, an arsenal of antioxidant ingredients from green apples and spinach to ginger and mint.
Lunch and dinner menus are diverse—from Mead Braised Sausages served with toast points to fresh salmon served on a seasonal Okinawa-potato puree—though popular mainstays include the house chicken sandwich, where homemade buffalo sauce coats crisp, moist chicken ("You can't go wrong with our buffalo sauce and blue cheese slaw," notes Ko). This, and the Mess Burger made with slow onions and aged cheddar.
The Cobb Salad, said to have been created in the 1930s at the Brown Derby, is pleasantly reworked by Executive Chef Charbel Adaimy as a pliable, pan-friend chicken breast topped with the regulars—chopped iceberg, avocado, bacon, blue cheese and so forth—but with a pleasantly uniform distribution of flavor, and meat so moist it can be managed with a fork.
No matter the time of day, one can order a selection of oysters or a shrimp cocktail with strawberry cocktail sauce from the raw bar—another au courant L.A. fixture. All are fine accompaniments to Bar Director Austin Mendez's dedicated cocktail list of classic-feeling originals, which includes favorites like Penicillin (scotch, lemon and honey, garnished with slabs of sugar-coated ginger). Hannibal's Plan, a tequila-based cocktail with fresh watermelon juice that's served with a rim of spiced salt, represents the spirit of the list: fresh juices and exotic spirits pleasantly and unexpectedly contrasted, often with a cheeky twist.
Visitor's note: Though serious about ingredients and execution, MessHall's weekly calendar is filled with fun, from T.V. dinners served in throwback trays on Monday to classic cocktails on Thursday and family barbecue packages on Sunday evening.
MESSHALL KITCHEN
4500 LOS FELIZ BOULEVARD LOS ANGELES, CA 90027