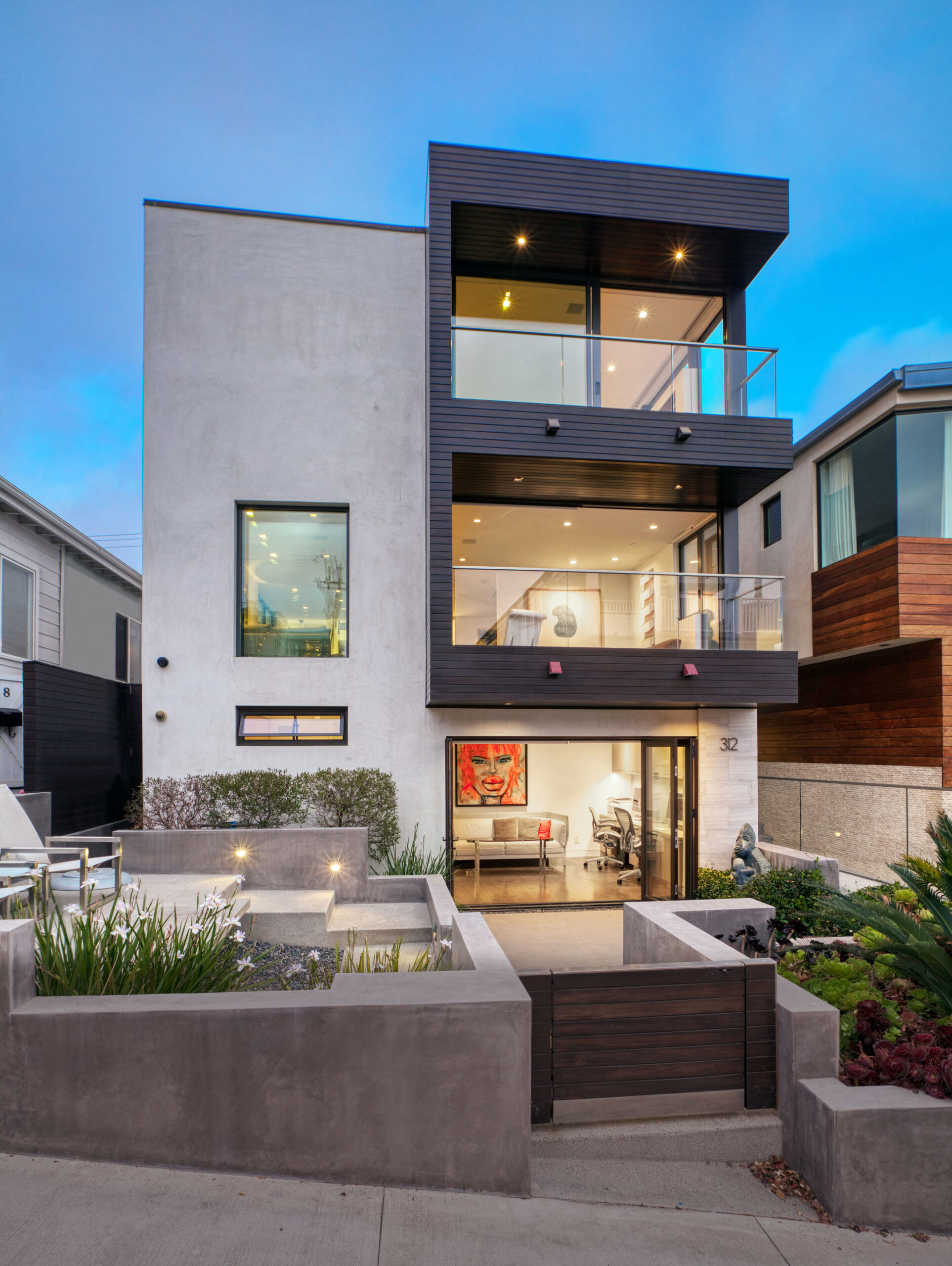 312 17th Street A Sunlit Walk Street Home in Manhattan Beach—Created by Award-winning Abramson Architects—Delivers Architectural Precision and Material Opulence Wrapped in Panoramic Coastal Views
The 17th Street walk street in Manhattan Beach, perhaps more than any other walk street in town, evokes the jewel-like coastal beauty of the Mediterranean. Among its highest and most advantageous points, you'll find 312 17th Street a fine Modernist home with singular, welcome design elements, completed in 2011 and designed by Abramson Architects.
"We're always looking to create warm, inviting architecture that is still crisp and architectural, if you will," says architect Trevor Abramson. "We always try to get a nice balance between the forms, the shape and the materials to achieve that."
His firm, Abramson Architects, a winner of the prestigious American Architecture Awards® in 2020 for their Palisades House, handled the full scope of work in the 17th Street home. In addition to Trevor Abramson, firm partner David Pascu, who heads the residential studio, was also intimately involved in the design of the home, and Dan Burns was in charge of interior design.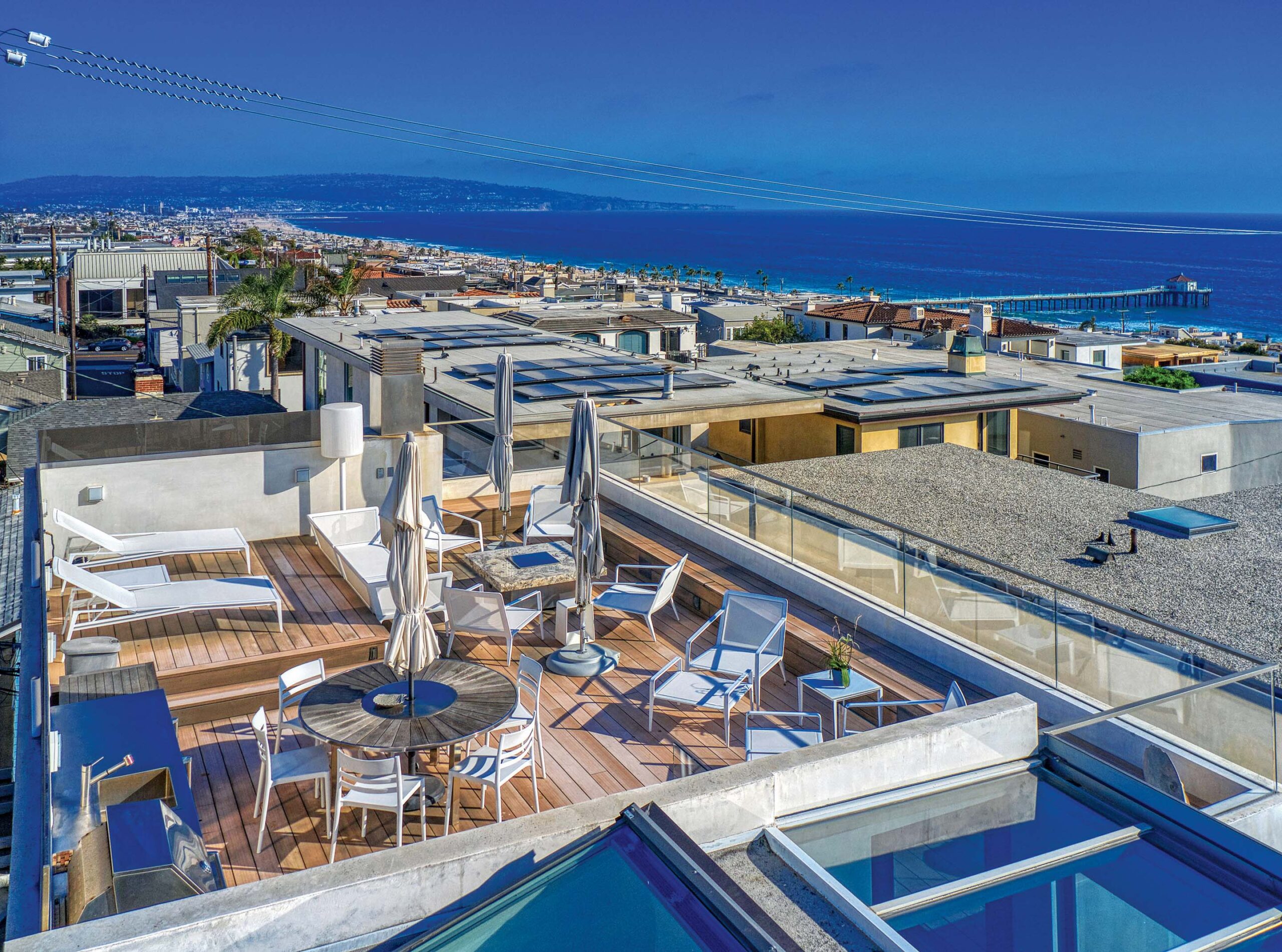 Approximately 3600 square feet, the 3-bedroom and 4-bathroom home's central motif is one of linear, almost severe lines composed in luxurious, organic materials—first introduced by a sophisticated play of color-drenched mahogany, tumbled limestone and smooth-trowel stucco on the exterior.
Open the hearty front door, crafted in steel and grainy walnut, and step into the foyer—a cathedral-like space stretching upward past multiple levels where the exacting lines of the staircase run from ceilings to walls and floors in neat precision.
"In all of the architectural homes I've listed this is one of the most unique," says real estate agent Lauren Forbes at Compass. "It's very modern, yet it's transformed and softened by the way the sunlight, the Pacific Ocean and the walk street environment stream into the living spaces. The design brings all that nature indoors."
The crisp geometry of the home signals it as a place of well-ordered calm as much as the harmony of fine materials, like Calacatta marble and tropical hardwood, establish an atmosphere of refinement. An art collector will no doubt find the generous wall spaces a ready canvas for a collection.
"The home has a serene, peaceful feeling that can also be transformed with art like the current owners have done," says Lauren Forbes.
There are ocean and coastal views throughout the home's three levels from well-placed patios and decks, culminating in a secluded upper deck where you can relax and entertain over a panorama of the shimmering Pacific Ocean coastline.
"In all of my years in real estate, I've only seen two legal rooftop decks in Manhattan Beach," notes Lauren Forbes, who's been an agent in the Beach Cities for over 20 years.
The charm of walk-street living in the Beach Cities, of course, is the open-air mingling of interior and outdoor spaces that happens on the promenade level, resulting in fun weekend gatherings over ocean views and quiet moments watching white-tipped waves from your elevated, private perch. Notable on this block is a particularly uncrowded feel due to its lower-than-normal number of homes.
"Because there are several properties that span multiple lots," explains Lauren Forbes, "there are not many homes on the block."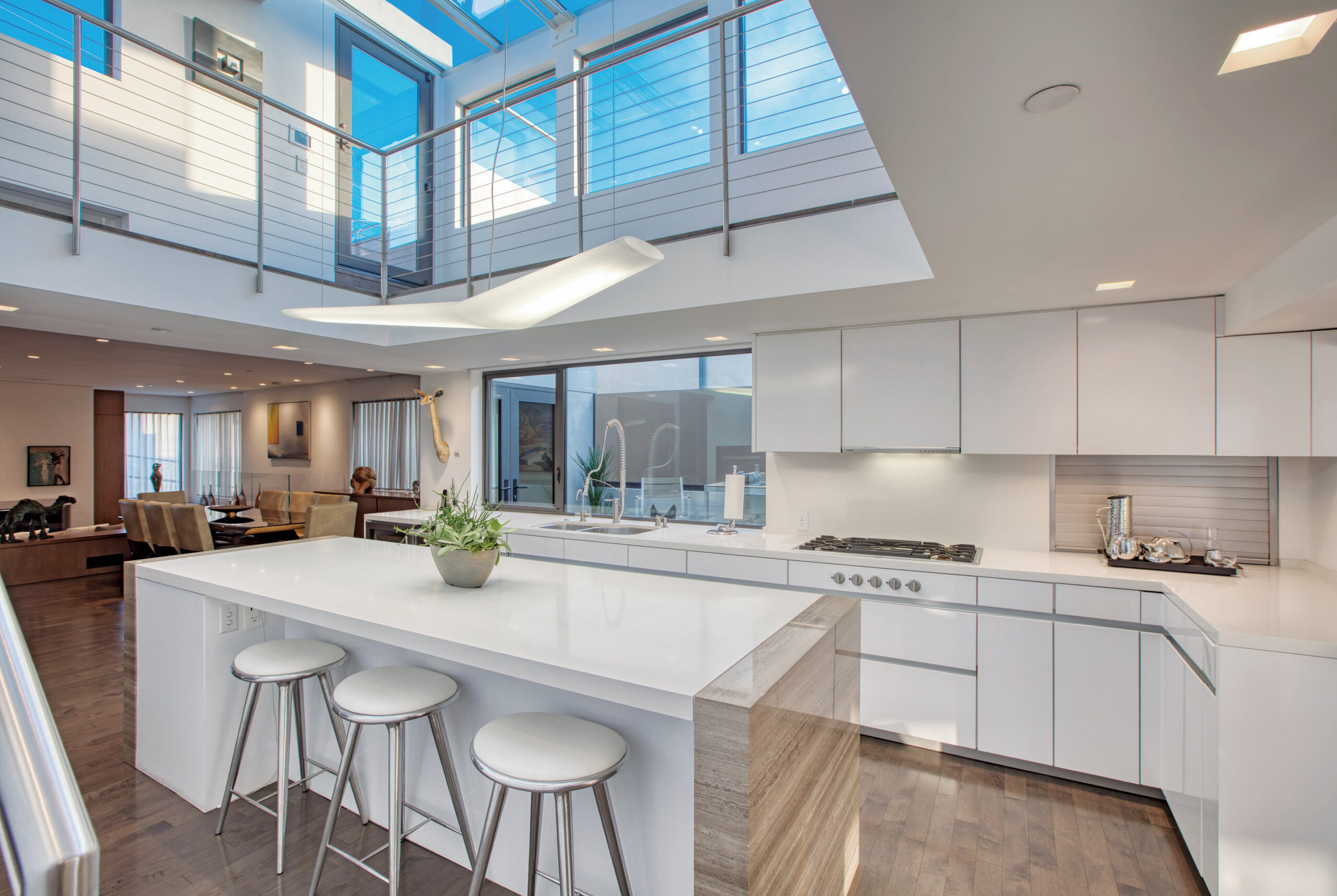 And if you're suddenly inspired to take a sunset swim or partake in an early morning surf session, the beach is only two blocks away. Folding glass connects the patio with a flexible, sunlit room that can function as a party spot or, with its pale wood built-ins and adjoining full bathroom, an en-suite bedroom or office.
Further back on the same floor is yet another bedroom suite that includes a walk-in closet and a bathroom bathed in onyx. Linked together, this floor can conveniently serve as a standalone two-bedroom guest suite for visiting friends or family.
The heart of the residence is found on the second floor, a serene open layout of everyday living spaces. There's a family room and a formal living room, along with a dedicated dining room and a two-story kitchen—all bathed in feel-good beach light from a dramatic network of windows and skylights above. This unique architectural feature is the centerpiece of this middle level; so is the kitchen, a quietly lavish, airy space where you envision everyone naturally gathering.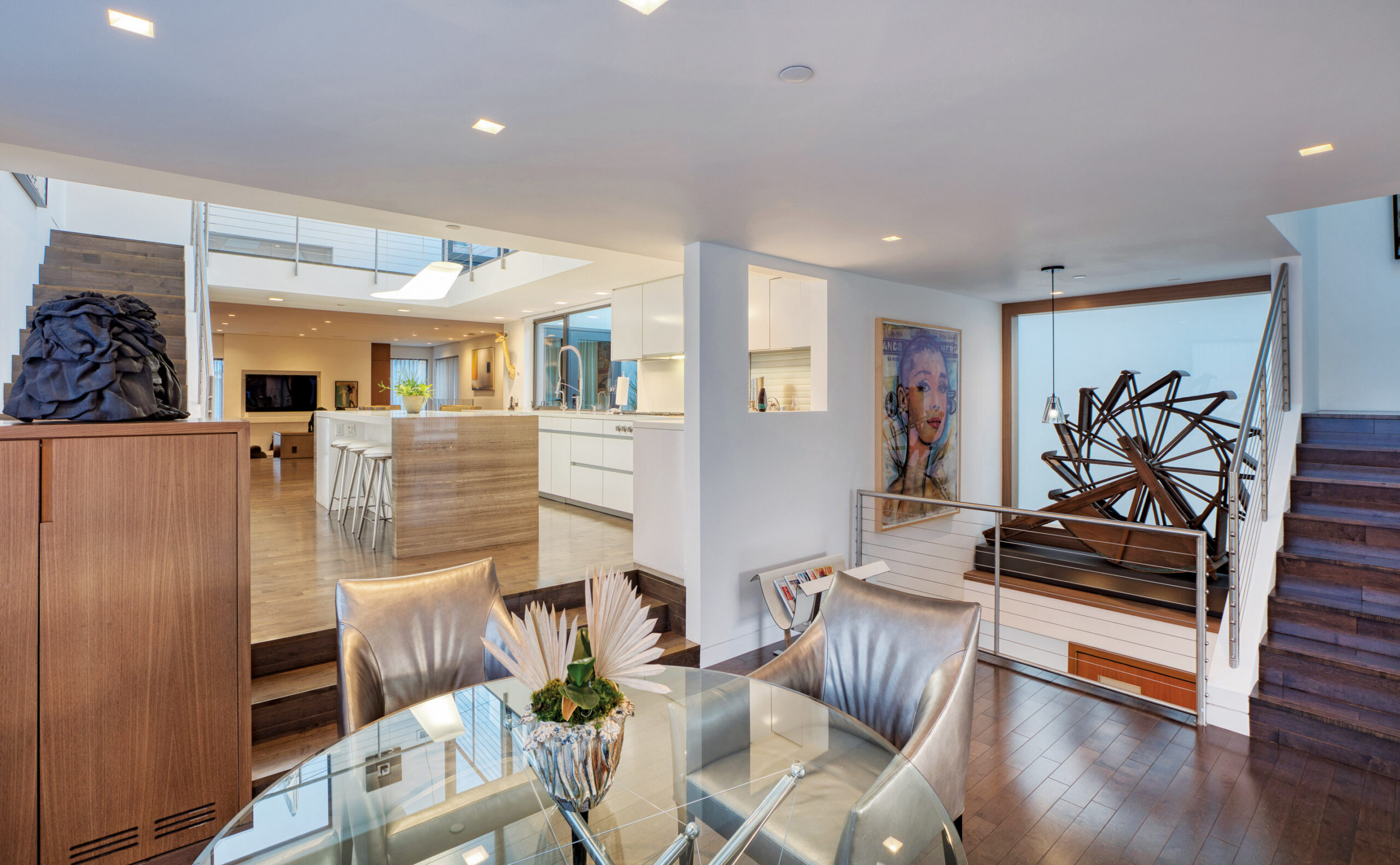 The walls are clad in Venetian plaster, and the cabinetry is a clean mix of walnut and high-gloss white fashioned by German makers LEICHT. Appliances are by Gaggenau and Miele and tucked neatly away, while white marble is found judiciously along the walls and countertops.
"For me, a home is always a place of tranquility," explains Trevor Abramson. "To support that environment of relaxation, unwinding and harmony, I want materials that work quietly together, so they're rich and they contribute to the peacefulness of the interior space."
Nowhere is this more evident than the primary bath—a third-floor hideaway that breaks with convention by existing along a passageway. Here, in a space cloaked in pounds of veiny Italian marble, you can soak away in a cocoon-like tub, or get ready for the day in front of a dual vanity station wrapped in mahogany wood.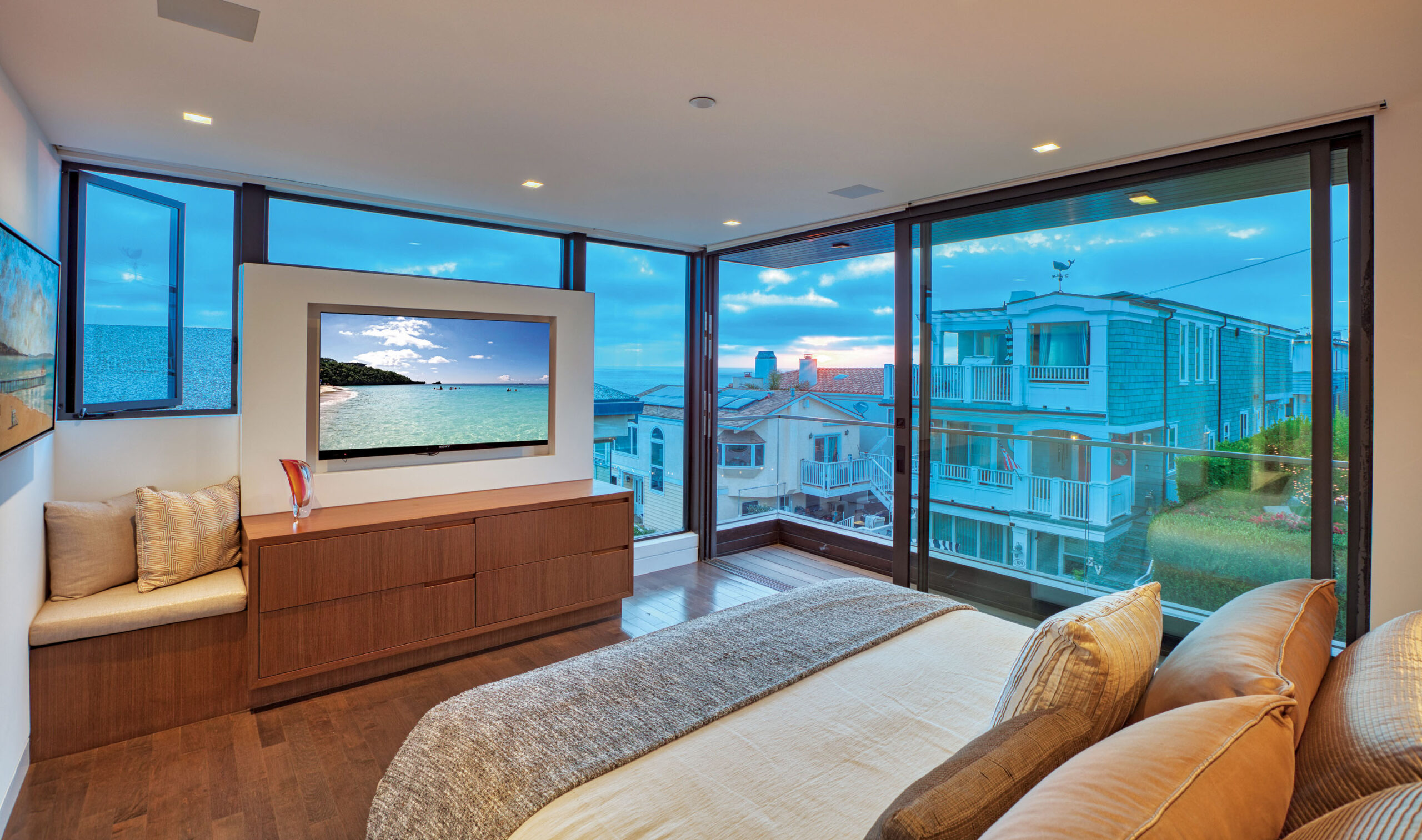 Steps away, the primary bedroom is a quiet retreat of glass and walnut where an oceanview patio links seamlessly with the interior by way of floor-to-ceiling glass. It's also home to one of the residence's most standout features: a private walkway where you can peer down at living spaces below, or head straight to the open-air deck.
In this way, the wood-plank deck—approximately 500 square feet with an elevated sunning deck and a dedicated barbecue, ice maker and refrigerator—becomes part of the primary suite, turning it into a self-contained penthouse where you can spend your days and nights amid color-brushed scenes of open sky, mountain ranges and sparkling blue waves.
"The client really appreciated Modern architecture," says Trevor Abramson of this project, "and because of the work we've done and the work that we do, there wasn't a call for a lot more than that."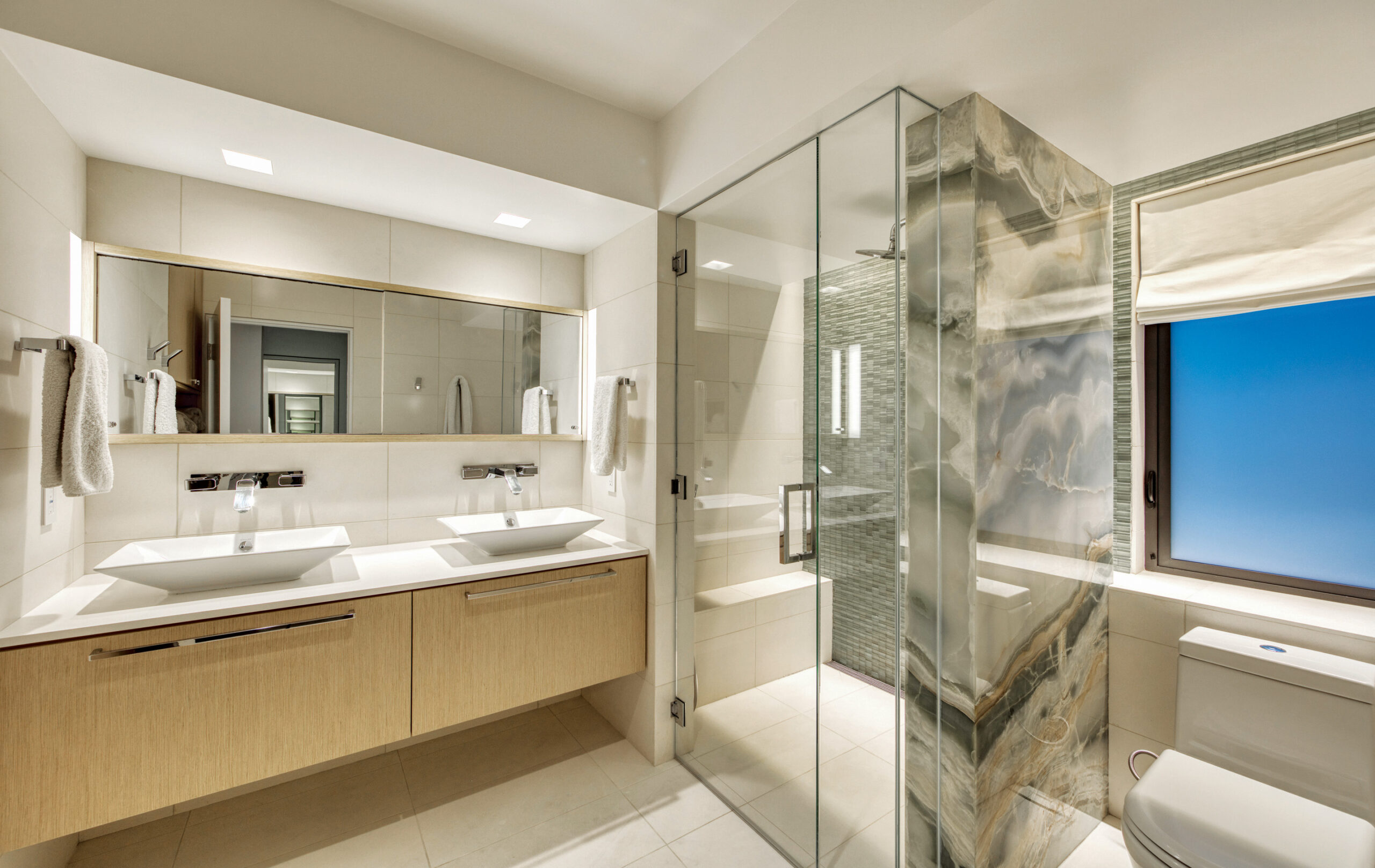 It was this relationship of trust between client and architect that enabled the firm to go ahead and forge the precise, hand-in-glove synthesis of fine design and materials that distinguish this residence, and is responsible for the final product—a hyper-sophisticated home base where you can tuck away in quiet luxury; entertain in high style at the drop of a hat; or stroll five minutes to reach beach or town. And do so for many years to come.
"We strive in this office to create architecture that is timeless; that will last, be strong and be around for a long time," states Trevor Abramson. "It's in our bones."
Lauren Forbes | 310.901.8512 | DRE# 01295248
Lauren Forbes Group | Compass
List Price $7,999,999
Photography by Paul Jonason