Mixology with a Twist
A new mobile bar service is bringing the party to L.A. doorsteps
About four years ago, California restaurant and bar entrepreneur Greg Medow was enjoying a taco at a food truck when a brilliant idea of developing a mobile bar for private events popped into his head. Even better, he thought, if put in a vintage Airstream trailer. Fast-forward to today, and Medow is now offering Bar Car, which he already rolled out in the San Francisco Bay Area, and throughout greater Los Angeles.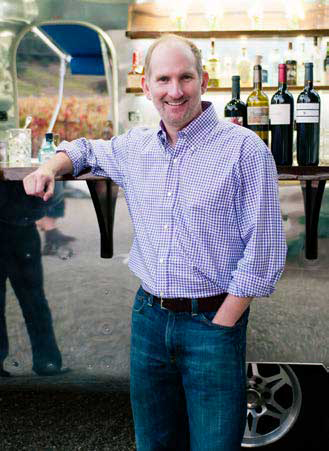 "L.A. has a solid food truck culture established, and the weather is great year-round," says Medow, who operates Bar Car with partner Mac Mcginness. "People here tend to like new and shiny things, so we felt that a vintage Airstream that served drinks would fill a void for those who needed a unique aspect to their event."
Two Bar Cars currently are in use for events such as corporate happy hours or team-building events; birthday parties; anniversaries; weddings; engagement parties; tailgate activities; and more. There are four pre-selected packages named after Airstream models to choose from—think the Whirlwind, Silver Cloud and Ambassador—with custom options also available. Pricing starts at $25 per person and a beverage minimum of $1,000.
What arrives is a highly polished, retrofitted 1968 Airstream, with a side that opens up to reveal a full liquor bar and a self-serve beer tap offering brews from Stone Brewing, Firestone, Ballast Point and Fort Point, alongside specialty cocktails such as the Orchard Oasis and The Bee's Knees. Party supplies also can be furnished, including a sound system with an iPod plug-in; cocktail tables and bar stools; and party games like cornhole, lawn darts and bocce—all handled by a stylish catering staff outfitted in J.McLaughlin gingham shirts and SeaVees footwear.
"The host just has to make a few fun decisions, pay and then everything is taken care of," says Medow. "We show up early, leave late, and help other vendors on site to make for a seamless and uniformed event experience."
Coming soon: Look for Bar Car to expand into other metro California areas and along the West Coast, and to add more bars crafted from unique vintage and new trailers. BarCarLA.com
Related Post
Toscana Restaurant Group brings a touch of the Amalfi Coast to L.A. with Nerano "The setting is stylish yet casual, and the service is imp...
Come one, Come all to Catalina Coffee Company In 1999, Jeff Sallee and his mother, Ellen Brown, set up their coffee shop in a building along...
South-of-the-border style and tastes to savor comes to Santa Monica with Tallula's A favorite childhood haunt in Santa Monica's Rustic C...