A 25-minute drive separates the city of Page, Arizona, from this unique hotel owned by the Aman brand. Amangiri—which means "peaceful mountain"—is nestled in a 600-acre protected valley in Canyon Point. The site offers a breathtaking panorama toward the Grand Staircase-Escalante National Monument.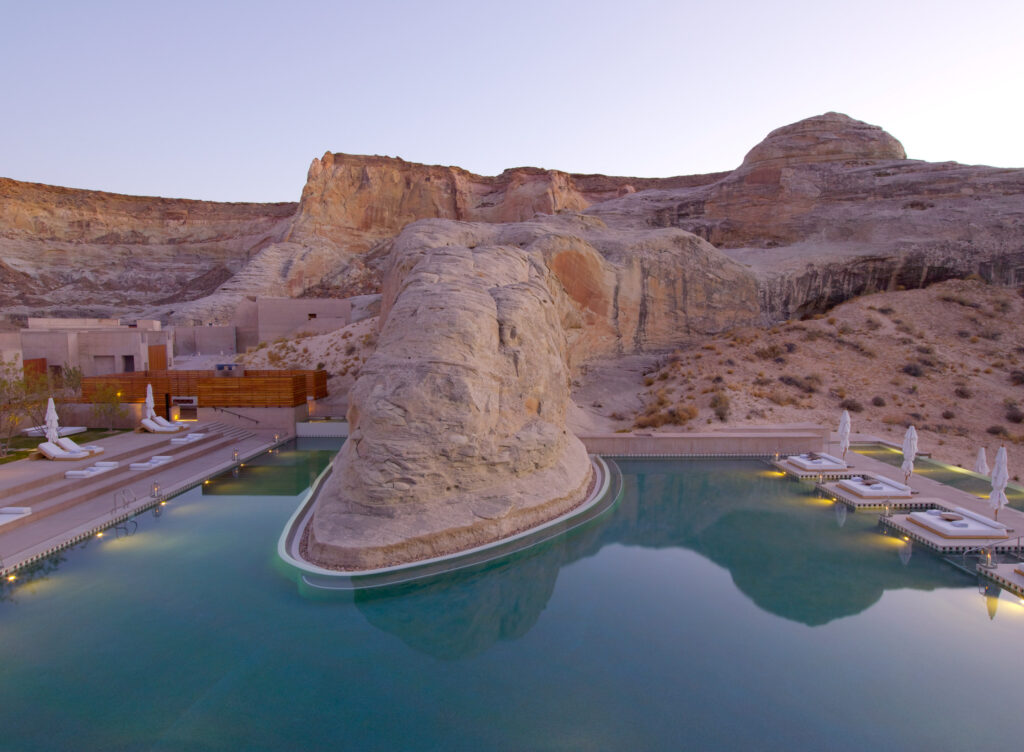 Set against the backdrop of a rock escarpment and built around a central swimming pool, the hotel blends with its surroundings, thanks to the inspiring vision of the three individual firms that collaborated to give life to this remarkable project: Marwan Al Sayed Inc., Wendell Burnette Architects and Studio Rick Joy—who named themselves I-10 Studio for the duration of the design and execution of Amangiri.
Designed as thick concrete masses in tones that match the surroundings, the buildings emphasize environmental elements that define the region: rock, sand, water and sky. The sublime outdoor swimming pool wraps around the central rock formation, highlighting the perfect balance between architecture and nature. "Leading from the main pavilion are two separate wings that bend and fold against the rock formation," the architects say.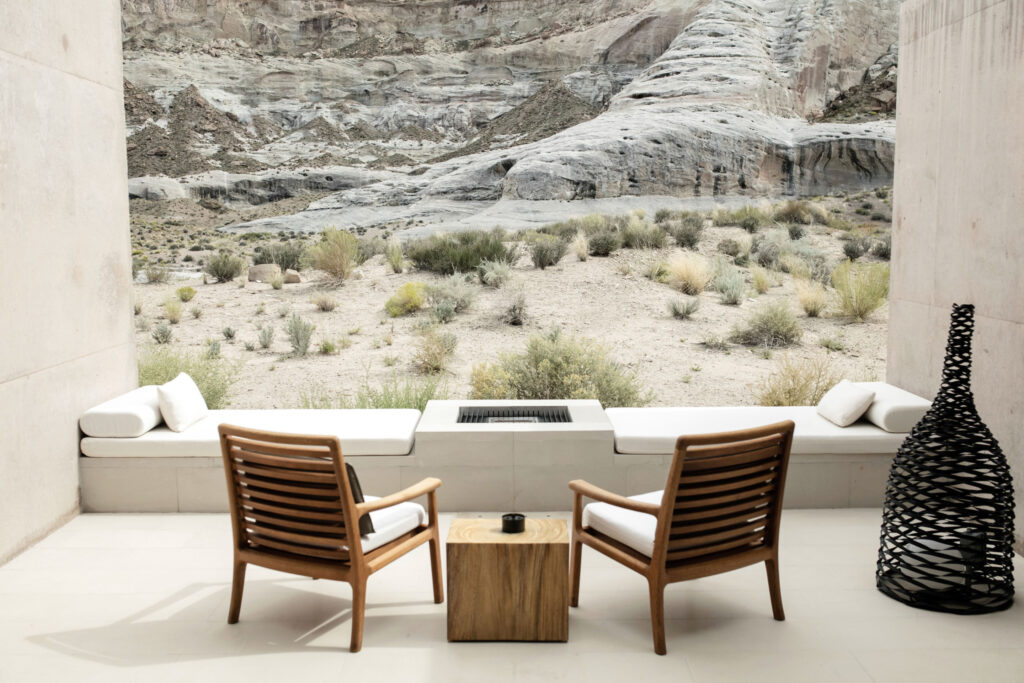 "The wing to the east is composed of 17 suites that are reached via an external walled street designed as an abstraction of a slot canyon, replete with the sound of water and the moisture of growing moss. The wing to the south, also with 17 suites, unfolds across the desert sand and undulating rock formations providing a strong connection to them and the surrounding mesas."
Providing framed views, the 34 suites—several of them with private pools—feature a raised stone island in the center with a desk, a bed and a couch. On the private terraces, the lounge benches and fire pits evoke the feeling of camping under the stars, with the welcome addition of luxurious accommodations. Custom-designed by the architects, the furnishing, lighting, and every interior detail reflect the spirit of its specific regional landscape in a contemporary way.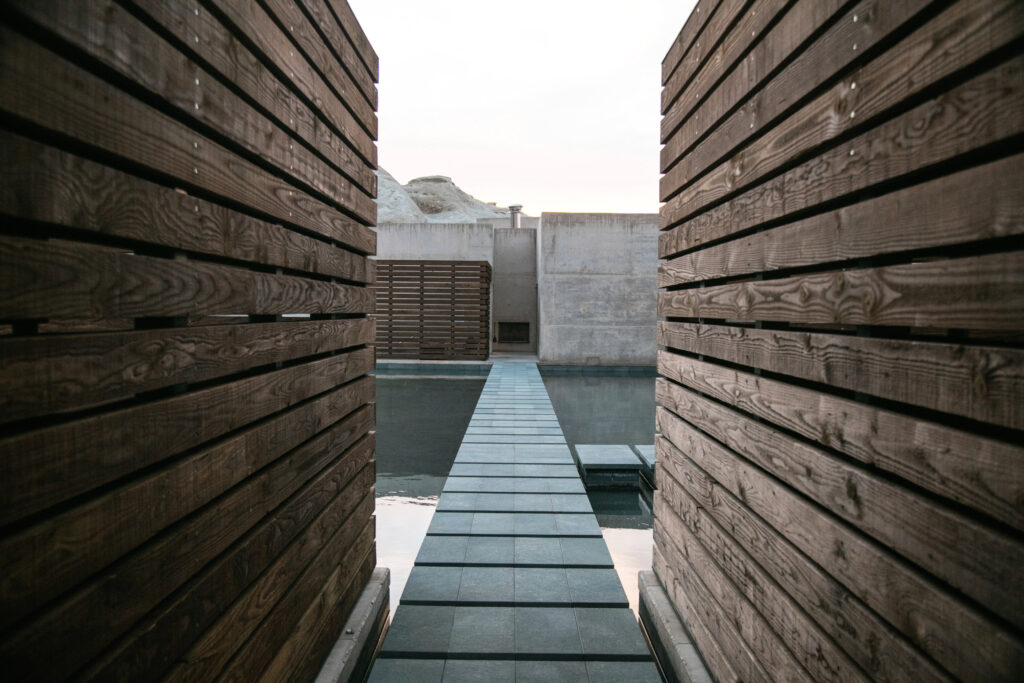 Several dining options allow guests to admire the inspiring site day and night. With a capacity for 76 people, the main venue—which overlooks the swimming pool—has an open kitchen and wood-fired oven, where Native American-inspired cuisine is prepared. Additional venues, including a private dining room for 10, the Chinle Site, Fireside Pavilion, Sunset Trail, Desert Lounge and 6,000-year-old Broken Arrow Cave offer many opportunities to enjoy the beauty of the landscape in different configurations.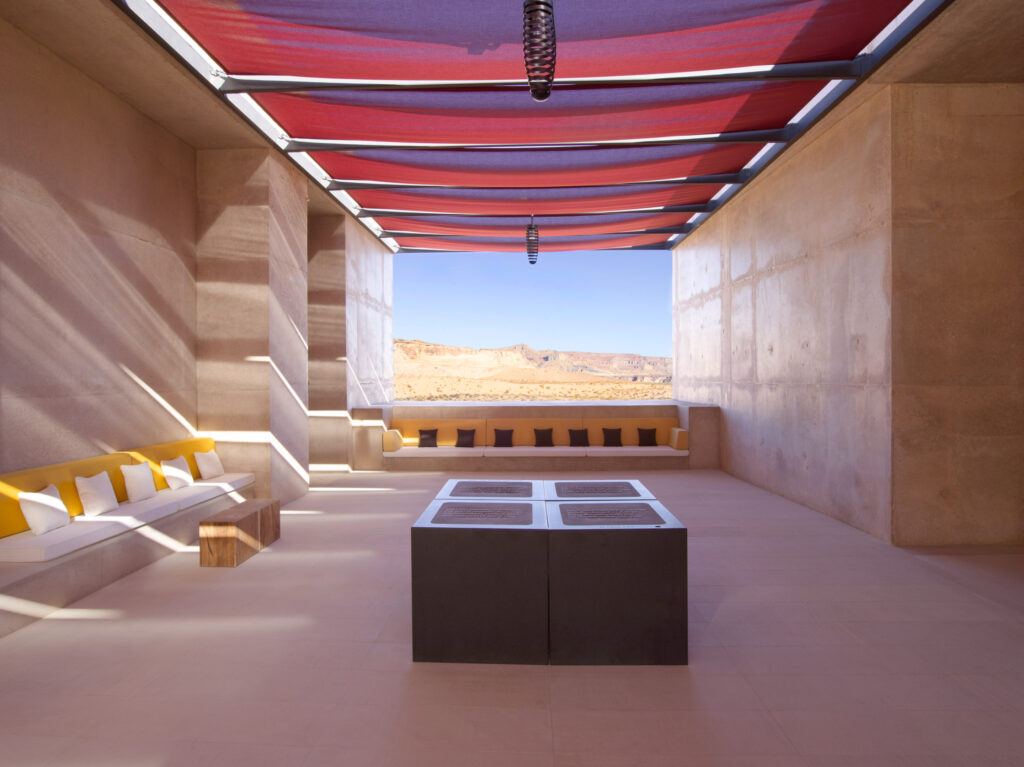 Set amid five separate pavilions and water elements, the 25,000-square-foot Aman Spa—also designed by the three architecture firms—honors the healing traditions of the Navajo though the four elements: earth, wind, fire and water. In Amangiri, nature reigns supreme. aman.com
PHOTOGRAPHS: COURTESY OF AMAN