It's true that Los Angeles County offers many beautiful homes within its vast expanse. But for the discerning buyer, the home with an ideal location and top-notch amenities is the ultimate luxury—and increasingly rare. More than just having opulent materials, the perfect home embodies beauty, flexibility, convenience and ease.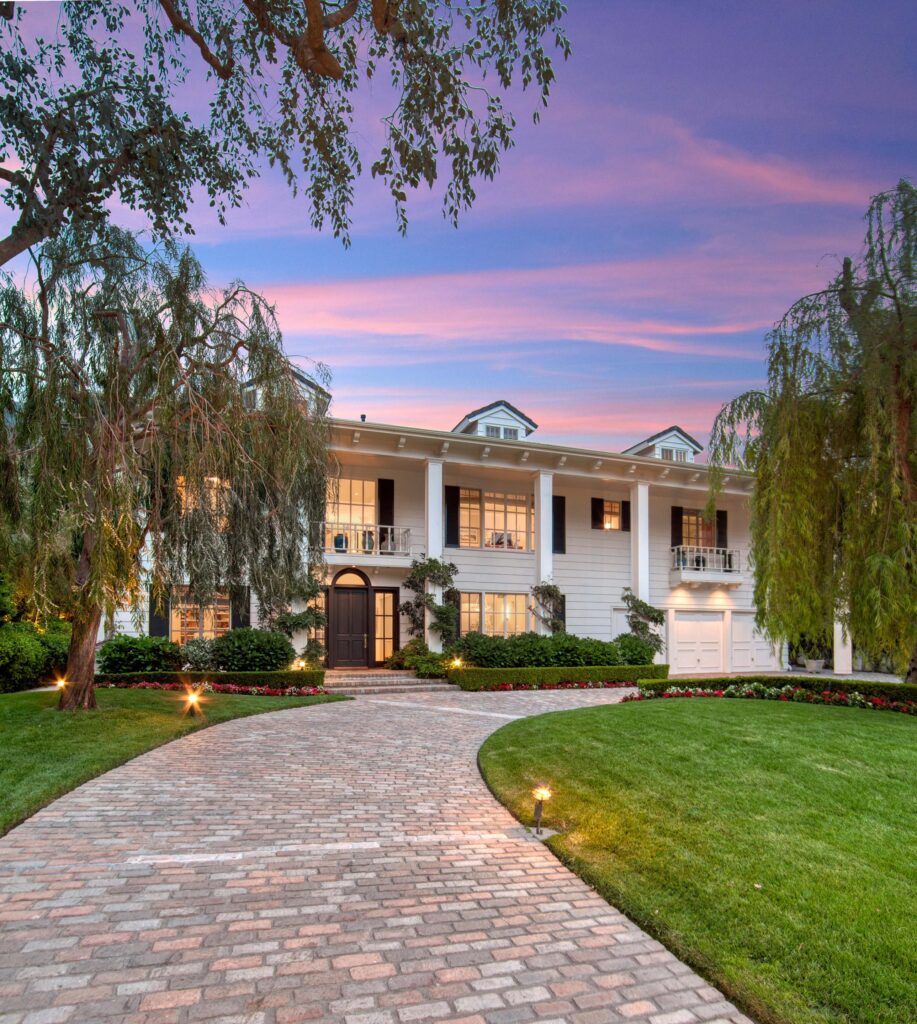 It must be within driving distance of work and the best that the city has to offer, from its multi-star restaurants and world-class museums to its beautiful beaches and wild hills. For frequent travelers, a swift commute to the airport is a necessity too.
It should work for entertaining on a grand scale yet not be overwhelming as a setting for daily life. Perks, such as a butler's pantry, a pool and spa, a tennis court, housekeeper's quarters, and parking for at least three cars, are a given; and, it must be private and secluded.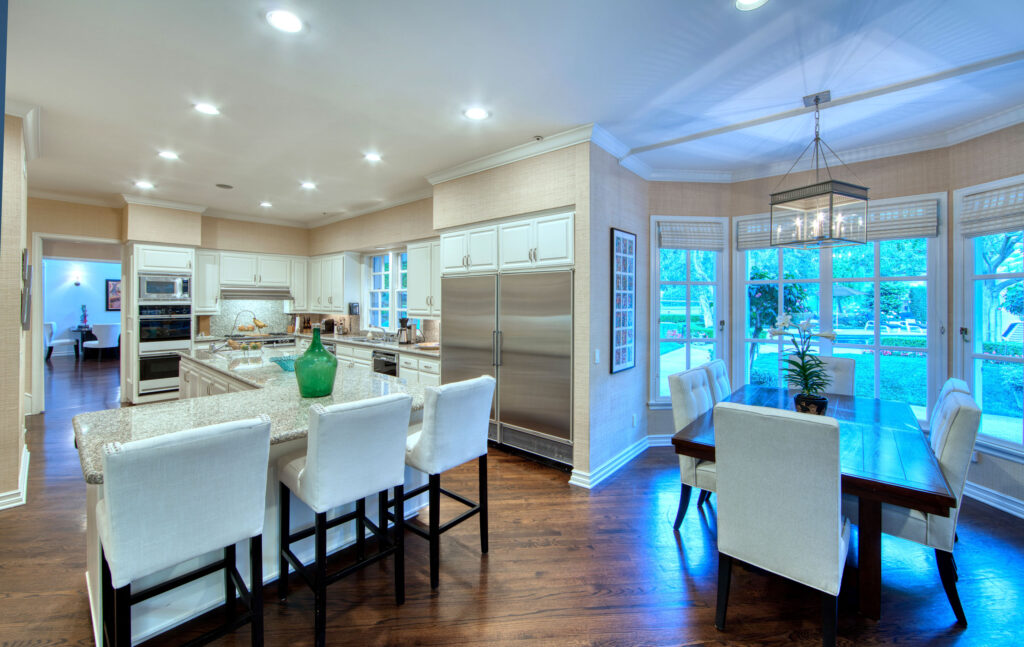 If security is a prime concern, a gated community joins the list of non-negotiables. Weighed against this list of criteria, the inventory of available properties dwindles to a small trickle. Throw in the desire for a stunning view and only a handful of homes remain. Of these, 1458 Bienveneda Avenue is a standout.
"We've been here for 25 years," says the home's current owner who has watched her children grow from toddlers into adulthood within its walls, "and I couldn't have imagined any place more perfect." Located in the desirable Ridgeview Country Estates in Pacific Palisades, just west and north of the new Palisades Village, the home is situated close to the top of a winding road whose every swooping turn renders the stress of daily living a distant memory.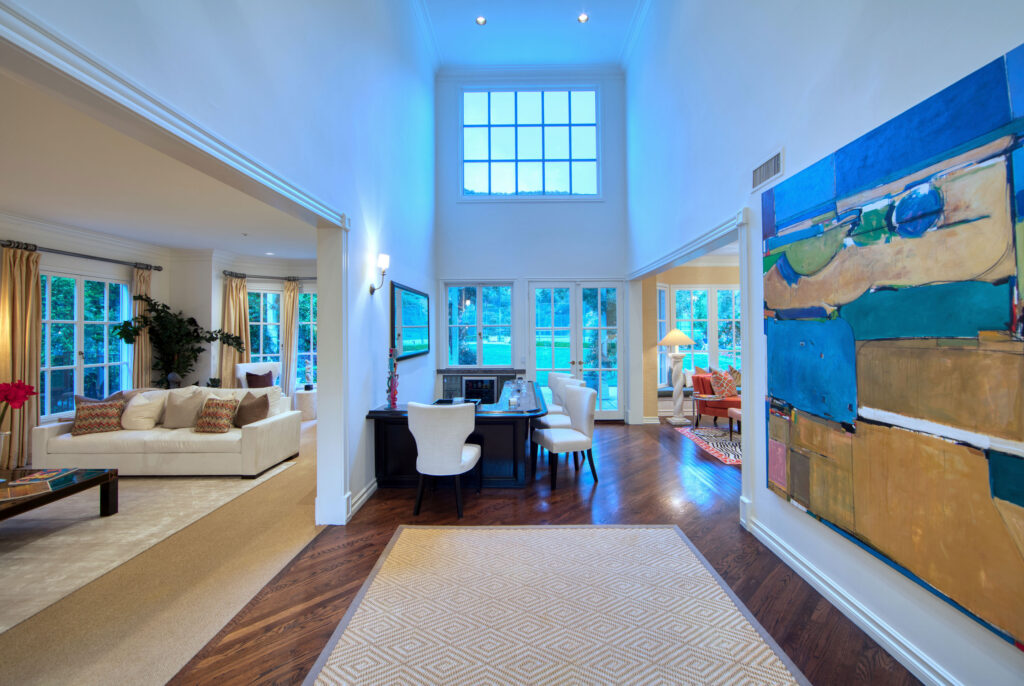 Passing a row of tall cypress trees to the west and a vineyard on the right, the vista conjures up memories of the Italian countryside. Finally comes the exclusive gated community, one of a few in the area, including only 40 homes, each custom built, with an entryway to community staffed, round-the-clock guards.
With the criteria of location met, attention turns to the home itself. The three-story estate does not disappoint. Reminiscent of a Georgian manor, with its multiple columns and a white clapboard exterior punctuated by jet-black shutters, its classic proportions exude both beauty and majesty.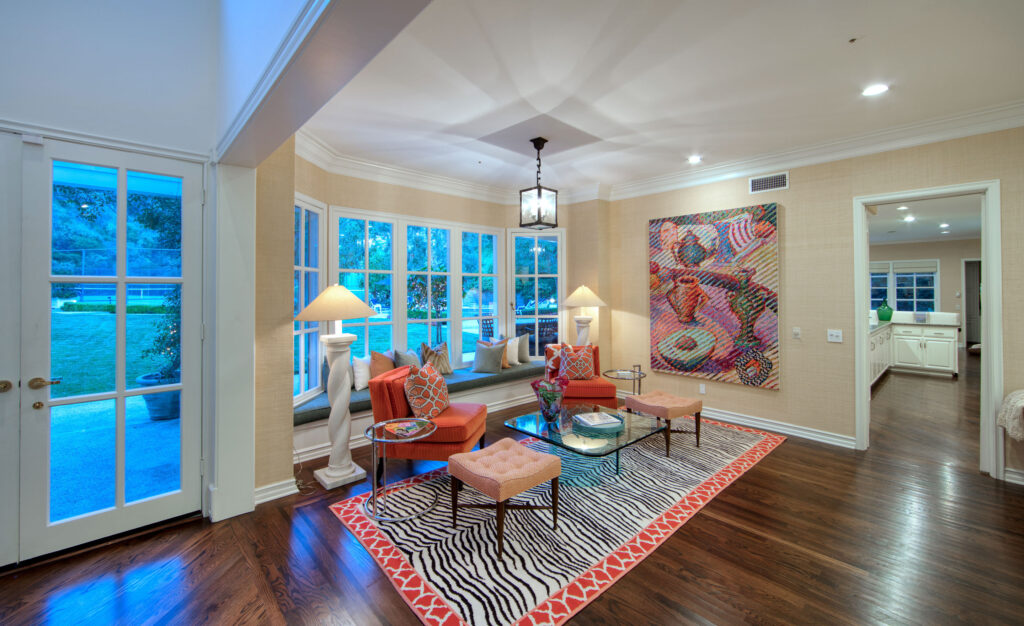 Lush landscaping and a curved driveway soften its grandeur, rendering it welcoming and gracious, qualities that are mirrored in the home's well-designed interior. Here's the background for the full spectrum of life's events. From the casual and intimate to the formal and public, the residence morphs to host them all.
It begins with the generous entryway, underscored by the first floor's 14-foot-high ceilings. The large foyer and hallway embrace the home's formal rooms—a living room, spacious dining room, family room and bar—orchestrating them in a dance between unity and autonomy.
The built-in bar is the natural gathering place for get-togethers with close friends; for larger events, designate this space as a drink station, where hired bartenders shake up a bevy of cocktails starring fruit, including apples, oranges and grapefruits, plucked from the estate's trees. Choose the dining room for a formal sit-down business dinner for a baker's dozen; for a casual lunch, steer them to the patio's built-in island.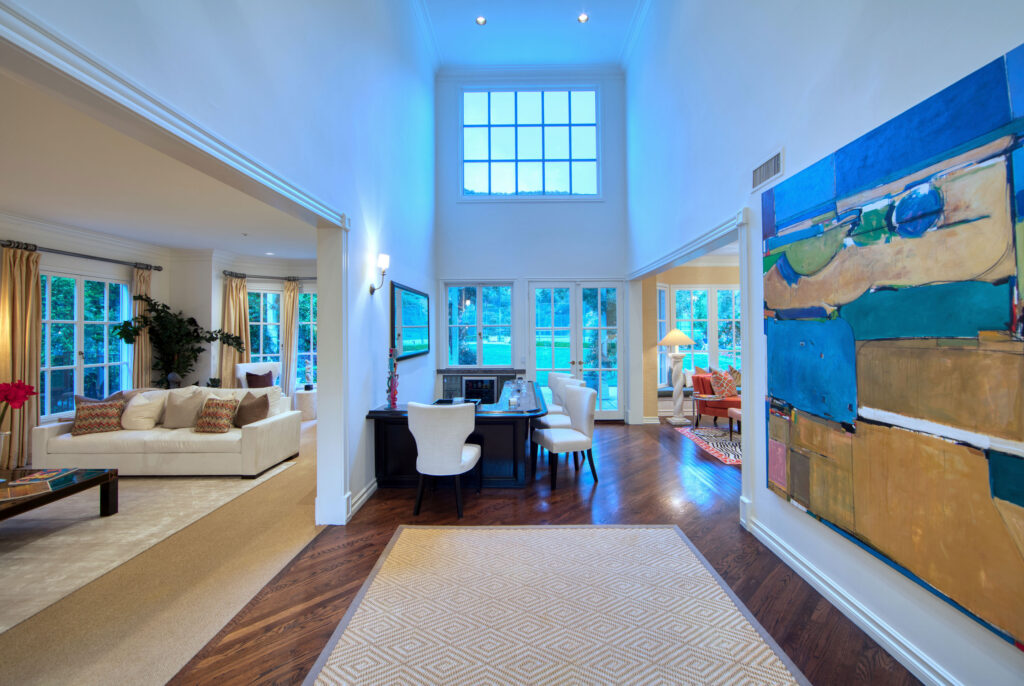 Scatter large round tables across the back lawn for a charity event or a wedding; set it up with a bouncy house for a children's birthday. The large kitchen, which corrals both a breakfast nook and a casual seating area, puts a chef and team within earshot of both indoor and outdoor guests, while its large windows offer discrete vantage points from which to monitor the backyard's activities while a door here enables direct access.
A back staircase, a suite for live-in assistance and a laundry area aid in the smooth and discrete running of a busy household. An additional full-bath, with access to the backyard (the home's alarm system can be programmed to restrict entry to only this area), enables guests a private place to change and shower.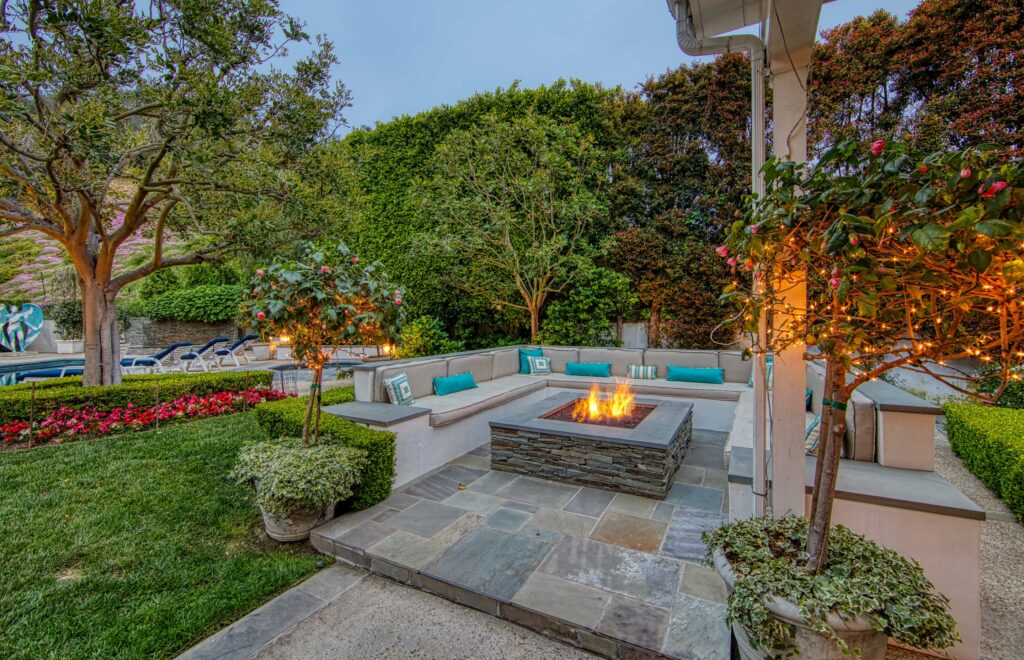 Large glass-paned doors ensure an easy flow to the home's expansive backyard. With its surfeit of country club-quality facilities, this is the spot that, taking full advantage of Southern California's idyllic weather, is destined to become the centerpiece of everyday life.
There's the plush built-in seating area around the fire pit; a pool sited to rival that of any five-star hotel; and an oversized tennis court that's been vetted by the some of the state's top players. (It's been used as the home court for many of The Riviera Country Club's most lauded coaches and a junior Maria Sharapova spent time training here.)
Fitted with basketball hoops, it can easily double as the location for weekly pick-up game, as well. With high hedges on two sides and the majestic backdrop of the Santa Monica mountain range as the dramatic scenery to the sprawling 2-acre lot, the treasured and yet often unobtainable gift of privacy is a given here.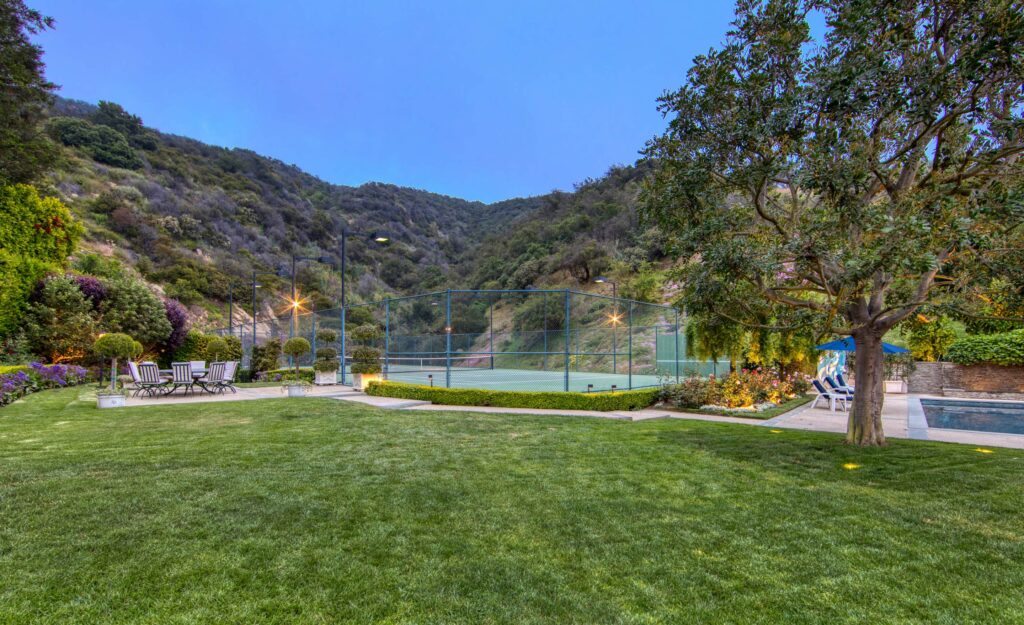 From the solitude of morning laps in the pool to afternoon tennis lessons to late nights that end around the fire pit, enjoying bottles brought back from France (a cool room keeps them at their peak, though oenophiles can easily outfit it with a temperature-controlled system), the luxury of solitude underscores the peace and quiet that permeates this home. For indoor activities, look to the immense top floor.
In addition to 1,700-square-feet of storage, which might easily accommodate plenty of sports equipment and holiday decorations, the open plan space also can support a home theater, gaming area, playroom, or a home gym, with a staircase near the master encouraging frequent use.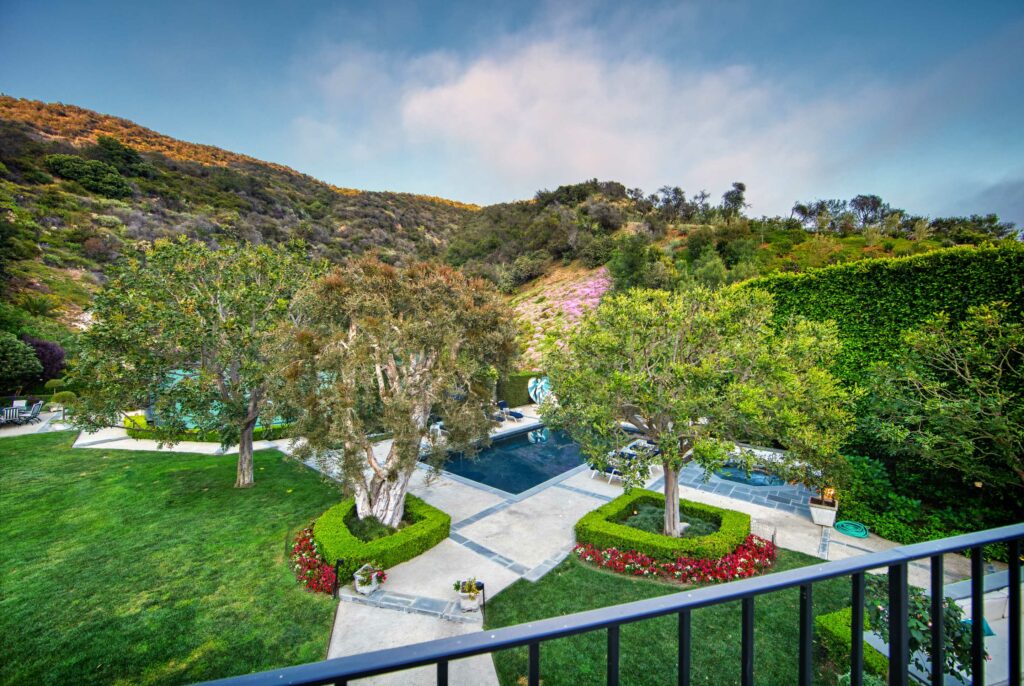 Seek solitude on the home's quiet second floor whose en-suite bedrooms enjoy that view described above from the quartet of private balconies that extend along the entire back of the house. Large closets, generous bathrooms and plenty of well-designed built-ins render each room a self-contained sanctuary.
This idea is magnified in the master suite. Waking to hilltop views with nary another home within sight, it's not hard to imagine oneself in some faraway retreat. This is a Los Angeles few experience. They call it living the dream.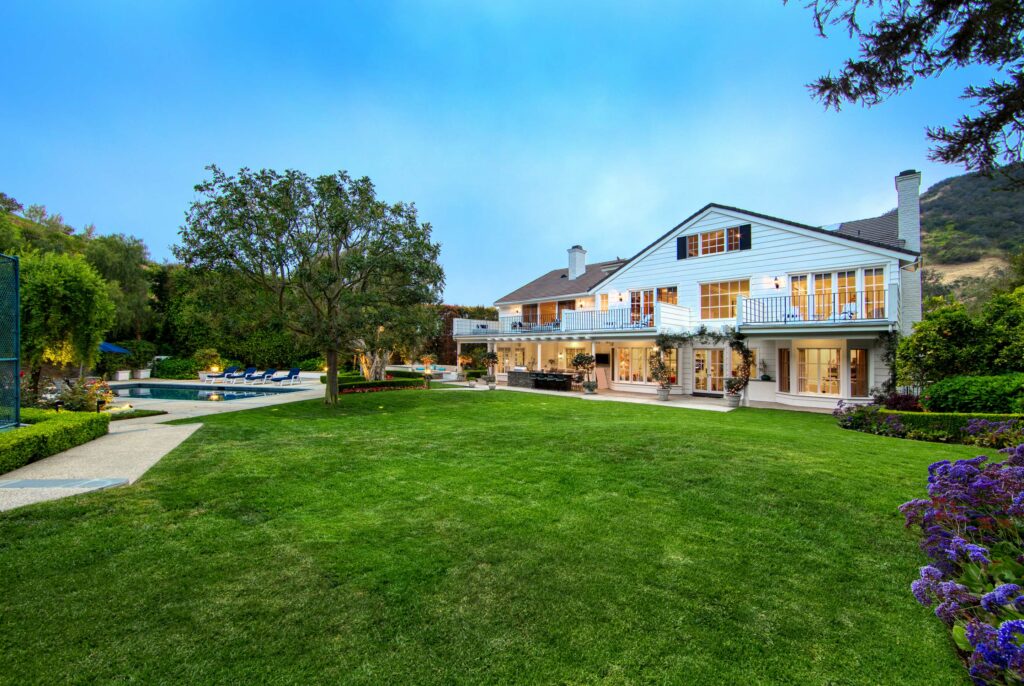 PRESENTED BY
Anthony Marguleas
Amalfi Estates
310.293.9280
List Price $9,125,000