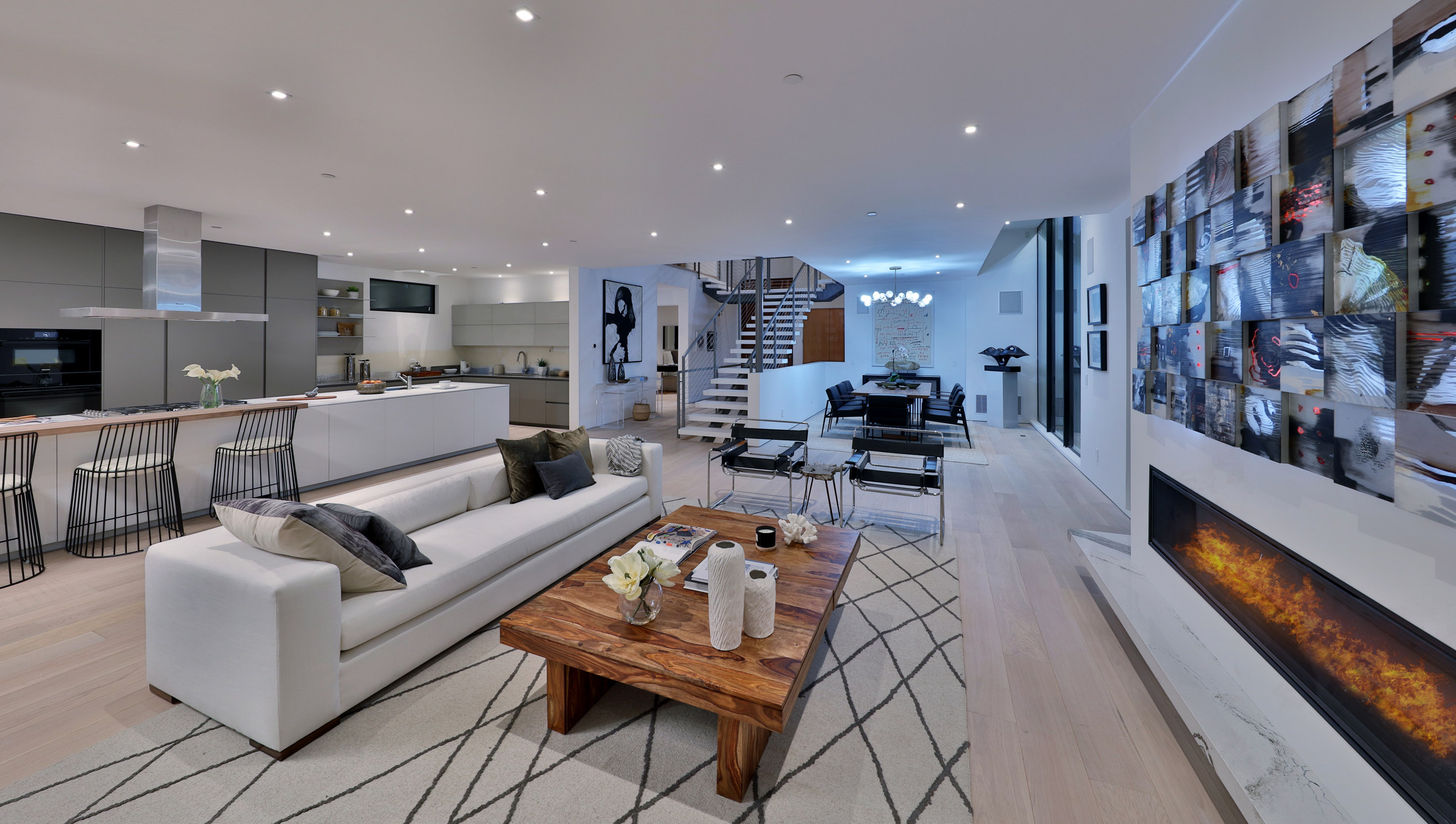 Designed by Architect Mario Romano 1016 San Vicente Blvd a Contemporary Three-story Home Offers Both Form and Function With Family Appeal
If you're not yet familiar with architect Mario Romano's work, it's time to get acquainted. Among the architectural icons of Venice, his sculptural Wave House stood out for its unique shape and sensual beauty. But 1016 San Vicente Blvd was not just alluring for its unusualness and graceful exterior, but its light and livable interior too.
A great home starts with a great location. This one, sited on San Vicente between 10th and 11th Streets in the heart of Santa Monica, has that and more. Malibu, Beverly Hills, Brentwood and Venice are all within easy driving distance. And, although a main thoroughfare, this part of San Vicente is surprisingly quiet. On weekends, the wide, tree-lined boulevard is a favorite of bicyclists and runners. The legendary Santa Monica steps are also nearby.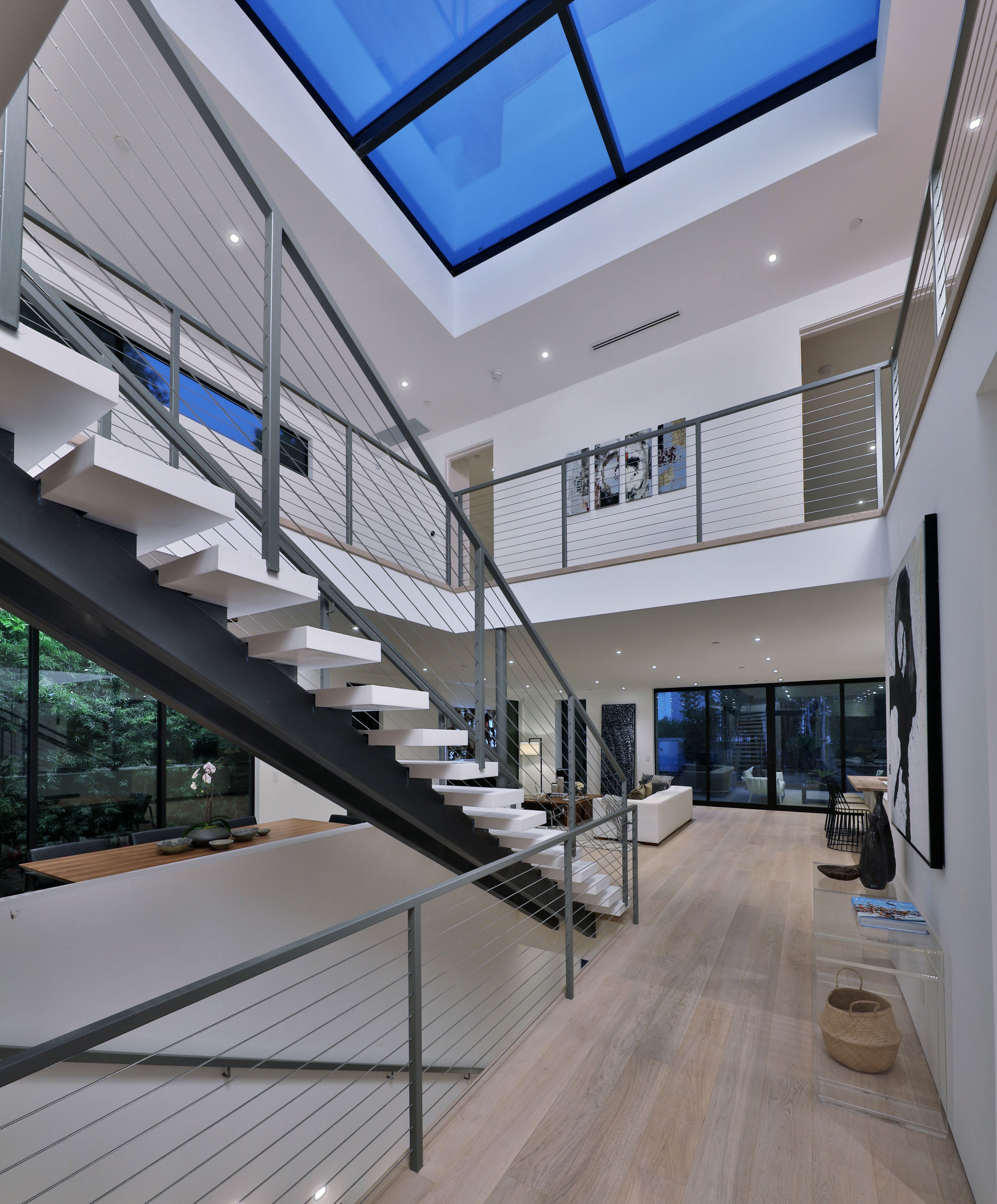 While uncommon, it wouldn't be unheard of to leave your car parked in the garage to take advantage of the area's walkability. Start your day with the 15-minute walk to Brentwood Country Mart to meet friends for coffee, breakfast, or a class at Bar Method. Or stroll down to Montana Avenue to browse its famed boutiques, unwind at Yogaworks or grab dinner.
All depends on if you leave the home at all; this is a home that, once you step inside, you may not want to leave. The exterior surface of many contemporary homes is a blank canvas. Not this one. An imposing, sculpted plywood door and a white exterior covered in Corian, a durable clean material that inhibits the growth of viruses, mold and bacteria, and subtly etched with a wave, are clues to the attention to detail that's been lavished on this home. Here, form and function go hand in hand.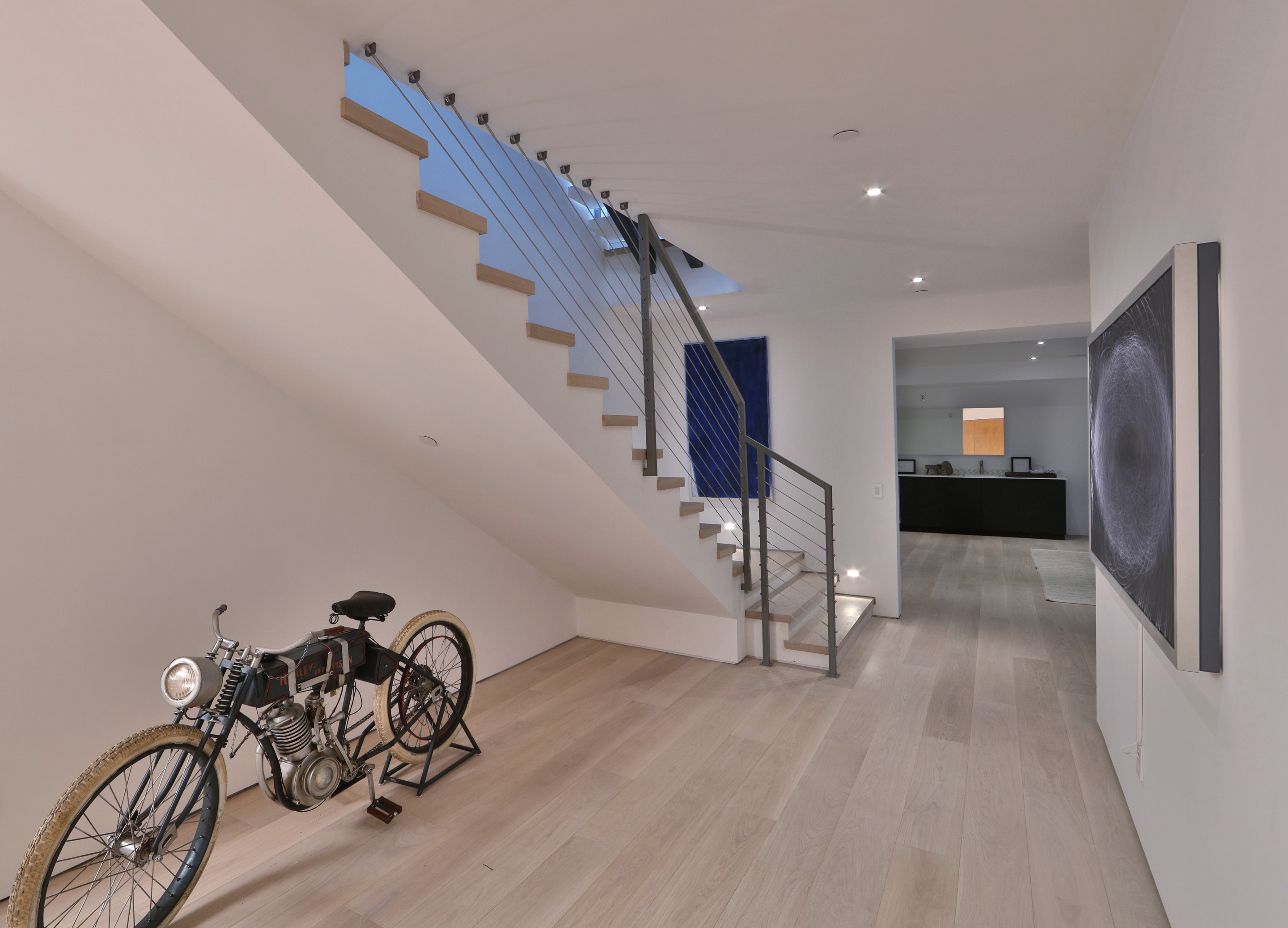 Mario Romano has not just architected a building, but a home that supports a busy modern family. Take, for example, the spacious two-car garage. A door leads directly into the house facilitating the unloading of packages and ensuring that energetic young children exit directly into the safety of the house.
And, Mario Romano points out, "not only is there the ease of having the garage attached to the house but, unlike most houses in this neighborhood, having a garage in the front takes it out of the backyard, which allows for more space in the backyard for kids."
There's no need to turn on this home's lights during the day. An expansive skylight floods the entire house with natural light.
"Generally, the center of a house is very dark," says Mario Romano.
"Here we've emptied it out so you get tons of light and you also get that visual connectedness to be able to see and hear what's going on in the rest of the house."
In fact, it's this quality that's one of the distinguishing features of Mario Romano's work. With three children of his own, he understands the needs of a growing family to balance that unique dichotomy of being simultaneously together and separate. Though the main floor's living room, dining room and kitchen elide together, Romano's version of an open plan allows parents to supervise their children while still offering them autonomy and privacy.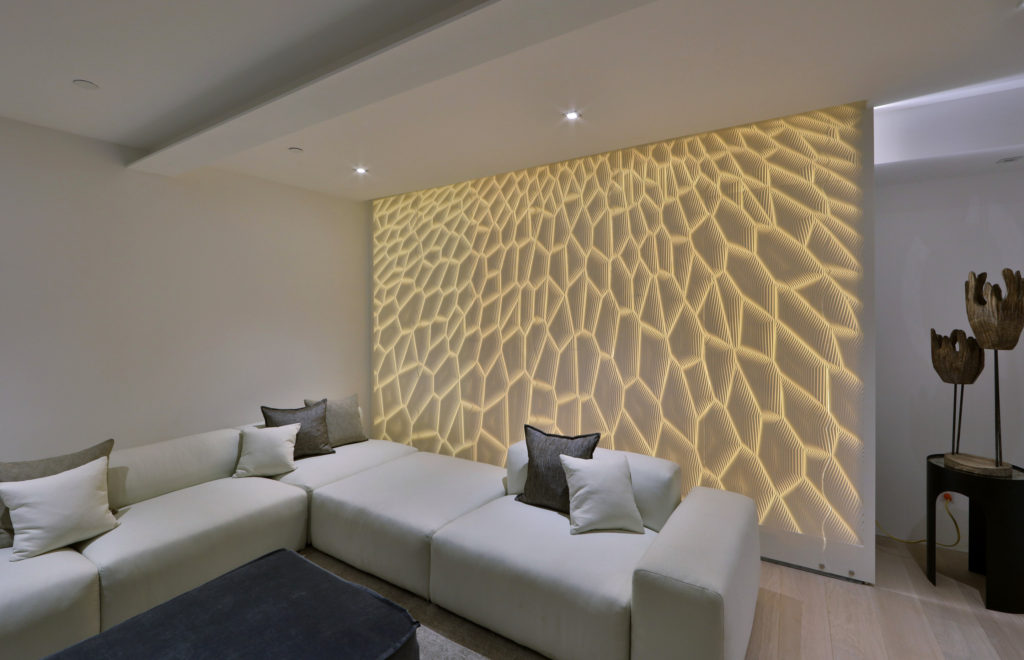 Even the four bedrooms on the top floor are drawn into this circle.
"We really like the whole family to be as connected as possible so we created a central point that bridges the rooms so that, no matter where you are, you can create that connection."
That distinction extends to the backyard. Sliding doors by Metal Window Corporation, a Los Angeles-based manufacturer, pocket entirely into the walls that separate the main living area from the exterior, providing a seamless transition from indoors to out. An outdoor entertaining patio, complete with a fireplace and a television, presents another space to relax while still being safe within the circle of family. While Mario Romano has provided a number of options for a pool, sited here, perpendicular to the house, it would partner perfectly with the den inside.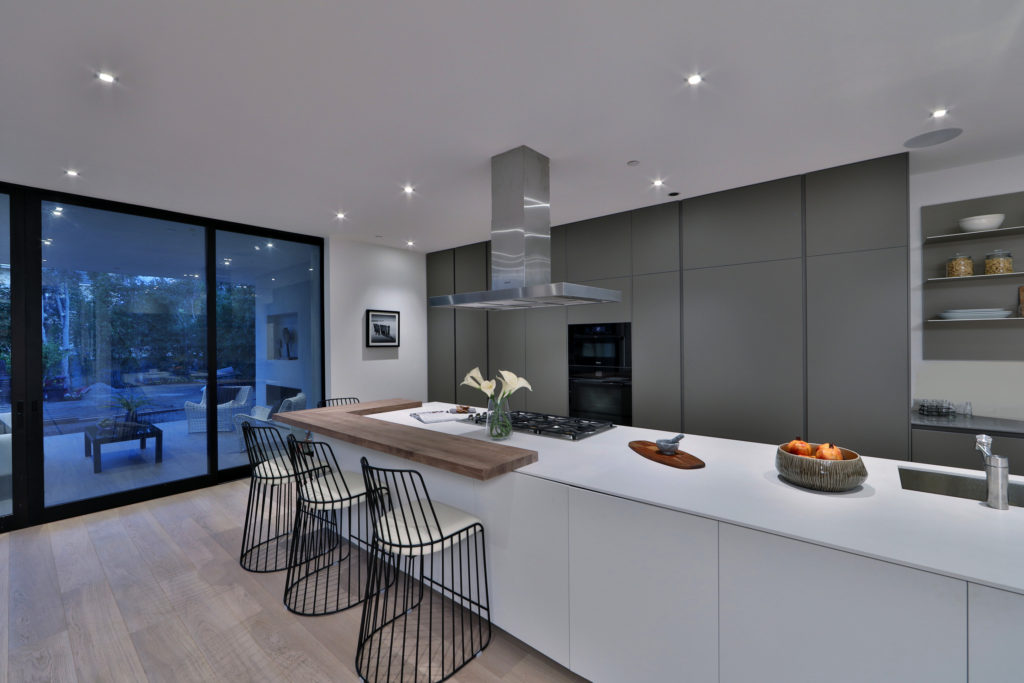 The practical and the beautiful work in tandem here. There's the kitchen's long island, a corner of which has been fitted with wireless charging capabilities to accommodate the ever-present need to charge devices. There's an elevator, servicing all three floors, to carry packages and people swiftly through the house. The master bedroom's spacious closet, with its custom cabinetry, not only accommodates two people's clothing and accessories but the complex dance of getting ready on busy mornings.
Fenix, a matt laminate surface, that has been employed for the kitchen's cabinets is used for the cabinets and surfaces in some of the bathrooms too. Anti-fingerprint, soft to the touch, and extremely durable, it easily withstands the challenges of everyday life (scratches are healed with the heat from a hairdryer).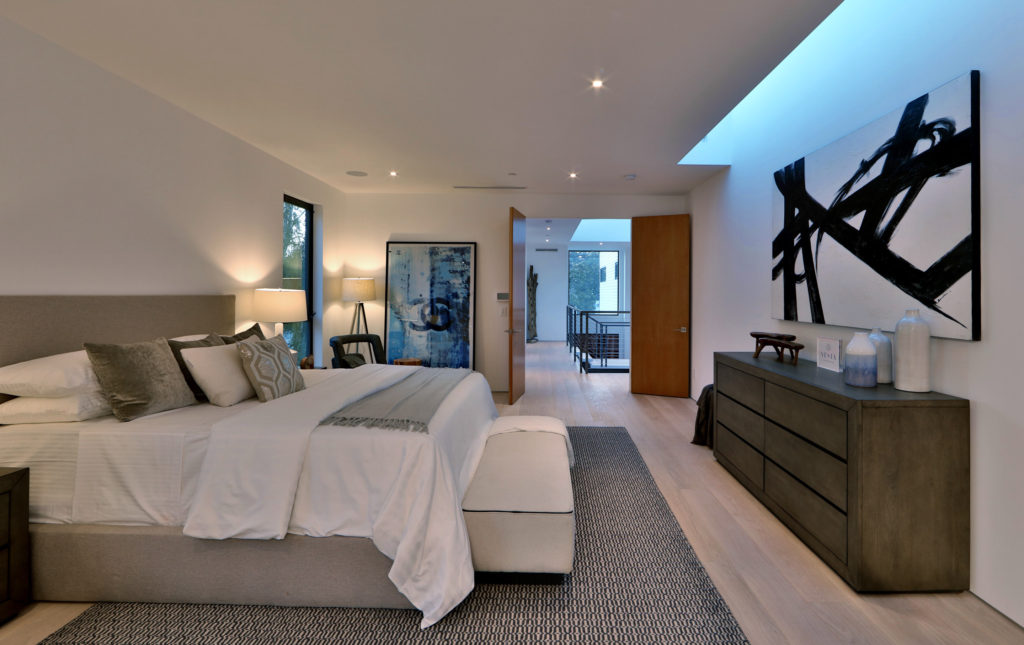 Instead of tile, the same Corian material that envelopes the home's exterior covers the vertical surfaces in each of the bathrooms and Mario Romano has infused them with playful textures and patterns unique to each room. Hexagons sprawl across the master bath, a starburst radiates out from a shower, and the sun's rays envelop a powder room. Used in the theater room on the lower floor and backlit, the soft light washes the space with the ideal atmosphere in which to meditate or create.
A guest suite also on the lower floor offers guests, older children back from school, in-laws, or live-in help the ability to come and go without disturbing the home's other occupants. A game and media room, outfitted with space for a projector, is a spacious yet cozy space in which to host family movie nights or Monopoly tournaments. With the proliferation of remote work, a room to the right of the front door, complete with a separate entrance and sightlines over the front of the house, is an ideal home office.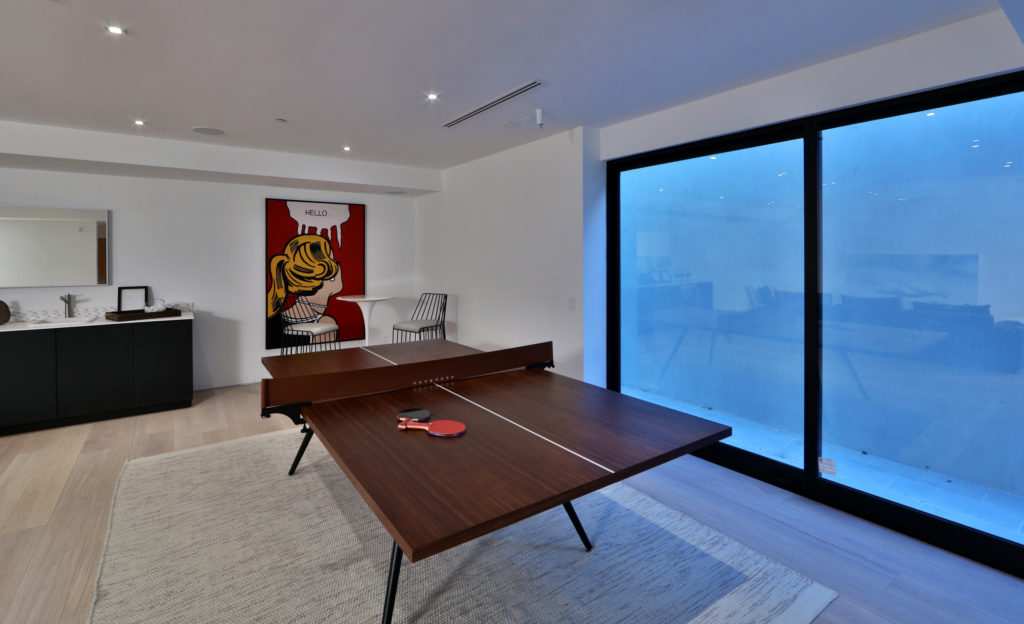 True luxury stretches beyond superficial surface beauty, actually enhancing the quality of one's life. It's what's at the heart of this home. Designed to support the ideals of California living, this is not just a house, but a place that nurtures a family and that they can cherish for years to come.
Ava Domanovski & Charles Pence
Pence Hathorn Silver
310.774.6611 | 1016sanvicente.com
List Price: $7,995,000
Photographs by Paul Jonason