The sculptural wave house, designed by architect Mario Romano, lives as beautifully as it looks
Written by Abigail Stone | Photography by Jason Speth | Presented by Mark Kitching, F.Ron Smith and David Berg of Partners Trust | Offered at $6,498,000
From the Caplin House to Frank O. Gehry's Indiana Houses, Venice is almost as well known for its architecture as for its canals and its beach. Yet, even among these icons, The Wave House, designed by architect Mario Romano, stands out for its unique shape and sensual beauty. Even visitors who take a wrong turn in this neighborhood, with its circuitous named streets, will soon find themselves on the right doorstep. This home is a showstopper.
Certainly the undulating white structure, with a dark wood garage at its center, is arresting. Its sculpted aluminum exterior vibrates with life. As a pure piece of art, it's breathtaking. But, while art has its place, when it comes to a home, comfort and livability is key. It doesn't take long to discover that The Wave House offers both—and in spades. Form and function work hand in hand here, offering heart and soul beneath external beauty.
Romano, who has three children, understands the many needs of a growing family: for privacy, for togetherness, for parents to be able to watch over their cavorting kids while they connect as a couple. "Visual communication and visual connectedness is very important, yet, at the same time, having separation of space," Romano explains. "We want to be separated and we want to be connected" and, he adds, "interconnected," as "we are very networked and we want our homes to be networked… the architecture reflects that." This house has the unique ability of allowing a family's needs to naturally ebb and flow, achieving that rare and perfect balance of peace and serenity.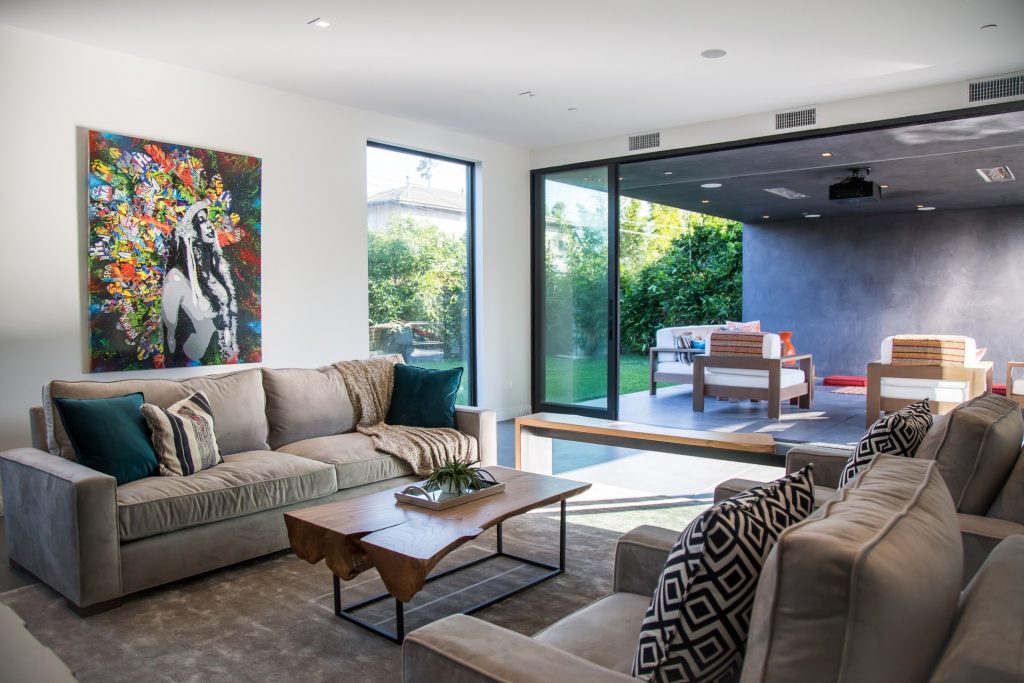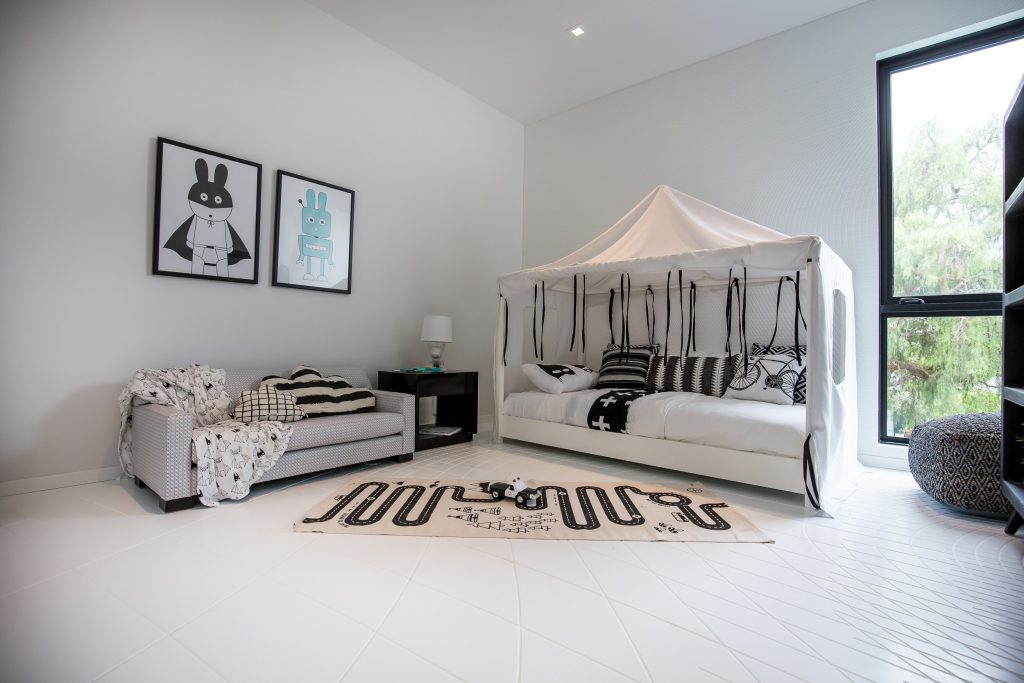 The home's white aluminum shell is more than just eye-catching; it serves a purpose, working to help cool the home. A cushion of air between its metallic sloping skin and its roof protects the interior against the Los Angeles sun, acting as both insulation and a pathway to drive hot air up and out. Individually rolled and cut, the metal panels are not random. Based on the concept of a bird's feathers, they've been precisely set to wrap tightly around the house, protecting it against water, like that which douses Los Angeles during infrequent but torrential rainstorms.
The swooping white surface is interrupted by a playful composition of cedar blocks that hide a spacious two-car garage, while the deep driveway provides plenty of room for visiting vehicles. The pivoting front door's wooden pattern holds a secret that is immediately apparent to anyone who's ever spent time skateboarding, as it's crafted from skateboard decks. A generous mudroom to the right has plenty of space in which to stash backpacks and hoodies; there's also access to the garage from here. A room to the left of the front door offers a private space for guests and is also ideal for an office.
The home's style hasn't been relegated to the exterior, either. Romano relied on his experience as both an architect and a parent to craft a home that is as practical as it is beautiful. Thoughtful details delight at every turn. The surprises begin the moment you step through the door, where the living room's 14-foot high ceilings exude a loftiness that is unexpected given the exterior's compact appearance. Sliding glass walls open all of the interior walls to the pool, located within the center of the first floor's c-shaped floor plan. Placing the pool here not only cools the air that dances over the water, it also refreshes the spirit. Just the sight of water can relax the soul.
The home's incredible sight lines, which visually connect every room on this level, are a boon whether you're hosting a large party or spending the day relaxing with the family.
They're a reminder that relationships are at the heart of this home. The balance here between open and secluded, public and private, allows everyone to easily find space of their own while remaining linked together. The covered outdoor pavilion is an ideal place to relax after a dip in the pool and also functions as an extension of the den. The dark stucco, which is visually cooling, hides a secret that is only revealed at night, when it transforms into a movie screen, its color belying a talent for projecting crisp, clean images.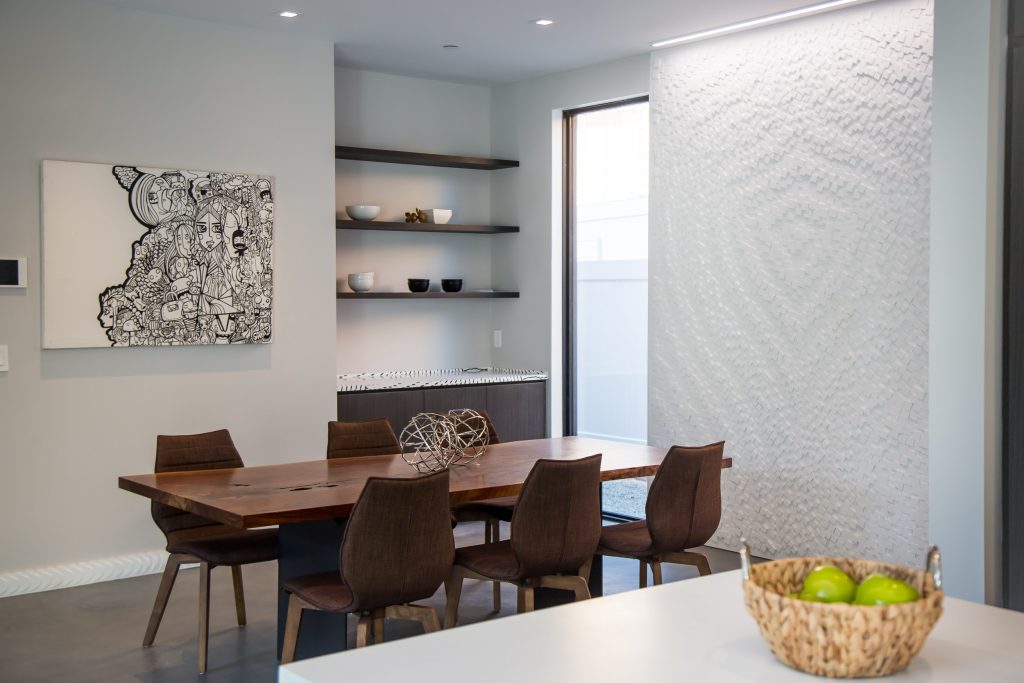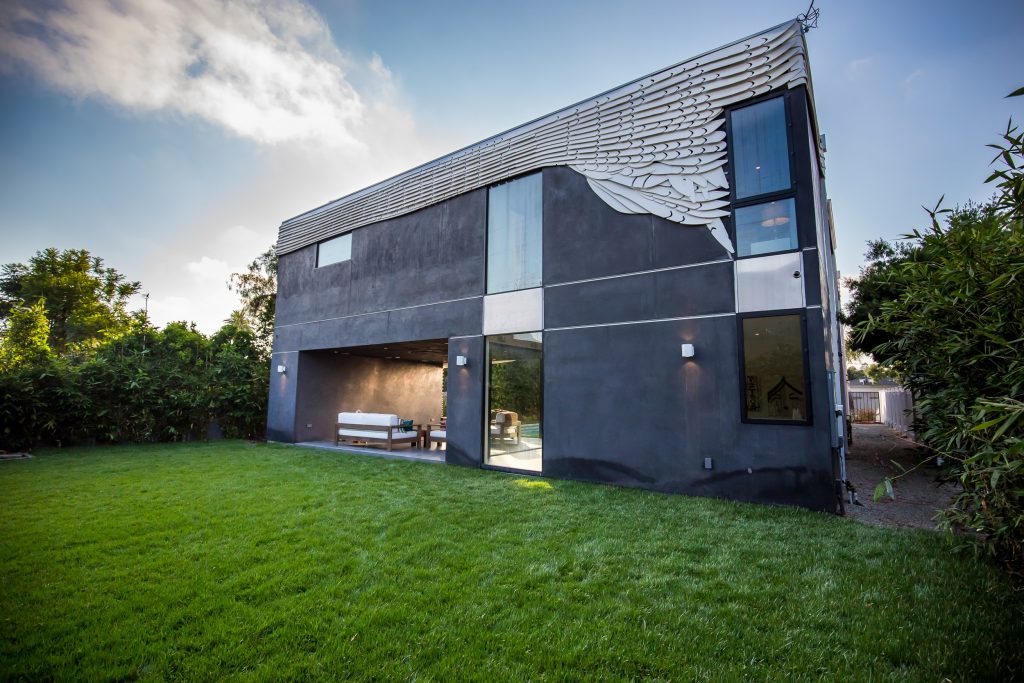 Even the walls in this home are a step up, a delight for both the eye and hand. Created from HI-MACS by LG, a durable, clean material that inhibits the growth of viruses, mold and bacteria, Romano has infused them with playful textures that change throughout the day—a pattern near the dining room reveals a heart, the master bathroom's surfaces resemble the spots on a giraffe, a peacock's tail feathers are the motif that greets your arrival at the top of the staircase, and grain lines of wood have been carved into the top floor's surface. Non-conductive, it's warm and inviting on the feet.
Along with three bedrooms and a master suite, there's also a den on the second floor, which can be used as a children's play area or a second guest bedroom. Three study carrels along the hallway imbue good work habits. (That parents can quietly observe their children's computers is an added bonus.) Indoor, outdoor, public, private, artistic, practical, family, independence—these are the ideals at the heart of true California living, which this house embodies. "You want everybody healthy, happy, safe—home sweet home," muses Romano. Here is a house that finds ultimate pleasure in the idea of "home," where the memories created here are always beautiful—in every sense of the word.