See H.D. Buttercup for inspired collections of au courant California style
Written by Constance Dunn | Photography Courtesy of H.D. Buttercup
Consider H.D. Buttercup probably the most prolific showcase of smart, eclectic decor in Los Angeles. Started in 2005, the company has quickly grown from a single site to a network of locations across the city—four total; all sprawling, browse-friendly galleries filled with distinctive modern home goods. The Culver City location is its most striking—a mammoth flagship at the former site of Helms Bakery along Venice Boulevard.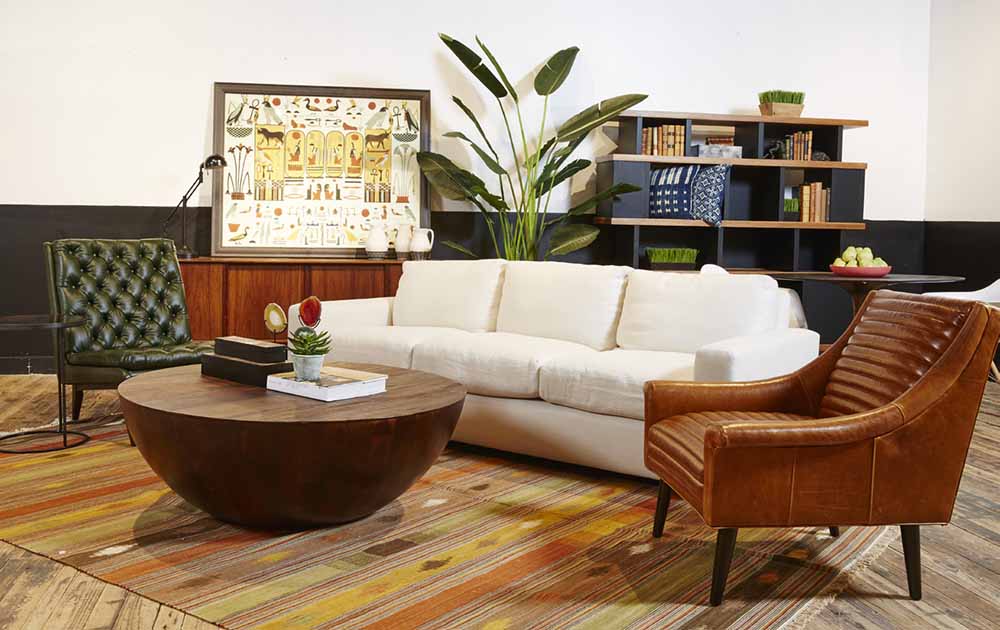 Stepping into the space, 150,000 square feet in all, one is overtaken with the comprehensive glamour of the place. It's an artillery of the best in modern design sensibilities—from furniture and original artwork to rugs and lighting. The space draws its charm from a far-flung mix of aesthetics—a Moroccan rug might mingle with fur-covered dining chairs; geometric chandeliers against over-stuffed linen armchairs—melding pleasantly and gathering rather neatly under the umbrella of Modern California cool. (The variety at H.D. Buttercup extends to its product lines: If shopping for a new couch, one can find a Lange 3-Piece Sectional for $11,595.00 or snag a creamy Mid-Century tufted model for around $700 on sale.)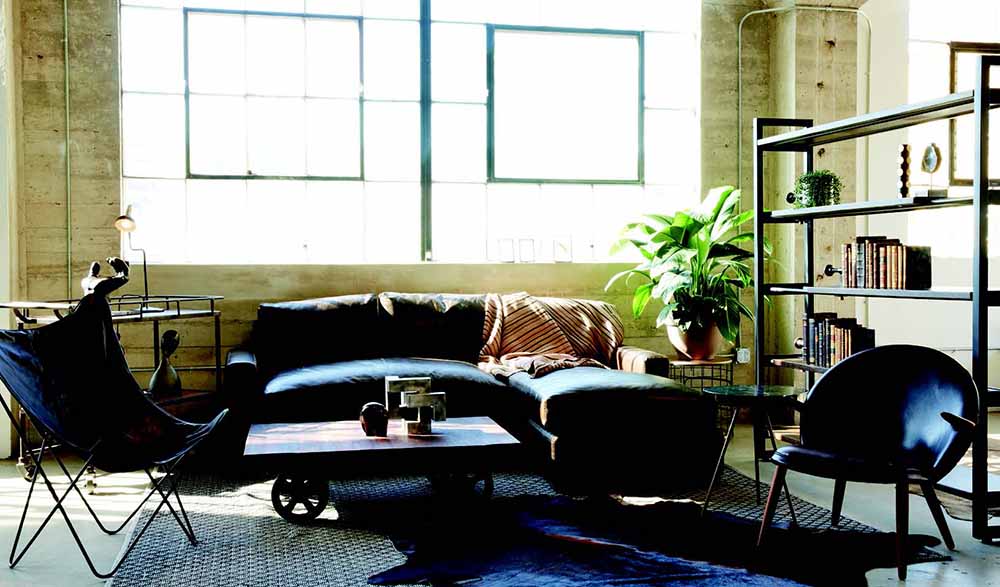 One can't help but find inspiration among the well-crafted scenes found while perusing the store, and if a setup captivates, it can be yours, down to the duvet, candles and throw pillows. "We are one of the only furniture establishments who makes off-the-floor sales," says Kathleen Lawler, manager at H.D. Buttercup Culver City. "Meaning you can take your furniture home and enjoy it the same day you buy it!"
As for best times to shop, Lawler recommends the middle of the week. "We get tons of new product shipped to us at the beginning of the week and by Wednesday, you have first pick at all the newest pieces."
Bedding is a big part at H.D. Buttercup too. "Our In Bed department houses the most eclectic and diverse bedding in Los Angeles," notes Lawler. "With lines such as Society, Coyuchi, Matuk, Pom Pom, Bella Notte and John Robshaw, H.D. Buttercup is a destination for anyone seeking high-quality linens." In addition to the Culver City flagship, there are H.D. Buttercup points in Beverly Hills, Santa Monica and the Arts District of DTLA. "Each of our locations has an inimitable personality focused on Los Angeles' various geographical landscapes and reputations," explains Lawler. "In Santa Monica, for example, we will have more of our Cali Coastal line represented, whereas in Downtown, we have more of the Loft collection available." A showcase of H.D. Buttercup's entire collection, however, can always be found at the Culver City locale.
Outside of Los Angeles, there's a 40,000-square foot outpost in Costa Mesa, a couple of locations in San Francisco, and even one in Hong Kong that's answering a current-day demand for California style.
Finally, if you're wondering about the name, H.D. Buttercup is the moniker of the outfit's fictional mascot: Herbie Buttenscheimer. Originally from Queens, Buttenscheimer moved to Hollywood and did like so many others before him— reinvented himself with a new name and a new vocation: that of a globe-trotting purveyor of furniture and art, and always choosing only the items that please him.
H.D. BUTTERCUP
3225 HELMS AVENUE
LOS ANGELES, CA 90034
310.558.8900
HDBUTTERCUP.COM