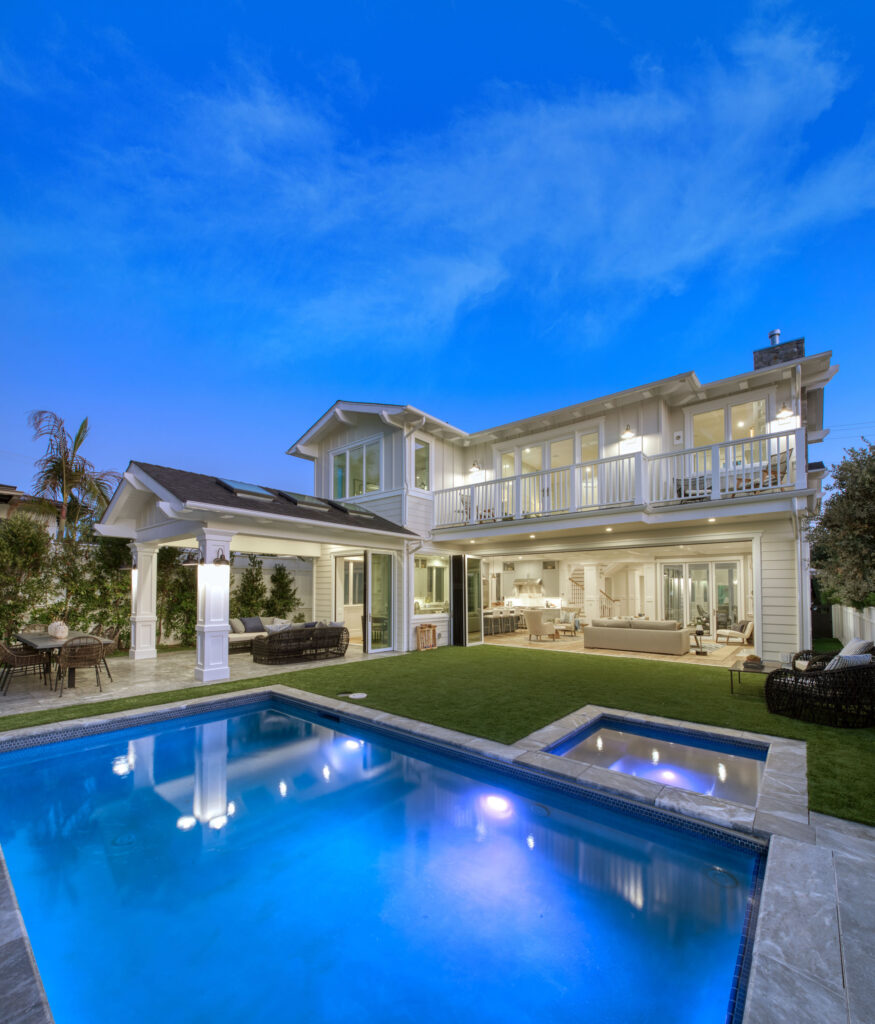 A handcrafted beach home with splendid outdoor spaces sets a new trend in East Manhattan Beach luxe family living
"There's great opportunity in East Manhattan," says craftsman and homebuilder Patrick Kealy. It's the larger lots, he explains, places where one can have gardens and pools, and a slew of outdoor entertaining options no matter the season. Location is another reason. "It's as easy to access the freeways and get around Southern California as it is to access the beach," says real estate agent Bryn Stroyke, pointing out that while the beach is just under two miles away, so is the 405 Freeway.
Recognizing this, Patrick Kealy has erected three luxury homes along a sunny, tree-lined stretch of 8th Street designed by well-known South Bay architect Louie Tomaro. Not surprisingly, Bryn Stroyke's recent sale of the British West Indies-style home, the first-completed of the trio, set a sales record for new residential construction in East Manhattan Beach.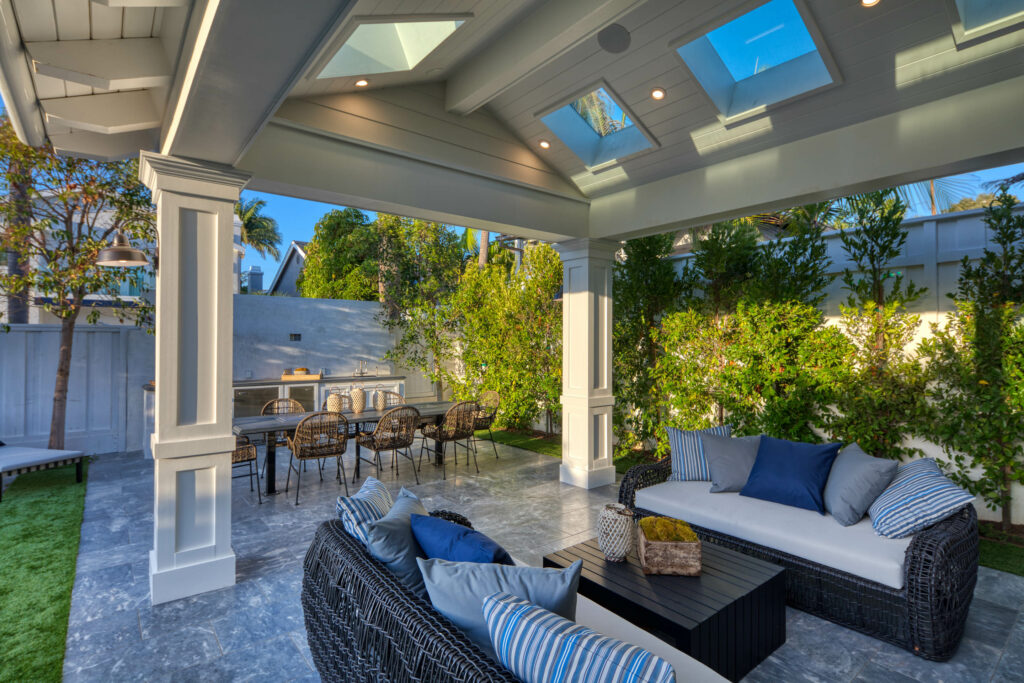 One steps into the entrance hall and is immediately swept up in the sheer luxury of the place. There are 25-foot-high ceilings that usher one into the stately great room—a sunny, pure white space where classic wainscoting extends from fireplace to the ceiling.
"We just went at it, and it took off and grew legs of its own," says Patrick Kealy of the details, which include bi-fold doors that open the space onto a graceful patio overlooking the tidy front yard.
"You can sit on your front porch or living room and look out at the kids playing in the park across the street," notes Bryn Stroyke. Or, from the custom bench Patrick Kealy built into the home's white-picket fence.
It's an extraordinarily well-dressed compound—a place that incorporates East Coast refinement along with the essentials of luxe California design; namely, interlocking the interior with the great outdoors. Saunter along floors of pale French oak and past the formal dining room, neatly set apart by elevation and thick beams wrapped in wainscoting, and one enters a sculpted outdoor oasis.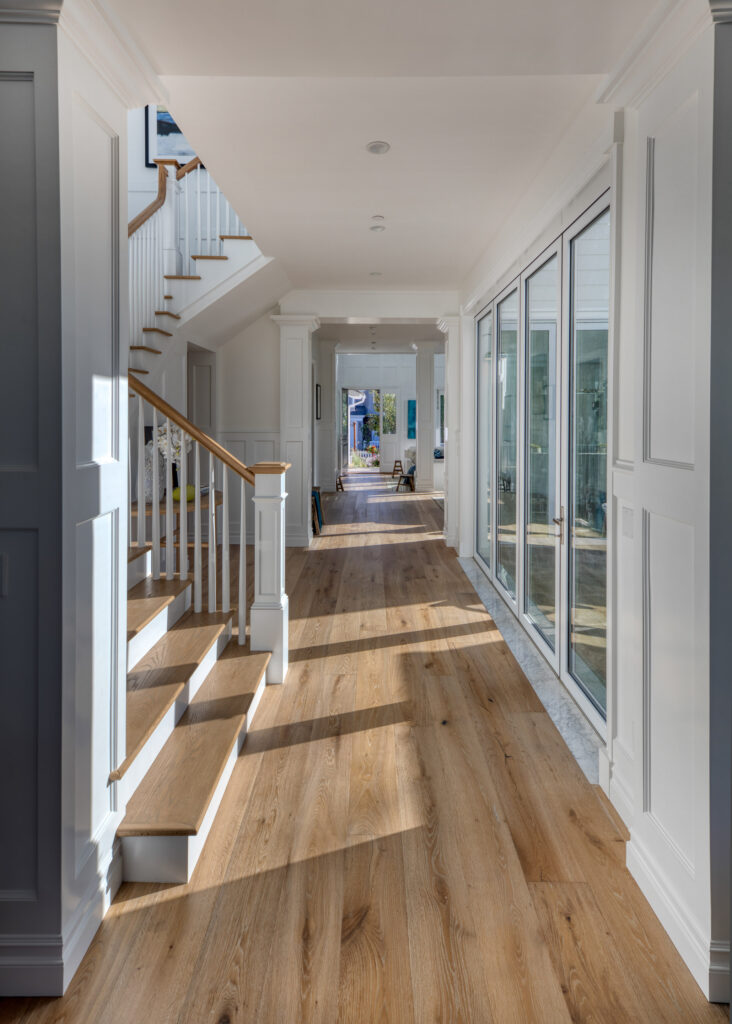 But first one passes through the breezeway, a remarkable nook tiled in smooth-cut stone with a matching slab hearth. Surrounded on three sides by bi-fold doors linking it to the interior, it's an area where one can imagine oneself unwinding in a cocoon-like atmosphere after dark, fire crackling against a backdrop of night stars and wafting green trees.
Via a panorama of accordion doors, the whole rear-facing side of the home—which includes an open-space marble kitchen with restrained Shaker cabinets, and a fireplaced living room—merges with outdoor spaces that have been blessed with the same meticulous design hand as indoor ones. There's a covered al fresco lounge with steeple ceiling and floors warmed with radiant heat.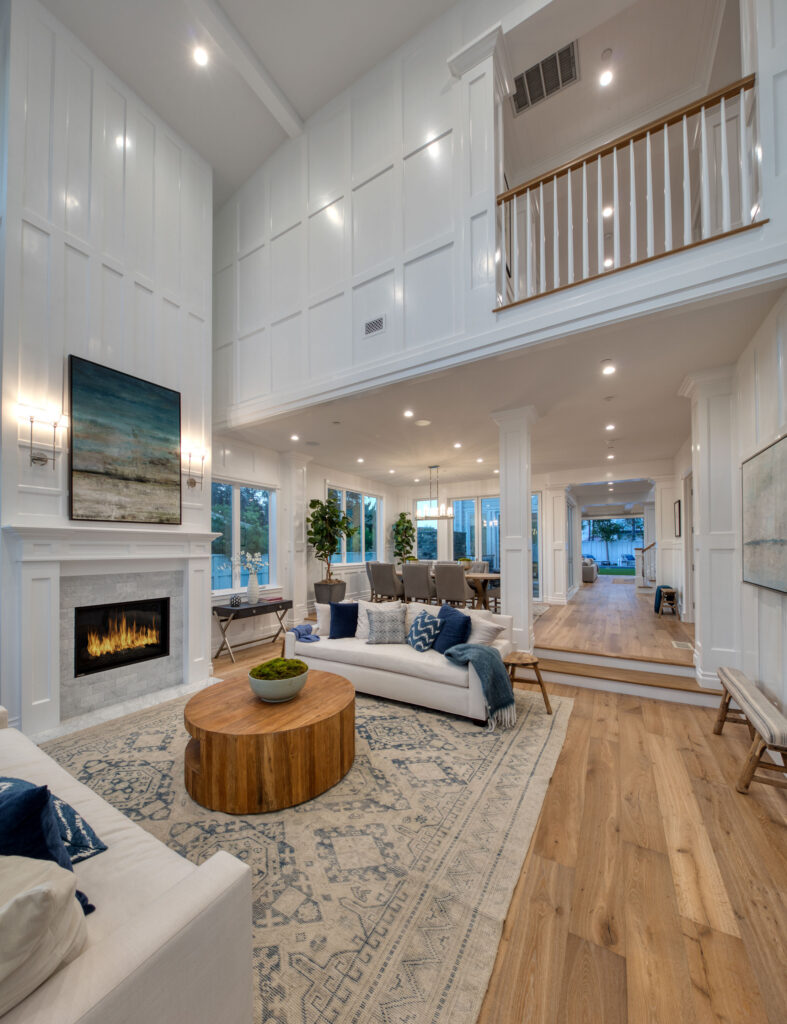 A built-in dining table with dual Korean barbecues is part of the floor plan and, steps away, a spacious outdoor kitchen with Sub-Zero and Wolf appliances. The manicured green lawn and a saltwater pool and spa, however, are the visual centerpieces: day or night, the jewel-like hues of the water cast an alluring draw to the outdoors from within the home—and can be seen as far away as the front porch.
"I'm all about transitions," states Patrick Kealy. "They should be flawless and function exactly as they should."
This is achieved here by painstaking craft; thresholds leading from the interior to exterior spaces are perfectly flush, so there's no perception of having stepped over a doorway, for instance, to reach the outdoors.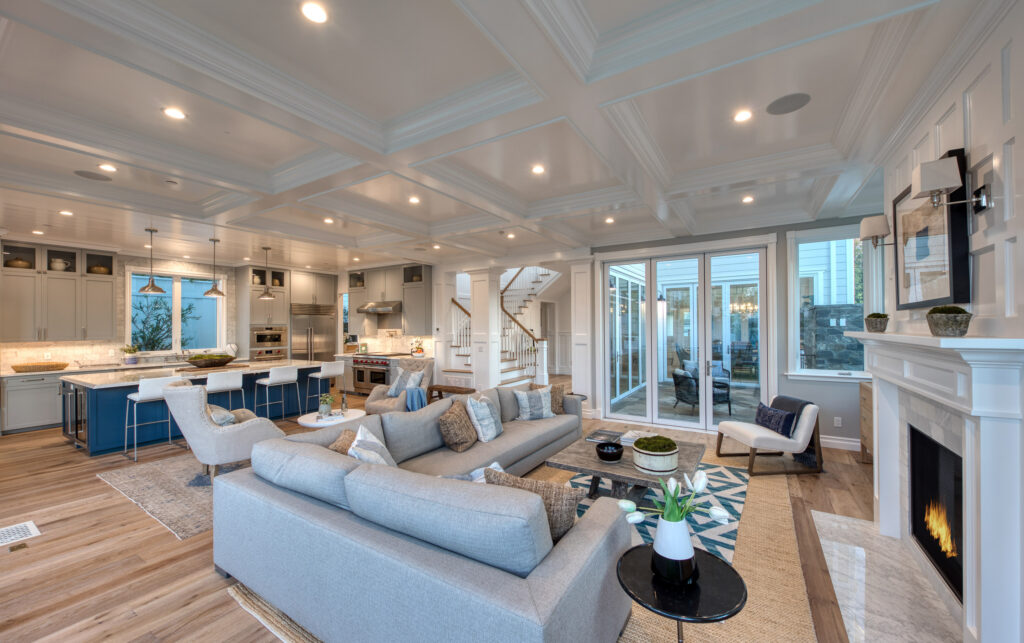 "With most builders, economics really factor into decisions," Bryn Stroyke explains. "With Patrick Patrick Kealy, there's only one way to do it: The right way. That dictates his decisions. He's not going to compromise on anything."
This is just such a canvas, a place where traditional details such as wainscoting and coffered ceilings imbue the home with a stately feel, while an abundance of natural light and a palette of whites, soft blues and grays turn the home's generously proportioned rooms into accessible, of-the-moment spaces.
The master suite, for example, occupies an entire wing of its own and includes a fireplace lounge tucked under a soaring hipped ceiling, along with a refined master bathroom decked in marble and a sprawling walk-in closet with dual entrances. Warming these grand spaces are plenty of windows and two fresh-air balconies to soak up the neighborhood's panorama of blue sky and green trees.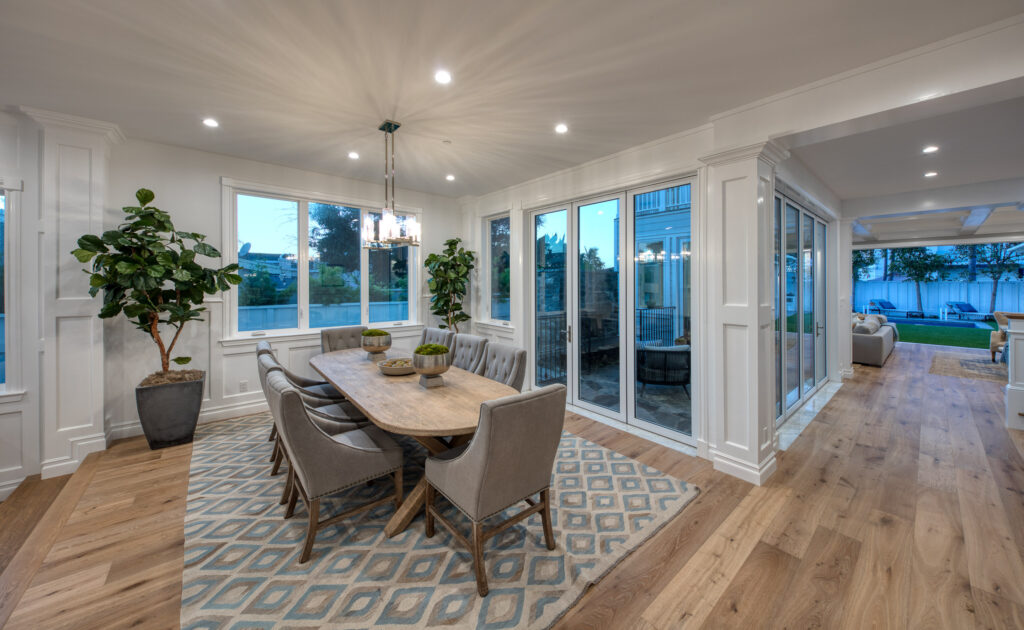 The home's lower level is dedicated to recreation—another space where no detail has been overlooked and where sunlight warms every corner. A quiet, plush movie theater with raised platform seating occupies part of this level; while another hosts a spacious bar that's ideal for evening or day soirées due to a combination of sandy-hued wood floors and a white bar with lots of crisp paneling. The combination visually pops in the face of natural light streaming through the windows and down along the elegant stairway.
"If you want a lot of square footage, a yard and a lot of quality at a reasonable price point, there are not a lot of options in Manhattan Beach," muses Bryn Stroyke.
"What makes this property unique is there's a level of finish, a level of quality and an attention to detail that's unusual for even high-end spec homes."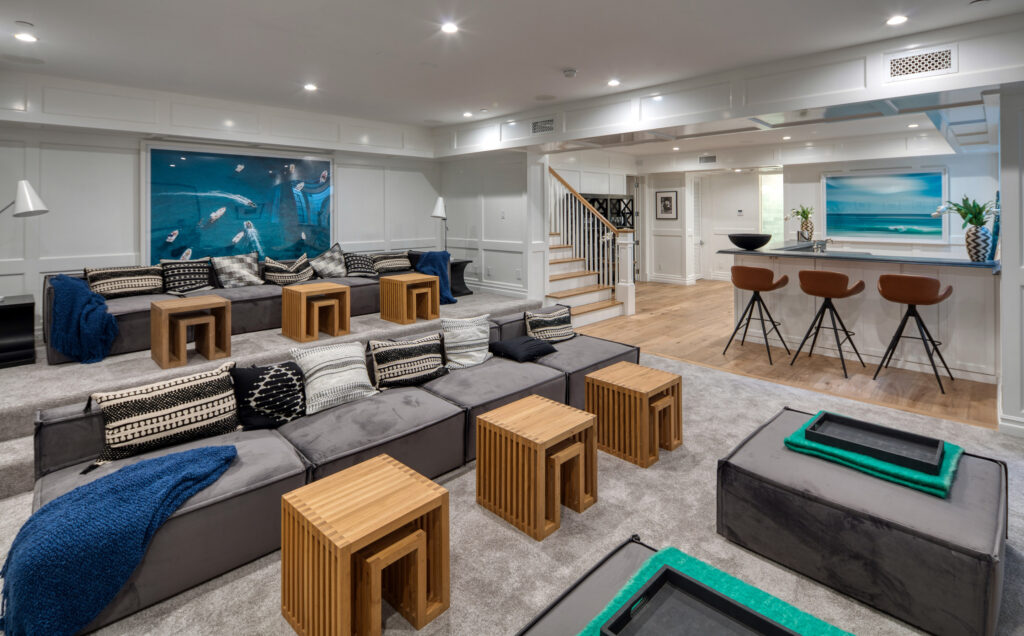 The room that perhaps best exemplifies the house, he adds with a chuckle, is the one might least expect: "There are lacquer-paneled walls in the garage." Some homes claim to be a gleaming example in the luxury category; others, like this one, actually are.
Bryn Stroyke | 310.880.3436
Stroyke Properties Group
Bayside Real Estate Partners
List Price $4.895 million