Hamburger Haven
Tags burger, California, drink, food, food beverage, good food, hamburger, koreatown, local, Los Angeles, restaurant, Santa Monica
Plan Check's creative comfort fare and high-energy hospitality continues to flourish on the Westside
Written by: Constance Dunn | Photography Courtesy of Paul Jonason
Mention Plan Check Kitchen + Bar to even the most casual of hamburger fans and be prepared to hear effusive praise. A success for any restaurant, but even more so when one considers the origins of this popular Sawtelle eatery— which sprung from a real-estate market lag, then went forth to win LA Weekly's "Best Burger in Los Angeles" in 2014 and, within a few years, expanded to three locations, with a fourth poised for Santa Monica.
---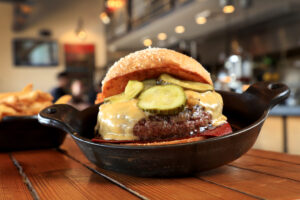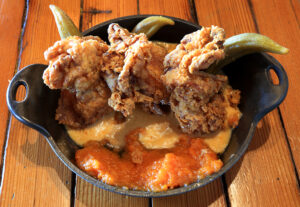 ---
"There was a pause in the real estate market and there were just no deals to be had, so I took the opportunity to finally open up Plan Check, which was in the back of my head for a good decade," says owner Terry Heller, the music industry creative turned real estate entrepreneur who opened Plan Check's doors in 2012. Partnering with chef Ernesto Uchimura, former corporate executive chef at Umami Burger and dubbed "The Comfort Master" by Los Angeles Magazine, who also named him one of the city's top chefs in 2012 (Uchimura exited Plan Check earlier this year), Heller filled the menu with creative comfort fare like beer nuts (tinged with wasabi) and baked crab dip for starters, and short rib pot roast and fried chicken as main dishes. There's a concise burger and sandwich section which includes signatures like the Southern Fry: a hunk of smoky, fried jidori chicken topped with pimento cheese and duck breast ham—which is second in popularity only to the menu's grand marshal, the Plan Check Burger.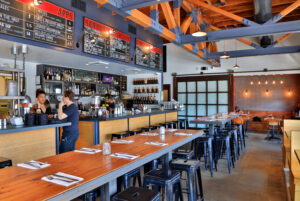 Laced with schmaltz onions, pickles and American dashi cheese slices, the hefty six-ounce ground beef patty is then nestled between a bun topped with a bit of panko for crunch. It also includes a Plan Check exclusive, Ketchup Leather. Think of it as a fruit roll-up, only in ketchup form, and created as a smart alternative to keep buns from getting soggy. For dessert, try the soda floats and warm cruller donuts that are made to order and adorned with fruit and cream. There's a full liquor license and on any given day, the place hops. "I like to say we're firing on all cylinders," says Heller. "From [the] design to the food, to the whole ambiance and to the hospitality.
Everybody loves the energy." For Heller, the vision for Plan Check was a mashup of his personality and lessons learned while in the music industry. "Plan Check is absolutely a reflection of my personality," he says, adding that his time working at a record label, which morphed into work as a director, allowed him to understand marketing, along with how to create an authentic atmosphere. "It helped me tremendously. I think the training that I had in the music industry was my bootcamp for the rest of my professional career." The Sawtelle location is Plan Check's flagship, and is joined by a Hollywood location on Fairfax and one in DTLA, on Wilshire just a few blocks west of the Financial District.
Though the look of each location is consistent, there's a hyper-local menu twist at each spot. At the Fairfax location, a historically Jewish neighborhood, it's the salmon pastrami served with a bagel chip that's topped with squid ink cream cheese and brined celery. At the DTLA location, there's a grilled pork belly K-BBQ Burger that nods to its Koreatown-adjacent setting. At the new Santa Monica location, expect to find a seafood item or two. And the name? Plan Check comes from the original Sawtelle location, situated along the north end of Little Osaka, just steps from the Los Angeles Building & Safety office, where builders, architects and others amble in each day to get building plans okayed and acquire permits from the city. "Having a real estate background," says Heller of the name, "it was sort of perfect."
Four years after opening its doors, for Heller, the rewards of opening Plan Check still have to do with the fact that he has successfully created a place where folks can go to enjoy good food and good times. "It kind of sounds super-corny," says Heller, "but I just love being part of so many thousands of peoples' lives."
PLAN CHECK KITCHEN + BAR
1800 Sawtelle Boulevard, Los Angeles, CA 90025
310.444.1411 | PlanCheck.com
Related Post
A food truck with royal roots rolls into Los Angeles with fresh handmade pasta Written by Joclene Davey | Photography Court...
A purveyor of fine cheese parlays his passion into a new shop Written by Joclene Davey | Photographs: Tom Cocking Courtesy ...
Captain Kidd's keeps its decades-long reputation for the freshest seafood in town, served in a down-home harbor atmosphere Written by Cons...