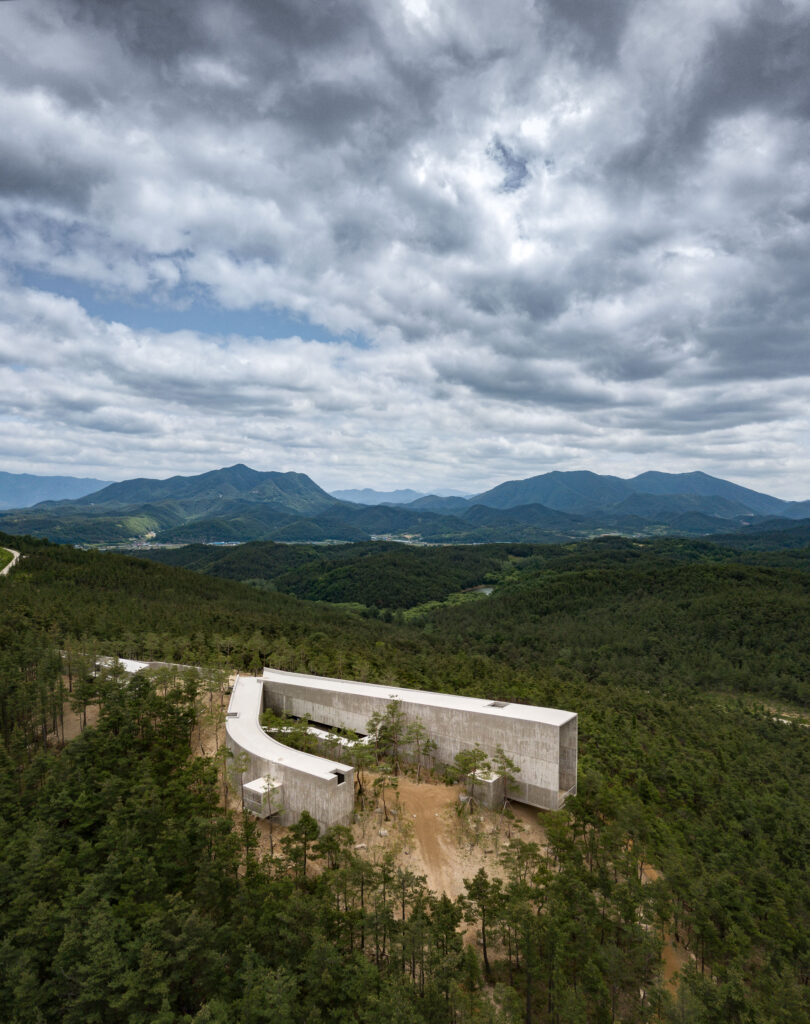 Compatriots and Collaborators, Álvaro Siza and Carlos Castanheira Bring a Concrete Monolith to South Korea's Sprawling Saya Park
In the province of Gyeongsangbuk-do, South Korea, Saya Park Art Pavilion represents a remarkable meeting of the minds between Portugal's Pritzker Prize laureate Álvaro Siza and his compatriot, Carlos Castanheira.
This is not the first of their architectural feats—the duo's designs include an array of interesting and assertive architecture across the Far East. Art Pavilion is, however, among their most spectacular works as collaborators, a coexistence of art, architecture, and nature that is all of a piece, and more broadly, of a place.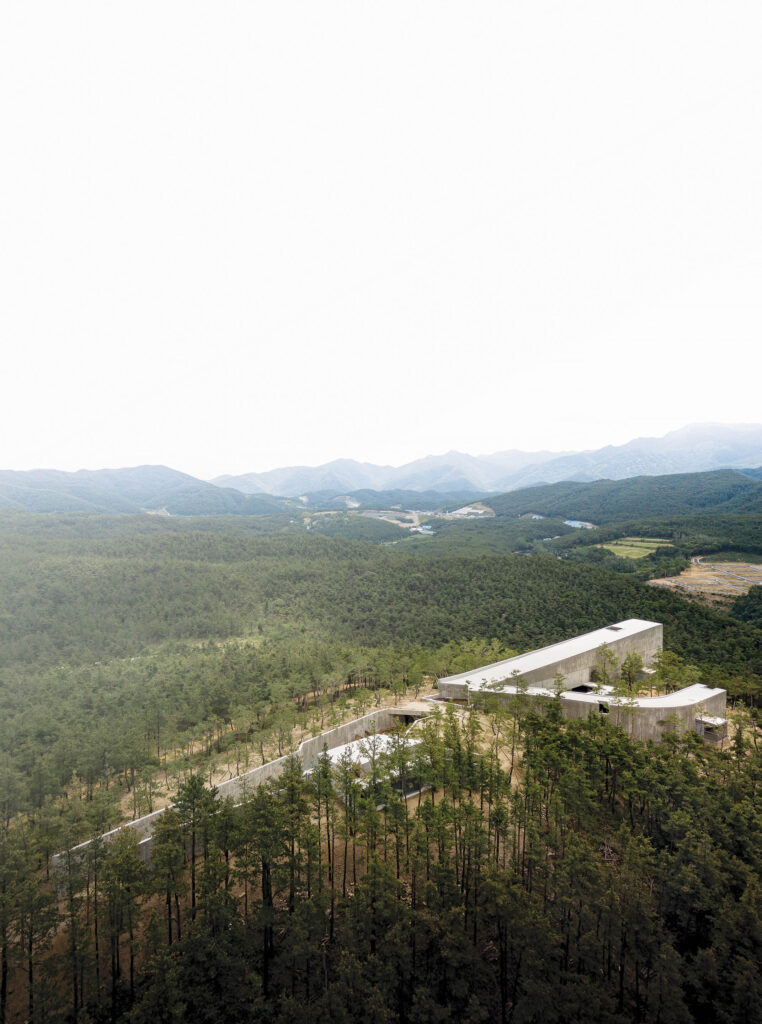 As Carlos Castanheira describes it, "There are projects that are born both out of their site and for it. There are projects that create the site for themselves. The Art Pavilion modified the hill site and also adapted itself to it. And we all also adapted ourselves to the beauty of this project."
One of three planned structures for Saya Park—a chapel and an observatory round out the program—Art Pavilion was initially modeled after another Álvaro Siza structure that never got off the ground, a gallery meant to house two pieces by Spanish master Pablo Picasso, Guernica and Pregnant Women, for the 1992 European Capital Culture in Madrid. Though smaller than initially designed, the pavilion is a magnum opus all its own, buttressed by a vision of enormous heft and ambition.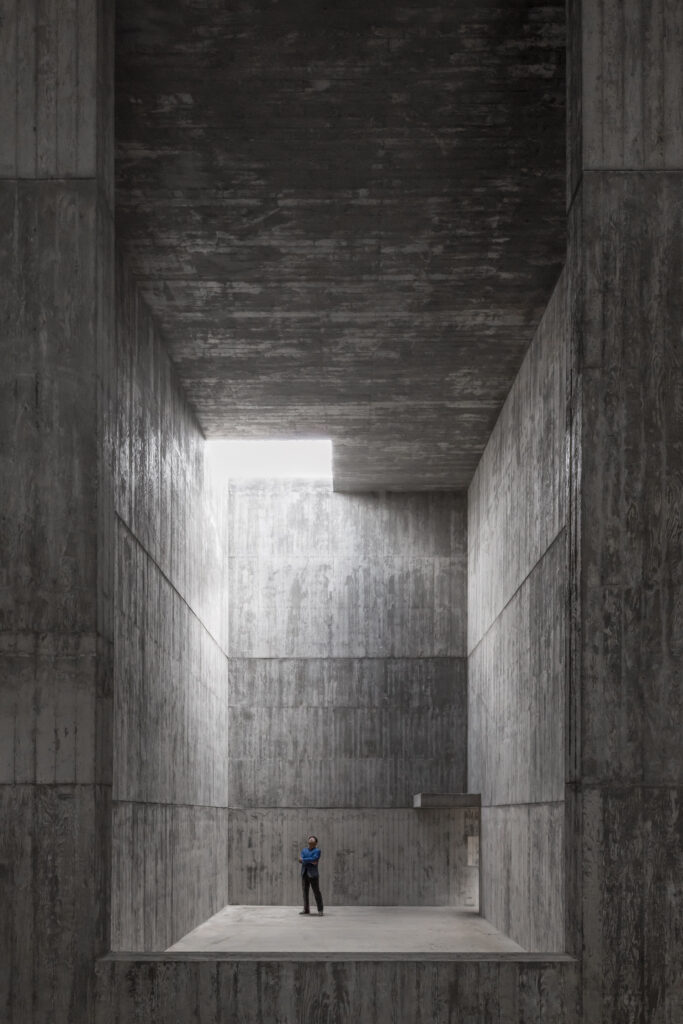 Partially sunk into the ground, the fork-shaped structure is over 14,000 square feet and features two volumes—a large rectangular wing housing major exhibits and, branching off from that building, a curved form for additional art shows. The whole remarkable mass crowns one of the loftier hills in the landscape to which it clearly belongs (even as it also feels mind-bendingly of the future).
In describing the project, Carlos Castanheira proves a most capable Virgil, stating: "The forest pathway makes its way between high concrete walls, rough in texture but elegant in form."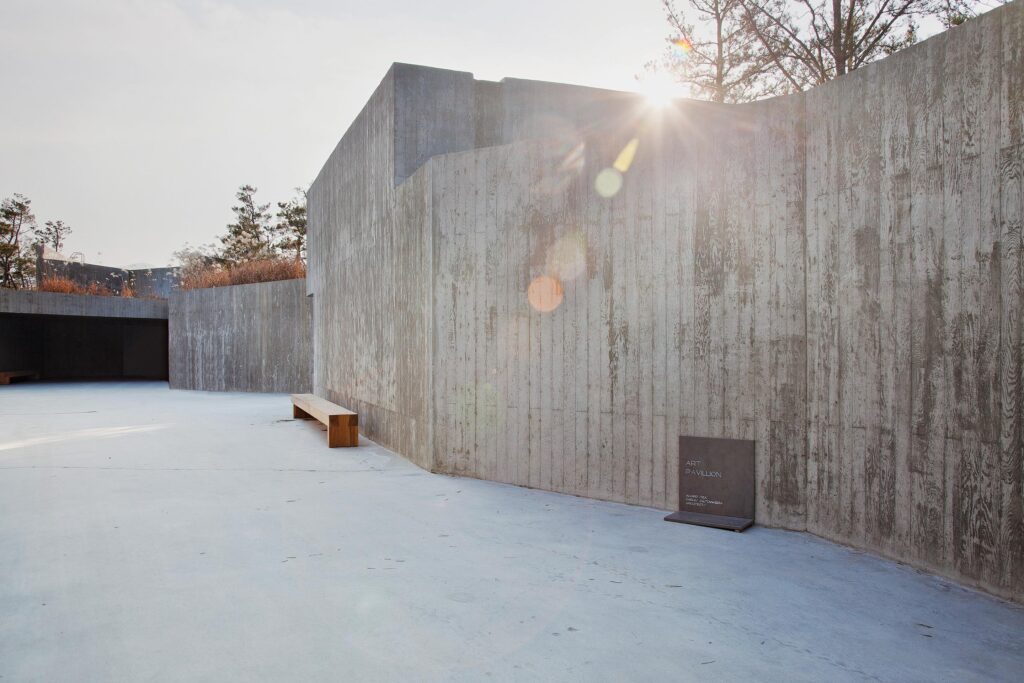 In approach of the pavilion, one passes the library—a pensive, isolated structure lost to its own silence—before crossing the threshold, "as if entering a sculpture that absorbs us and enables us to feel space, light, shade, time, and also, what is before and what is beyond," Carlos Castanheira continues. His poetic assessment of the space includes an interior where "we look for our own internal, personal infinity."
Short or lingering, one look is all it takes to concede the point. As much a work to showcase art—including a few pieces by Álvaro Siza—as it is a work of art itself, the pavilion is, as Carlos Castanheira suggested, essentially sculpture.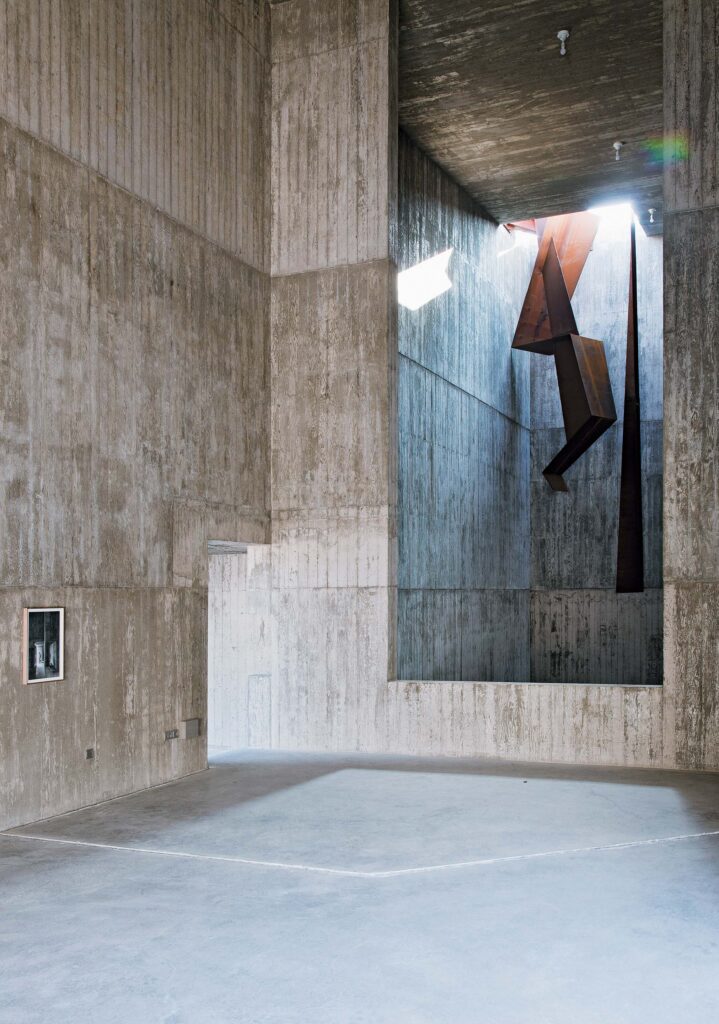 Wrapped in light and pure of form, it is startling in its neatness and thoroughly immersive, a concrete canvas in a trance-like state that one quickly adopts as they meander through the building, taking note of details ranging from wood and painted aluminum doors, to stainless steel hardware, to humble oak wood benches, to stunning marble sculpture.
While the mass is imposing, almost forceful, the architects allowed for light via strategic and precise incisions in the walls and ceilings that bring buoyancy and warmth into the cavity. The disciplined doses of luminosity highlight art and architecture alike in ways that seem entirely natural yet ruthlessly controlled.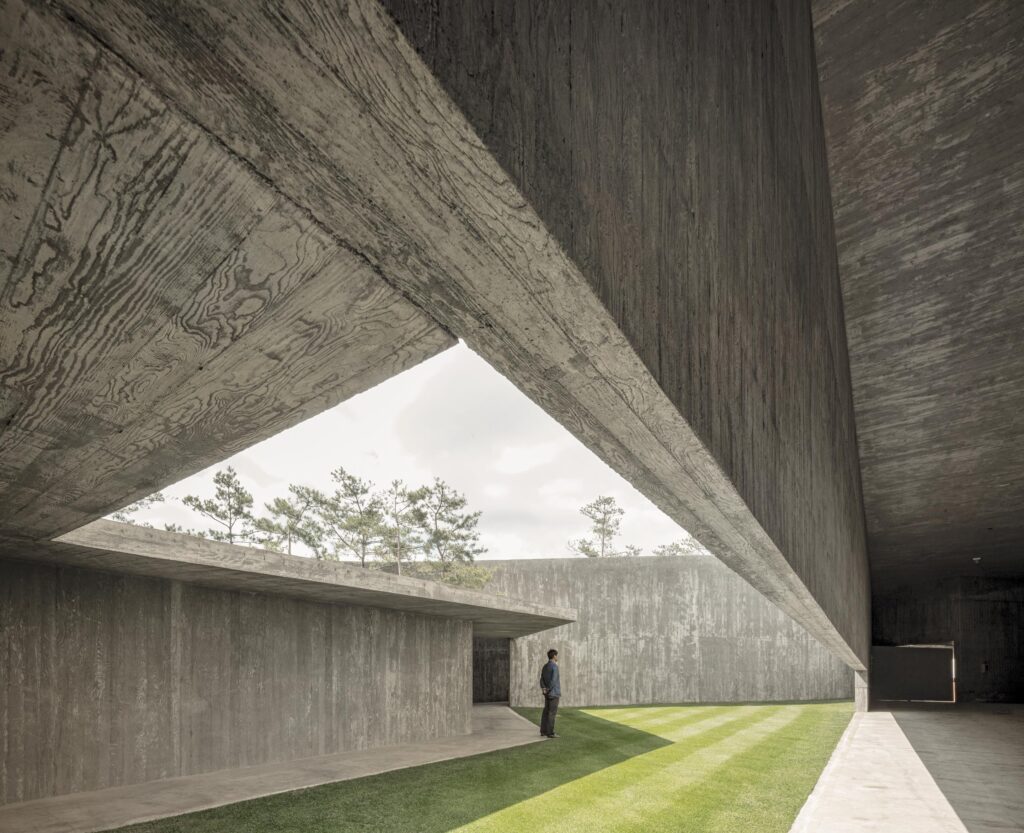 With nature primary to the project, the architects' use of rough board-formed concrete helps the structure stand out in its overwhelmingly verdant environ. At the same time, the material enhances the uniformity of what is a supremely elegant architecture defined by clean lines, geometric openings, and a mesmerizing play of light and shadow.
As gatekeepers of how one might experience the space—intentionally, if not a little dazzled by it all—Álvaro Siza and Carlos Castanheira's calculations assign meaning to every corridor, every cut of concrete, every blaze of light. Similar to the exterior and interior finishes of the pavilion, the roof also consists of exposed concrete and is dual purpose: providing shelter while serving as a prolonged walkway that gestures dramatically to the thickly wooded terrain surrounding the pavilion on all sides.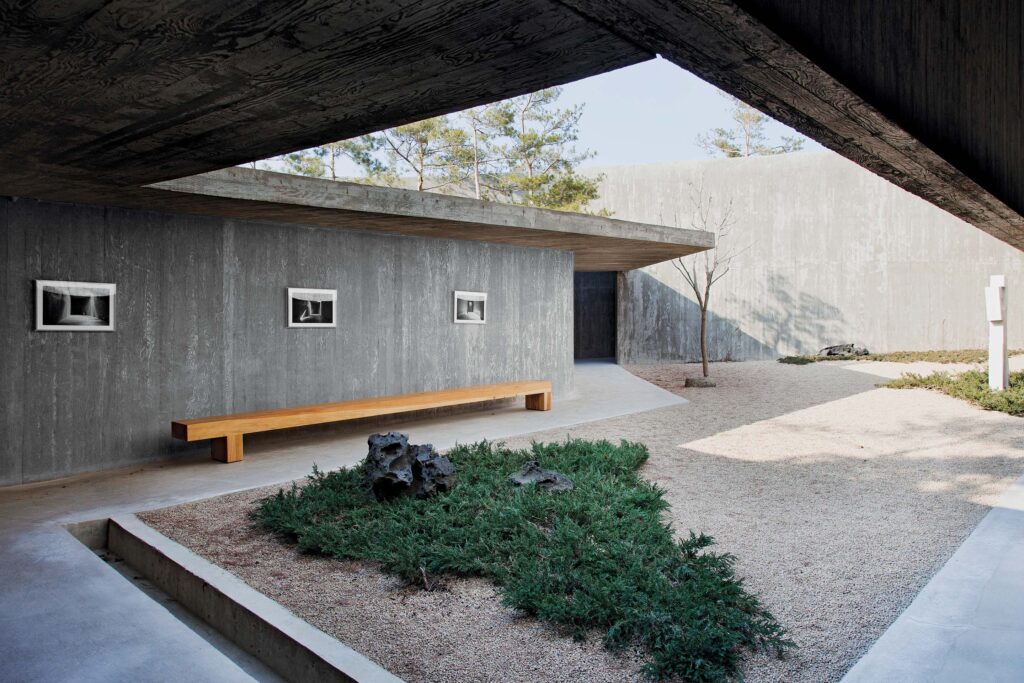 Álvaro Siza and Carlos Castanheira's other projects for Saya Park, the chapel and observatory, are considerably smaller than Art Pavilion, but in what one has come to expect from this pairing, big on vision. In a quiet corner of the 75-acre park, the white stucco, three-volume chapel is strikingly contemporary, with a radically cantilevered entry and columnless pediment whose volumes rise in height; first to a triangle, then crescendoing with a taller, flat-roofed form.
The third element is the observatory, a curious concrete tower offering panoramic views of the environment. Together, Álvaro Siza and Carlos Castanheira's architectural trifecta is complete: with an observatory tower overlooking the valley, a chapel facing the heavens, and a pavilion rooted to earth.
Álvaro Siza and Carlos Castanheira | sizavieira.pt; carloscastanheira.pt
Photos: Fernando Guerra | FG+SG; JongOh Kim Photography