Created for filmmaker John Whitney in 1978 by Pritzker Prize-winning L.A. architect Frank Gehry—known for his bold, artistic architectural features and unusual shapes (think Walt Disney Concert Hall)—this once-fragmented and somewhat unconventional Santa Monica compound has since been transformed into a more "realistic" living environment by architect Mark Mack.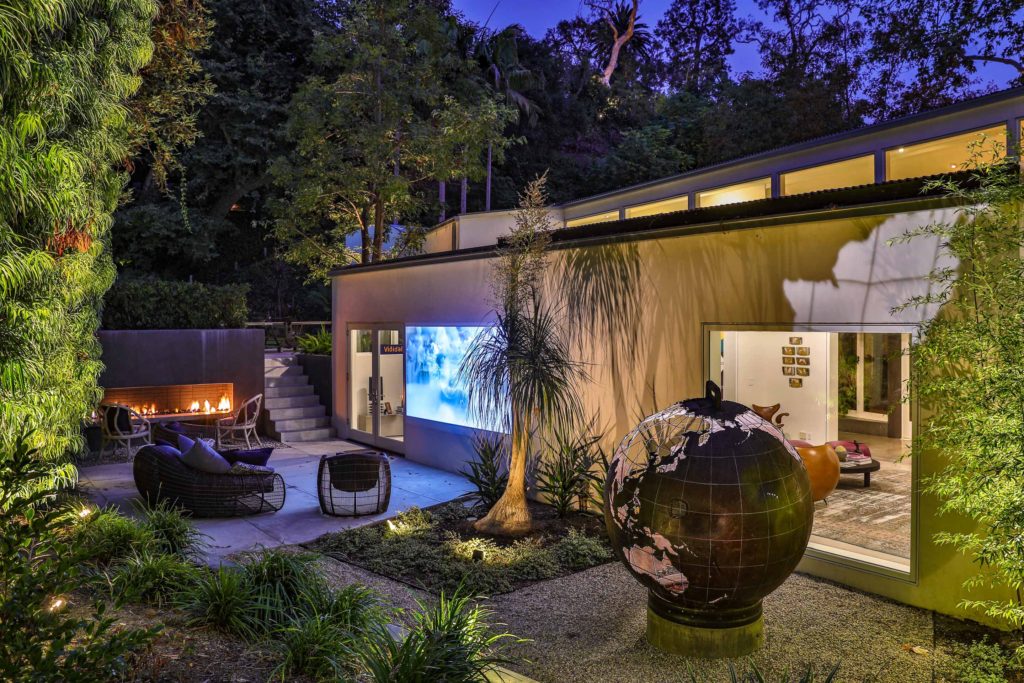 Formerly three separate, distinct structures, the fully reimagined and expanded residence now boasts a stunning duo of contemporary and functional spaces interconnected via bridges, stairs and walkways…all built on the foundation of the past.
"Architecture is a small piece of this human equation, but for those of us who practice it, we believe in its potential to make a difference, to enlighten and to enrich the human experience, to penetrate the barriers of misunderstanding and provide a beautiful context for life's drama." -Frank Gehry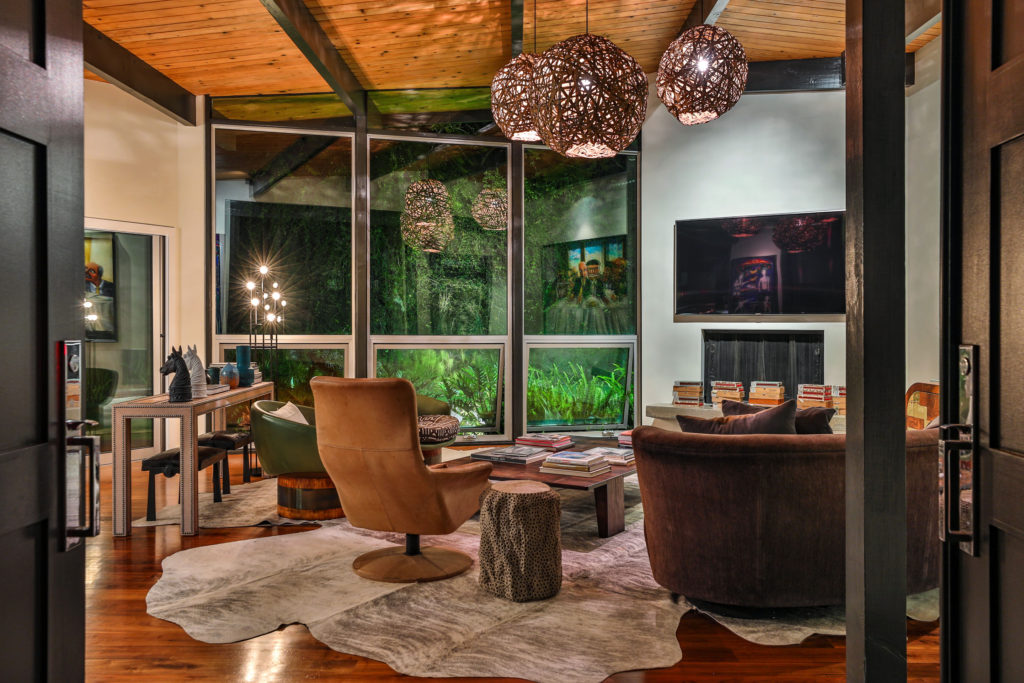 "It was originally designed by one of the most prolific architects, Frank Gehry, and then Mark Mack's redesign makes it a one-of-a-kind," says Cindy Ambuehl, who is co-listing the home with Blair Chang, both of The Agency, for $18.5 million. "It is unlike anything else on the market or ever built."
Nestled on a large secluded and gated parcel of land at 600 E. Rustic Road—in Santa Monica's coveted Rustic Canyon, with convenient access to the beach and numerous shopping and dining options—the Whitney residence originally sported a stucco garage/studio, concrete block living/dining room and plywood-paneled, two-story master suite. Today, the complex features a new wing with a guest house, gym, and garage, as well as a circular motor court at the end of a long driveway, unifying the structures.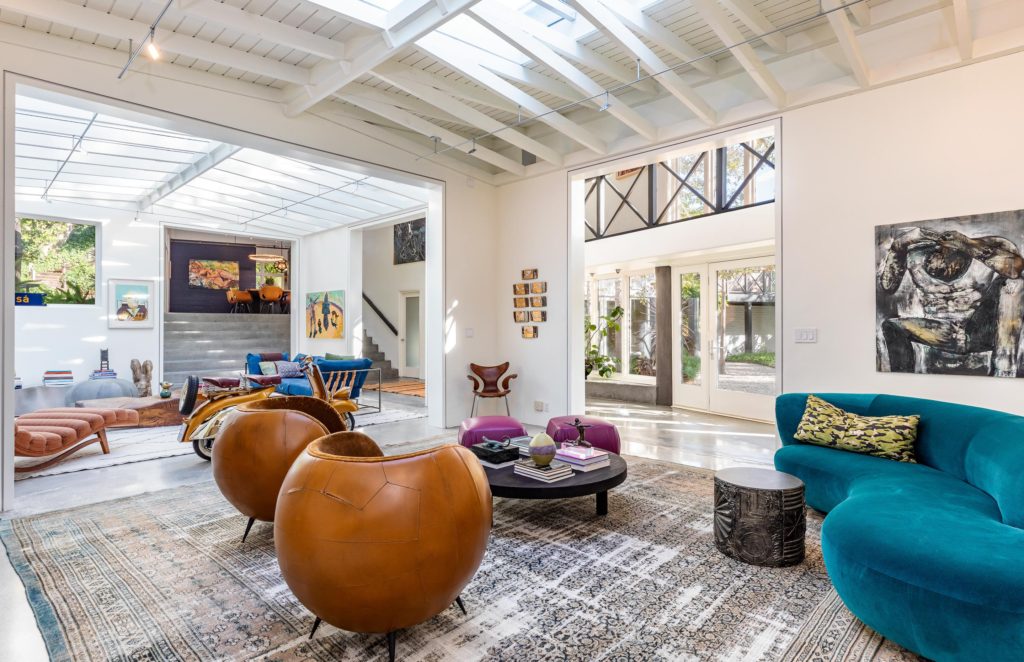 Expect a multi-level main house offering 5,000-plus square feet of open and naturally lit living space with four bedrooms (most notably, a spacious master suite with a spa-like bath and a large deck overlooking the lushly landscaped grounds and a creek), as well as five-and-a-half baths, and a professional chef's kitchen with marble countertops, Wolf appliances, and a center island ideal for dining and entertaining.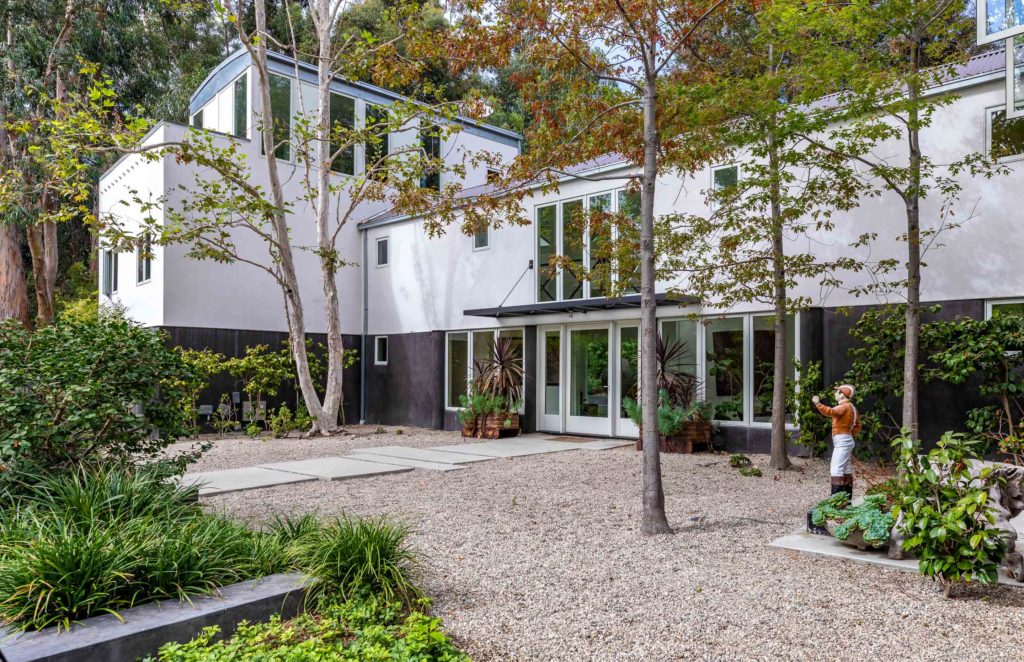 Outdoors is a heated pool and spa, along with a movie projector and two seating areas with fireplaces. An adjacent 2,000-square-foot, two-story guest house offers a duo of bedrooms, three baths, a full kitchen and balcony on the top floor, plus a gym and garage on the lower level, and a putting green just outside.
PRESENTED BY
CINDY AMBUEHL & BLAIR CHANG
OF THE AGENCY LIST PRICE
$18.5 MILLION
PHOTOGRAPHS: SIMON BERLYN