Cafe Habana serves up margaritas and mahi-mahi tacos under the California sun
Written by Constance Dunn | Photography Courtesy of Paul Jonason
In 2010, Malibu got its own version of Cafe Habana, a sunny take on a popular Manhattan eatery that New Yorker Sean Meenan first opened in 1997. He then would go on to create the city's first solar-powered eatery, Habana Outpost, in Brooklyn in 2005 before teaming up with Malibu resident and nightlife entrepreneur, Rande Gerber, who was looking to fill a void in his local restaurant realm—namely, an unfussy casual spot with great food where he could hang out with friends and family (including his supermodel wife, Cindy Crawford).
Tucked into upmarket retail haven Malibu Lumber Yard along PCH, Cafe Habana is a popular staple for locals and celebrities alike who come to dine on house favorites like the Lemon Chicken (panfried and served on a bed of caramelized plantains and yellow rice) and the grilled corn, served on the cob with a sprinkling of cayenne pepper, fresh lime and cotija cheese (a crumbly cow's milk variety from Mexico).
The Cafe Habana menu is more Mexican than Cuban, with an expected dose of Malibu health-consciousness—no hormones or antibiotics in ingredients. Organic produce and beef are served, the chicken is free range and the seafood is sustainable, down to the Skuna Bay (Vancouver) salmon filet in the Salmon Burger (served seared and pulled apart, then assembled on a bun with a tumble of cabbage and carrot slaw, avocado, sweet-ish pickled onions and a red-chili aioli).
Another perennial house hit, according to manager Dave Knapp, are the mahi mahi tacos. "It's a very fresh dish served with fresh pico de gallo. Avocado. A little bit of cabbage and fresh crema. Grilled fish. It's delicious."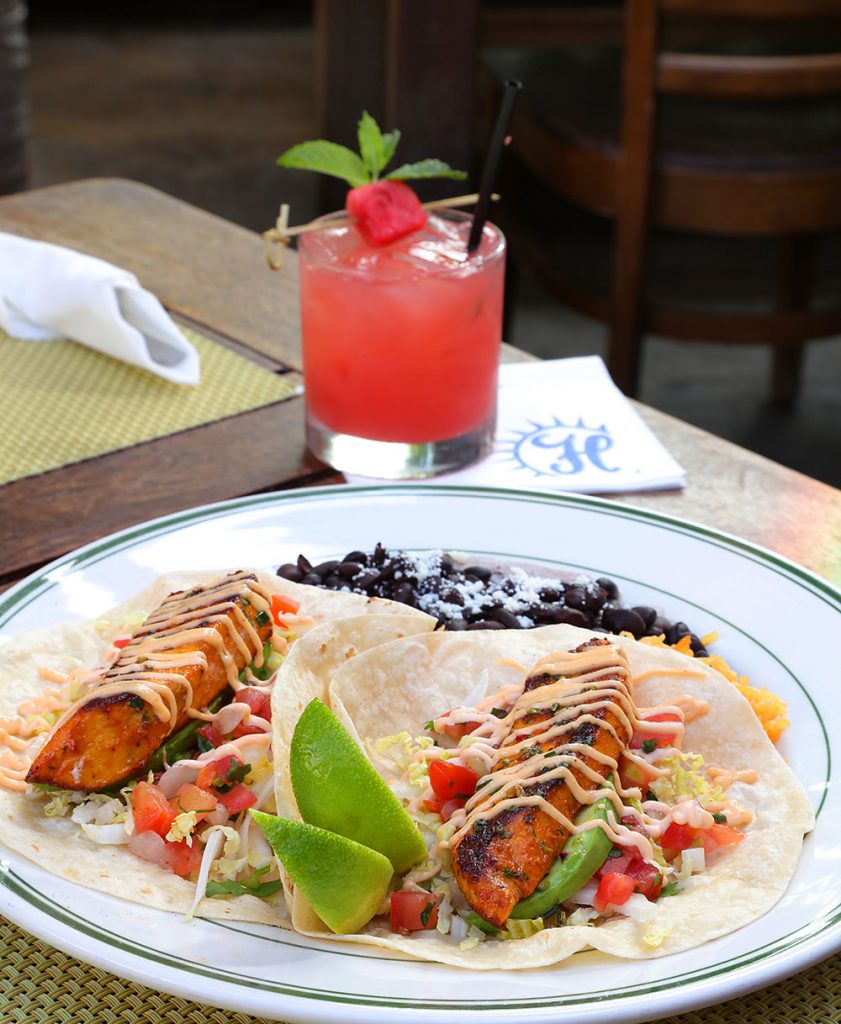 Plenty of attention is given to the cocktail program, with an emphasis on food-friendly mojitos and signature margaritas. The Prickly Pear Margarita, for example, is made with Casamigos tequila—the house brand owned by Gerber and pal George Clooney. Another signature drink, the Strawberry Margarita, is made with fresh strawberry puree and is a longtime standout of the Cafe Habana chain.
Expect to also see a rotation of seasonal and new cocktails on the menu, like the white Surfside Sangria and a mint watermelon margarita that's just been added. Indoors, seating is at simple tables and leather-covered chairs set on Dominican tiles, with homey touches brought on by decorative bric-a-brac set above the hefty wood bar.
Outdoors, the deck's festive vibe comes from a border of fanning greenery and a cross-beam pergola that filters Pacific sunlight. "The weather is so beautiful, everyone wants to sit on the patio," says Knapp.
Extra charming are potted succulents hanging along the outside wall in clay pots, and a high-contrast, black-on-white and scarlet mural by street artist Shepard Fairey.
During the week, look for themed evenings, from NFL nights and Taco Tuesday to Wednesday night karaoke. "It's been going on forever," says Knapp of the popular mid-week attraction that has drawn a grab-bag of famous folks to the mic from Sting and Kid Rock to Gary Busey. "It's always fun.
It starts at about nine-thirty." Not required at Cafe Habana but suggested for busiest times—Friday and Saturday evenings, and Sunday afternoons— are reservations. And given owner Gerber's fondness for his local hangout, there's one table that will probably be taken. "Table 62," says Knapp.
"It's Randy and Cindy's table."
CAFE HABANA MALIBU
MALIBU LUMBER YARD
3939 Cross Creek Road, Malibu, CA 90265
310.317.0300 | Habana-Malibu.com