The 1933 Group extends its penchant for making what once was old new again to the Highland Park Bowl
Written by Wendy Bowman
Known for its true-to-period creations—primarily bars like the barrel-shaped Landmark Idle Hour in North Hollywood and beloved L.A. mainstay Bigfoot Lodge in Los Feliz—the 1933 Group most recently converted the city's oldest operating bowling alley in the Highland Park neighborhood into a welcoming and playful destination for tasty food and drink, and, of course, bowling.
"As a company, we preserve the history of Los Angeles and tell its story," says Bobby Green, who co-owns 1933 Group with Dimitri Komarov and Dmitry "Dima" Liberman. "Highland Park Bowl is a piece of that story.
After bringing back the iconic Idle Hour in North Hollywood in 2015, Highland Park Bowl is yet another incredibly rewarding aspect to the company and the city."
Completed this past April, the trio's goal at the outset was to restore the space to its former glory. Beginning in 1927, the building housed a pharmacy, music store, recreation space and numerous doctors' offices (during the midst of the Prohibition era), and then went on to serve as Mr. T's Bowl starting in 1966 (with bowling and later live music).
What's emerged since is a welcome respite for families, weekend warriors, longtime locals and curious visitors alike, complete with the original Spanish Revival façade and structure. Inside, vintage décor elements such as repurposed pinsetters have been transformed into chandeliers; multiple display cabinets showcase recovered bowling trinkets; and an expansive mural painted during the 1930s Arts and Crafts movement has been restored as the backdrop to the venue's eight lanes.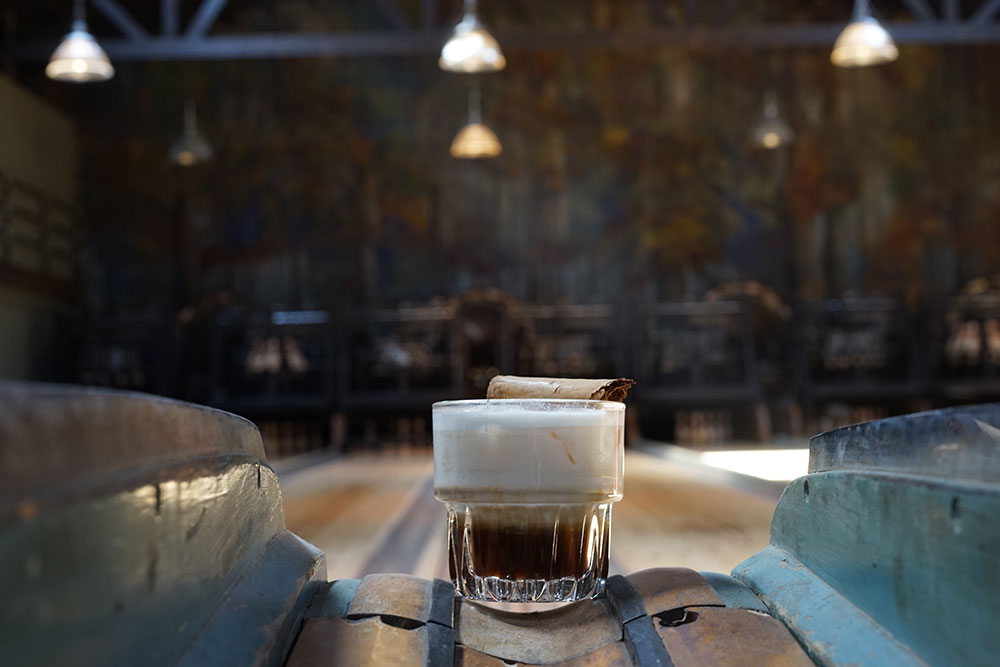 Aside from bowling, guests can enjoy beer, wine and craft cocktails (with popular selections including the Modern Washout, a Mexican twist on the French martini named for a configuration of bowling pins, and Warren Loves His Momma, a hot, cool, fruity and floral concoction inspired by Throw Momma from the Train, filmed at Mr. T's in 1987). Meanwhile, in the kitchen, Italian-born chef Marco Aromatario whips up a gourmet selection of classics such as Neapolitan-style pizzas.
His favorites? The Margherita (with olive oil, San Marzano tomatoes and fresh mozzarella) and the Burrata (featuring handmade pesto).
There's also karaoke on Sundays and Burlesque and Vinyl DJ nights on Fridays. Coming up, look for the venue to also incorporate live music and comedy nights. This is definitely a throwback to the past, with some modern, new updates tossed in for good measure.
HIGHLAND PARK BOWL
5621 N. Figueroa Street, Los Angeles, CA 90042 | 323.257.2695 | HighlandParkBowl.com