Old School, New Modern
Continuing Its Legacy of Creative Collaboration, Knoll Rethinks Classic Bauhaus-inspired Design
The move to unify art, craft and industry is a notion not likely to raise many eyebrows today, not with entire enclaves of open-minded artistic types seemingly dedicated to this idea—Brooklyn, Portland, Silver Lake. But in 1919, when Walter Gropius founded the Bauhaus, a modernist art school in Weimar, Germany with an interdisciplinary focus and workshops taught by major modernists of the era—architects Ludwig Mies van der Rohe and Marcel Breuer, artists Kandinsky and Klee—this was radical thinking.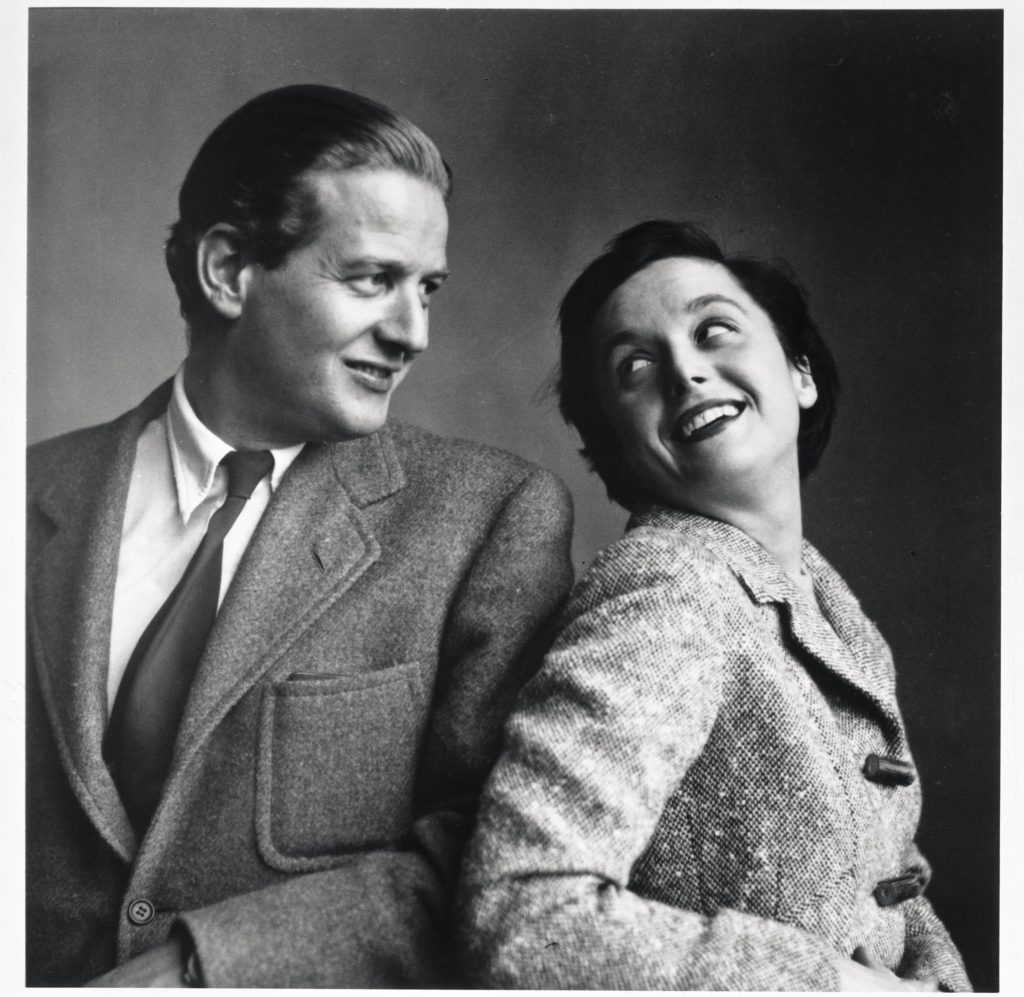 Mies van der Rohe characterized the Bauhaus more of an idea than an institution. In truth it was both, its principles highly influential among admirers like Hans Knoll, the son of a second-generation furniture manufacturer who launched a new furniture company in New York City, though a big part of its future was in Michigan at the time, that being Florence Knoll (née Schust), a trained architect who attended the Cranbrook Academy of Art, went on to study with Marcel Breuer and Mies van der Rohe, and married Hans.
In 1941, Florence brought her multifarious talent and Bauhausian spirit of collaboration to Knoll, which would become synonymous for designs so iconic they needed but one-word descriptions: the Womb, the Wassily. Florence designed the Planning Unit—the interior arm of the renamed Knoll Associates—and helped bring her Cranbrook classmates Eero Saarinen and the aforementioned Harry Bertoia into the fold, along with her mentor Mies van der Rohe.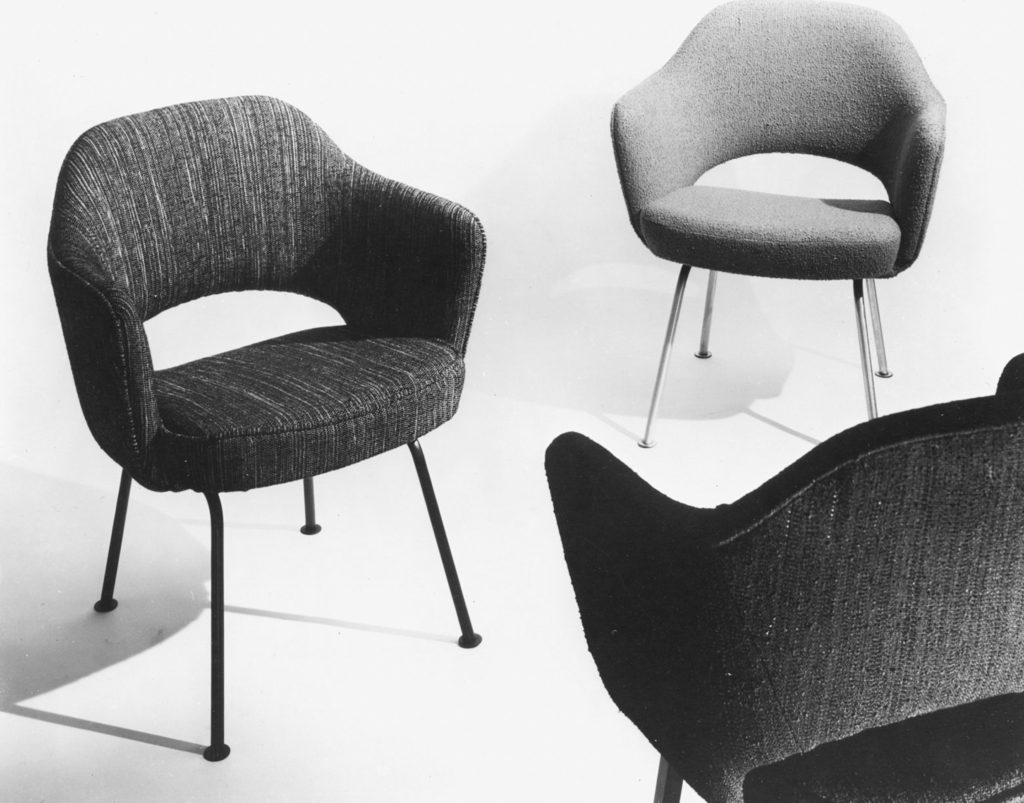 He, in turn, gave rights to many of his designs, including his famed Barcelona Collection (its chairs used in Phillip Johnson's landmark Glass House), to Knoll. Florence was widely praised for her design of the company's Madison Avenue showroom, which reframed modernism as not only functional, but aesthetically vibrant as well. Her gifts were such that she also designed Knoll's first European showroom, in the annex of a Parisian cathedral, and the company's Parallel Bar series. When Hans tragically died in a car accident, Florence assumed the presidency of Knoll, a role in which she flourished until retiring many years later.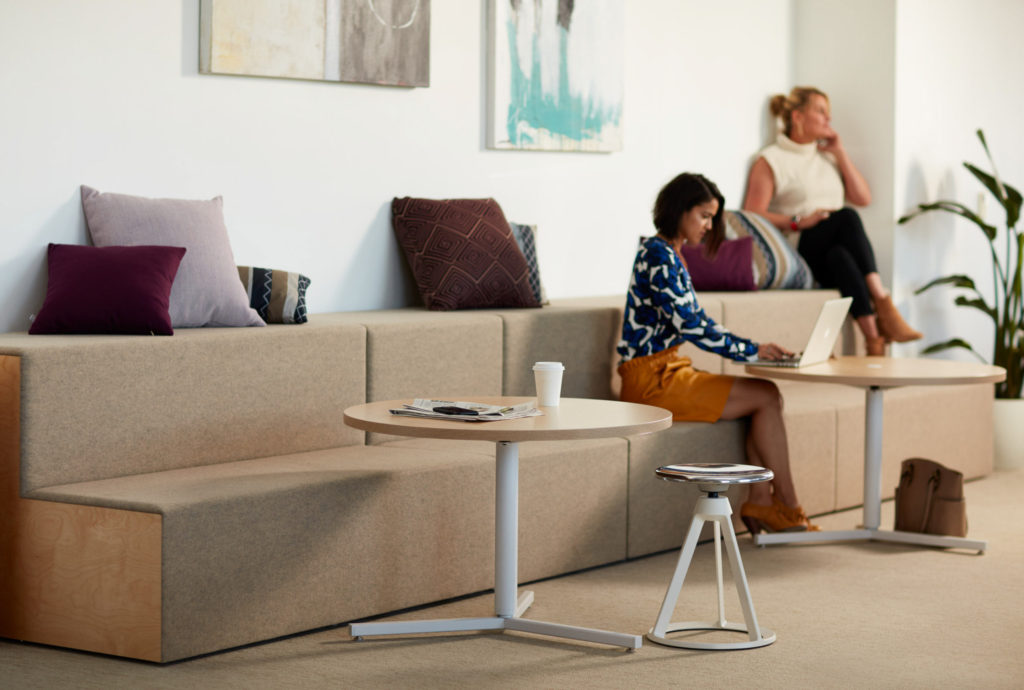 Unchanged through Knoll's many decades is its deep commitment to creative exchange with the top talent of every era; earlier on, George Nakashima (the N10 and N11 coffee tables and N19 chair) Andre Dupre (the Model 130 Stacking Chair), and Harry Bertoia (the Diamond Chair); later Cini Boeri, and recently, David Adjaye and David Rockwell. Environmentally sensitive production plays into the company's sense of continuation—of form, function, and modern principles, and in responsiveness to cultural shifts and modern environments with rationally conceptualized work.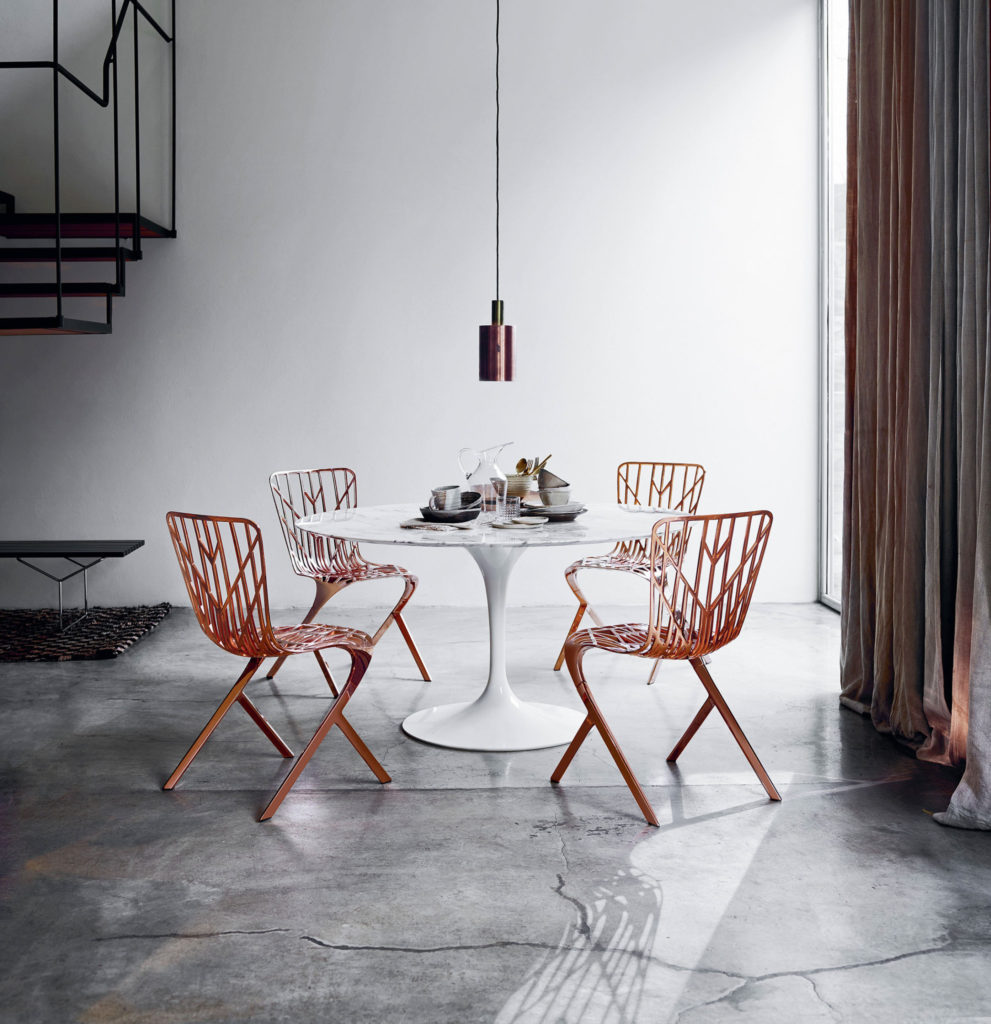 This year, marking its 80th anniversary, Knoll is nodding to the Bauhaus's 2019 centennial, introducing a new palette of fabrics and finishes for some of its most legendary designs. With metallic finishes in antique bronze and gold frames for the Four Seasons Stool (1958) and Flat Bar Brno (1930), both by Mies van der Rohe, and the Wassily Chair (1925), by Marcel Breuer, what's old is very much new again. knoll.com.
(previous page)
(this page, clockwise from top) Washington Skeleton Aluminum Side Chairs by David Adjaye; contemporary environments with Knoll furnishings; Hans and Florence Knoll.
Photographs: courtesy of Knoll