Caruso is known for creating beloved town centers such as The Grove, and the newly opened Palisades Village promises to be yet another of the L.A.-based development company's popular neighborhood destinations. Imagine a walkable gathering place that serves as a centerpiece within one of California's most desirable coastal communities, complete with a curated mix of high-end shopping, dining and lifestyle offerings.
Now think of a coveted selection of brands ranging from the first brick-and-mortar Amazon Books to sought-after fashion labels like Tamara Mellon and Rachel Zoe, along with the Bay Theatre by Cinepolis Luxury Cinemas boasting a replica of the original marquee created in 1948 by motion picture theater designer S. Charles Lee.
"With Palisades Village, Caruso aimed to create the best street in the world, a truly walkable downtown area in Los Angeles," says Dave Williams, executive vice president of architecture.
"We drew inspiration globally and focused on small scale storefronts and details from many great shopping streets—Bleecker Street in New York City, Fillmore Street in San Francisco and Newbury Street in Boston. The design team visited coastal villages like Sag Harbor, Nantucket, Newport Beach and Balboa Island, and layered in residential details from Pacific Palisades, to create our own vision of 'California Coastal' architecture."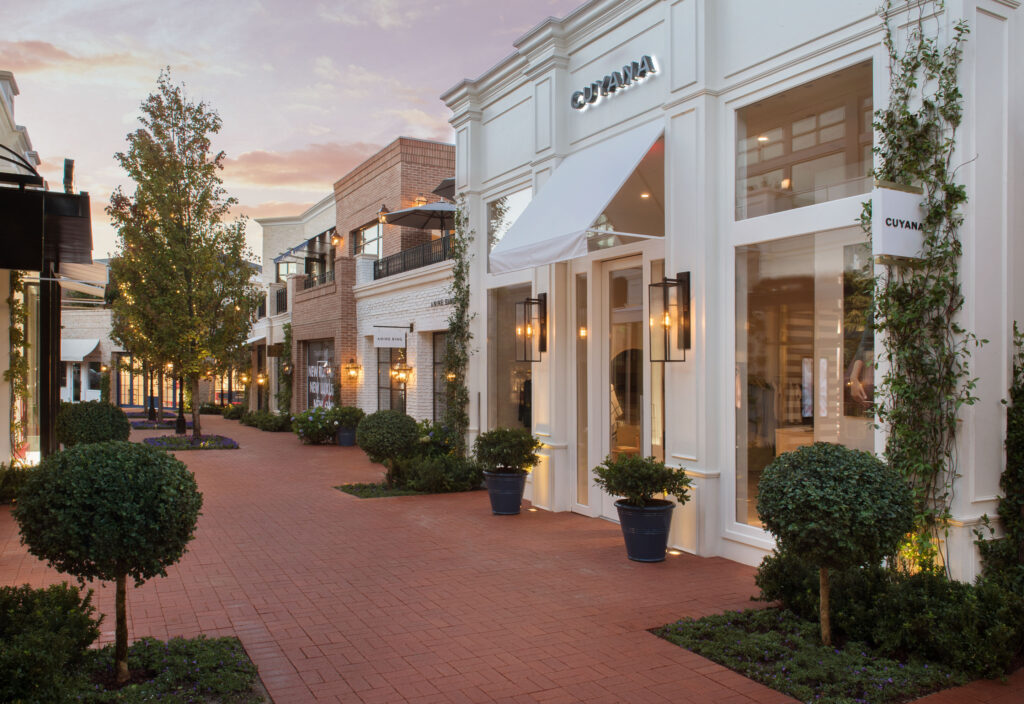 A vision, indeed. Situated at the intersection of Sunset Boulevard and Swathmore Avenue, Palisades Village features a variety of architectural design themes, including Mid-century modern, contemporary and coastal aesthetics, all enhanced by residential-style materials such as crisp white trim, high-gloss paint, brick and masonry, slate roofs and copper gutters. The center also is on course to be the first ground-up business district in the state to achieve LEED Gold certification.
The entire project encompasses 125,000 square feet on 3 acres. In addition to the aforementioned sites, the center also includes 10 restaurants and cafes, from casual eateries, like edo little bites for healthy cuisine, to fine-dining establishments such as Vintage Grocers offering a neighborhood market with chef-driven prepared foods.
Amenities include concierge services, garage and valet parking, a complimentary bike-share program, an expansive park with a sidewalk promenade and patios, and a community room for local residents. Living options also will be available at The Residences at Palisades Village, featuring eight one-, two- and three-bedroom apartments ranging from 1,352 to 2,524 square feet, all showcasing private terraces and courtyards.
"At the heart of Palisades Village is the hope that it will become a part of the everyday fabric of the community and a daily gathering place for locals, their friends and families," says Michael Gazzano, Caruso's vice president of development. "That is why everything about the development, every decision that was made, tied back to how it fit within the infrastructure of the Palisades and its local community." palisadesvillageca.com
Photographs courtesy of Avablu.com