Every stay in the Big Apple promises adventure. To experience the fast-paced city and all its energy, Manhattan shouldn't be your sole destination. On the other side of the Brooklyn Bridge, an eco-friendly hotel has become a coveted spot for travelers from all around the world.
The third member of 1 Hotels—a hospitality brand blending luxury and sustainability—opened its doors in February of 2017 at Pier 1 on Brooklyn Bridge Park, a location with exceptional waterfront views of Manhattan and the Statue of Liberty. The result of a partnership between Starwood Capital Group and Toll Brothers City Living, 1 Hotel Brooklyn Bridge also includes the adjacent building Pierhouse that comprises 106 townhome-style residences.
The firm tasked with transforming the vision of 1 Hotel into reality, New York-based studio INC Architecture & Design used green techniques to design the 10-story hotel. The project was not without its challenges: The construction of the hotel, which started at the end of 2011, was delayed in 2012 because of damages caused by Hurricane Sandy.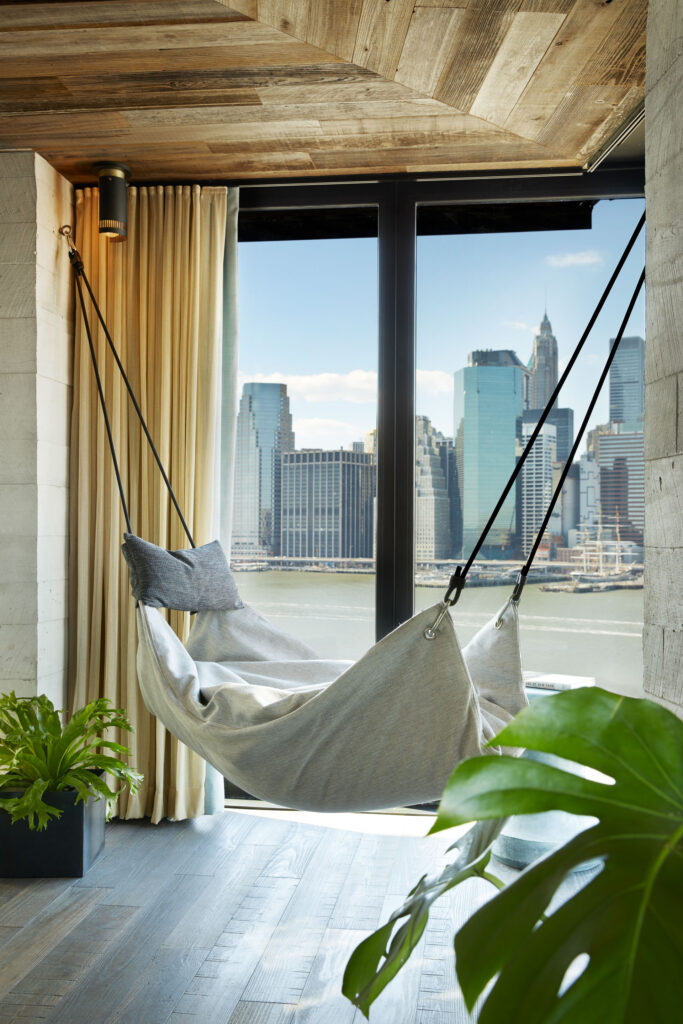 This required the team to rework the initial design, however, the obstacles ultimately inspired the final result. In order to honor the power of nature, and remind and educate visitors of the effects of the hurricane on the neighborhood, the 1 Hotels team asked Brooklyn-based artist Olivié Ponce to paint a watermark along the walls of the corner suites.
Welcoming guests, the hotel's lobby opens up to a 25-foot-high vertical garden—created by landscape design firm Harrison Green—and to a two-floor industrial spiral staircase adorned with a sculpture of obsidian rock boulders wrapped in hand-dyed rope, made by artist Rachel Mica Weiss. The INC-designed interior spaces host Neighbors Café on the ground floor; American comfort food eatery The Osprey; old-fashioned cocktail bar, Harriet's Rooftop & Lounge; several meeting areas; Bamford Haybarn Spa; a fitness center; yoga studio operated by POE Yoga; and a 50-person screening room.
On the 4,000-square-foot roof, a bar and swimming pool offers breathtaking views. The 195 rooms—including 28 suites and The Riverhouse, a presidential suite—pay tribute to the East River with floor-to-ceiling windows that create an airy atmosphere inviting guests to admire the spectacular panorama. Porous stone-looking tables of composite wood, leather chairs, and leather pendant lampshades combine with local artisan-made furniture and details such as the open-slatted wood closets, corrugated leather headboards and glass Fresnel light fixtures. Plants add a fresh touch.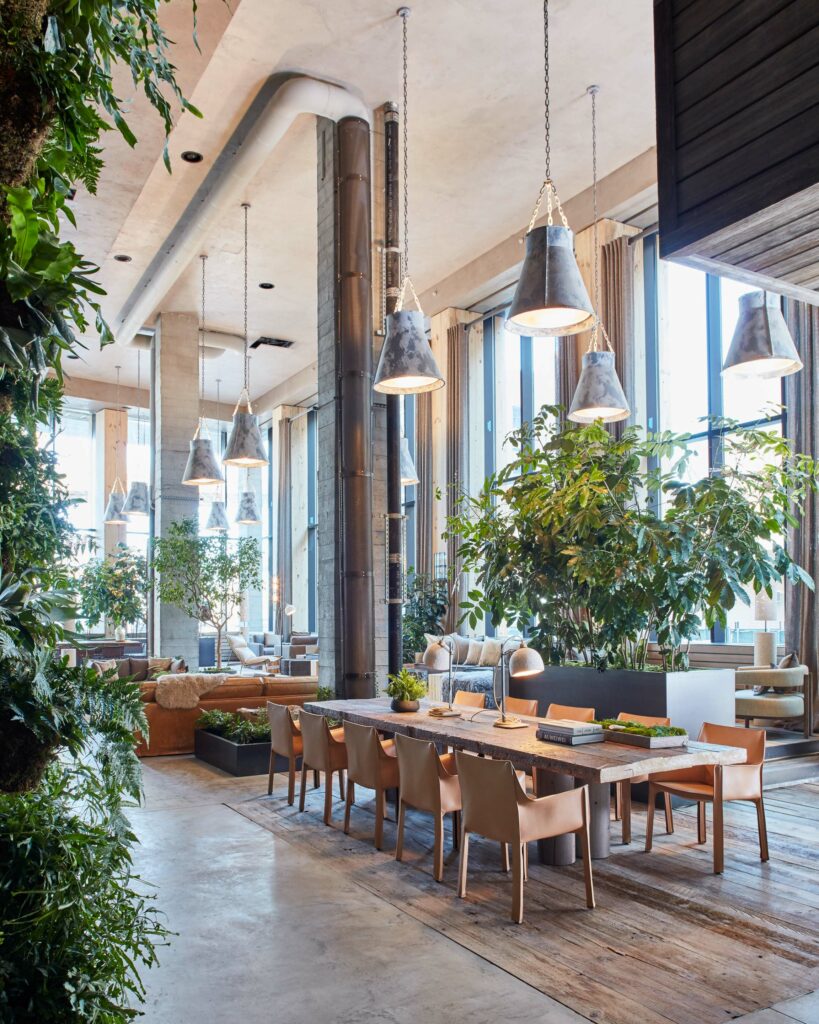 Built according to LEED standards, 1 Hotel Brooklyn Bridge—which measures and displays the building's eco-friendly operations in real time—uses 100 percent wind power energy, has a system to recollect rainwater and includes a 54-percent ratio of regional and reclaimed materials, such as the original beams from an old sugar factory, walnut from Brooklyn Botanic Garden and pine floors from an old distillery in Kentucky.
Aligned with the hotel's responsible approach, a percentage of sales from in-room food and beverages go to humanitarian organization Action Against Hunger. Finally, guests can use the fleet of electric Tesla cars to explore the surroundings. With an atmosphere where design and comfort are in line with respect for the natural environment, 1 Hotel Brooklyn Bridge gives a new meaning to thoughtful luxury. 1hotels.com
PHOTOGRAPH: COURTESY OF 1 HOTEL BROOKLYN BRIDGE