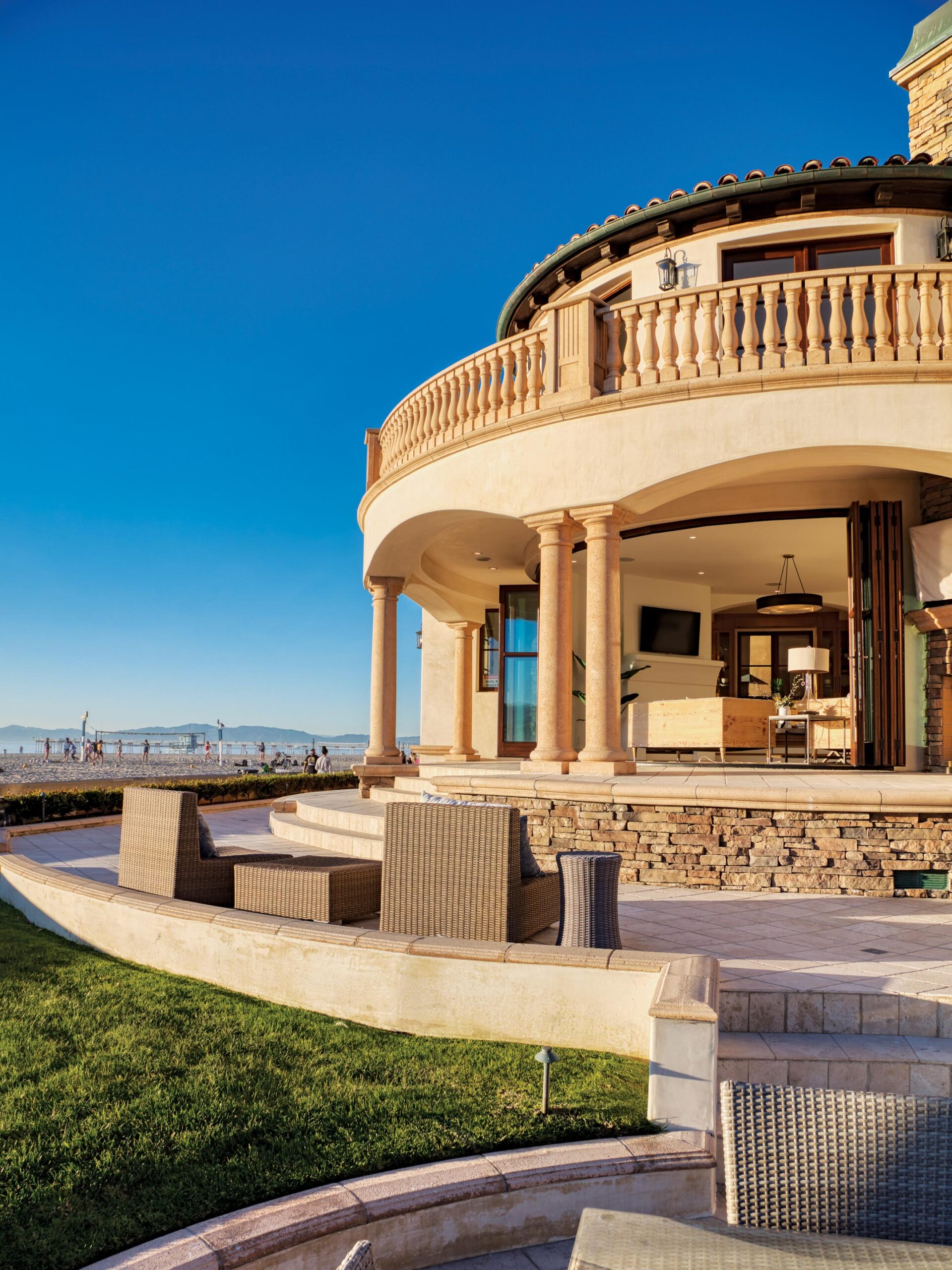 Sunlit and Sculpted, This Landmark Strand Property Is a Larger-than-life Playground for Luxe Beachfront Living
Here, Strand homes are more level with the sand than at other points, and there's a heightened sense of ease that comes from the area being less populated by beachgoers and passersby. At mid-point, between the bustle of Pier Avenue and the peaceful expanse of Redondo's King Harbor, there's 600 The Strand: In a sea of remarkable oceanfront properties, it's hard not to slow down and gaze a bit longer at this residence.
At approximately 7,507 square feet, the estate-sized home sits on a generous corner lot that's as meticulously sculpted as its fresh, bright interior. The property's dimensions make it nearly impossible to match in size, qualifying it as one of the largest properties on the Strand.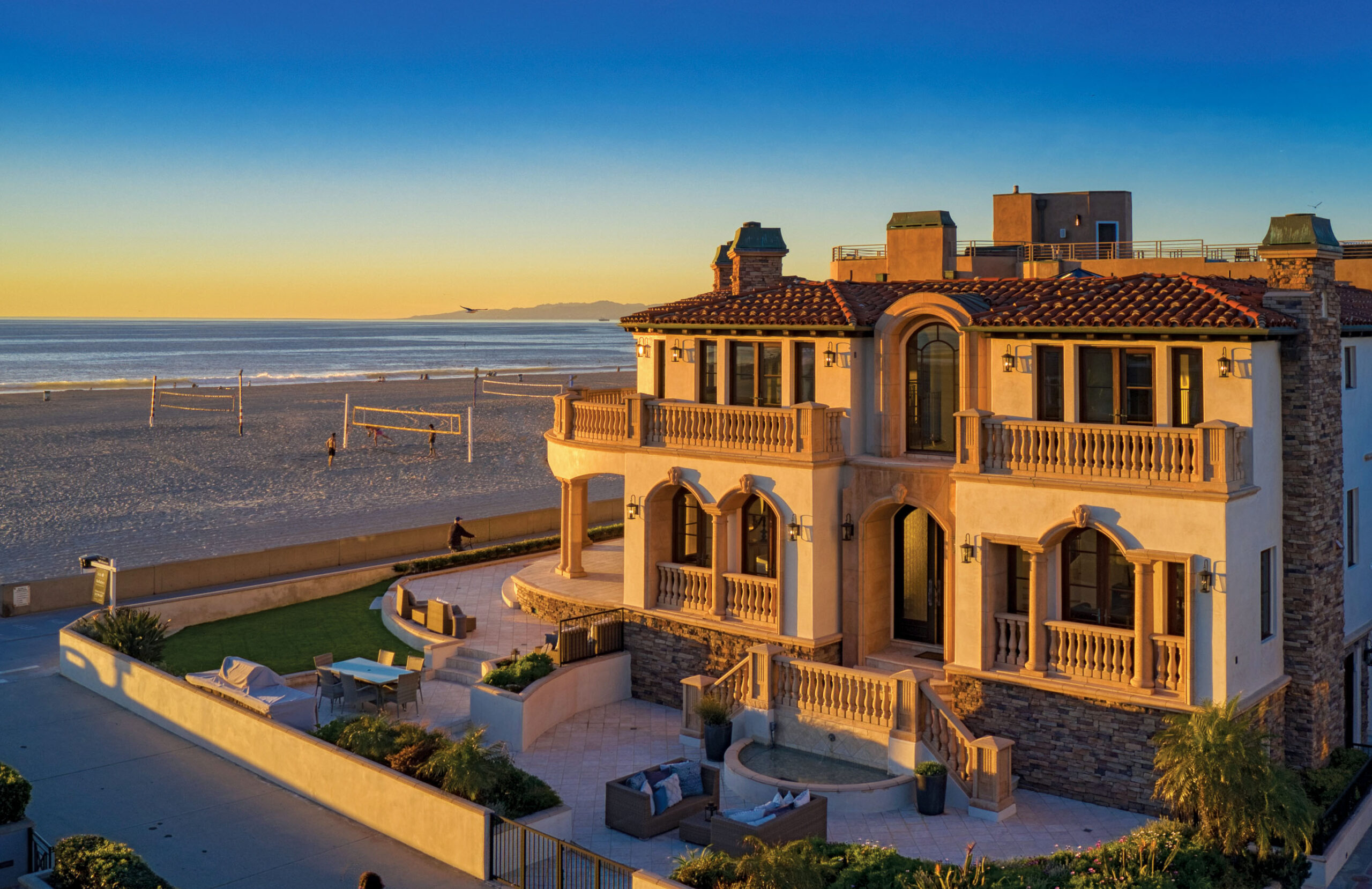 "It has extra eighteen-by-a-hundred feet that the city has deeded to the property," explains real estate agent Jack Gillespie of the Gillespie-Host Group.
"So it's actually two and a half lots. It's as big as you can get on the Strand."
Tidy green landscaping and open-air spaces, carved out for beachfront dining and relaxing, are interspersed along an exterior that's been so deftly linked with the home's interior, the two realms seem to blend as one.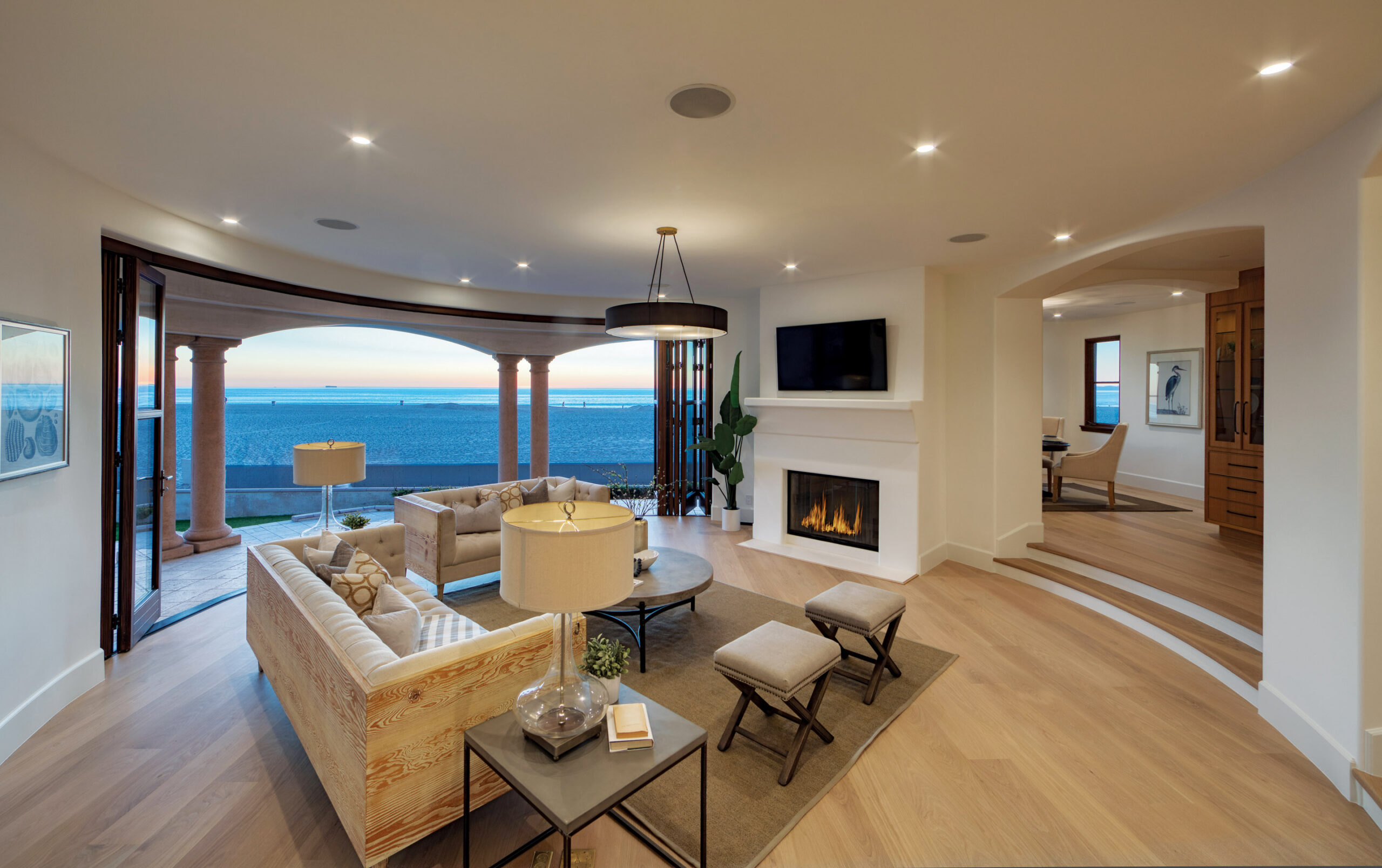 To break down the home's scale, as well as for eye-catching visual appeal, the 6-bedroom and 8-bathroom residence has been designed not as a single boxy mass, but as a series of intersecting volumes. And its exterior, characterized by a series of classic archways and colonnaded balconies, makes no apologies for its grand look.
Nor, when you step through the front doors, does the entrance hall, which reaches up two levels and gives so much natural light and sky views it's hard not to instantly feel more buoyant. There's an oval stairwell to anchor the impressive space and serve as the home's center—sunny and free-flowing, courtesy of an octagonal skylight and a well-placed network of windows and interior balconies.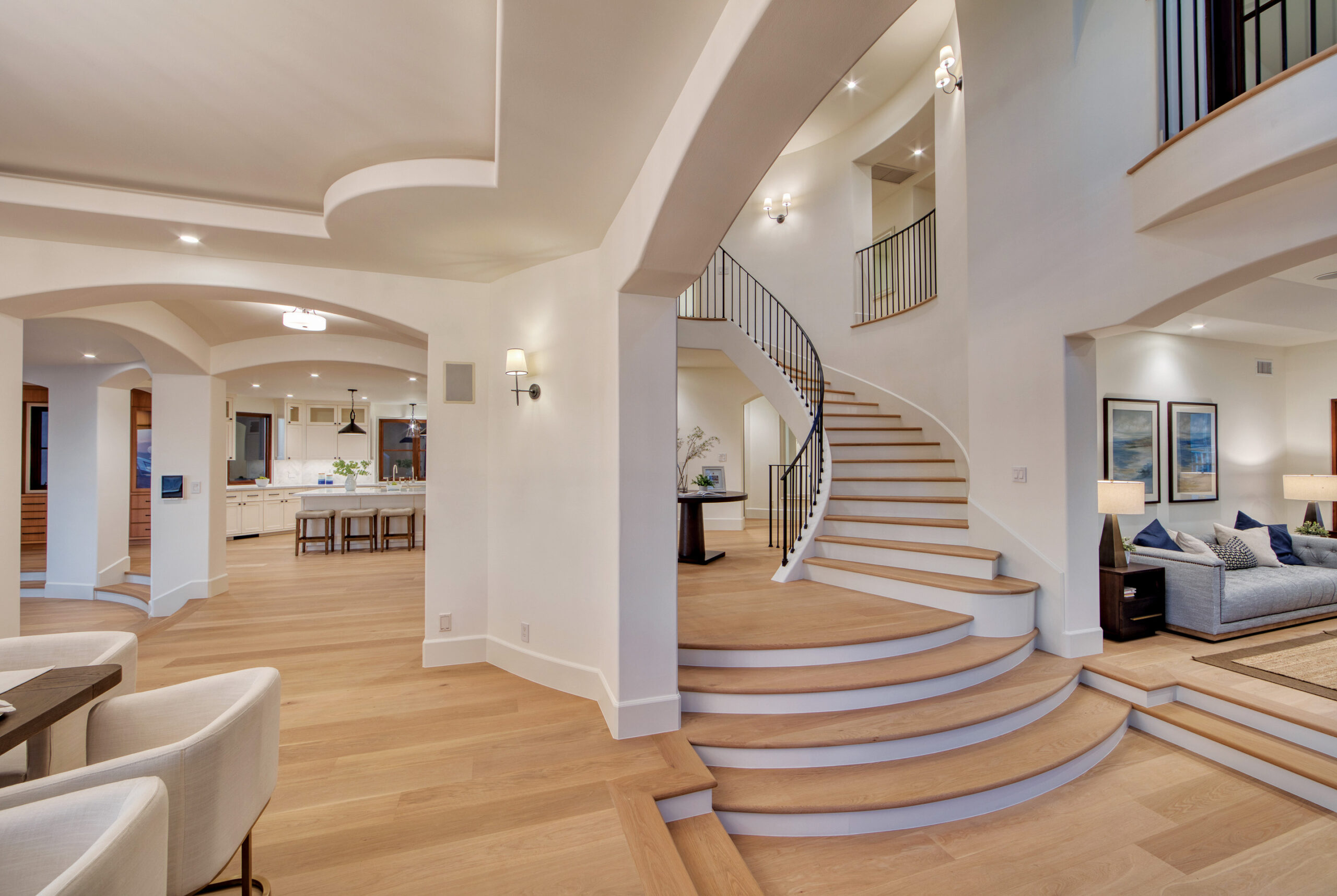 The home has recently been re-imagined by its current owner—an extensive project that was completed in the last year.
"Once you are inside the home," real estate agent Claire Gillespie-Waldron points out, "it's easy to appreciate how much detail and care was put into making the house feel current and up to date."
Floors of grainy white oak play against sunlit white walls and airy gathering spaces are separated by arched ceilings. Prime gathering rooms—including a welcoming kitchen decked in Carrara marble and gleaming appliances—are oriented toward the Pacific Ocean, all the better to capture the vivid carousel of ocean scenes that unfold from daybreak through nightfall. A preferred hangout spot is the elegant living room, with its flickering fireplace and open wall, courtesy of a wall of glass that opens onto the stately beachfront veranda.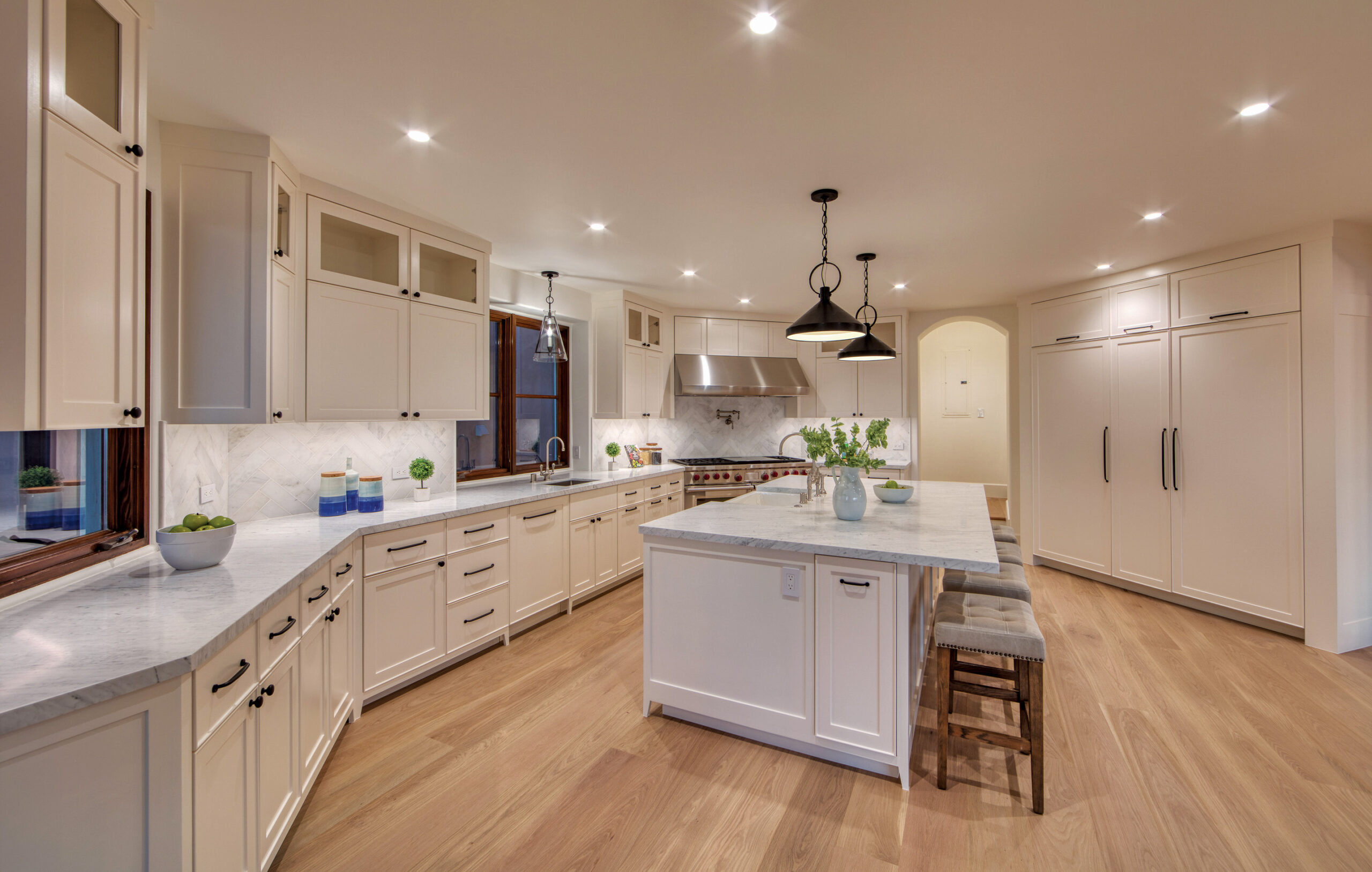 "You feel like you're standing on the bow of a grand ship," says Claire Gillespie-Waldron of the space. "You look out and all you see are these breathtaking scenes of blue water and sky. It's majestic."
This, you imagine, is where family and frequent guests would regularly gather; that is when they're not playing games on the lawn, or swimming in the ocean. As well as the home flows for the day in, day out family life, it also morphs into a versatile entertaining space, whether hosting an intimate dinner party or lavish fête.
Guests can congregate among the home's many indoor-outdoor spaces or head to the lower entertaining level. (There's an elevator to whisk them between floors.) Here, wines are chosen from the 1,000-bottle cellar and served at the white marble bar, or enjoyed fireside in the living room.
"You could easily have a hundred guests here," says Jack Gillespie of this cheerful, private floor, which includes a soundproof theater for hosting movie nights.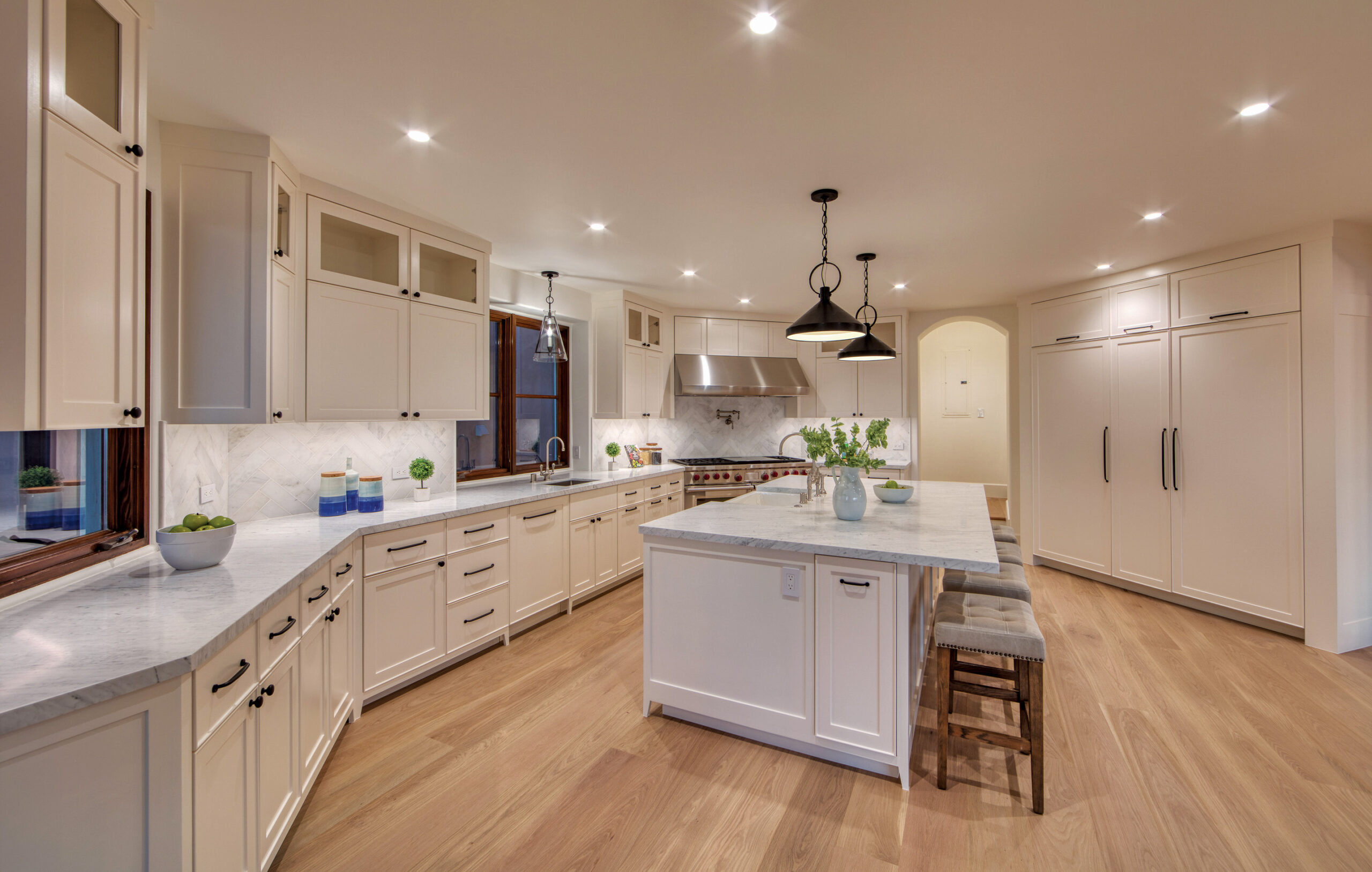 Head to the top level of the three-level residence, which is home to four of the six bedrooms, all en suite. The primary suite feels like a luxurious penthouse, with an expansive balcony overlooking the ocean and a classically outfitted spa bathroom. Here, gleaming porcelain floors and plentiful Carrara marble create an atmosphere of opulence, and there's an oversized tub where you can soak over the vivid glow of sunset along the shore. A private office is also part of the primary suite; it's a peaceful space where you can punctuate work with breaks on the beach-view balcony, complete with fresh gusts of sea air.
"You get the best of the views," says Claire Gillespie-Waldron of the home.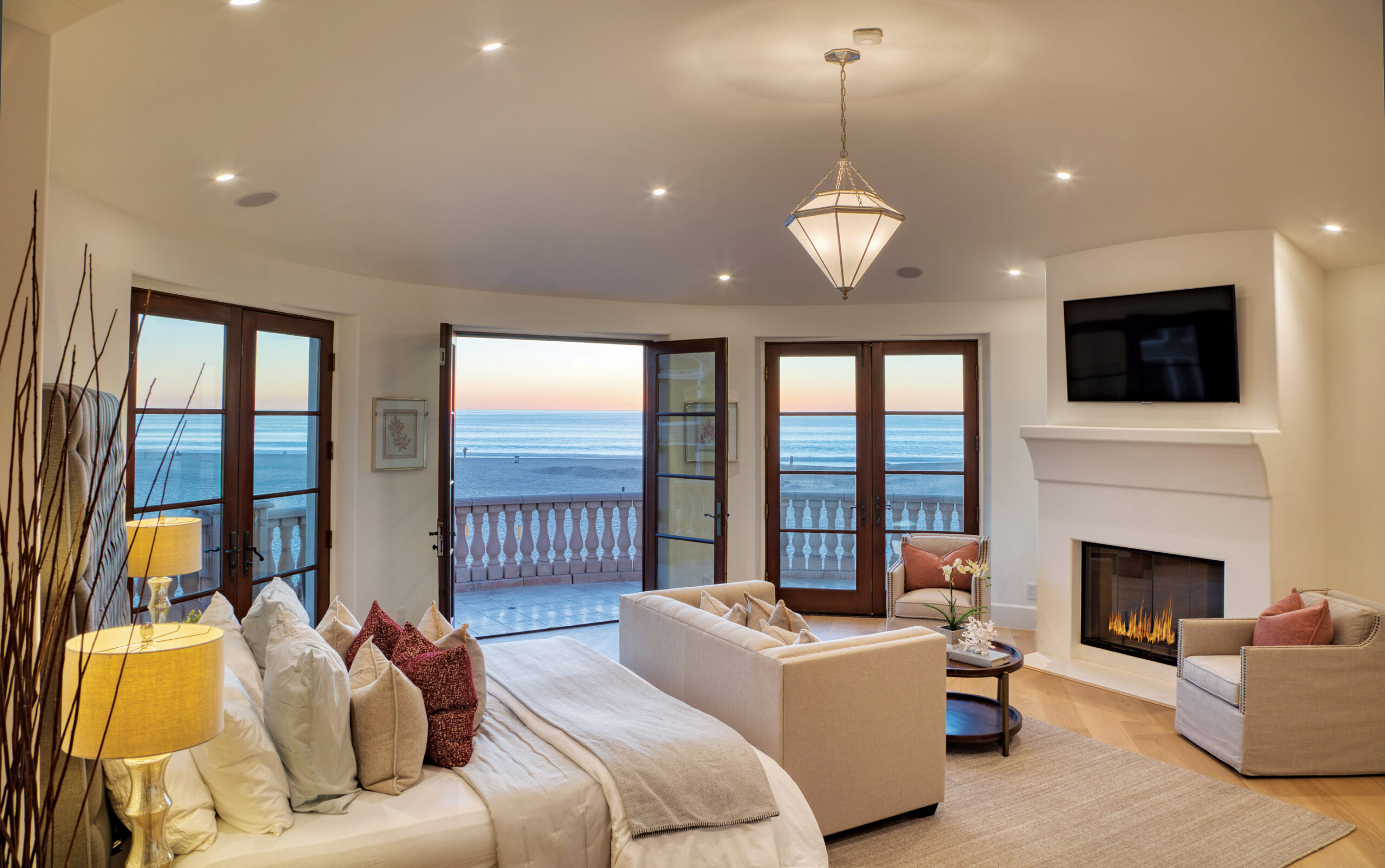 "During the daytime, you see from the tip of Palos Verdes all the way to Santa Monica. At night you enjoy all of the glowing lights on the Peninsula and along the California coastline. It's captivating."
At this property, the front-row scenes of sand, ocean, and sky are always new—seen from different vantage points, and captured by the home's countless windows, balconies, and open-air spaces. There are views of the Queen's Necklace too; that glamorous twinkle of lights that follows the silhouette of the Santa Monica Bay after dark. But here, at one of its most show-stopping homes, beauty goes beyond the blush of first glances and is found well beyond a grand-looking exterior.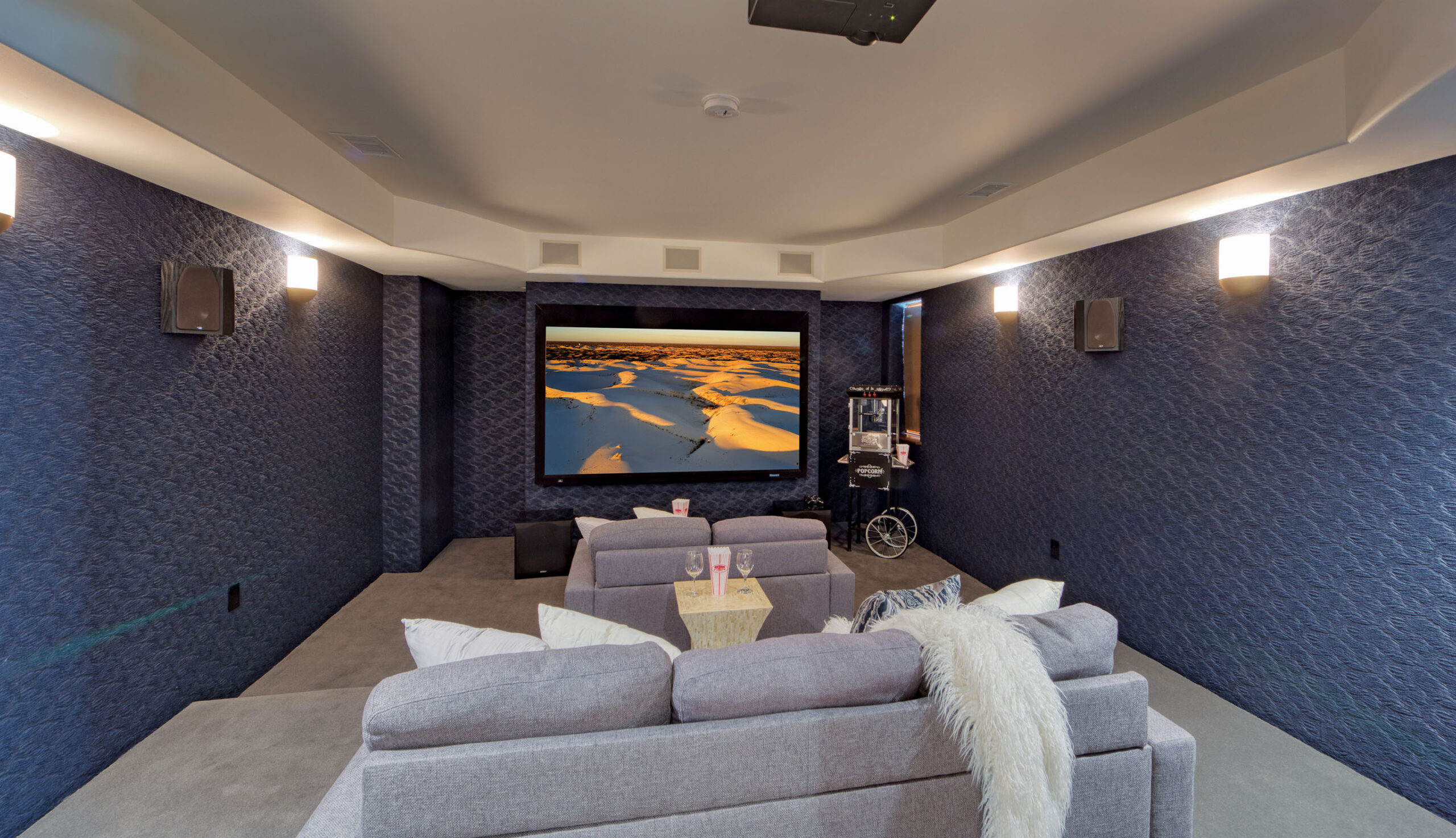 "The presence that this home has on the corner; it really captures your eye and makes an extraordinary first impression," states Claire Gillespie-Waldron.
"But stepping inside the property and experiencing its grandeur—that's what really does it justice."
The Gillespie Host Group | 310.796.1617 | DRE# 00426498
Jack Gillespie & Claire Gillespie-Waldron
List Price $22,900,000
Photographs By Paul Jonason