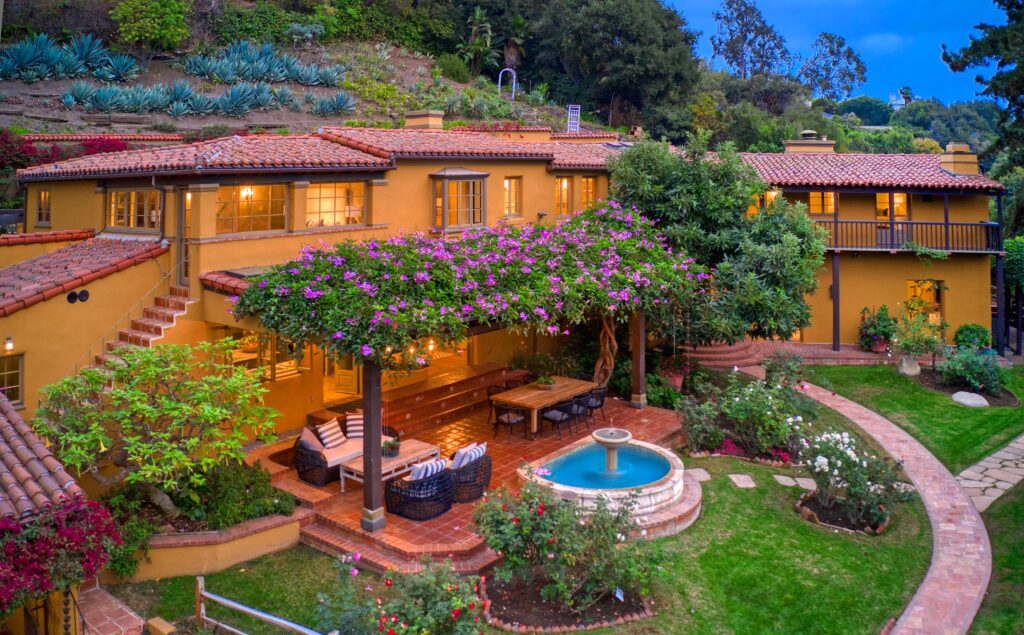 Privacy, Indoor-outdoor Living and a Solid, Sculptured Beauty Define This Historic Estate in Lower Mandeville Canyon Just Moments From the Heart of Brentwood
It's been said that Mandeville Canyon Road, the quiet, narrow artery of the exclusive Mandeville Canyon enclave, is Los Angeles' "longest dead-end street." Certainly, it seems more country lane than the main thoroughfare. Animals and birds roam wild. Bicyclists and joggers share space with riders on horseback. Leafy trees provide cooling shade. It's hard to believe that the bustling neighborhoods of Brentwood, Pacific Palisades and Santa Monica, with their award-winning restaurants, exclusive stores, world-class museums and top-tier schools, are just moments away.
Poised against a dramatic verdant hillside, the sprawling Monterey Colonial-style property designed by Santa Monica architect John Byers in 1929 and sensitively updated by the current owner to embrace modern needs was one of the area's first homes. The cattle ranch that spanned this canyon had come under the aegis of the Los Angeles Athletic Club, which decided to develop a community centered around what is now the Riviera Country Club.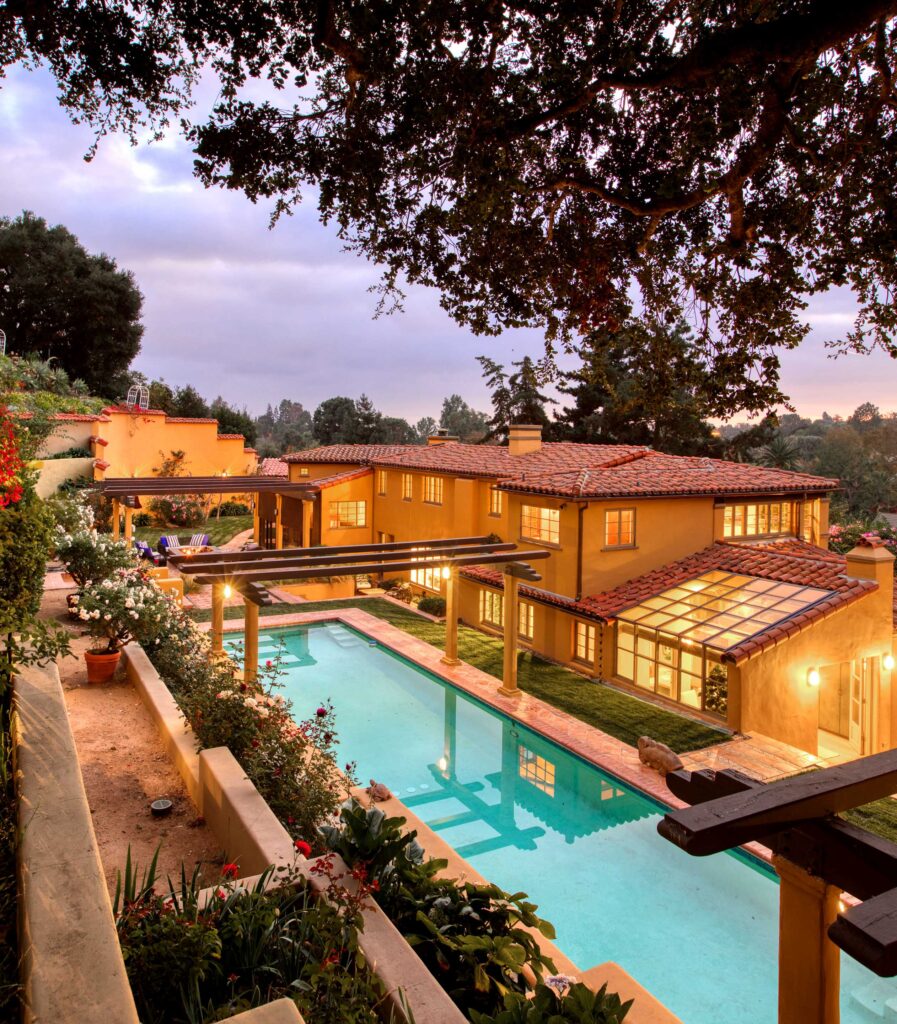 But that vision vanished with the stock market crash of 1929 and the planned development was portioned off to be sold as individual sites. John Byers was chosen to design a house that would attract buyers to the area.
Well-known for his inspirational interpretations of the era's reigning styles, he was particularly celebrated for his adobe-style homes. While they sported the smooth stucco walls, red clay tile roofs, terra cotta flooring, rounded archways, French-style windows, filigreed wrought iron balustrades, carved woodwork, and water features typical of the genre, his coterie of master craftsmen ensured a flawless articulation of these classic details.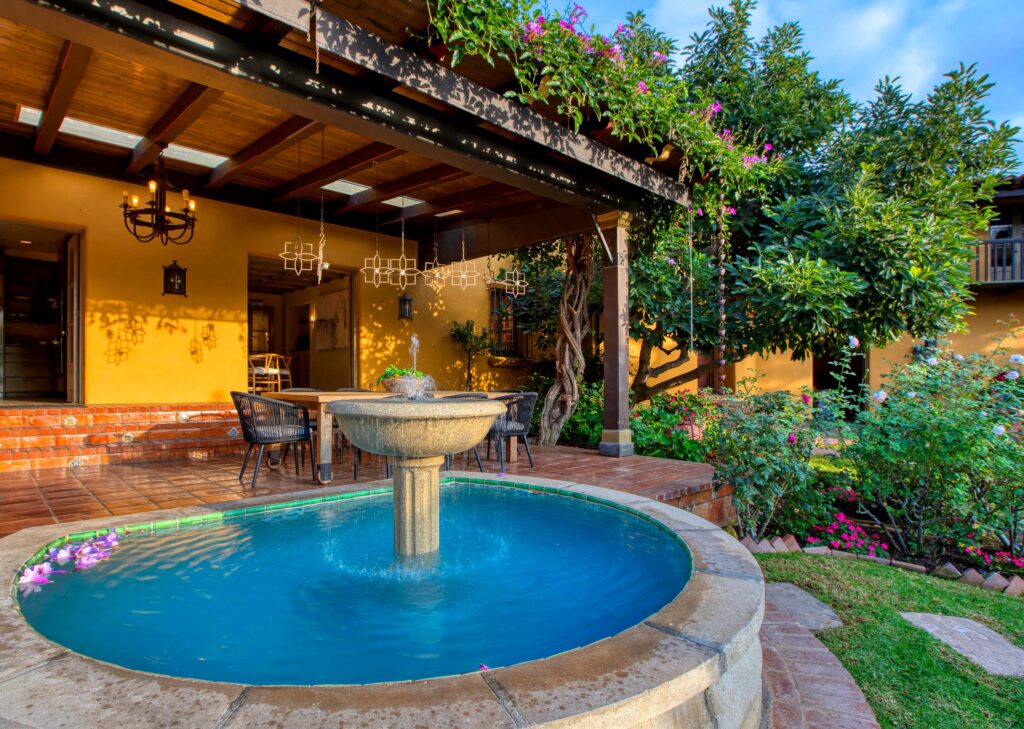 That's absolutely the case with this elegant home, which is set in a clearing well above the neighbors and surrounded by tall hedges, guaranteeing privacy confirmed by the rare stillness that envelopes the property.
The roar of traffic fades into the background, replaced by the burbling of the home's main fountain—one of four that lend their music to the structure's soundtrack—and the trill of birdsong. Hugging the turnaround, the house immediately telegraphs its warm welcome.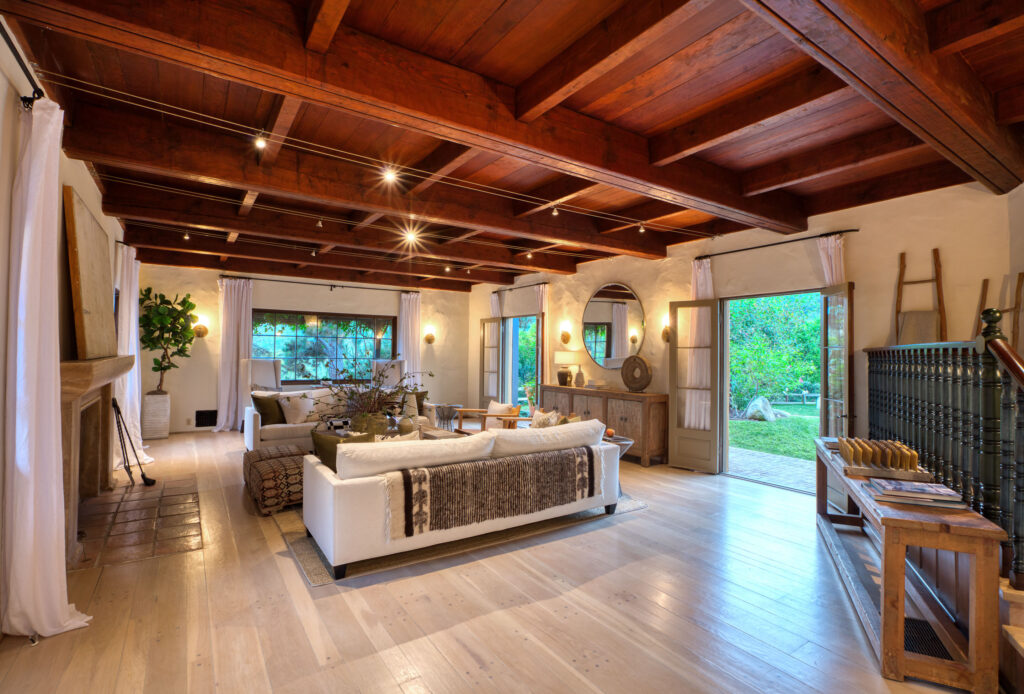 While it sports a formal entryway, the home's lower-level public rooms are fully open to the front via generous French doors. They're also open to the back, flooding the interior with light and underlining the easy rhythm of indoor and outdoor living that is one of the hallmarks of Southern California life. The expansive front veranda is just one of the many areas that offer the option of safe entertaining during these chaotic times.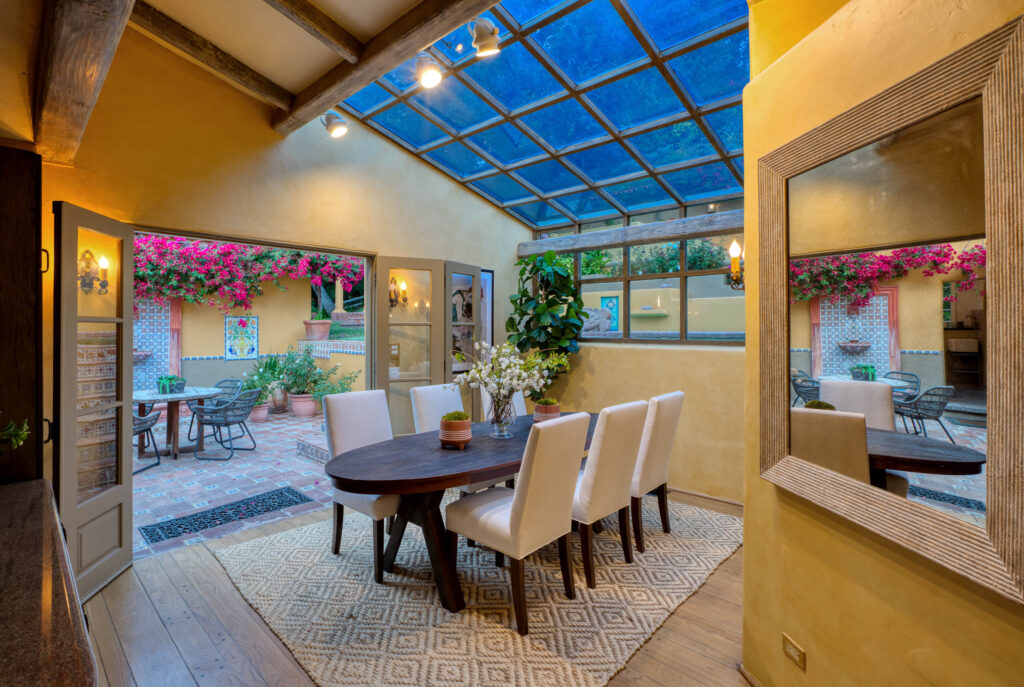 In fact, all of the downstairs rooms enjoy this same luxury: a generous living room with a fireplace that provides warmth on chillier nights (and, nearby, a stone-cooled wine cellar that is equally accessible to both the dining and living rooms); the bookshelf-lined den, a cozy spot for watching a favorite show or curling up with the latest bestseller; a breakfast room with generous multi-paned skylight; and formal dining room.
Creatives will appreciate the home's separate studio. Its wall of windows offers the coveted northern exposure that artists crave while built-in drafting drawers and an expansive storage room ensure that tools and supplies are close at hand.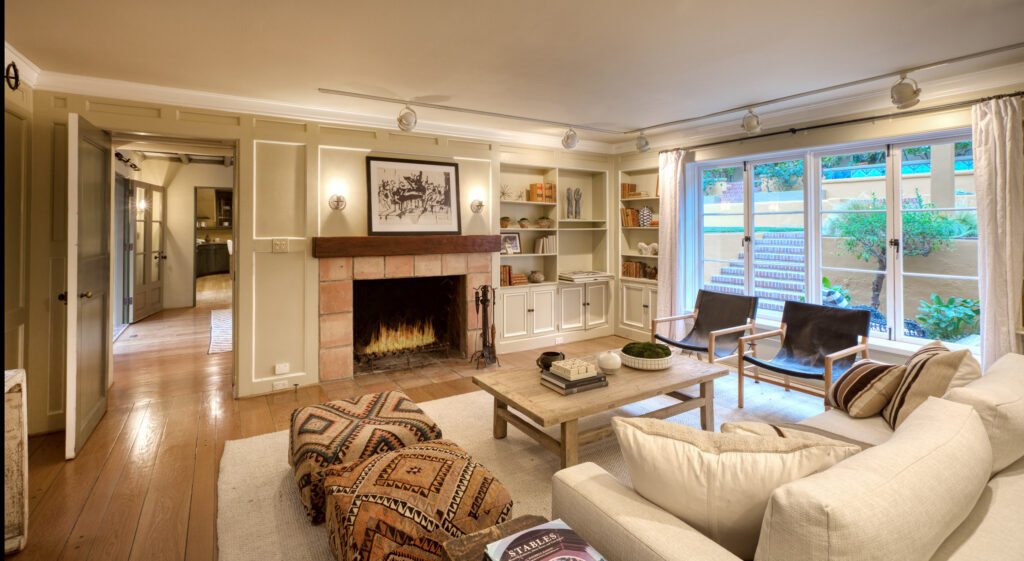 The kitchen enables even beginners to flex the full extent of their burgeoning talents. A professional cooktop supports the largest and most awkward of pots; plenty of stone and butcher block surfaces make kitchen prep—and clean-up—a breeze; a central island invites an audience to gather round; and a commercial Traulsen refrigerator offers plenty of storage space.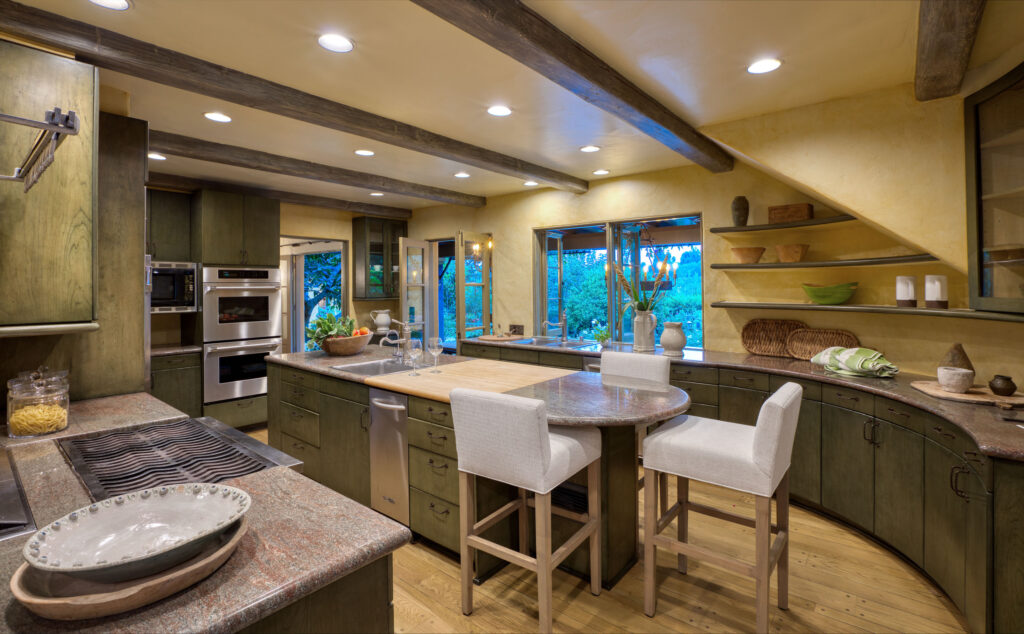 Fruit and produce trees, including tangerine, lemon, orange, and avocado, keep the home well-supplied, while a stand-alone space just above the house can be used as a chicken coop for those who savor the luxury of newly-laid eggs (it would also make a perfect temporary schoolhouse). Just outside, an outdoor kitchen welcomes grill masters to show off their skills.
Of course, no true Los Angeles home is complete without a pool. This one is at once picturesque, straddled by two trellises that can support flowering vines and, at 55 feet, long enough to accommodate serious swimmers (a nearby housekeeper's room, which opens up to this area, has been commandeered to serve as a gym and changing room). A few steps up from the pool a small aerie is the ideal setting for a spa space. Alternatively, with its inspiring view, the consummate writer's room.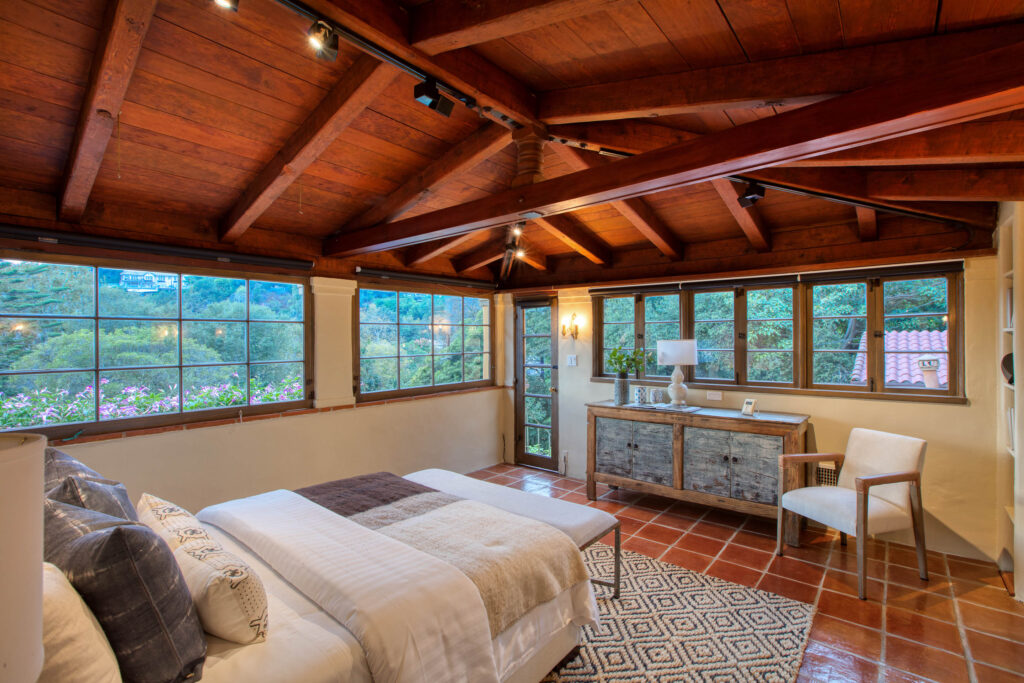 The home's private rooms dance across the second story with French windows framing views of both mountains and sea. There is a master bedroom wing, complete with a separate dressing room and a shower that opens to the backyard; two Jack-and-Jill bedrooms and a guest room that includes a regal clawfoot bathtub that looks out over the pool and the mountains and its own separate entrance, offering visitors the luxury of anonymity that makes long stays possible.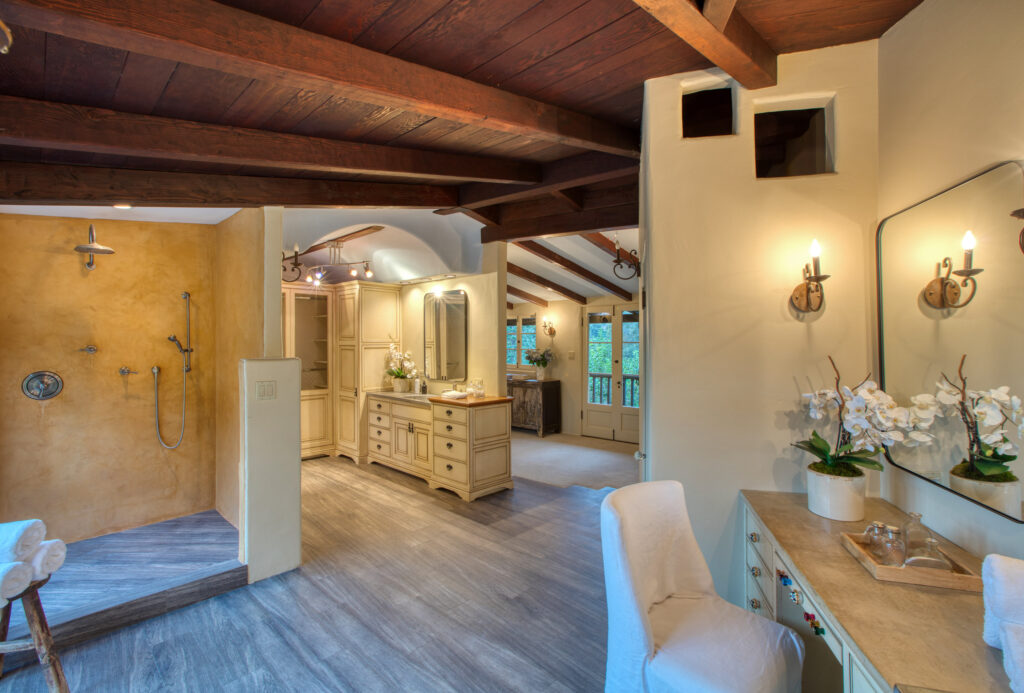 In fact, the entire home, with its beautiful choreography of interior and exterior spaces and public and private rooms, ensures that everyone will easily find a favorite spot for rest and relaxation, play and work, togetherness and solitude. A peaceful retreat burnished by the timeless glamour of Old Hollywood, with rich architectural pedigree, this home sets a scene only dreamed of. Until, of course, the dream is realized.
The Feil Group | 310.963.8219 | DRE 01843291
Berkshire Hathaway
List Price $9.395 million
Photographs by Paul Jonason