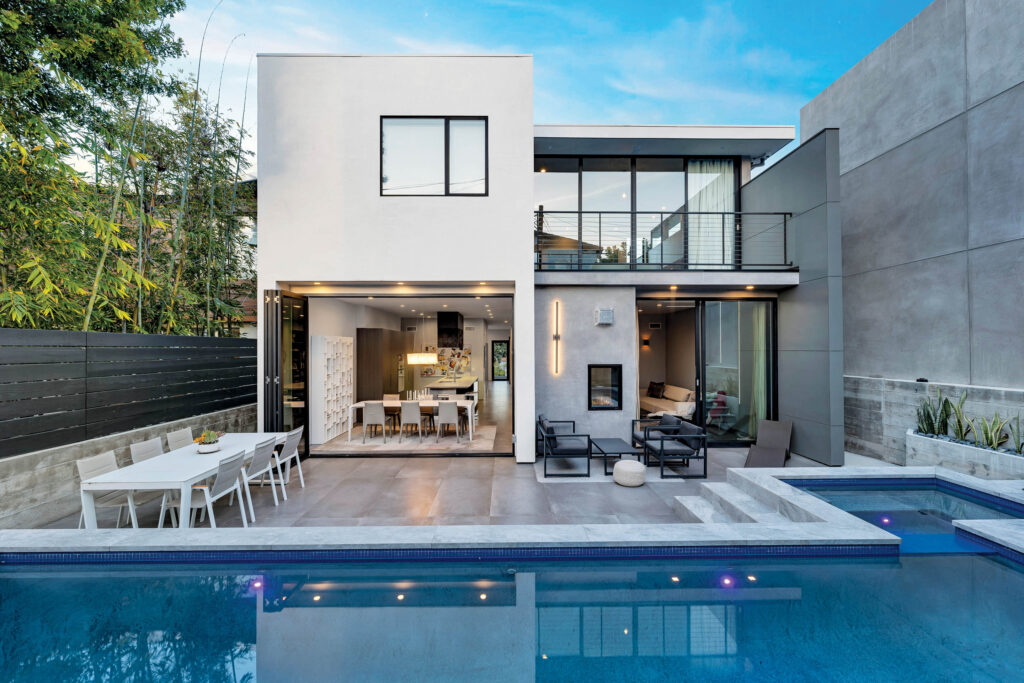 Function, Fun and a Spirited Elegance Abound in This Ultra-contemporary Designer House in the Tree Section of Manhattan Beach
"We wanted to make sure every inch of this home had a functional use," says Mark van Meurs of the striking residence at 1145 Pine Avenue on Pine Avenue in Manhattan Beach.
The dynamic designer residence is the brainchild of interior design team Ana Popovic and Mark van Meurs of Modern Beach Interiors, who were looking for a Manhattan Beach home where they and their two children could play, live, work and entertain in high style—and with plenty of gusto. The designers started with a clean slate, enlisting Abramson Architects, known for their sleek,  contemporary residences, to design their new home.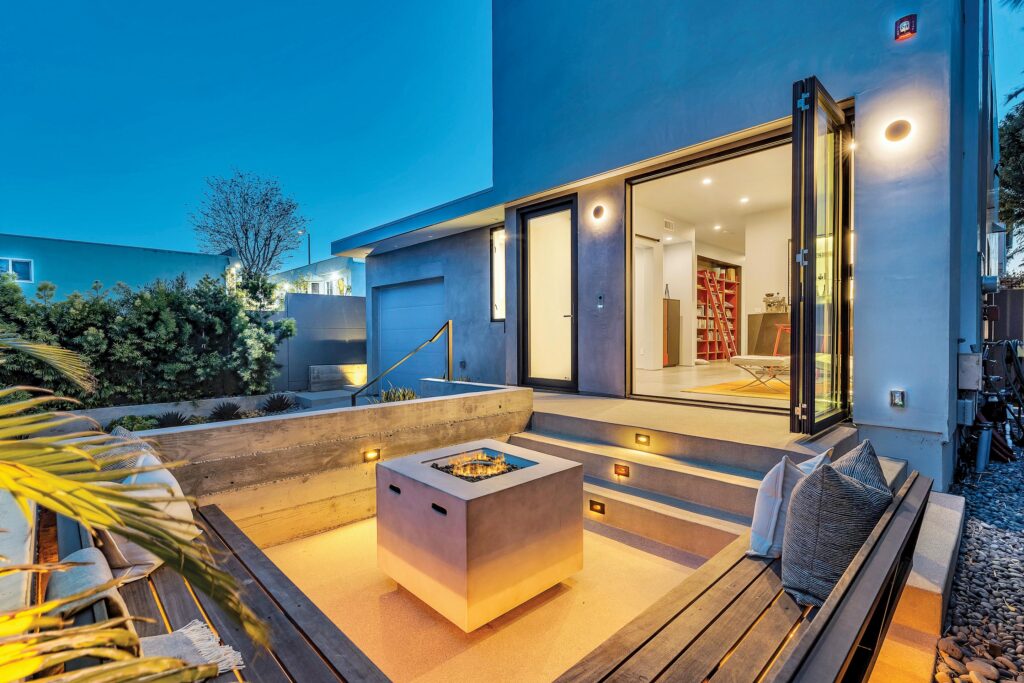 After seeing other works by the award-winning Los Angeles architectural firm, Ana Popovic says: "We were fans, instantly."
At Pine Avenue, Abramson Architects founder Trevor Abramson and firm partner David Pascu worked with the pair to craft the 4-bedroom, 3-bathroom residence. Spanning approximately 3,000 square feet of living space, not counting a custom music and recreation room fashioned by the designer homeowners—this vibrant, private haven includes a spacious backyard and pool that's paradoxically, very centrally located.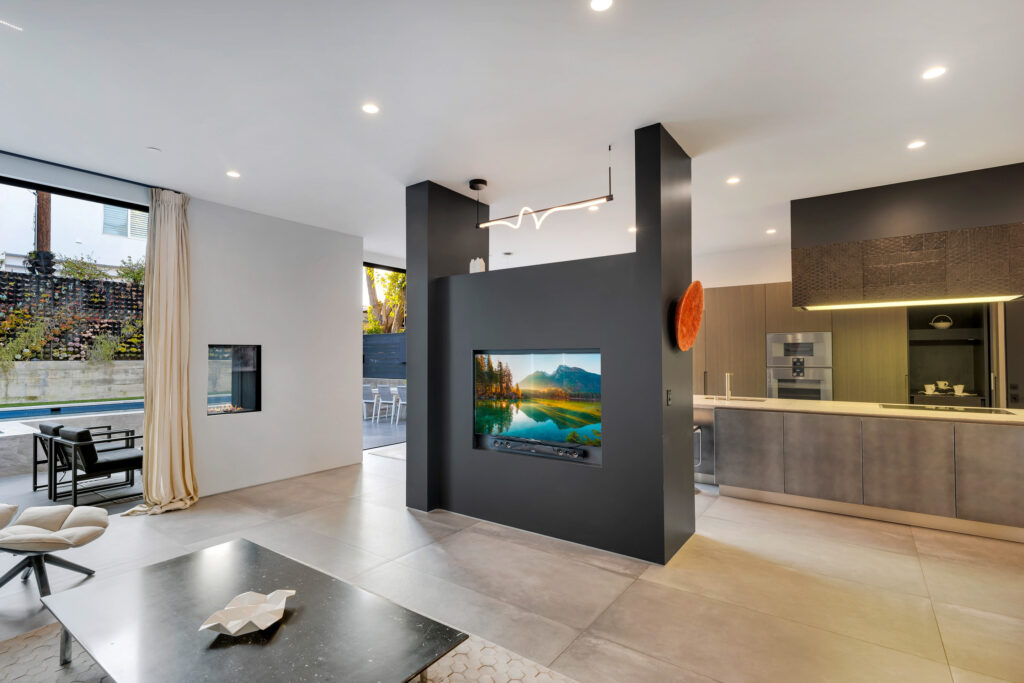 "We start every day with a walk to the beach," describes Ana Popovic. "It's only 10 minutes away."
Likewise for Downtown Manhattan Beach. Their daughter's elementary school is even closer, and there's a local coffee shop just a block away.
"We tend to keep the car right where it is," points out Mark van Meurs.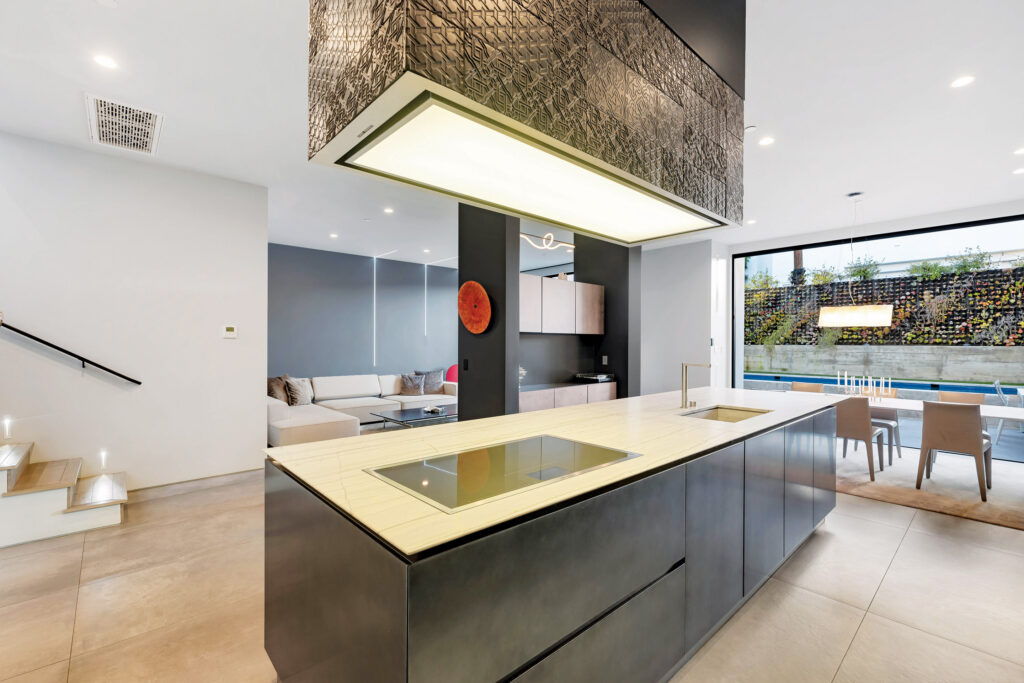 Completed in early 2021, the crisp, architectural residence was enhanced by way of the designers' distinctive interior elements, which turned up the freshly imaginative vigor of the place. There are minimalist, almost sculptural features and decor (often by luxe furniture house B&B Italia, a favorite of the design duo), and chic pops of color that are a signature of their work.
"We built something different than what the Tree Section offers," says Mark van Meurs, "and we did it in a smart, efficient way."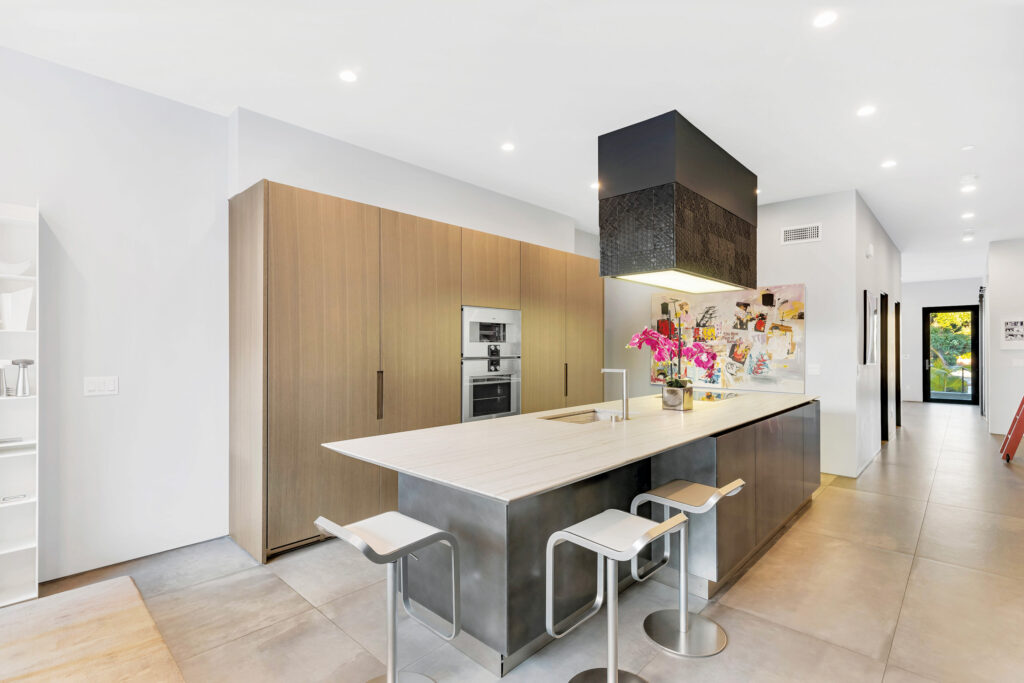 Step into the entrance lounge—an airy and welcoming space with cherry red stools and a glowing wall cabinet, stocked with designer glassware for use at the black walnut bar, personally designed by the homeowners.
Says Ana Popovic, "Usually the entry is a space that nobody uses. We were like, 'We're going to have doors that open all the way. We're going to have an exterior fireplace, an interior fireplace and a bar—the moment you enter the house."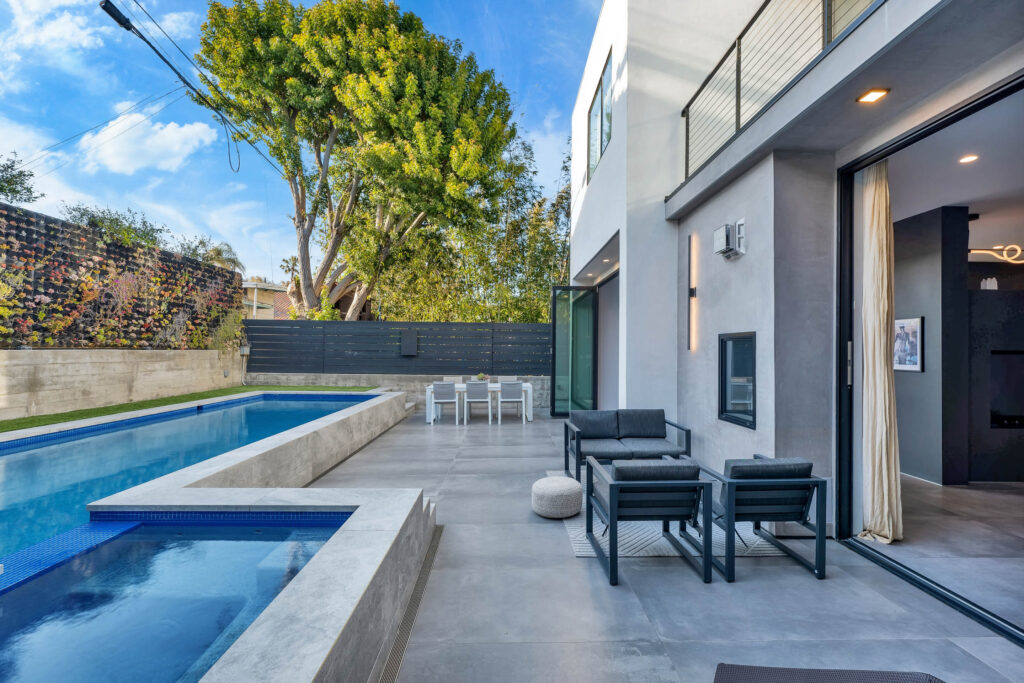 In keeping with the fun-yet-user-friendly ethos of the project, the designers describe the shape-shifting uses of this space: As an a.m. bar where they fix and enjoy their morning coffee, a space that's warmed on cool days by a hanging fireplace imported from Amsterdam. As a stylish anteroom to greet clients before ushering them into the adjacent office, neatly cordoned off by a rolling door. Or as a party spot where guests mingle over wine and conversation.
The last-mentioned option becomes even more exciting as full-height glass walls slide away, enjoining the space with a sunken outdoor lounge that beckons you to gather around a blazing firepit. Impressive in this space is its hidden-in-plain-sight quality, which extends to the property as a whole. Though facing the street, the space has been designed so it's cloaked from passersby.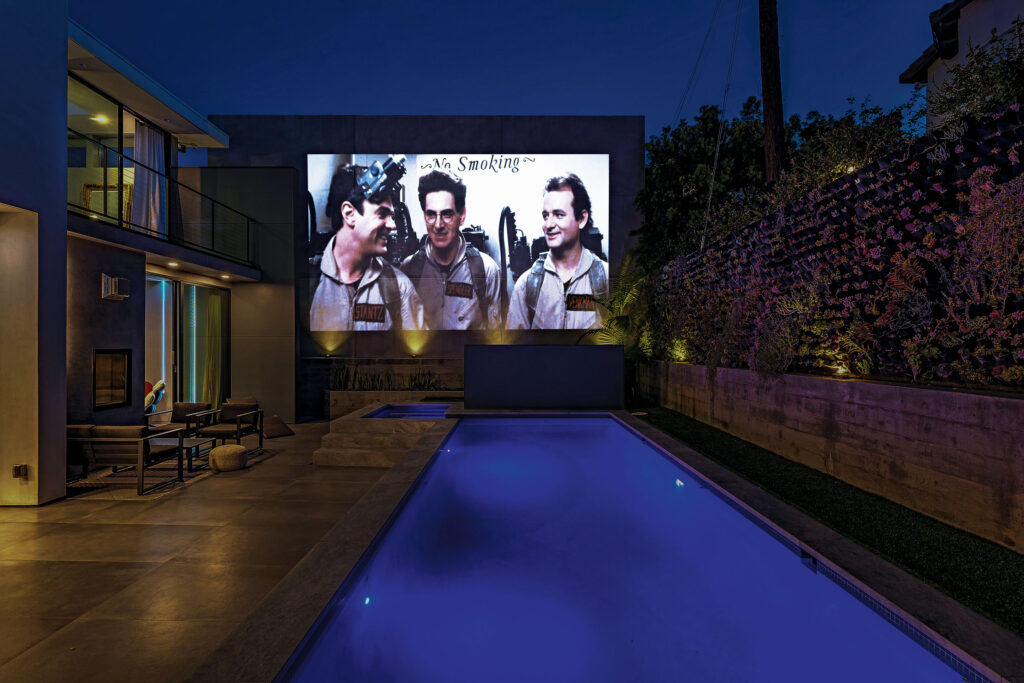 "If you want to host and entertain, you don't even need to invite people any further into the house," says Ana Popovic of 1145 Pine Avenue's novel entry sequence.
However, given the dynamic spaces that exist further into 1145 Pine Avenue, you'd be missing out. Just past the entrance, a built-in bookcase wall with a rolling ladder dominates the hallway. The eye-catching feature, painted a vivid cherry red against stark white walls, brings you deeper into the main living spaces.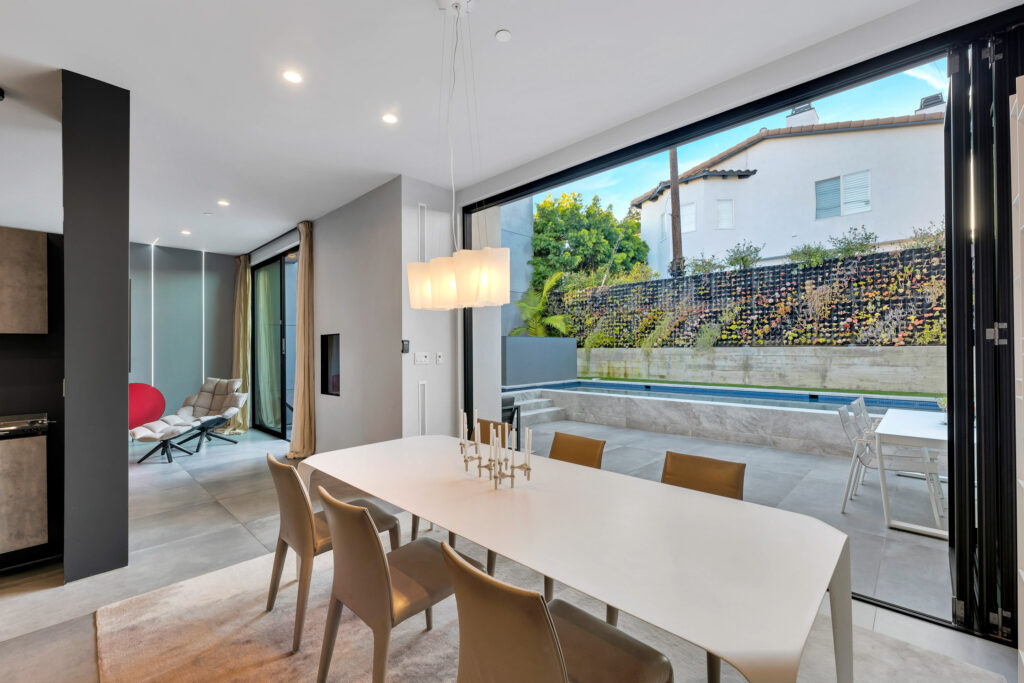 There's an open-plan kitchen—distinguished by minimalist cabinetry and a central island by luxe Italian maker Boffi and a well-curated stock of Gaggenau appliances—followed by a cheerful dining area. Both of these spaces are neighbors to the airy living room, and all share an immersive, sunlit quality due to their proximity to the adjacent, fresh-air playground.
"What better place is there to enjoy the Southern California weather than in your own backyard," states Mark van Meurs.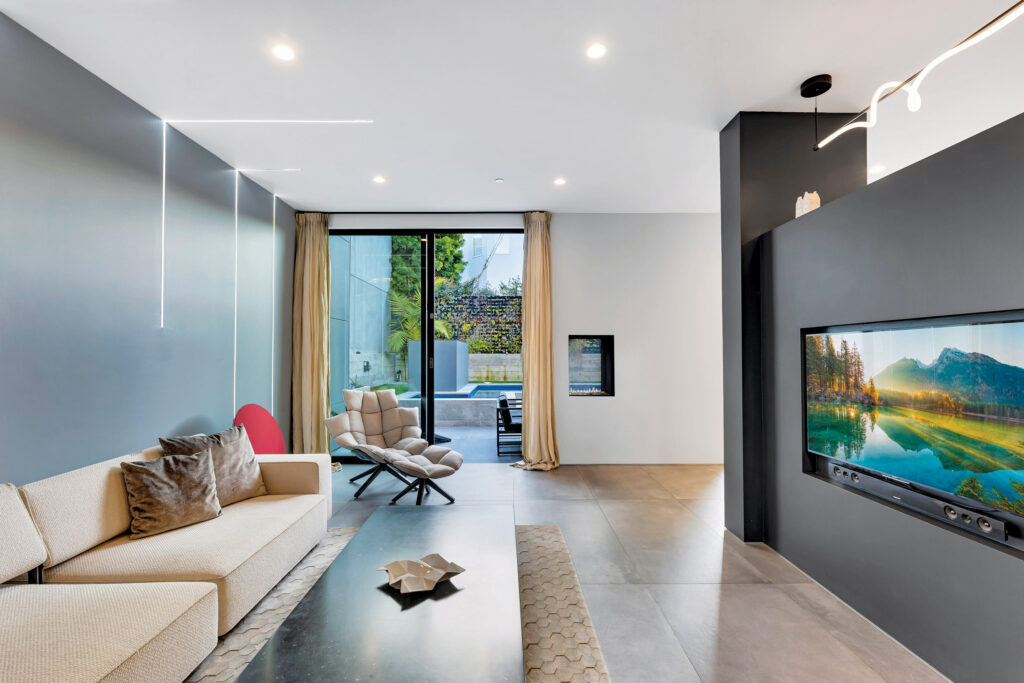 Retractable walls of glass, an indoor-outdoor fireplace and large-scale Italian ceramic tiles—these link the indoors with a spacious, landscaped yard with a pool, spa and al fresco dining area.  A bonus of location, in addition to having only two direct residential neighbors, is a big wall on the property's south side that the designers have transformed into a drive-in-sized movie screen. Scenes from a recent gathering show kids lounging in the bubbling spa watching the original Ghostbusters projected on the improbably sized surface. 
Upstairs, there are three bedrooms, including a super-sized primary suite that features an uber-open floorplan, with no separation between the bedroom and the spa-like bathroom or the closet.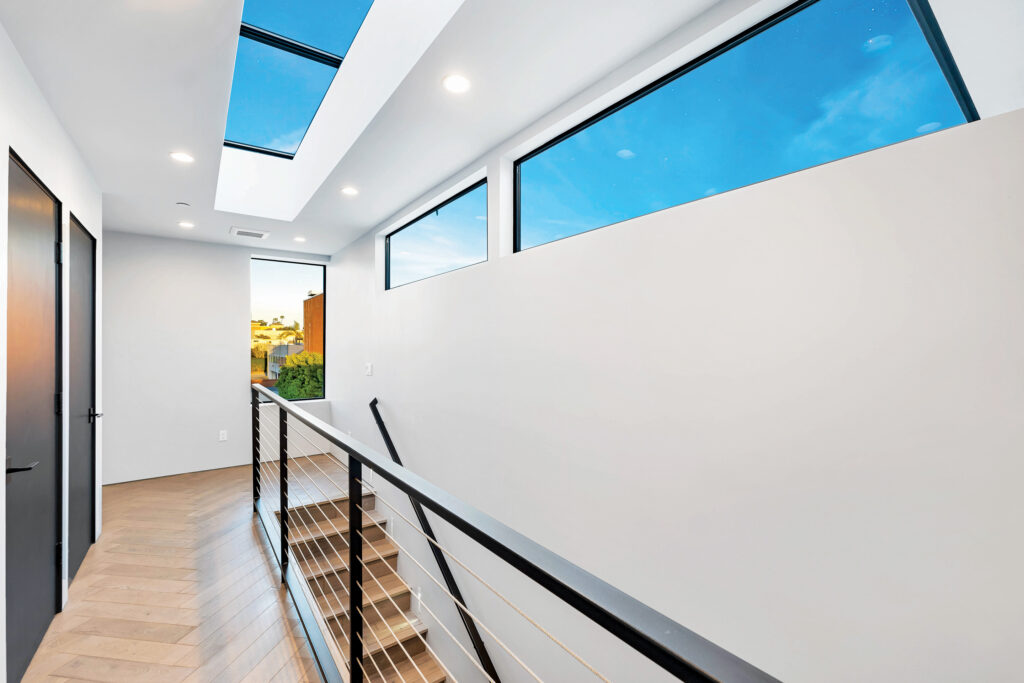 "It feels like you're in a chic, boutique hotel," says Mark van Meurs of the sunlit space.
Sun-bleached wood planks are set in a herringbone pattern, and there's a balcony where you can oversee kids playing in the pool below, or where you can relax after dark, watching the designer light scheme shift the waters from deep blue to magenta.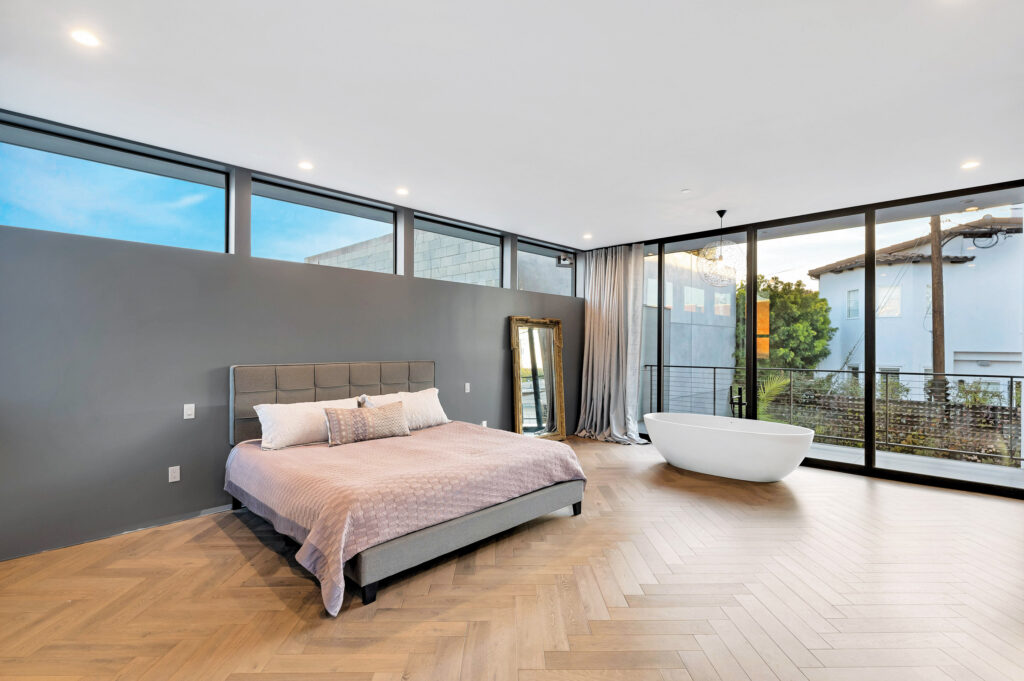 It's a peaceful scene in a home that stands as a prime model for how different modes of living—day-to-day domesticity, Saturday night socializing and so forth—can be elegantly unified under one roof. Meanwhile, after only living in the new home for two years, the designers are moving on, and anticipating their next chapter.
"We're passionate about interiors and ready for a new project," exclaims Ana Popovic.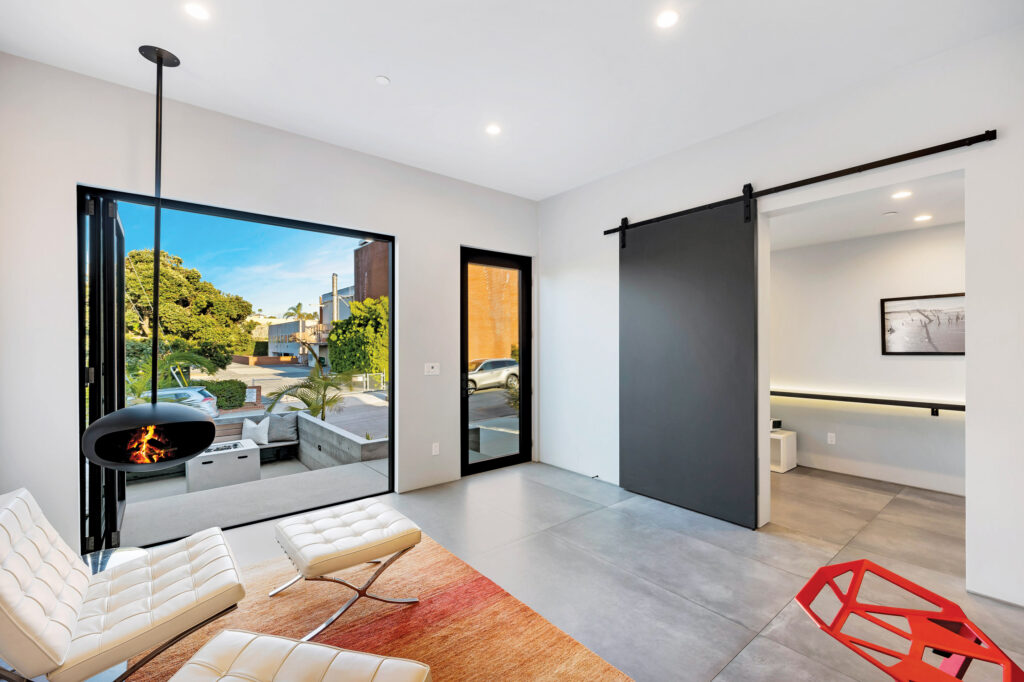 We say goodbye, but not before Mark van Meurs and Ana Popovic issue a thoughtful invite—"Stop by for a coffee next time you're in the neighborhood"—that's entirely in keeping with their open-door nature, and the matching design sensibility that fashioned this chic and welcoming hub.
Lauren Forbes | 310.901.8512 | DRE# 01295248
Lauren Forbes Group | Compass
List Price: $4,200,000
Photography by Jeremy Pavia, Home Sweet Home Productions
Courtesy of Lauren Forbes Group