Toasts of the Town
This
contemporary three-story
abode—one of a developer's
four closely aligned
properties built on the same block—is in all ways
a home of its own
Written by Abigail stone | Photography by Paul Jonason
The area bounded by Wilshire and Olympic Boulevards to the north and south, and Sawtelle Boulevard and 26th Street to the east and west, respectively, have seen a lot of growth recently. It's easy to understand why. From the quiet, walkable streets of this neighborhood, it's an easy drive to Santa Monica, Venice, Century City, Culver City, Playa del Rey and the Marina; as well as a short hop to the 10 to head Downtown.
Also close are Trader Joe's, a new Whole Foods, multiple farmers' markets and many of the city's most lauded eateries (not to mention the multiple sushi spots along Sawtelle). It's here on one particularly charming tree-lined street within the heart of this community that one finds 1557 S. Carmelina Avenue, one of four adjacent and similarly built properties developed by Metro Capital Builders located on the same block.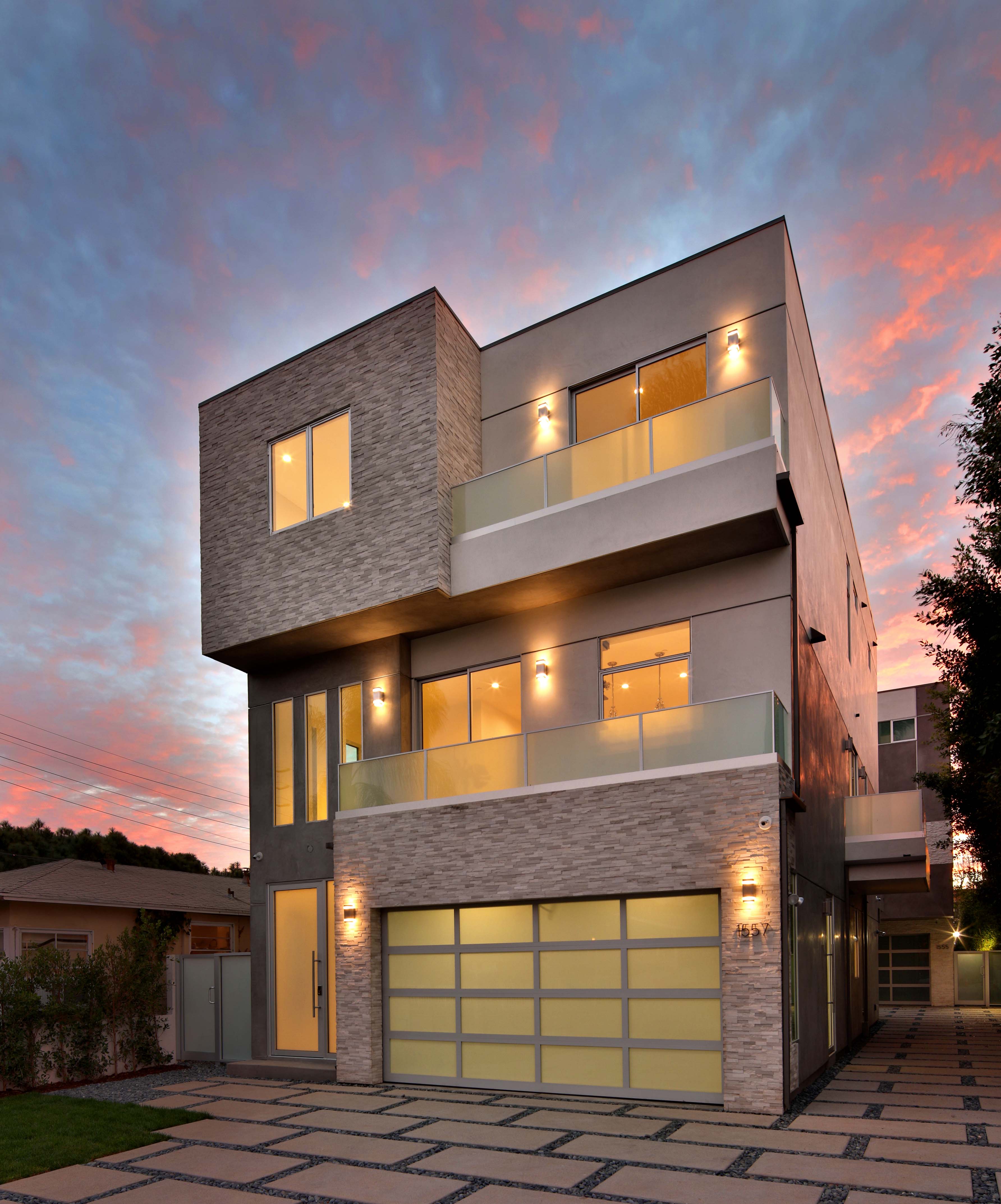 Nestled near the corner of Idaho, this newly constructed, 3,325-square-foot contemporary residence immediately broadcasts serene elegance. Rising three stories above the street, one of the two junior bedrooms on the third floor enjoys a view of Getty Center. There's room enough for all residents to comfortably park their cars (two inside the garage, two out front) and a long driveway along one side of the property leads to the back, and its neighboring address.
Though these two properties share a single lot and many of the same characteristics—balconies, a great room, a second family/room den, a backyard, an elevator, two laundry rooms, solar panels and Navien tankless water heaters—they were designed to operate independently. (The same characteristics also apply to the two additional properties across the street.) Despite the nearness of these four properties, privacy is paramount: each has its own driveway, entrance, and garage, as well as a six-camera security system.
A frosted glass door welcomes you to the front home: 1557 S. Carmelina Avenue. Multiple windows that flood the generous two-story entryway with light is one of this abodes most alluring characteristics. In fact, light is the watchword here, echoed in both the smooth white gallery walls and beautifully engineered oak floors. Glass banisters underscore the home's airy feeling; variegated stone covering the fireplace conjures up an interplay of shadow and sun, while steel-frame windows offer a pleasant visual transition between indoors and out.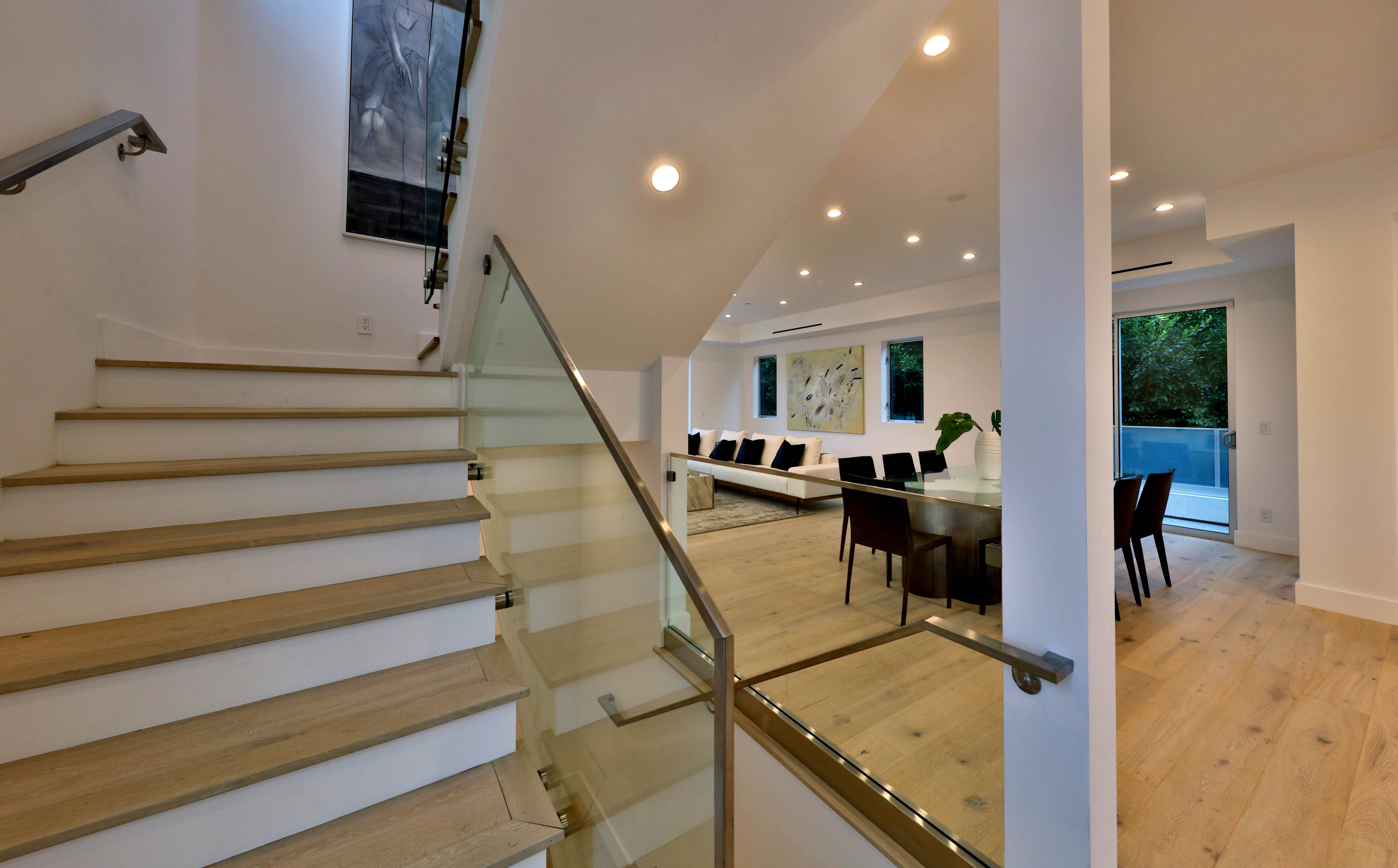 A small den on the first floor is the ideal place to unwind after a long day or to welcome guests to an intimate cocktail party that eventually will spill out to the backyard. Proximity to the front door also makes it suitable as a superb home office. With the den's wet bar and the full bathroom just outside the door, even an extended guest visit isn't an issue.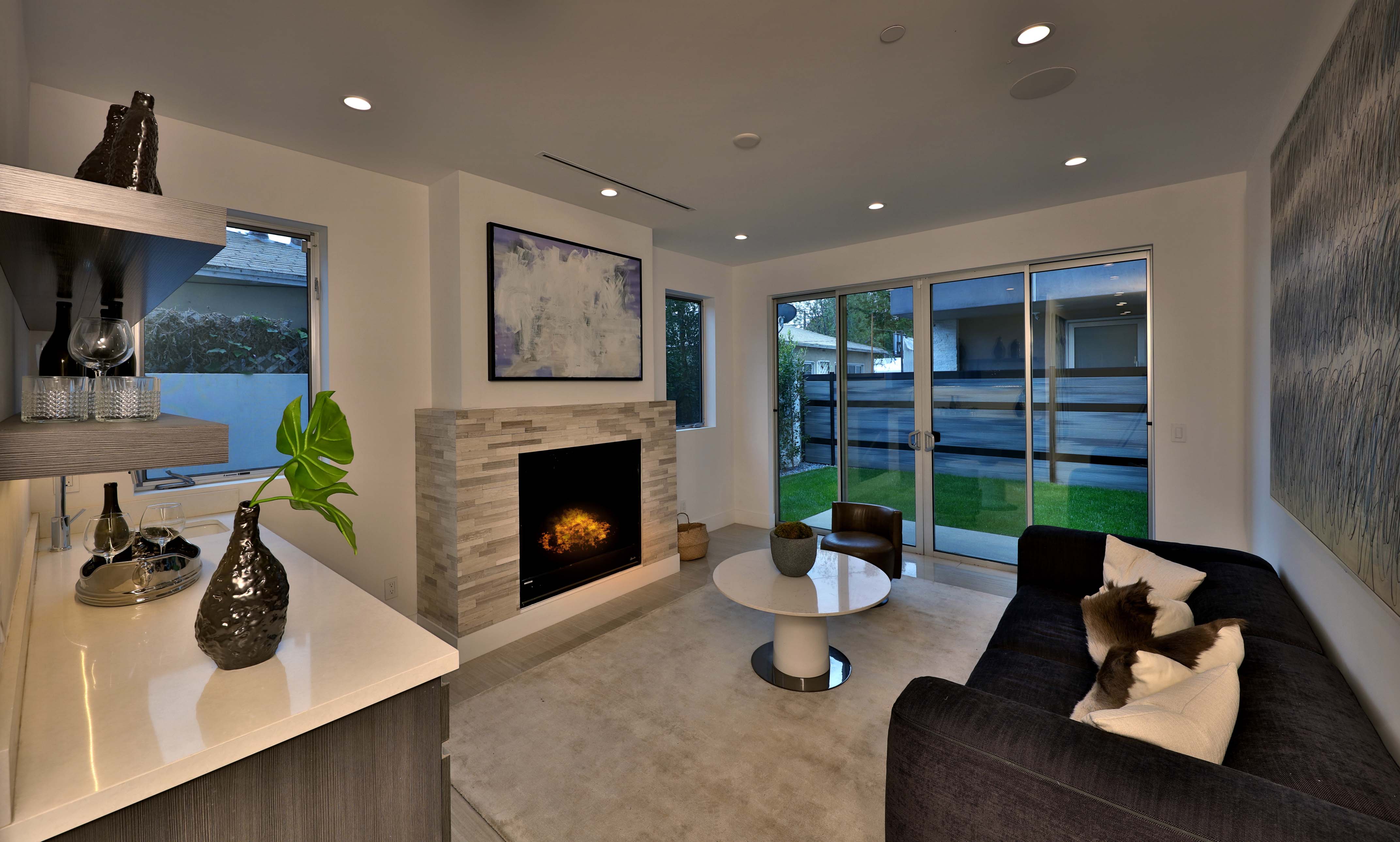 The separation between family bedrooms on the top floor and public spaces on the second floor gives residents and guests the autonomy to come and go without worrying about disturbing other occupants. One of the home's two laundry rooms also is here (its sibling is on the top level). No need to consider lugging one's things upstairs: an elevator is one of this home's many conveniences.
Of course, the second floor is a natural gathering place for family. The great room, which wraps a kitchen, dining room, and state-of-the-art kitchen—even a breakfast nook—into its long, sleek perimeter affords plenty of space for friends and family to circulate. There's a powder room on this floor, naturally, so no one is inconvenienced for long.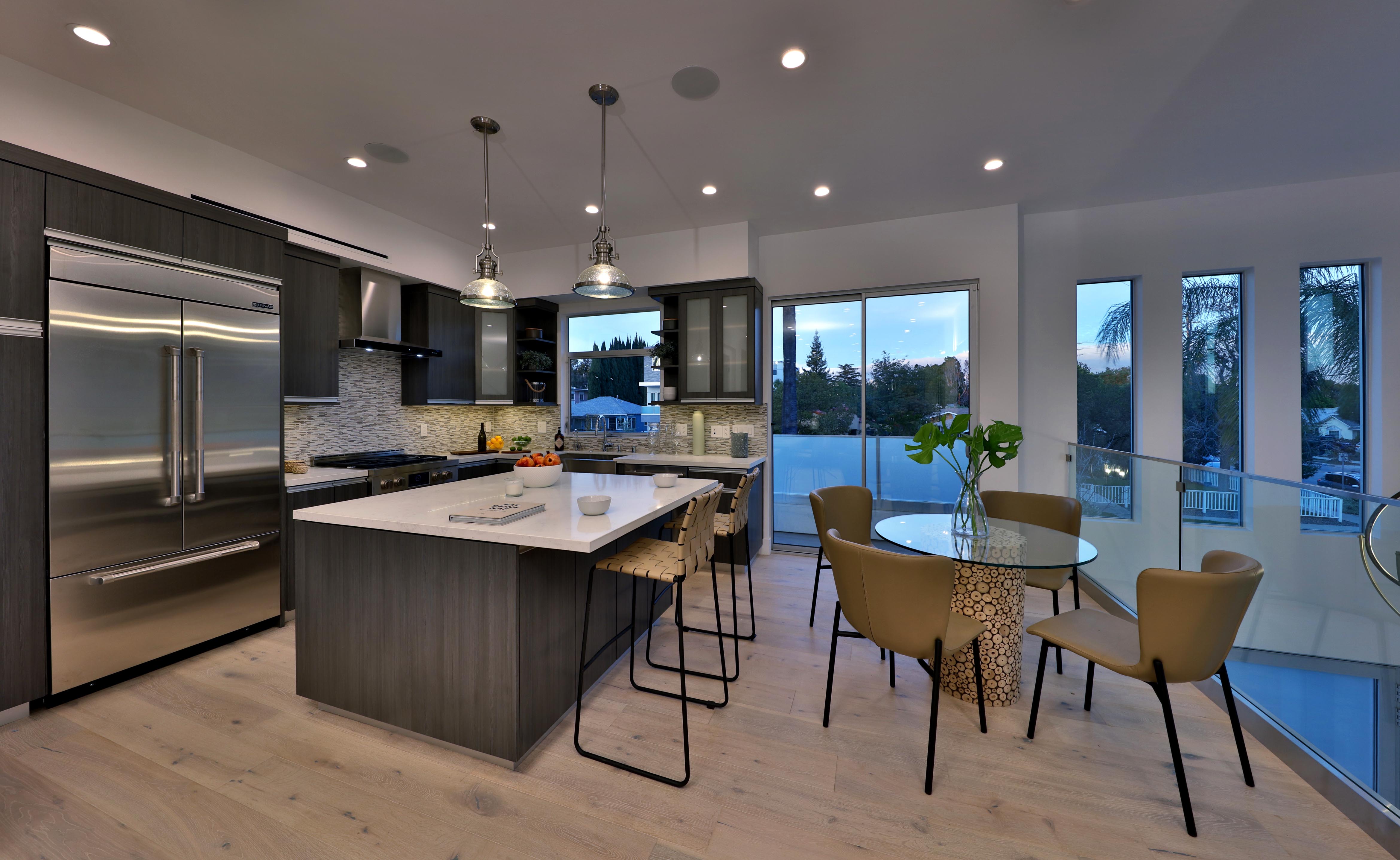 The kitchen's stainless steel Jenn-Air appliances, natural quartz countertops and maple cabinetry set a beautiful stage while dinner and drinks are being prepared. On sunny mornings and summer evenings, throw open the sliding doors that lead to the long balcony off this beguiling room.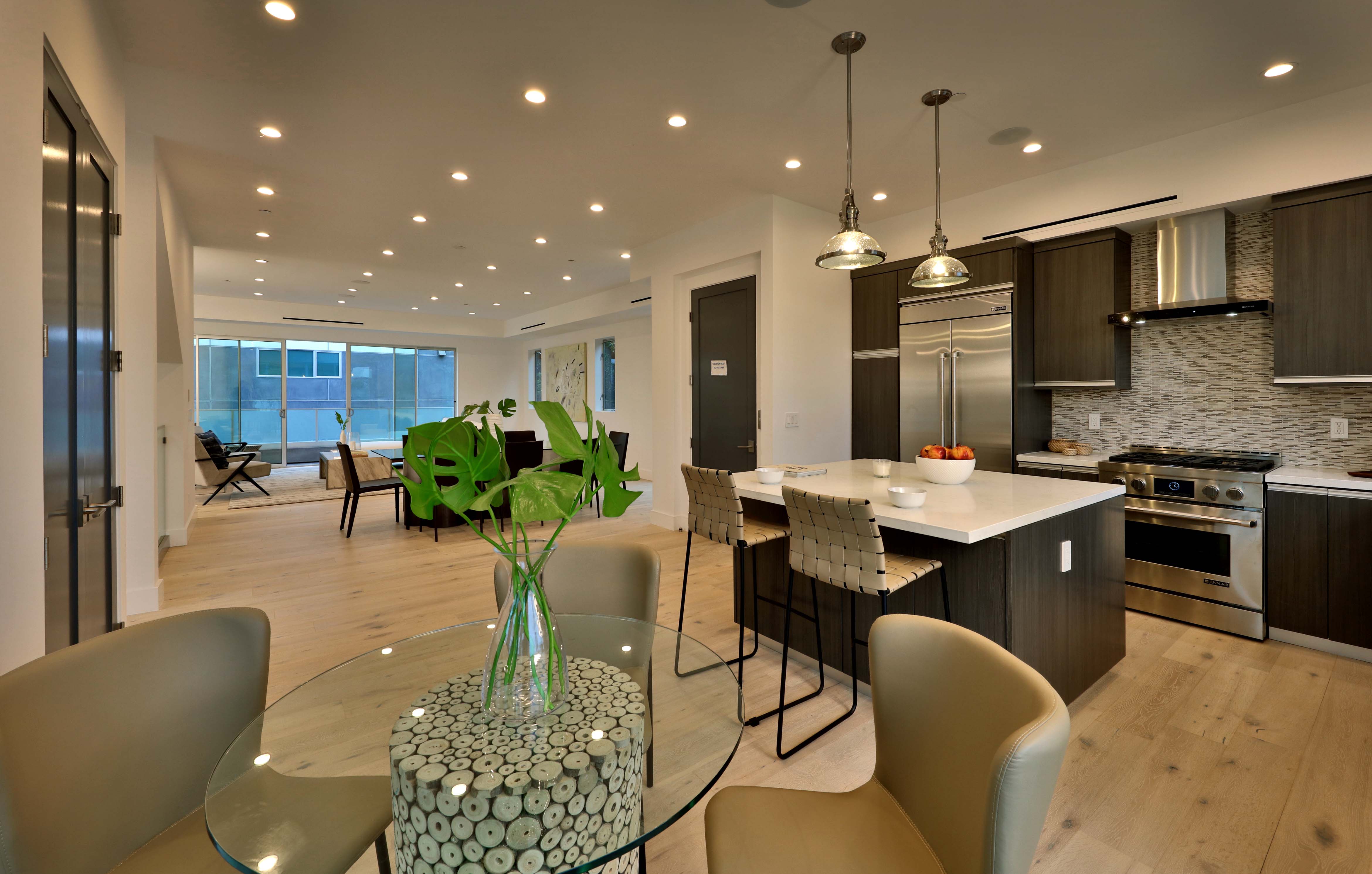 For now, though, simply dim the lights via the Lutron lighting control system, which lets you control lights throughout the home, start a fire in the second fireplace for ambiance, and tune into the nighttime entertainment. Given the home's sound system, with 5.1 speakers in every room, the show's vivid sound effects bring every moment to life.
Upstairs, three bedrooms encircle the top floor. There's a built-in bookshelf in the hallway, perfect for extra linens, and a capacious bathroom shared by the two junior bedrooms. Like the rest of the bathrooms in this home, it's finished with stunning Porcelanosa tiles. In the master suite, thoughtful amenities are a luxury of everyday life.
The spacious walk-in closet offers soft close drawers, glass front doors, and shoe shelves. In the bathroom, a deep tub is a delightful way to unwind after a long day, while a separate glassed-in shower enclosure, two sinks and plenty of storage allow two to operate comfortably.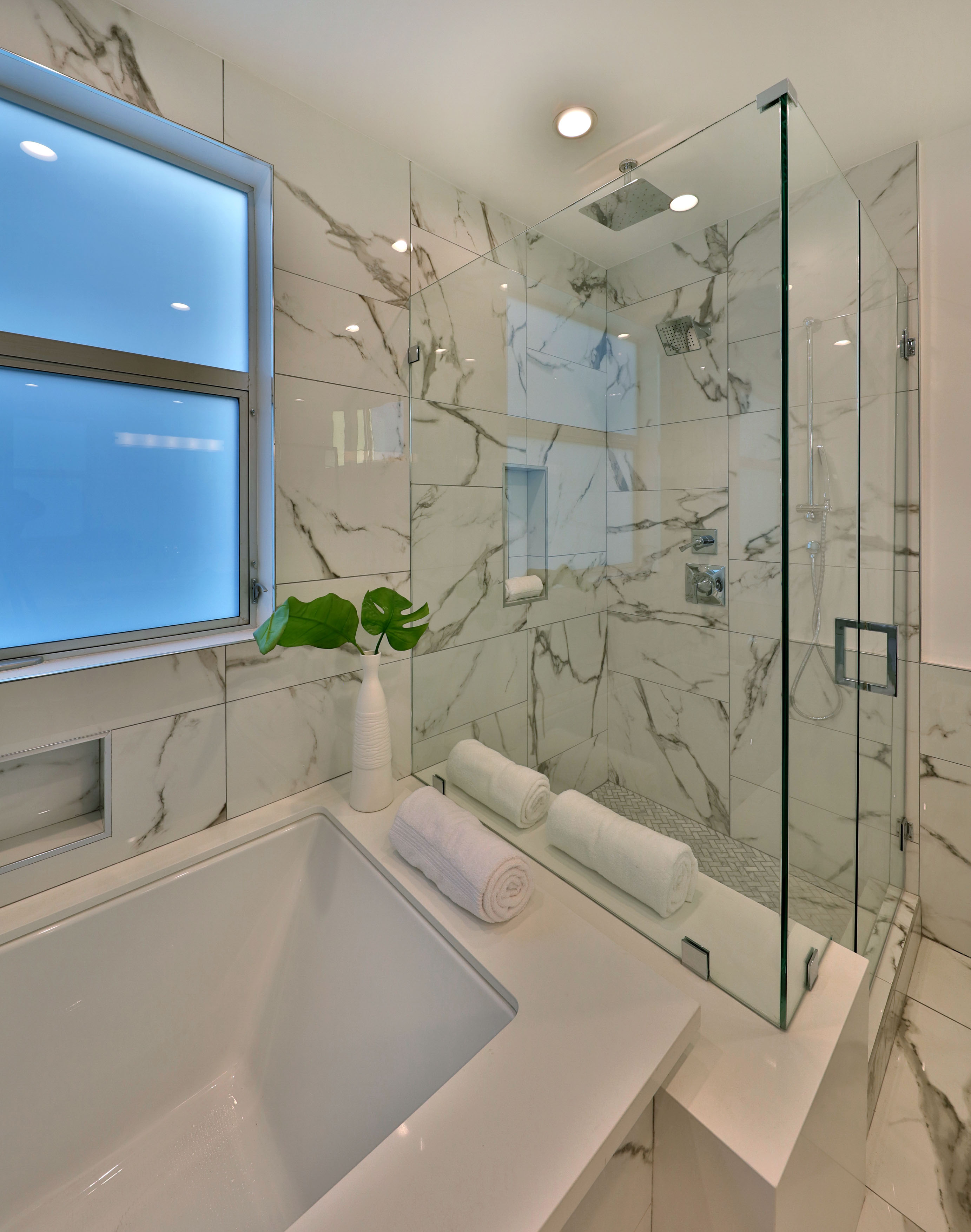 At night, after a long soak, with the fire crackling away in the home's third fireplace, you cloak yourself in a thick robe before stepping out onto the terrace to catch the stars—the whole city stretched out before you. And you, at the center of it all.
Presented by
Anthony Marguleas, Amalfi Estates
310.663.4606 | List Price $2,175,000
Related Post
A timeless Playa del Rey retreat is home to private bliss and endless ocean views Written by Constance Dunn | Photography&n...
A private hilltop villa in Hermosa Beach proves the perfect retreat for the finest in resort-style living Written by Joclene Davey&nbsp...
A luxurious collection of 53 ocean-front residences is taking shape in Pacific Palisades Written by Wendy Bowman | Photographs C...