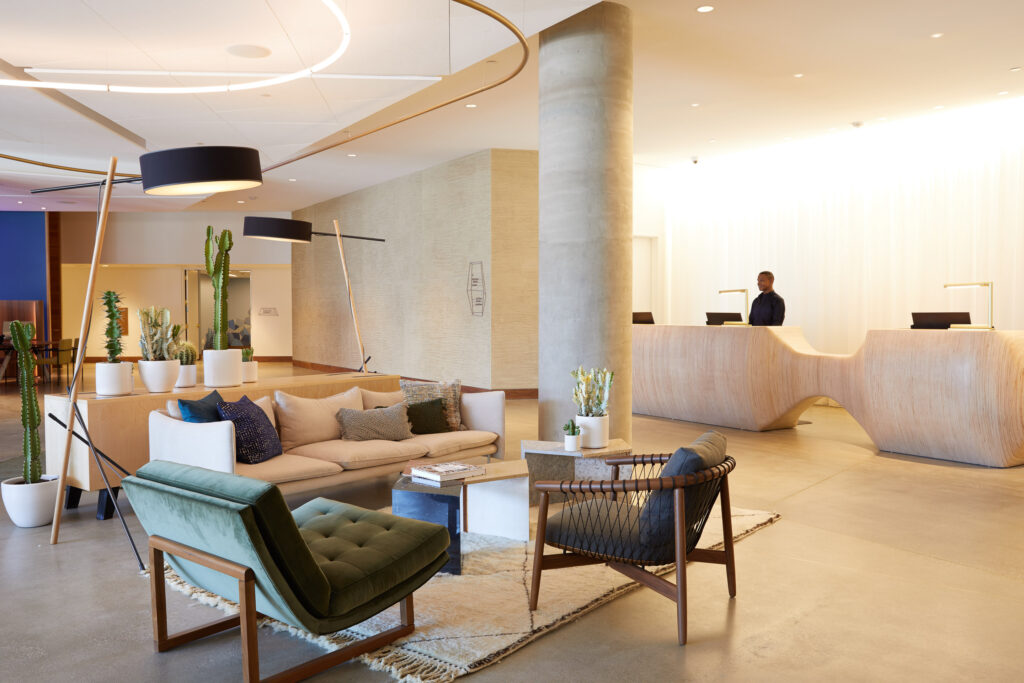 The Jeremy West Hollywood Brings Trendsetting Accommodations to a Legendary Locale
Much like its surrounding neighborhood, the newly opened Jeremy West Hollywood hotel at the corner of Sunset and La Cienega boulevards is the epitome of cool. Think local pop-ups tied to the area (a funky Gibson Guitar display in the lobby in collaboration with local charity VH1 Save the Music, boasting custom-designed instruments created by visual artists and musicians from Miley Cyrus to Patti Smith, for starters).
There's also a snazzy seven-story, LED-lit Dream Catcher installation created by artist Janet Echelman and Hollywood lighting designer Walter Barry. Not to mention some pretty stellar views of the Hollywood Hills and Los Angeles Basin.
"The hotel has a young, vibrant personality that is very much inspired and influenced by surrounding West Hollywood," says Tim Flodin, general manager of the Starwood Capital Group property. "We provide guests with personalized access to the city's best cultural moments, savory in-room dining experiences and exclusive events with notable local partners so they can always be on the pulse of what's happening here."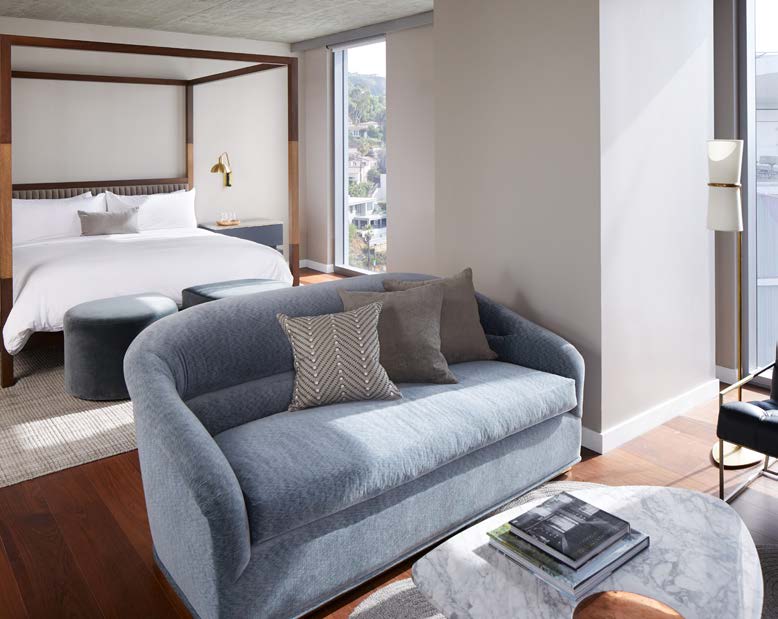 Situated at 8490 Sunset Blvd., the Skidmore, Owings & Merrill-designed hotel features a duo of modern, metal-clad towers replete with mid-century modern environs boasting sophisticated touches, such as hand-finished walls, custom lighting, rich walnut paneling and floor-to-ceiling windows.
Accommodations include 286 rooms (most notably, 50 suites including two terraced penthouses), priced from $350 per night and featuring special touches such as custom accent pillows in deep blue and mossy green from NOON by Jane Palmer and custom upholstered headboards with panels of hand-dyed hemp and linens, all set in a natural palette of beige, tan and taupe.
Then there are the trendy food and drink offerings. In addition to the hotel's fun room service menu—offering items in lunch boxes—its Etcho Café features salads, small plates, charcuterie, and entrées such as grilled swordfish, rib-eye and bucatini prepared by Executive Chef Chang Sivilay.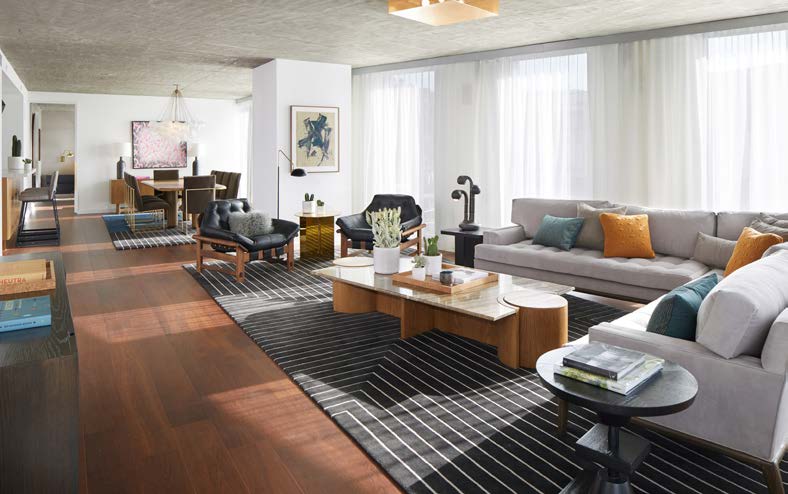 Among the most popular dishes is the habanero vegetable egg white wrap, duck bao bun and seared ahi tuna salad. Meanwhile, the JOÃO bar serves up in-demand libations from The Jeremy West Hollywood (Cachaça, lime simple syrup and strawberry shrub) to The Deal Breaker (dill, serrano pepper, pineapple, cucumber, vodka and club soda).
And, if that's not enough, The Jeremy West Hollywood also offers plentiful courtesies and amenities. Among them: text-based guest services; a pool flanked by custom wood cabanas; a fitness center complete with Peloton bikes; and 10,000 square feet of meeting and event space.
The Jeremy West Hollywood
8490 Sunset Blvd., West Hollywood, CA 90069
310.424.1600 | Jeremyhotel.com
Photography Courtesy of The Jeremy Hotel West Hollywood