Family-friendly design and graceful aesthetics makes for a beautiful utility in Palos Verdes Estates.
OFFERED BY JOHN CORRALES AND LAUREN FORBES OF COLDWELL BANKER PREVIEWS
LIST PRICE $6,500,000
While motoring around the highest perches of Palos Verdes Peninsula, you may have passed Via Rincon, a quiet residential street that ambles off Via Del Monte, the area's winding thoroughfare. Drive down this mellow street and you'll reach a grand home settled on a manicured green lawn, a property that's distinctive for its capture of an elusive goal in local real estate: the marriage of dignified style with a design structured purposefully around modern family living—privacy and world-class views, too.
"We sell many homes that are extraordinary, very distinctive," points out John Corrales of Forbes Corrales Coastal Properties, a division of Coldwell Banker Previews. "But at the end of the day they're not practical for families who need to fit their lives into a property. This is a true family home."
Family-friendly credentials include lots of bedrooms—seven total—plus a theater and a grassy pool and spa zone. Its practicality, though, is powered by its layout: five of the bedrooms and a central study are clustered on the top floor, so parents are not left scrambling between floors to tend to little ones.
A bachelor or couple, though, could just as easily envision the bedrooms—each decked with a private bathroom, custom cabinetry and nuanced details setting one apart from the other—as a dream roster of separate havens. A yoga or dance studio perhaps, or a library, gym and music room.
It doesn't hurt that nearly all the bedrooms are outfitted with private balconies and fresh-air views, and the suite that's farthest in distance from the ocean-view master bedroom opens directly onto a private green courtyard. Quiet and flanked with foliage, it comes off as the ideal spot to book a privacy-minded guest or long-term family visitor, particularly as the elevator stops just steps away, and an independent staircase leads down to the sunny pool and spa.
Each of the home's three stories offers a different take on its star attraction: the views. "We specialize in view properties," notes Corrales. "And there haven't been many view properties on market lately that are newer like this in terms of construction."
Completed in 2010, this home affords equal opportunity views of city, mountains and ocean. Straight ahead is the city of Los Angeles, stretching eastbound to what very well might be Pasadena. To the left is the ocean, bordered by a meandering line of South Bay beachfront. On Fourth of July, you're treated to a front-row show of fireworks bursting down along the coast from Malibu, and clear inland through the city.
The homeowners say that each night the home's sunny views are traded for a blanket of twinkling lights. "I've lived in the area for 20 years," says the husband. "And as I looked around the area I found that this [Via Rincon location] is one of the few streets where you have a really dramatic view, especially of the Queen's Necklace." Referring to a shapely visage of South Bay coastline that, at night, glistens with lights (à la diamond jewels), the Queen's Necklace is a sight that, apparently, never gets old.
At 5,616 square feet, the home is space-abundant, yet feels warm and connected. Floors are linked via a central staircase swirling from top to ground floor in a graceful treble clef shape. This feature—elegant and easy to navigate—exemplifies a central virtue of this home: its remarkable ease of accessibility, whether one is  young, old or somewhere in between.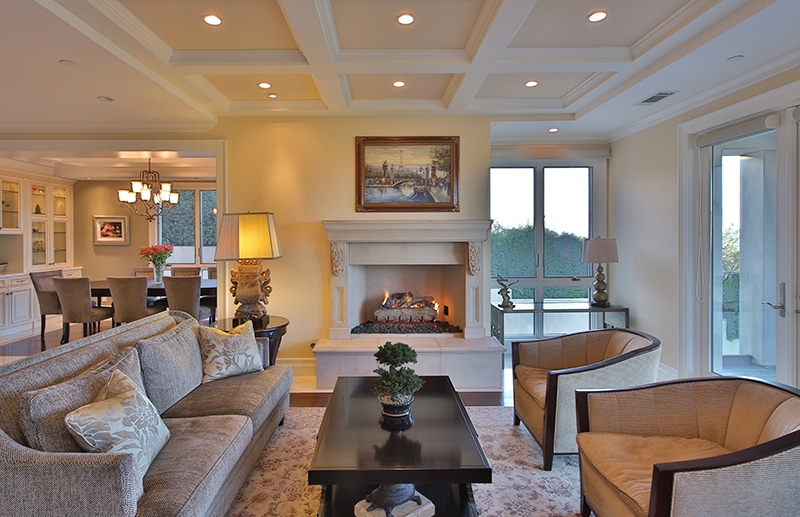 This virtue, though, is aesthetically kept under wraps, shrouded by a smart floor plan the homeowner mapped out in tandem with the architect, and spent four years bringing to fruition. "A lot of homeowners would like a home that doesn't have a lot of stairs," he points out. "So all three levels are pretty much flat. And there is wheelchair access if you have any guests or parents who have a disability."
He continues, "But I didn't want it to be obvious, such as having rails everywhere. So I made it where if someone is wheelchair-bound, they can get around the house. The elevator stops at every floor, and when you pull into the garage, it's easy to enter the house."
For all this talk about utility, there's much to say about the well-tempered style of the home. "I wanted to design a home that was contemporary, but not so formal where you feel like you're going to break something, or that you can't sit down and relax," says the homeowner. "I want people to feel comfortable."
It works. Much of the ground floor is given over to a theater and social area, where walnut floors glow from mellow lights tucked into the recessed ceiling above. An arch of French doors opens onto a leisured front lawn that's home to an elegant pool and spa. Though bordered with palms and a slender fence, this recreation area is kept private by its perch, elevated just enough to shroud activities from passers-by.
Glide up to the middle floor, which intermediates between the bedroom floor above and the entertainment space below. This is the heart of the home. It includes a formal dining room and a living room that are subtly set apart from the day-to-day living area, which spans a family room and up-to-date kitchen anchored with a granite island at its center.
In a skillful compromise between a traditional layout (where discrete rooms are set apart by doors) and a wide-open floor plan, these living spaces are defined by open entranceways framed in slender white casing.
"All of these areas are connected," explains the homeowner. "But just set apart a bit. I didn't want a lot of walls, but I needed separation between different rooms."
Generous French doors border the floor's perimeter, opening onto palatial patios where guests can stretch out at dining tables or congregate on the sofa and lounge chairs. From here, it's just a short flight of stairs to the pool's edge. In the end, the layout feels completely modern while carrying a welcome tinge of upstanding formality.
"These days, we're seeing a lot of five-person families, and that doesn't include the dog," remarks Corrales with a grin. "Families are the main buyers of the larger homes in this area."
The challenge, I learn, is finding an up-to-date South Bay property that checks off even a few of the most-desired boxes in upmarket family homes, from size and layout to neighborhood and views.
As the homeowner tells it: "Let's say you want a big home. Something for a family, with a pool, and a yard. And views. You can't find everything in one home."
That is, until now.
PHOTOGRAPHY BY PAUL JONASON