Sea to See
Perched high on the bluff in the exclusive Zuma Bay Villas gated community, this condo puts ocean views and luxury details front and center
Written by Abigail Stone | Photography Courtesy of Paul Jonason
Represented by Tracy Testin and Susan Cosentino, Sotheby's International Realty
List Price $2.350,000 (includes furnishings)
At the top of

Point Dume

, where the Pacific Coast Highway sets its sights firmly toward

northern California

, a slender road sets you in the direction of

Westward Beach

.
After some questioning, a guard waves you through the gate—residents, of course, are waved right through. Welcome to Zuma Bay Villas, where peace—of mind, body and soul—is the objective. Pass through the gate, and a slight curve in the road, then a soft rise and there it is: the ocean in all its majesty, the deep blue water undulating toward shore. It's astounding how it still takes your breath away. Climbing the bluff, you head toward the top of 6813 Seawatch Lane. Located in one of the most desirable areas of this neighborhood, it's the ideal spot from which to enjoy the glorious view. The address is aptly christened: the condo you are about to step into was designed to put the endlessly mesmerizing ocean vista front and center. What is it about the sight of the sea that puts our souls at ease? Properties with water panoramas are universally desired, they touch a primitive part of us—a fact that the owners of this condo understand. They've renovated this property to take every advantage of the stunning landscape.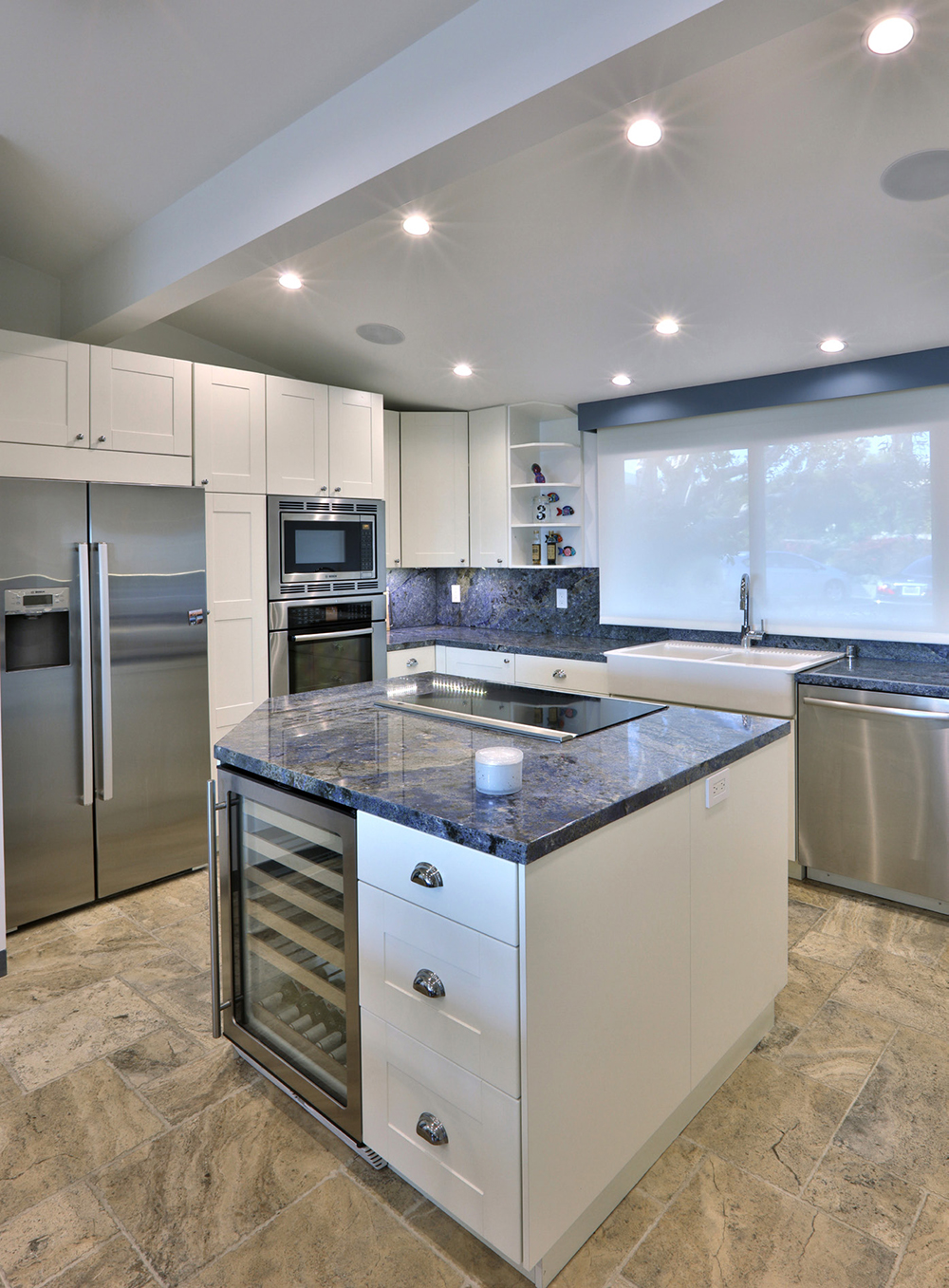 Step inside the home and the effect of its beautiful, European-influenced design washes over you. Every detail is exquisite. A fully-appointed open plan kitchen with state-of-the-art Bosch appliances offers all the muscle of a chef's kitchen. Granite countertops that derive their inspiration from the soft-blue gray of the sea provide both beauty and functionality. Whether making a multi-step dish inspired by your favorite cooking magazine or a simple lunch for two, hidden amenities, like soft close drawers, make every movement and moment of preparation a pleasure. There's even a built-in coffee machine with one-touch function. But this kitchen's greatest feature may be the one barely noticed until, standing at the island cutting vegetables or preparing a snack, you happen to look up and find yourself transfixed by the unbroken view of ocean. The window frames, stained a dreamy gray blue that's echoed throughout the home, enhances its spellbinding allure. Shifting and changeable, it's perpetually hypnotic, weaving a captivating and tranquil spell.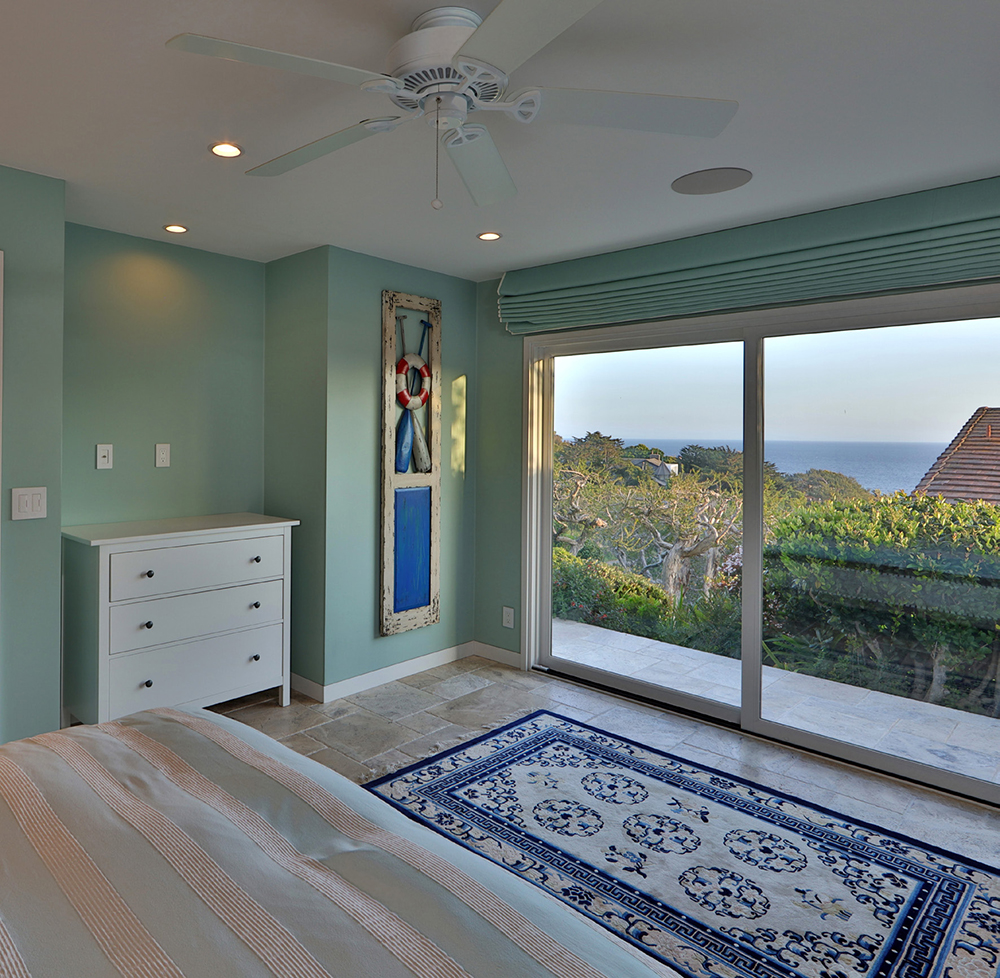 Of course, as seaside properties can be chilly at night, this one offers an elegant solution. While travertine floors throughout the house are cool on bare feet during the day, individually controlled radiant heat floors provide warming comfort at night when weather is cool. If you've never experienced the joy of heated floors, you're in for a treat. They offer a singular pleasure; you'll wonder how you ever lived without them. There's also a wood-burning fireplace in the living room, one of the last built in Malibu.
What is it about simple pleasures? At night, with cocktail in hand, a fire crackling away, the tantalizing smell of wood smoke perfuming the air, while watching the sun drop into the ocean, the sunset perfectly framed as if projected solely for your enjoyment. Some people dream of experiencing one moment of picture-perfect happiness… lucky you, you've just insured it happens every day.
Related Post
A timeless Playa del Rey retreat is home to private bliss and endless ocean views Written by Constance Dunn | Photography&n...
A private hilltop villa in Hermosa Beach proves the perfect retreat for the finest in resort-style living Written by Joclene Davey&nbsp...
A custom Mediterranean Revival brings home size, beauty and features galore Written by Constance Dunn | Photography by Paul...