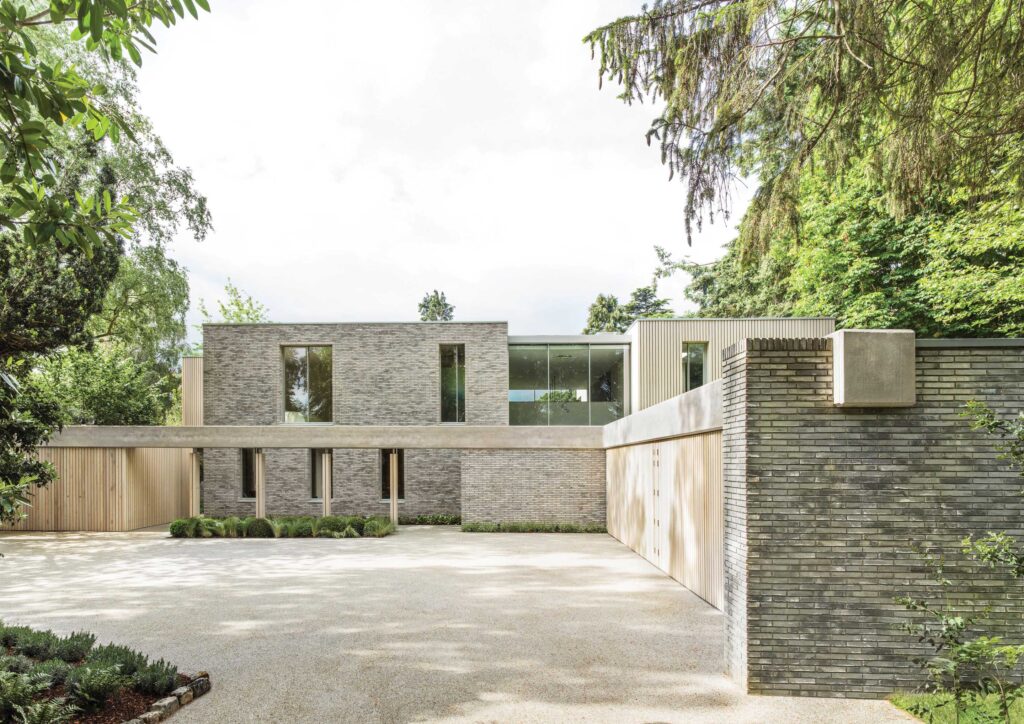 In a Suburban English Village in Berkshire, International Practice Gregory Phillips Architects Completes a Modernist Residence in Place of a Childhood Home
Many of us remember, often with fondness, our childhood homes, the places where we came of age. Some of us might even dream of returning to those homes with a grand remodel in mind. Still, others might find a kind of gospel in Thomas Wolfe's edict, "You can't go home again."
Berkshire House II is a hybrid of these ideas, a modernist, elaborately glassed house by London-based studio Gregory Phillips Architects for a client who had grown up in an existing dwelling on the site and sought a new and flawless alternative.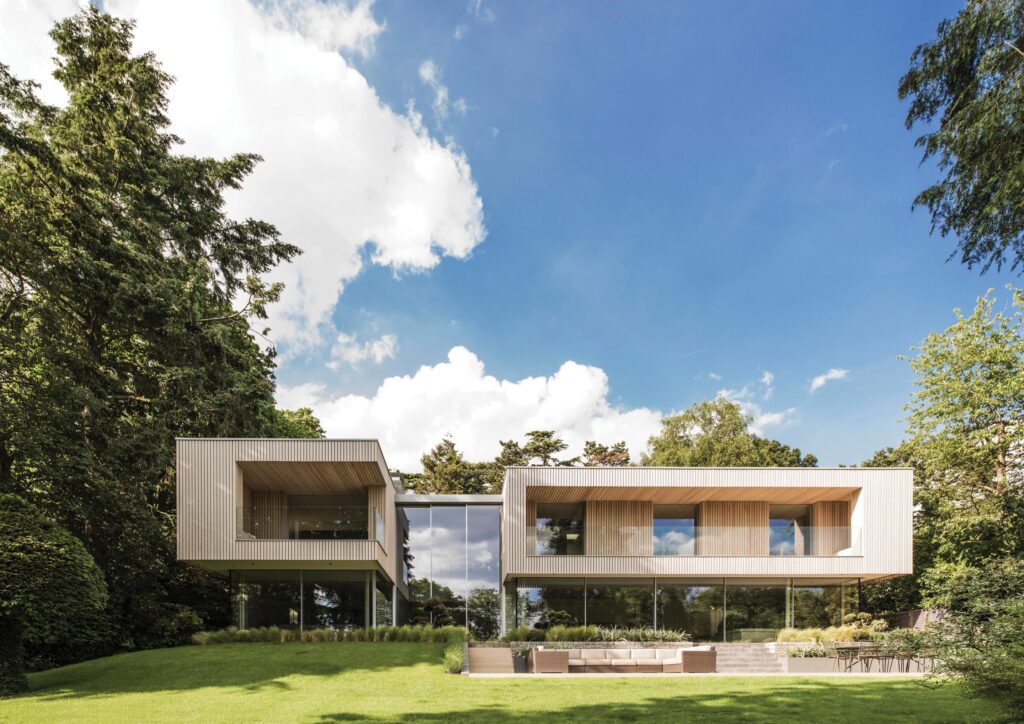 Gregory Phillips Architects approached this project with craftsmanship and sensitivity to design a physical manifestation of the studio's broader cross-project aim: creating contemporary yet timeless homes. This one, a splendid and practical five-bedroom abode, is a glowing example of the studio's pull towards the fresh, the contemporary, and the expertly crafted. The house also shares a robust indoor/outdoor living connection that defines the California residential ideal.
But this is Berkshire, where, despite its more suburban setting, the house departs from the typical suburban vernacular, which the studio's director, Gregory Phillips, politely describes as void of "basic detailing and construction that is not unique or special."
Bland.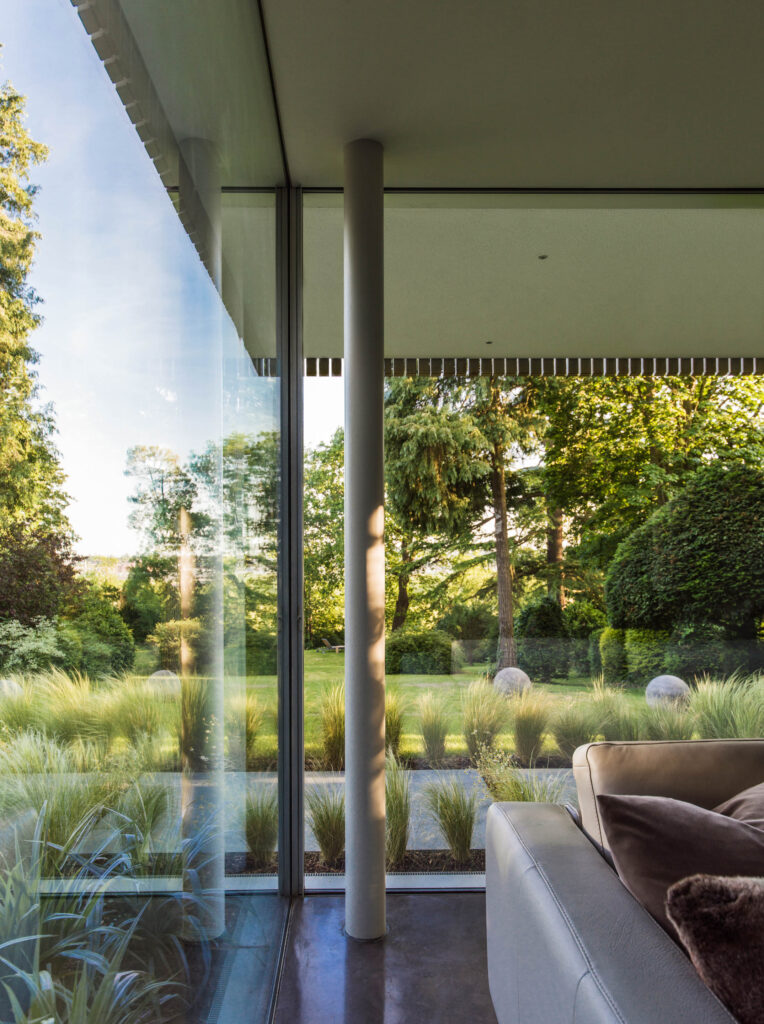 Berkshire House II is the precise opposite, allowing for entertaining and for guests alike, but mainly functioning as an intimate working home for a family of six. Maximizing the benefits of its site, the house is constructed in a succession of solid forms: the street side, mostly built with handmade brick, is dedicated to the public family and living spaces, and the other, its secluded garden side, contains the private areas and bedrooms.
The back of the house is something of a light box, with a lovely indoor/outdoor flow offering easy access to the manicured garden grounds. The atmosphere is spacious, airy, and pleasant.
As Gregory Phillips puts it, "A place to enjoy the extended views and be amongst the adjacent trees." If not floating among them.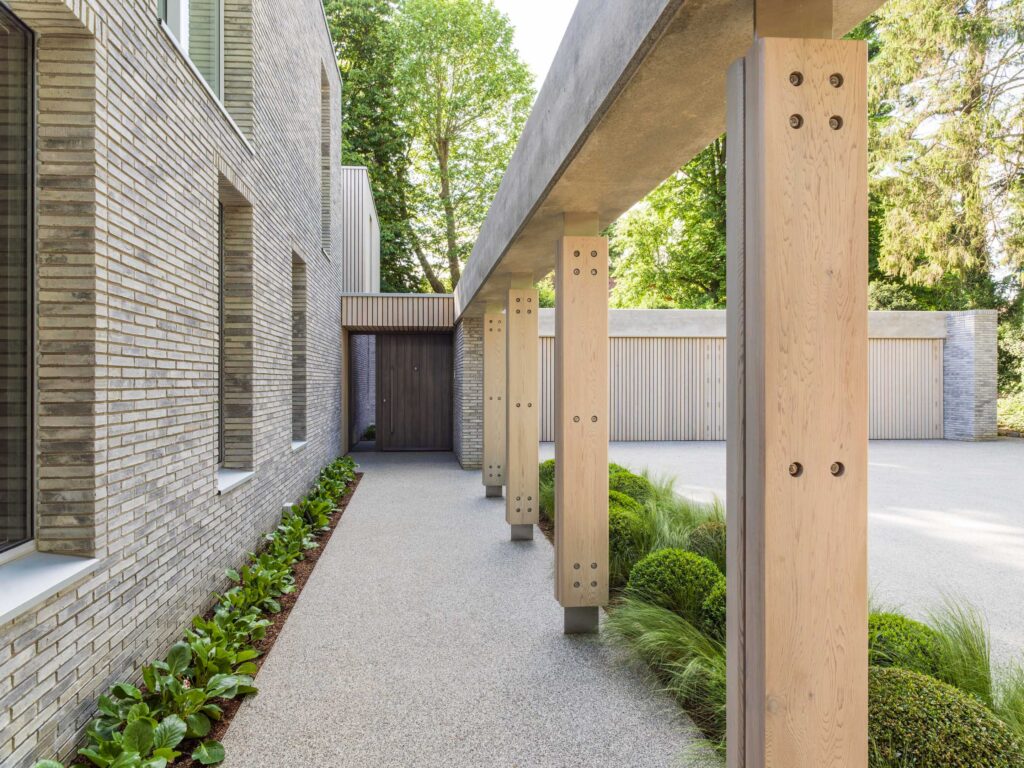 An architecture this pristine does not require additional theater to make it interesting, but Berkshire House II does make an astonishing entrance via a modest vestibule that opens to a stunning double-height space in what was conceived as "a sequential journey that references entering the Guggenheim museum in NYC by Frank Lloyd Wright," says Gregory Phillips.
And just like that bit of architectural history-making, this solution also aspires to spectacle with nearly 20-foot-tall glazed doors. But these soaring glass apertures, which open the space to the rear garden and supply it with an elegant and ethereal light, is not just drama for drama's sake, but an honest gesture that is authentic to, and in service of, the architecture and its connection to the outdoors.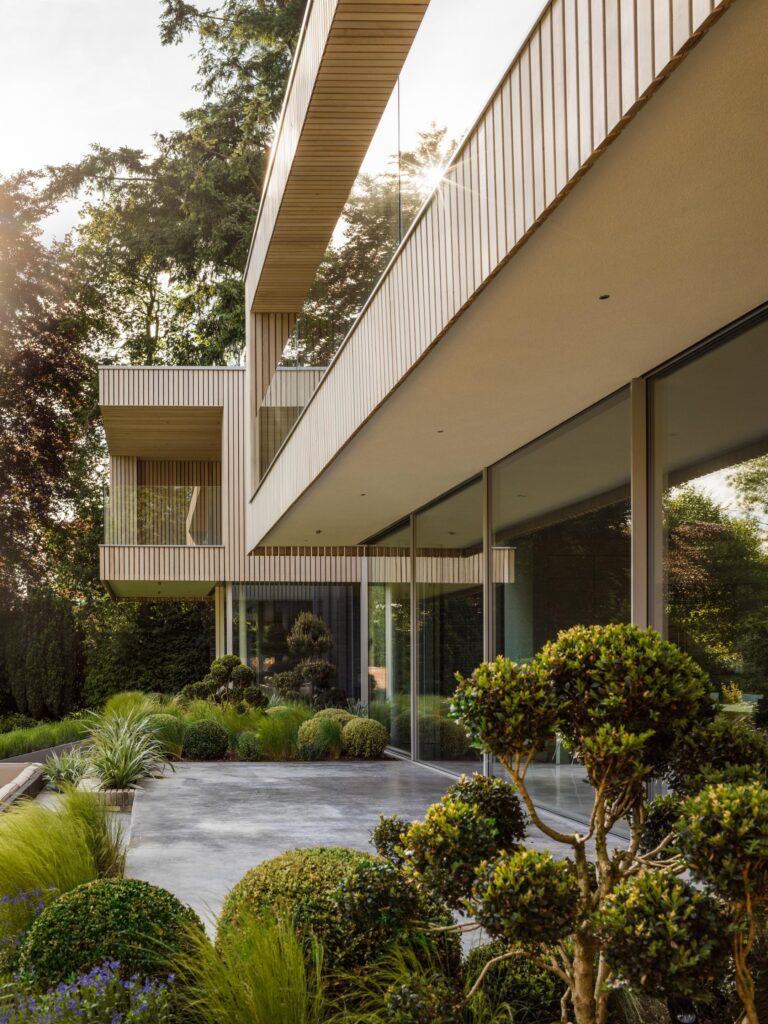 One correctly reads the house as an extension of the landscape. Not only does it embrace the woodland setting, but it is also enveloped by it. The house also draws its character from a palette of raw, contrasting materials—Danish grey brickwork, whitened Canadian Western Red Cedar, polished concrete floors—to fulfill the client's desire to "run their hands through the treetops," according to the studio.
To that end, no trees were removed (nor were their roots impacted) in the construction of the house so that the architecture communes with nature almost constantly, directly through its views and in subtle decorative gestures that reflect its beauty.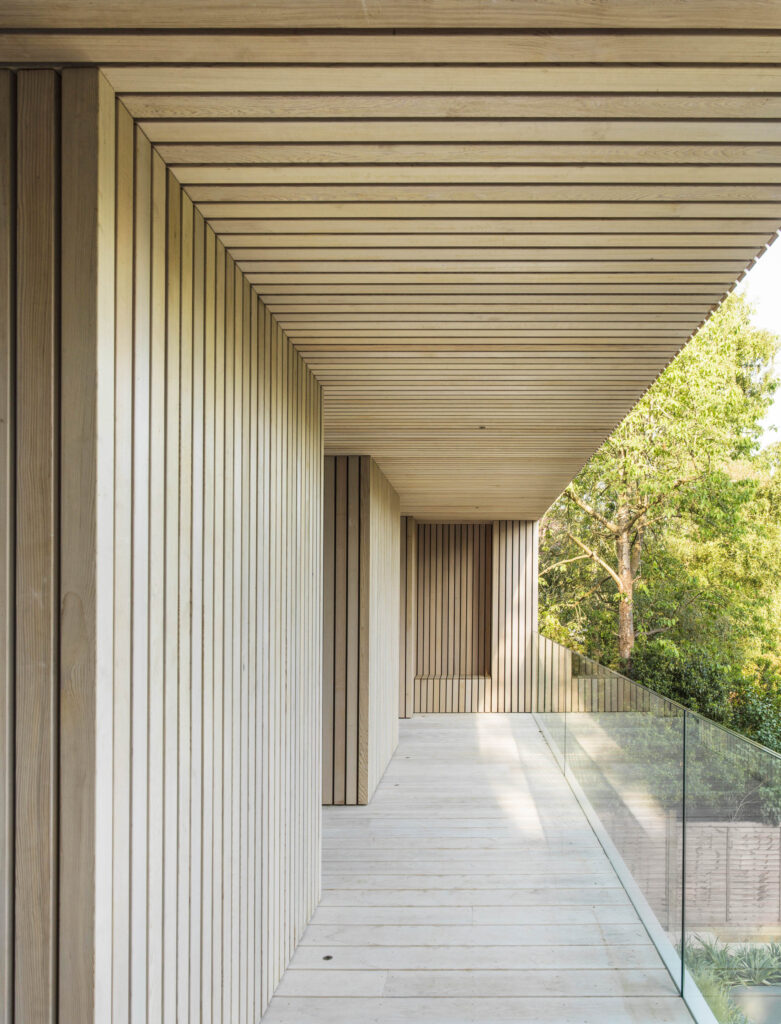 In minimalist fashion, however, the interior is not overdone. It is quiet and reserved. Serene. Little by way of decoration is actually needed, but among its harmonious mix of clean lines and refined finishes are some lustrous and lavishly applied stone surfaces and superb organic accessories including a stout raw-edge wood dining table in the entrance hall with chic, industrial-tinged light fixtures above.
All elements are characteristic of a beautifully tailored interior, one that, though stylistically strict, is warmed by functionally balanced materiality and beams of sunlight that stream through the glass and heighten the home's open feel.
Although conspicuously, even vigorously modernist, Berkshire House II could seamlessly slip into another era. Achieving the balance of new and enduring is, Gregory Phillips notes, "central to our agenda."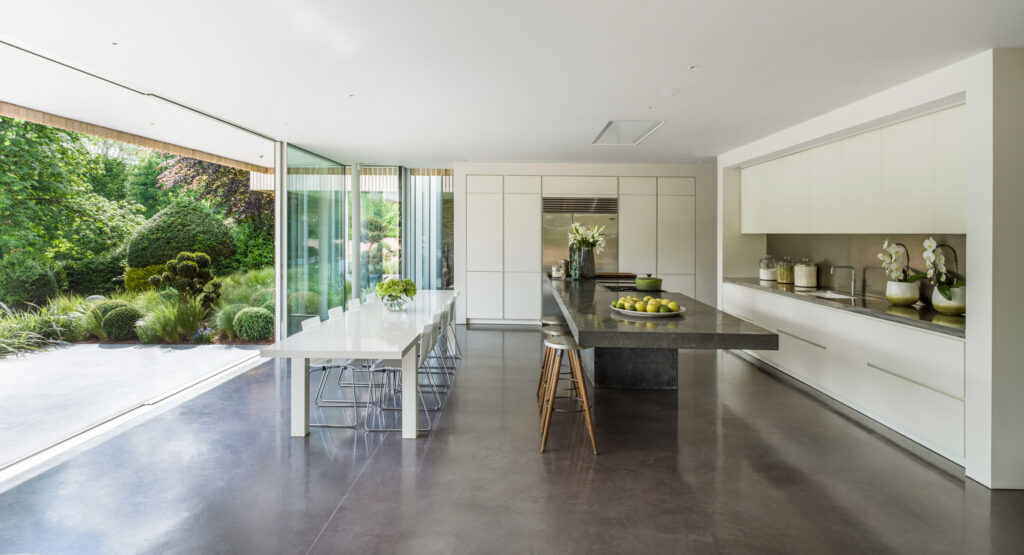 Not just across the pond. The studio strives to bring a high level of craft and architecture from the UK to California, where they have previously been involved with projects in Los Angeles, Malibu and in the northern part of the state. What do all properties have in common?
Proficiency, obviously; an eye and an appetite for aesthetic and architectural discipline. But moreover, as this project proves, an astute use of traditional materials in a contemporary way.
"We believe great design creates an enhancement of our clients' lifestyles and improves both their experience of everyday life and the architecture and aesthetic of the location," says Gregory Phillips.
An approach that worked out beautifully in Berkshire.
Gregory Phillips Architects | gregoryphillips.com
Photography by Mel Yates