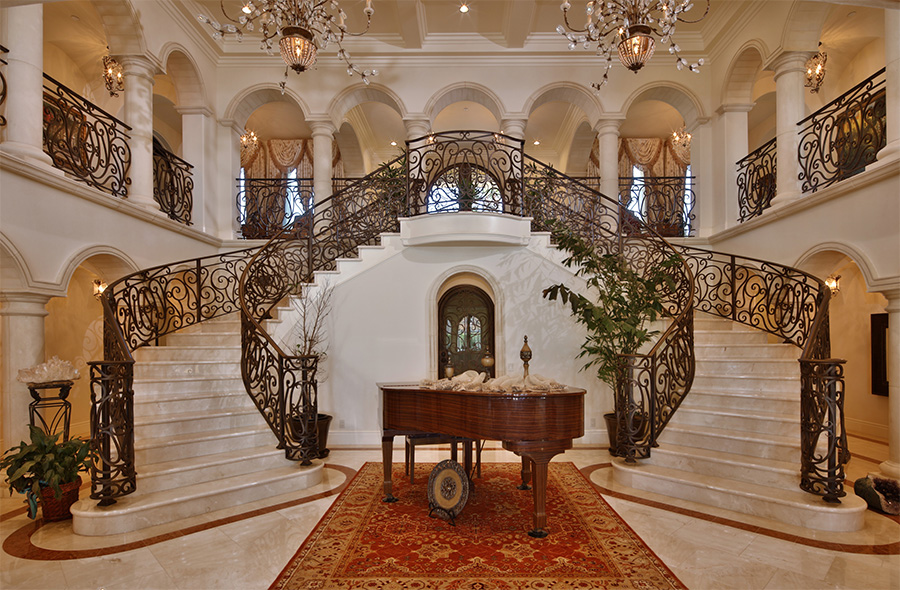 67 Del La Luz An Early Classical Revival Home, Faithfully Decked in High-style Ornamentation, Crowns a Peaceful Palos Verdes Bluff
With modern-day design being so intent upon bringing forth the next big thing, whether it's plantation style or Mid-Century redux, it's easy to forget that sometimes one can be exceptionally successful by reaching back to the earliest days of architecture and meticulously executing a hyper-classic style instead.
Such is the case of 67 Del La Luz, approximately 8,000 square feet, completed in 2015 and set atop an elevated bluff in Oceanfront Estates—a manicured community located beside an unfettered blue expanse of Pacific Ocean along Palos Verdes Drive.
The Early Classical revival residence—designed by global luxe Beverly Hills architect Tony Ashai—manages the twin feats of offering grandeur alongside day-to-day comfort. Details have been painstakingly crafted with a heavy dose of classical detailing, starting with the stately front portico that is bookended by four columns—made from natural limestone and carved with stately Corinthian details—which dramatically frame the entrance.
"The home is majestic," says realtor Raju Chhabria. "There's an exceptional amount of luxurious, custom details built into the home, yet it still feels like a comfortable California home by the sea."
The five-bedroom floorplan is faithful to the home's classic architectural roots. Wings and individual rooms are positioned around a central square, home to a grand gathering room with a piano, and bordered on both levels by a dramatic series of columned archways. Floors are covered throughout with creamy Italian marble, and a duo of sweeping staircases connects the upper floor to the lower, where a series of graceful, arched doors open onto a fresh-air portico and lounging yard decked with a slender pool, a bubbling spa and a spacious grilling station.
The hallmarks of up-to-date, luxe living are present in the home as well. A gym and a sauna, plus home theater and wine cellar, are found on the first floor, while the second floor is home to an open-plan kitchen complete with marble countertops, custom cabinetry and high-performance appliances. (Of note is a shiny butler's kitchen that smartly adjoins both the ocean-facing dining area and a sedate, more formal dining room.)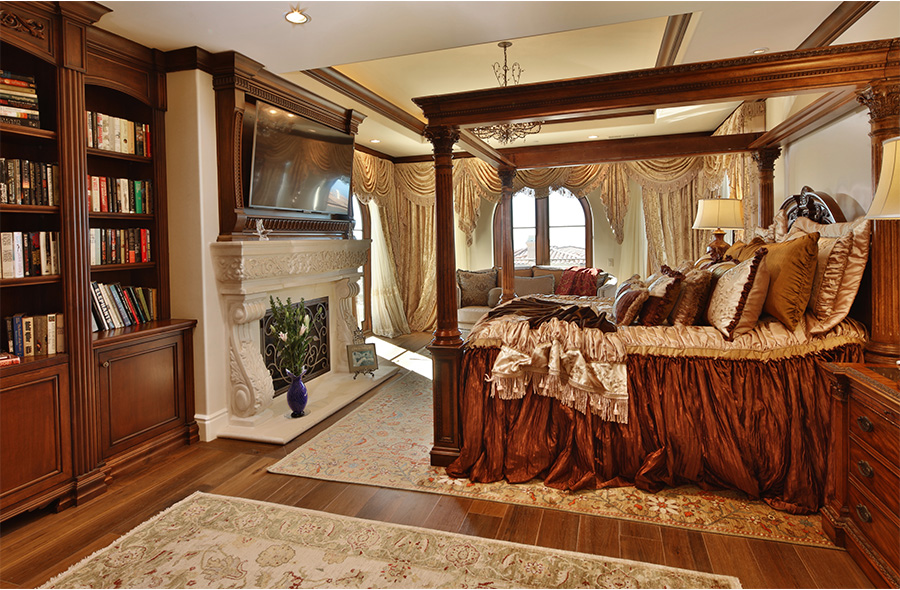 The coup of the home's design is in its ability to provide a bona fide mood of traditional elegance while never coming off as cold or impersonal. Its classic credentials are everywhere—from the formal library and the dining room to the glistening crystal chandeliers, carved limestone fireplace and elaborate, wrought iron balconies and window features—yet the home feels remarkably cozy and welcoming throughout.
This has much to do with the comfortable scale of the rooms, open and sun-sprawled, as it does with the consistent rendering of classically luxurious decor and furnishings— all are included in the home, which is nice since the sumptuous furniture, antique rugs and jewel-hued drapes only amplify the dignified atmosphere of the place.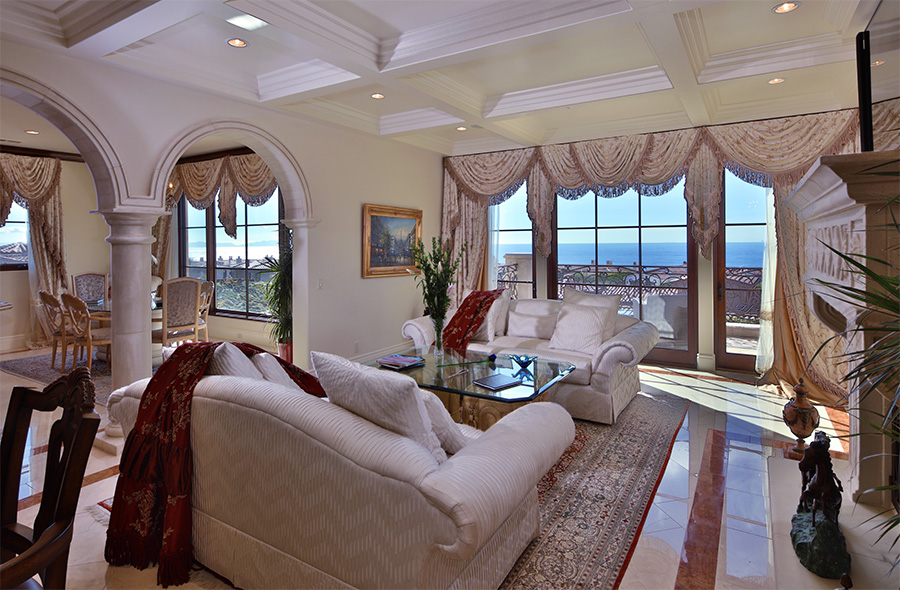 The home's close proximity to the ocean plays its part, too. Framing the home at every turn, the uplifting panorama of blue water against sunlit skies is a tonic for the senses, and it lingers everywhere; peeking through the home's oversized windows, and streaming along its graceful balconies.
Raju Chhabria | Shorewood Realtors
List Price $9,999,999
For more information, visit 67delaluz.com
Photography by Paul Jonason