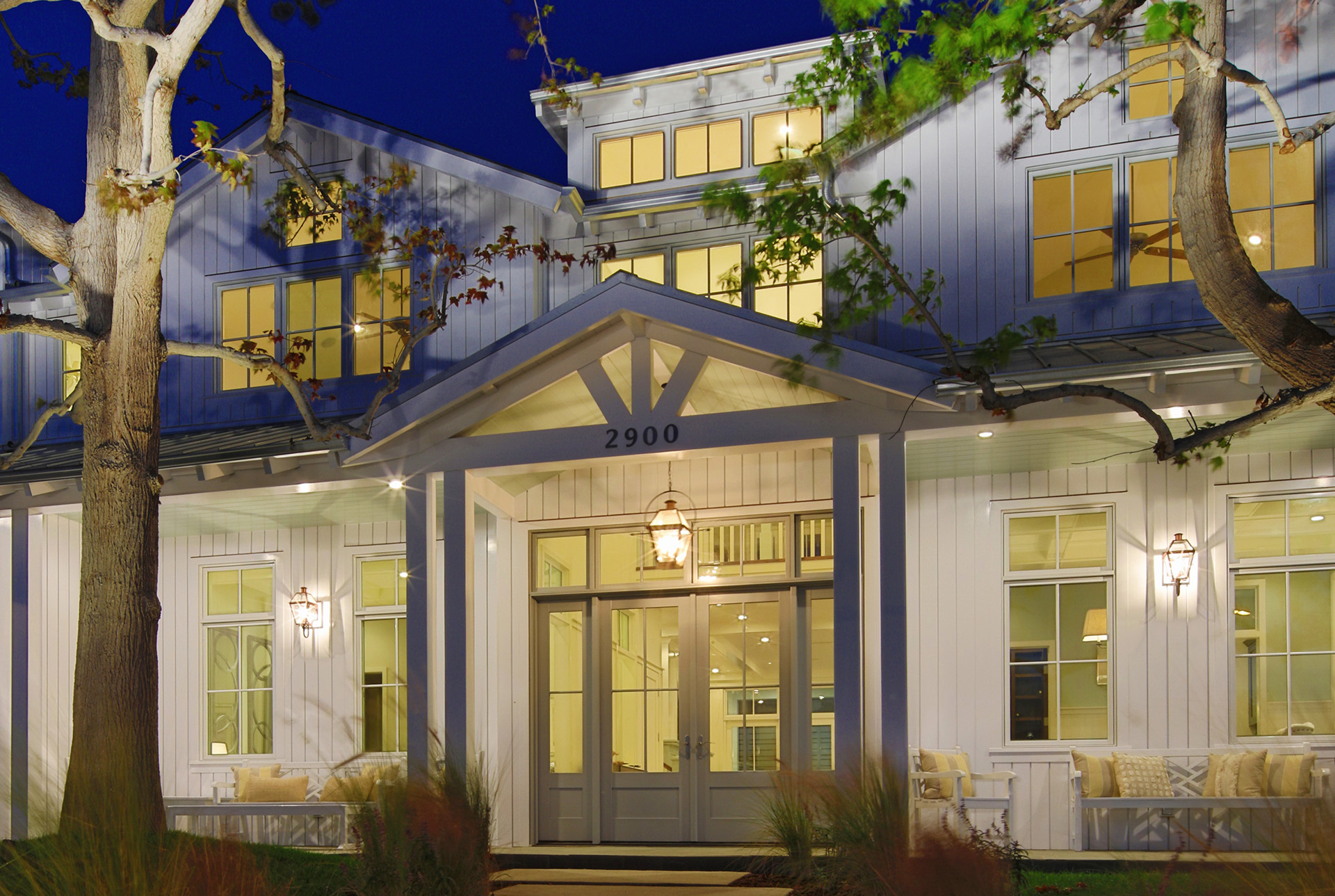 2900 Ardmore A Fresh Take on the Modern Farmhouse in Manhattan Beach
The lovely manicured front yard is quite expansive, providing space for a quintessential front porch that runs the length of the 4463-square-foot home. Considering the well-timed opening of The Point, close proximity to Manhattan Beach Country Club, and renovation plans for Manhattan Village, this pedestrian-friendly property combines the feeling of downtown living with the tranquility and breadth of a tree section location.
Sitting on a 7500-square-foot lot, the home is high priority among discerning buyers, with two stories, five bedrooms, a yard, plus a pool and Jacuzzi. Upon entering the home, its sheer volume is evident via an infinite sense of space. Ceilings soar to 26 feet with windows climbing the full height of the wall. Credit the profuse light to transom windows installed above all outer windows and inner doorways on the first floor, as well as colossal French doors throughout.
"The theme for the house was to build upon the juxtaposition of traditional farmhouse elements while blending them with the modern contemporary home," explains builder Matt Armato of Titan & Co.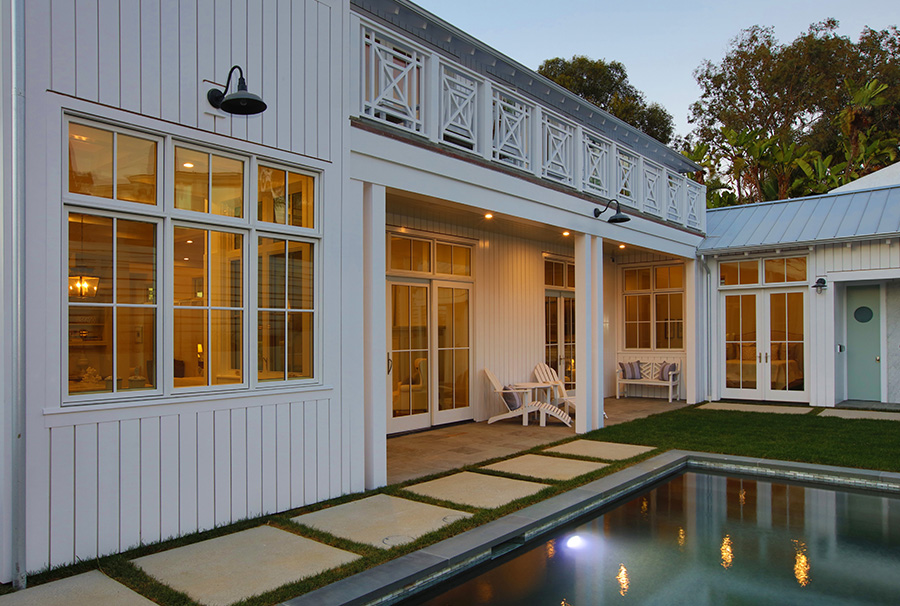 A perfect example of this combination is the European distressed wide plank oak flooring arranged in a herringbone pattern, representing traditional style, with hardware and cleaner moldings promoting a modern aesthetic. 
Equally notable are carefully selected colors; soft contemporary Benjamin Moore paints in classic white; soft, greenish-blue Sea Glass, and for cabinetry, Morning Dew. While tempered blues and greens add to the overall serenity of the home, white and ecru tones lay a minimalist foundation that highlights its special features. The culmination of these themes brings forth a comforting and revitalizing sensibility.
Clearly, this residence benefits from impeccable planning by architect Dave Watson, with a floor plan that carefully balances openness and separation. After ambling through the foyer into the large family room with a grand Carrara marble fireplace, open kitchen and breakfast nook, a hallway lead from the living room to guest quarters, along the way passing a lovely pair of sea-glass blue barn doors that slide open and close off the large den. This flexible space also opens to the backyard through French doors, thus creating the option of having an enclosed television room with built-in surround sound for a home theater feeling, or a huge open playroom for kids to bounce to and from the grassy lawn.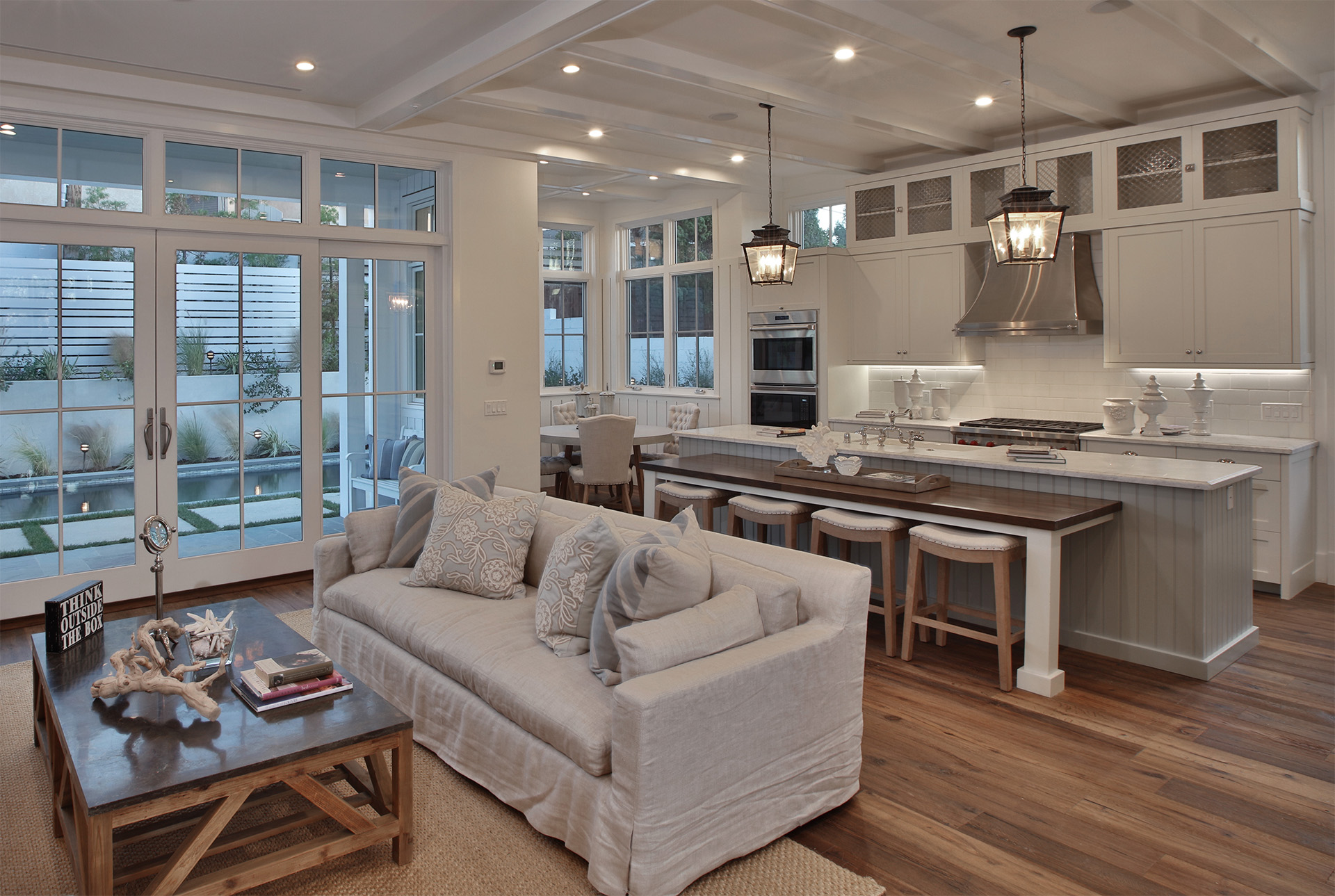 Uniquely, especially given today's focus on the open concept, this home reflects the growing desire for residences with intimate spaces. Adding privacy are the home's windows, which are strategically placed to conceal the sights and sounds of Ardmore from any level or angle. The exception is its two front rooms, which create a sort of buffer between the street and the back of the home, where life takes place.
Enhancing the home's uniqueness are its details. Individually inspired Carrara marble designs, like that which is used for the aforementioned monumental fireplace, are featured throughout, for flooring and countertops in the kitchen and baths.
Comparatively, white subway tiles of differing format and sizes are used in each bath for fluidity and fluctuation. In the kitchen, a built-in farm table was installed in lieu of the typical high bar for a true farm-kitchen feeling. The adjacent breakfast nook, which is surrounded by large, high-rising windows, imparts a feeling of dining outside.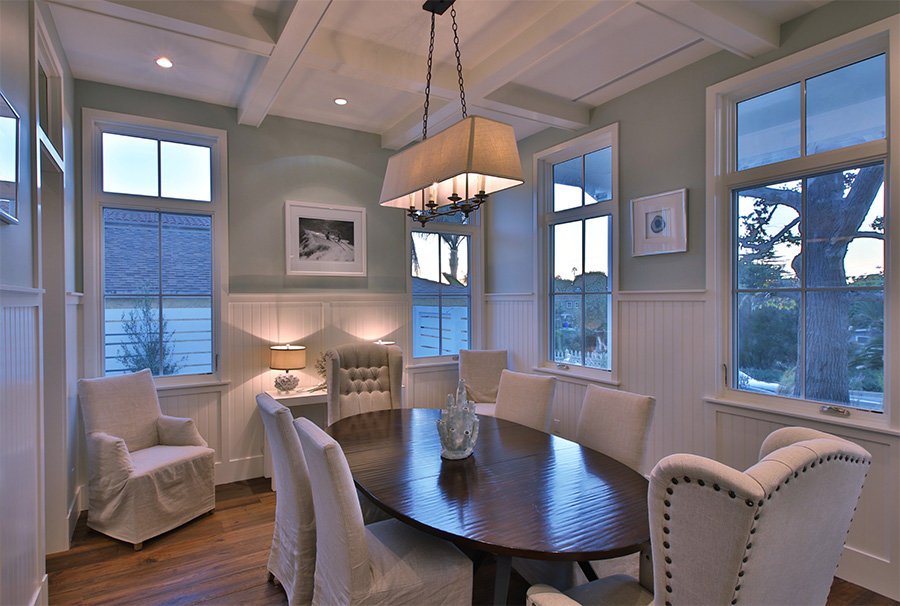 Noteworthy custom wainscoting draws attention, as do intriguing cabinets with mesh paneling reminiscent of chicken wire, done in an upscale fashion. For the entertainer, a large butler pantry with an authentic farmhouse design, plus its own walk-in pantry, is meticulously placed between the kitchen and formal dining room. The more traditionally detailed dining room houses a tailor-made built-in wine cellar for easy access during dinner parties.
Moving up to the large open landing, the bedroom layout is consistent with an open floor plan, but with hallways and linen closets separating spaces. All bedrooms include walk-in closets, private bathrooms and hardwood floors, with most featuring vaulted ceilings. The master suite is separated from the other bedrooms and craft room by a loft area with built-in cabinetry and a large balcony; ideal for an open homework area, office or TV room.
After passing through the master's small foyer, the ceilings impressively climb to where they overlook beautiful maple trees that help reinforce the home's contemporary farmhouse style, transporting one to another place. The enormous closet, meanwhile, has carefully appointed built-in dressers; separate his-and-her walk-in closets, and a window seat for easy dressing. The master bath is dreamy with a freestanding soaker tub, polished chrome plumbing fixtures, faucets and hardware.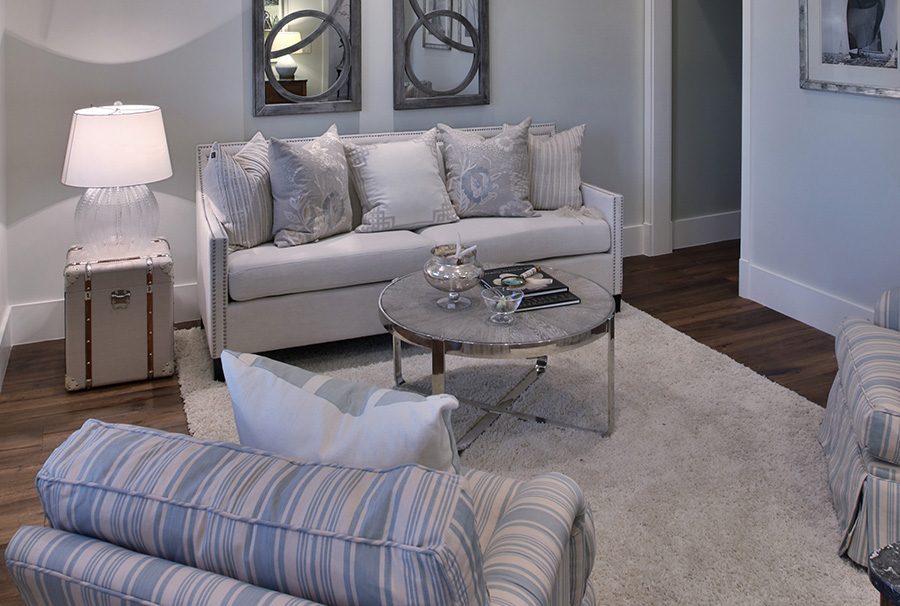 The peaceful backyard is a lovely retreat with a large salt-water pool and Jacuzzi. Furthermore, the entire backside of the home opens up to an extensive wrap-around deck adorned with Pennsylvania blue stone and vintage-inspired light fixtures. Similarly, there's a carry-over from the color scheme with white glass tiles and blue stonework in the pool area. The pebble tech pool surface is a deeper blue that better retains heat and evokes the Mediterranean Sea. Beautiful landscaping and bright green grass surround the pool and scads of deck space. Equally impressive, the marble outdoor shower and powder room make for perfect pool companions.
The home's details and selling points are vast. While offering the opportunity for a revitalizing lifestyle with a sparkling pool, invigorating design and pedestrian capabilities, this fresh-take modern farmhouse is a must-see. By the same token, Matt Armato concludes,
"The house is flexible and intentionally created to be a pliable home that a family would never outgrow. It is a home where you can blend living casually and entertaining formally together."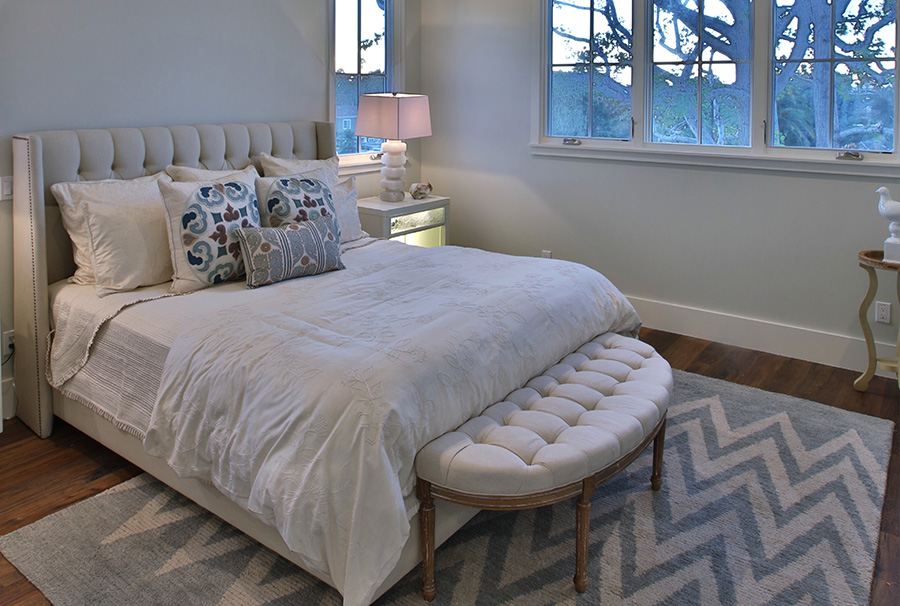 From all perspectives, the builder has not missed a beat in creating a model Manhattan Beach lifestyle home.
Randi and Stewart Fournier
Fournier & Fournier/MRG, INC.
List price $4,449,000
Photography by Paul Jonason