Location, location, location goes the real estate mantra when looking for a home to purchase. In this case, one in the sweet spot of walkability, with access to everything a family could want—the beach and hiking trails, tennis courts and gyms, small specialty shops, large supermarkets and a weekly farmers' market, movie theaters and schools, cafes and restaurants, and the spectacular, new Palisades Village.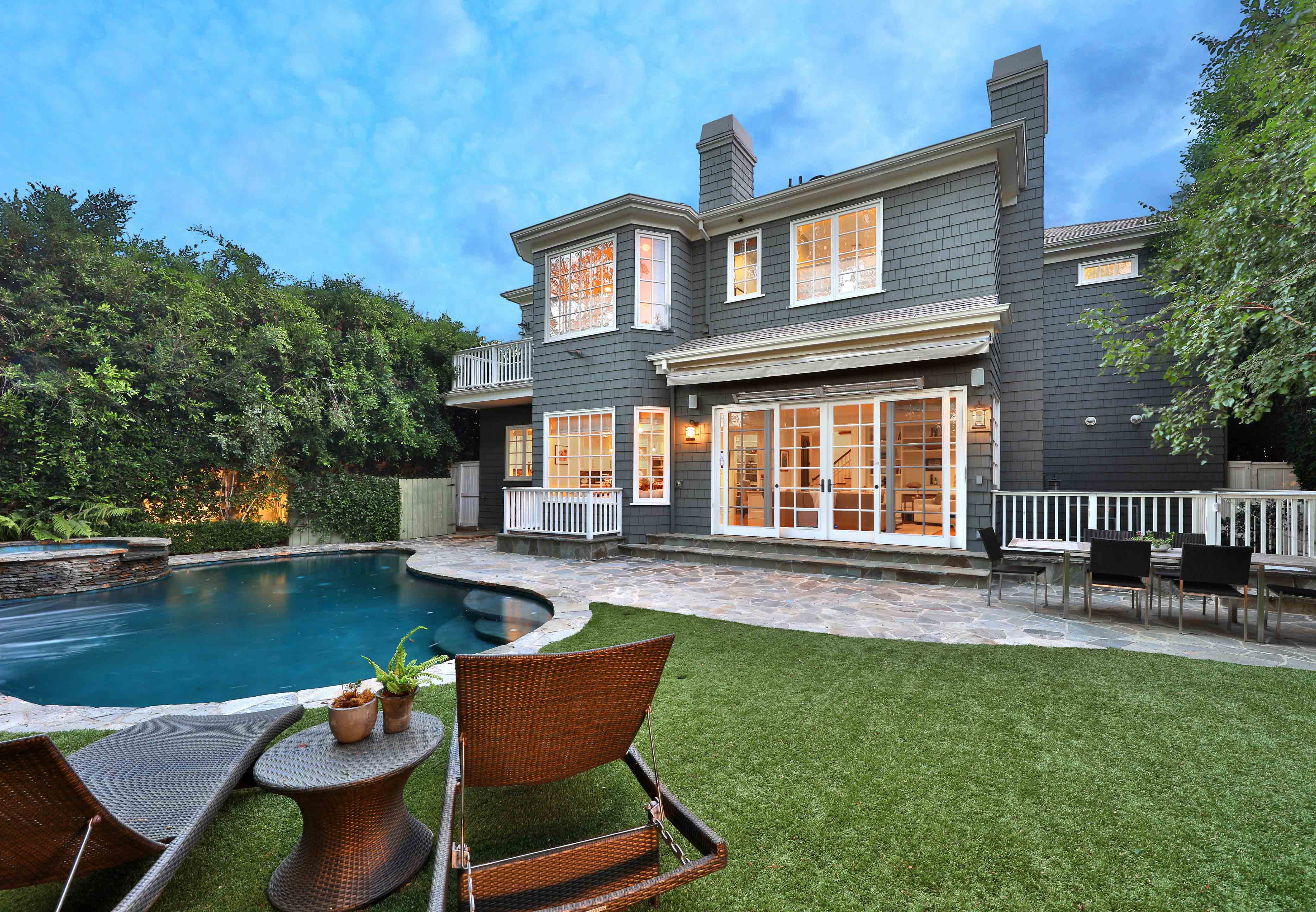 All help to make the beautiful single family home at 825 Alma Real Drive, which has a pool and resides in one of Los Angeles' most coveted neighborhoods, hard to beat—and that's before one steps inside to find a beautiful, well-balanced interior. The home's picture-perfect setting is worthy of a Nancy Myers movie—think dark gray shingles, large white-framed windows and glossy red front door—is encircled by a lush green hedge and punctuated by a matching gray gate between two stacked stone pillars.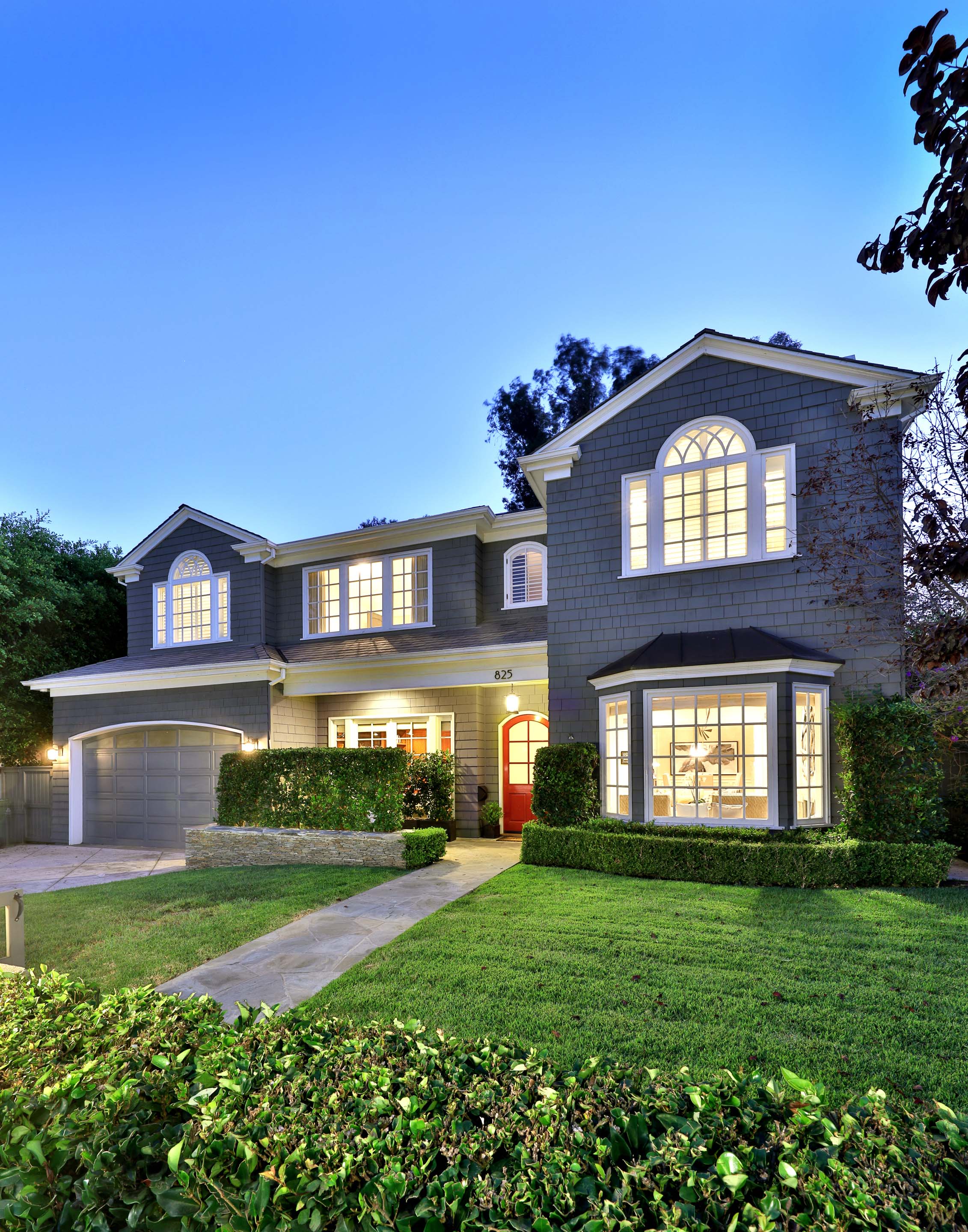 As much as the location is of paramount importance, so too is the visual connection between rooms. It is the elusive element that makes a home inviting. It's not enough that a residence is large and that its rooms are generously proportioned (at 6,300 square feet, the six bedrooms in this well-sized home are quite capacious), it must be able to easily and comfortably contain all the activities of a modern family's busy and varied life: children's pool parties and raucous Super Bowl Sundays, the space in which to host both Thanksgiving for family and over a dozen friends for a quiet business dinner. And it must support the ebb and flow between solitude and togetherness—pubic and private space—that allows a family to co-exist in peace and harmony.
This house has these qualities in spades, beginning with the small den off the front door. A solitary retreat just outside the circle of interconnected rooms that make up the rest of the main floor, it's perfect for a houseguest who can quietly slip in and out without disturbing the other occupants (there's a full bath on this floor for his or her comfort).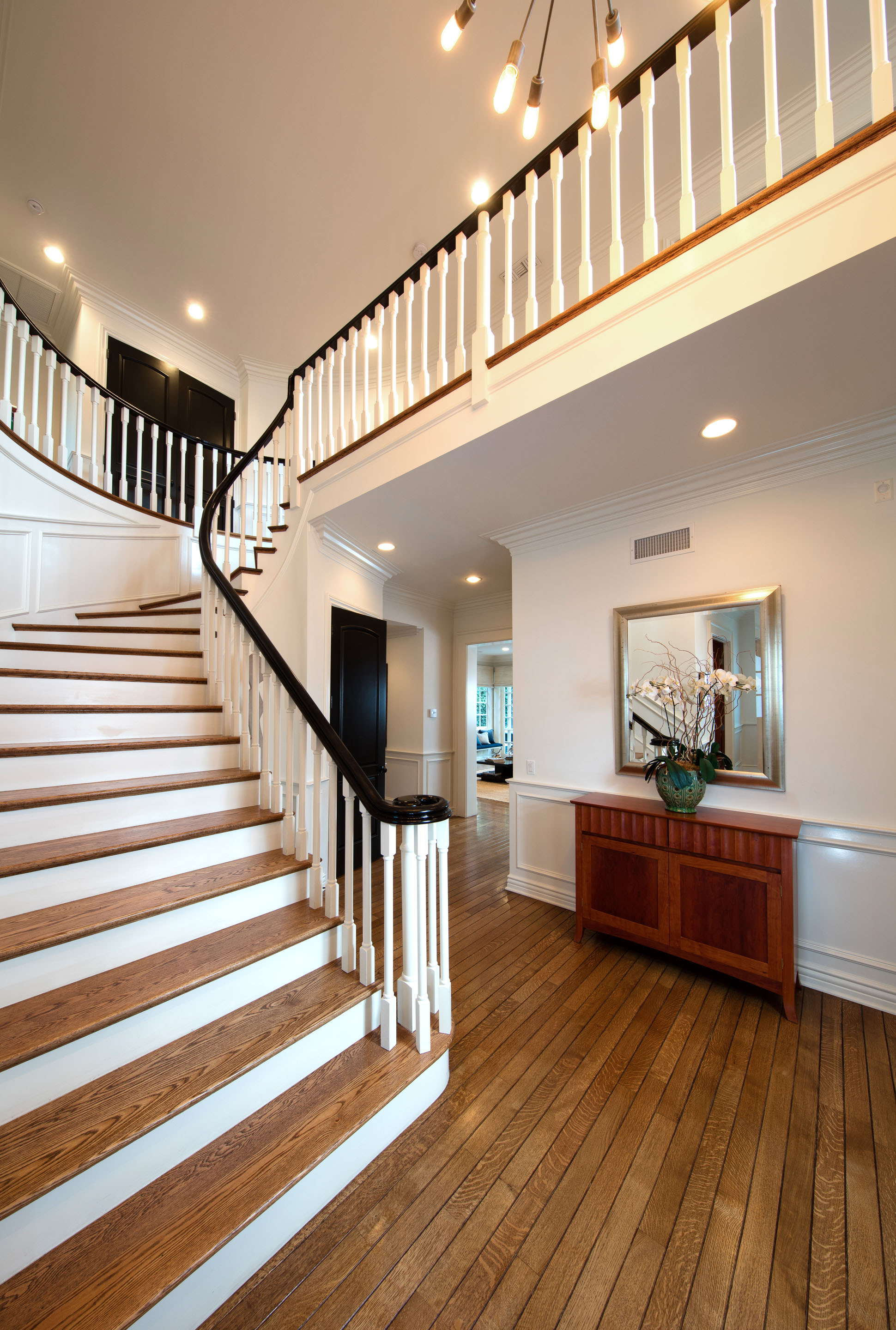 More importantly, these days, when working at home is more commonplace, its view over the street action as well as its position within earshot of the rest of the house makes for an ideal office.
Located directly across from the formal living room, one can conduct business meetings without worry of family interference. Should the discussion run through lunch—or dinner—participants can adjourn to the adjacent dining room. While this space is within view of the kitchen, it's not quite open to it, giving it an air of formality, when the occasion calls.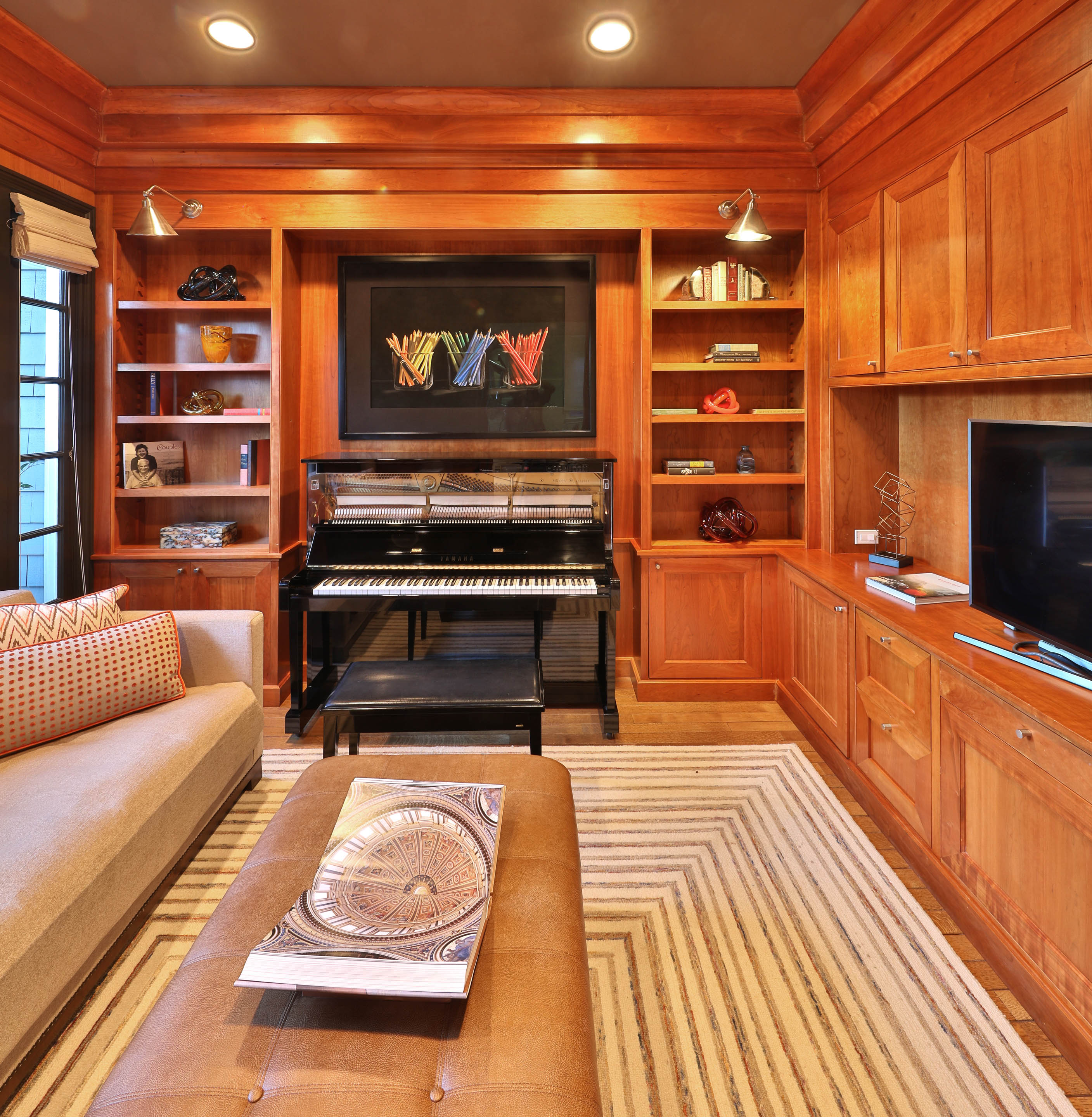 The choreography of the first floor, which links individual rooms into a perfect chain of interrelated spaces, also supports the casual rhythm of daily life. There's the large open plan kitchen that embraces the family room and overlooks the backyard and the pool. With its large central island and state-of-the-art appliances, it easily hosts the numerous tasks a kitchen is called on to perform: the chaos of weekday mornings; the endless parade of teenager trips to and from the refrigerator; the inevitable gathering of friends and family during dinner prep.
Its seamless integration with the family room, with its stacked stone fireplace, allows both rooms to work in harmony. The backyard, accessed via multi-paned sliding glass doors, runs the length of both rooms. With its pool, waterfall and fire pit beckoning, this space is an exemplary example of Southern California's legendary indoor-outdoor lifestyle.
Here children can play while their parents prepare dinner and catch up on the day; party guests can find space for a tete a tete without wandering away from the main rooms; a hired chef can perform his magic near friends yet still at a distance from the dining table. Winter or summer, this is truly the strong beating heart of the home. Its well-considered sightlines, which visually connect every room on this level, is a boon, whether one is hosting a large party or relaxing with family. It is a reminder that connection is what makes a great home.
In cooler weather, a gathering can head for the basement whose large, light-filled central room, with its high ceilings and munificent proportions, can easily fit a pool table as well as a generous sectional. With two bedrooms and two bathrooms on this floor, as well as its own separate entrance, via a spiral staircase, this level makes it easy for one to be generous with sleepover invitations. The home's muscles are also on this floor, from a gym to a laundry room. (There's also space for a concealed washer-dryer on the top floor.)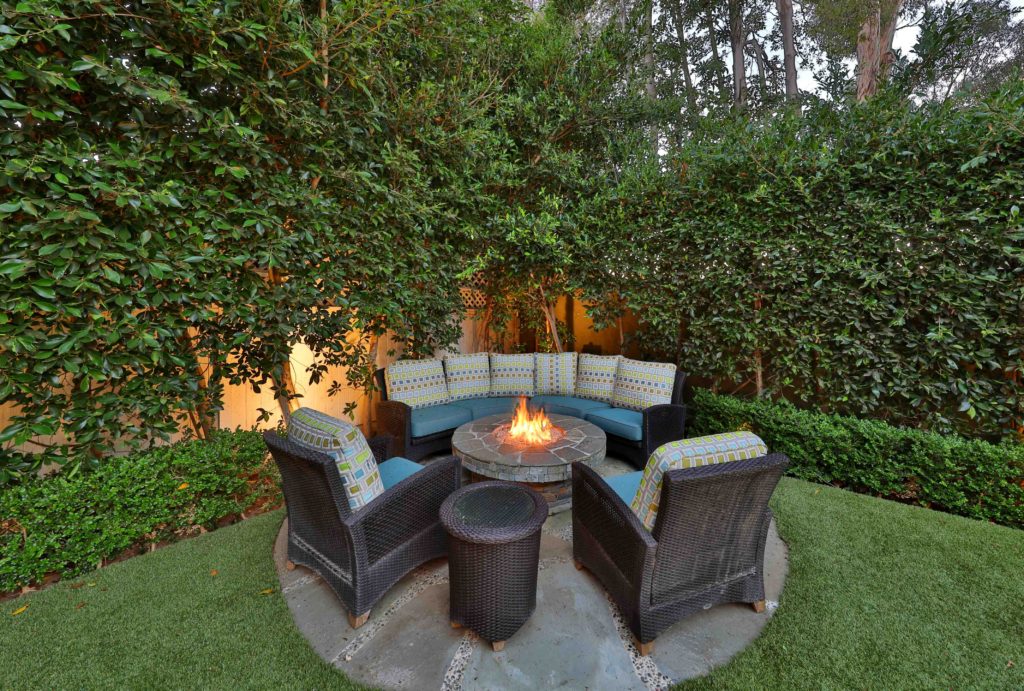 The four upstairs bedrooms echo the details that underscore this home's beauty and substantiality—crown moldings, solid doors, and considered proportions. Peaked ceilings amplify the well-designed rooms, plantation shutters are beautiful and practical, closets and bathrooms are spacious (the master bedroom's walk-in closet is a room unto itself), and balconies, off the master and the landing on this floor, provide vantage points from which to survey the beauty of the surrounding neighborhood. For neighborhood—and the value of connection, family, and friends that it implies—is the very core of this home.
Many homes are beautiful. Many homes are well-suited. But finding all desirable attributes in one package? There simply is no place like this home.
PRESENTED BY
ANTHONY MARGULEAS OF AMALFI ESTATES | 310.293.9280
LIST PRICE $6,595,000
PHOTOGRAPHS BY PAUL JONASON