The Manhattan Beach Festival of Motoring Will See

Local Youths Rally Together Over Cars on Saturday, April 25th
In 2014, teenage car aficionados Connor Wohl and Aidan Nesicolaci, fresh from establishing classic car clubs at their schools, decided to showcase some of South Bay's most standout vehicles at their very own Concours D' Elegance in Manhattan Beach.
The result, produced by about 35 student car club members, was an impressive showing of exotic, classic cars and a tidy sum raised for the car clubs at Mira Costa High School in Manhattan Beach and Da Vinci School, a charter school located in Hawthorne.
"Some of the best cars came to our first show," recounts co-founder Connor Wohl, citing a Porsche 934 racecar and a Shelby AC Cobra 289 that were among the lineup. "What an honor."
"Last year was a great success," says Connor's dad Todd Wohl. "We had about 80 cars of all shapes and sizes, from Mustangs and McLarens to Mercedes and racing cars. Model years ranged from the 1930s to present-day exotics."
The young car enthusiasts' second annual event, Manhattan Beach Festival of Motoring, is just around the bend. On Saturday, April 25th, a slew of exotic and classic cars, including a Porsche 918 Spyder, a hybrid supercar with a million-dollar price tag, and a Porsche 911 GT3 RS, will post up at Mira Costa High School from 11 a.m. to 2 p.m.
Admission is free, though donations to the student car clubs are accepted. Food trucks and music will be part of the festivities, and attendees can pay $15 to ride in select cars.
"The purpose of the Manhattan Beach Festival of Motoring is to create an event that's community-driven and includes kids," says the senior Wohl.
"What car people of all ages enjoy is having the young kids come into the hobby, because as cars age, what happens to their owners? They age, too. Eventually, older cars fade away as their owners pass on. How many people like Model Ts? Not many."
The event is not limited to sleek supercars or showroom vintage models either. "We changed the name of the event to the Festival of Motoring because it's more in line with people bringing their cars to the event, enjoying themselves and not worrying about their car's condition," explains Todd Wohl.
"Motoring means 'whatever you drive.' We want the world to know that you can bring whatever car you're in love with. Whatever drives your passion."
What are the event's founders looking forward to at this year's event? "Continuing our success from last year," says Connor Wohl. "Getting more great cars and making this a South Bay event for years to come, and something that my brother Zachary, who is in sixth grade, can take over."
"The art of this is taking the older cars and bringing the youth into it, and showing them not just what a new Mini Cooper or the latest Ferrari is like, but what a 1965 Mustang is like, or a 1930s hot rod," says the senior Wohl.
As a testament to the power of cars to link not just communities, but generations, when co-founder Connor Wohl is asked what inspired him to produce the Festival of Motoring, he points to his father. "He and I spend time together driving in his cars," says Connor. "I think it's really cool to talk about cars."
"He's been exposed to a wide range of cars," notes the senior Wohl. "He got the car bug from me."
And where did Mr. Wohl get the car bug?
"That's easy," he answers. "My dad."
Interested in having your car participate in this year's Festival of Motoring? Visit MBFestivalofMotoring.com or email a photograph of your car, along with its make and model, to mbconcours1@gmail.com by the deadline of Tuesday, April 21st.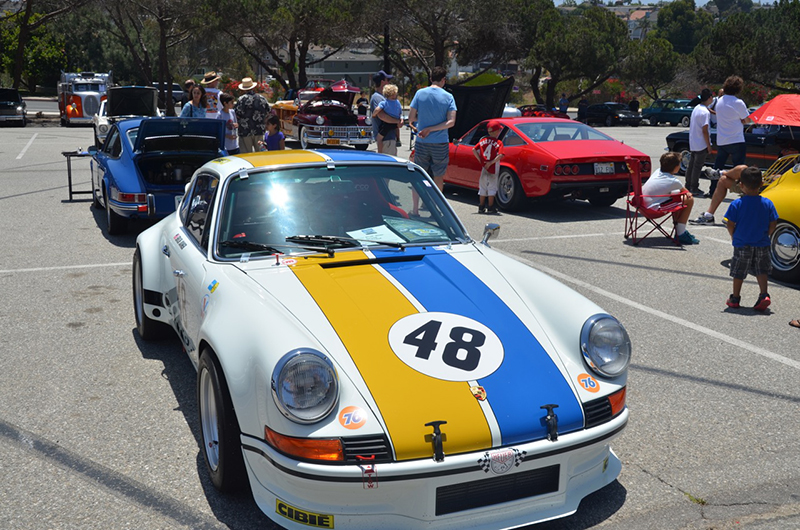 Manhattan Beach Festival of Motoring
MBFestivalofMotoring.com | Saturday, April 25, 2015 | 11 a.m. to 2 p.m.
Mira Costa High School, Artesia Boulevard and Peck Avenue | Free, but donations are accepted
Photos courtesy of Manhattan Beach Festival of Motoring