Louis Jonas Salk founded the Salk Institute—a private, nonprofit biomedical research facility on a bluff overlooking the Pacific Coast, completed in 1965— less than a decade after he discovered the vaccine for polio, is not a surprise. He was a brilliant man. Extraordinary was Salk's aesthetic investment, his insistence that the building created be "worthy of a visit by Picasso."
For this Salk needed an architect and an artist. In 20th-century icon Louis Kahn, he got both. Kahn's vision for the project was, like all his architecture, monumental.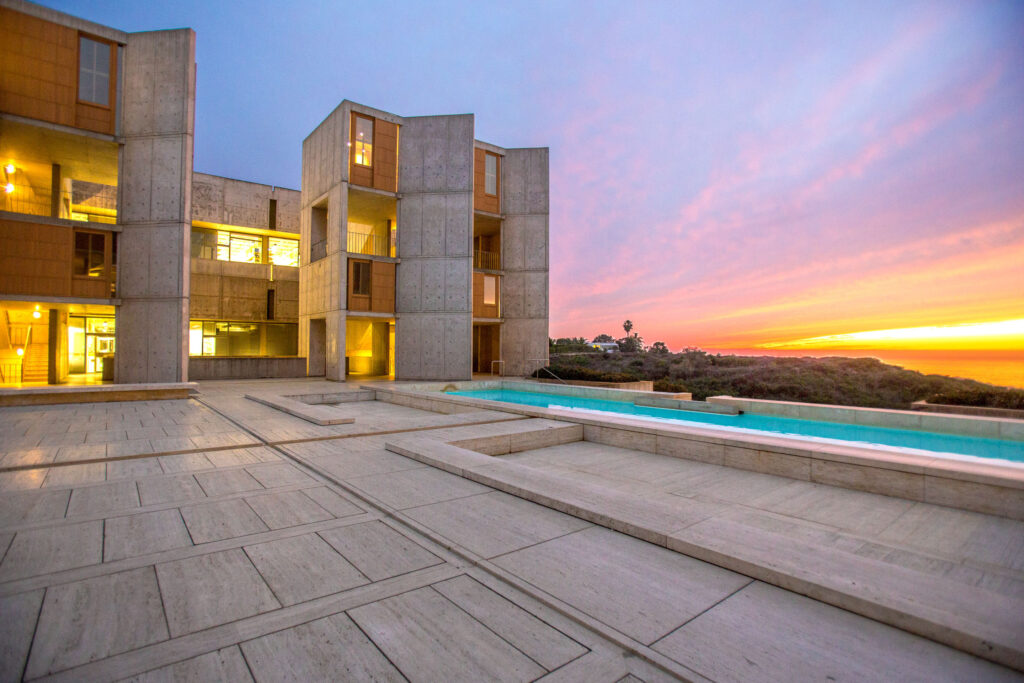 Practical and spiritually inspiring, with a visual characteristic that considered classical, modern and metaphysical influences, his design expresses a near monastic sense of order mixed with raw materials from concrete and glass to the teak used for the Institute's signature wood wall assemblies used to foster a contemplative effect that encouraged scientists to consider bigger questions away from the laboratories.
Separating two symmetrical buildings is a travertine marble courtyard with a single water feature. As one enters this space from the east gate, as Salk and Kahn intended, they are forced to confront the sun moving across the sky.
In a video produced by the Salk Institute, the complex is characterized as a "cathedral" to study, with curiosity a central tenet of scientific discovery. The courtyard might have been very different had Kahn not consulted his contemporary, Mexican architect Luis Barragan, who is said to have suggested the space be left plain.
At this suggestion, notes Salk Institute neuroscientist Tom Albright, "Jonas and Louis Kahn saw his vision and agreed." To occupy the open space is to stand on a bridge between art and science.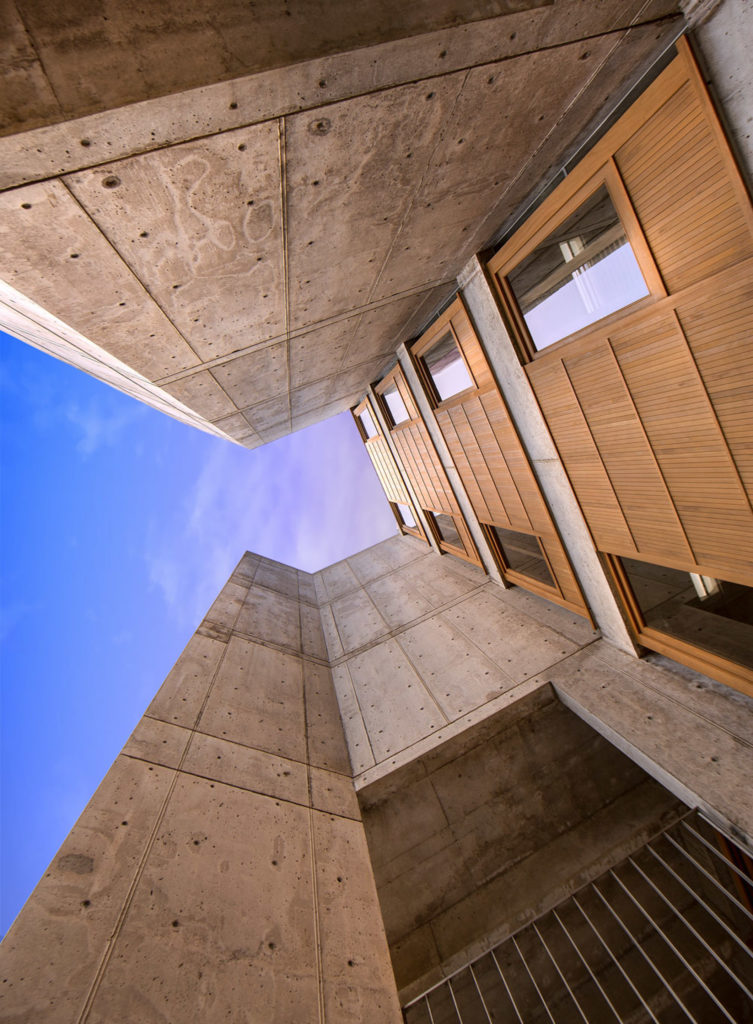 "I think that was Jonas's intent," says Albright, whose research concerns the relationship between the brain and the built environment, and knew Salk as someone deeply invested in scientific literacy.
"He was a very genuine person and someone who thought deeply between research and society," shares Albright. " That really is how he came to be a celebrity, a hero in American life; he took science and developed essentially an invention that changed the course of human civilization in the 20th century. He spent a good part of the rest part of his life stressing the fact that science is incredibly important for the way we live, and improving the way we live."
Salk Institute is a fitting tribute to its namesake—one of the greatest buildings in the world housing one of the best biomedical research institutes in the world.
Perhaps its best endorsement is that not even a scientist can quantify the depth of what makes it special. "I get so engrossed in my computer screen that I forget there's this extraordinary place out there—the setting, the building itself." But periodically, he adds, it hits him. He could be anywhere, but he's here.
"It's a funny experience, because I come here every day and I have a lot of things on my mind," says Albright, while sitting in his office, the Pacific Ocean just left of his computer.
"It's a very hard thing to characterize . . . but I'm absolutely convinced there's something about [what] architects call spirit of place. This place has a spirit." And plenty of support, with Salk Institute hosting architectural tours and trying to build a conservation endowment.
"We have a responsibility," says Albright. "We're the curators of the Salk Institute and it's very important for posterity that we preserve this place in this state that it's currently in; the state intended by Kahn and Jonas.
" In recent years this meant renovating the building's weather-beaten original teak. "It was a huge financial investment for us," admits Albright, "but again, its part of our commitment to conserve the institute for the future." This is invaluable. salk.edu
PHOTOGRAPHS: COURTESY OF THE SALK INSTITUTE