Italia Inspirato
Toscana Restaurant Group brings a touch of the Amalfi Coast to L.A. with Nerano
"The setting is stylish yet casual, and the service is impeccable," says Andy Brandon-Gordon of Toscana, which opened the Beverly Hills restaurant in mid-November, the fourth in its line of establishments including Toscana and Bar Toscana (Brentwood), and S.Y. Kitchen (Santa Ynez Valley). "One feels that they are part of the 'club' when they dine here. We make each guest feel welcome, and our servers know how to read a guest and make suggestions—whether they are regulars or there for the first time."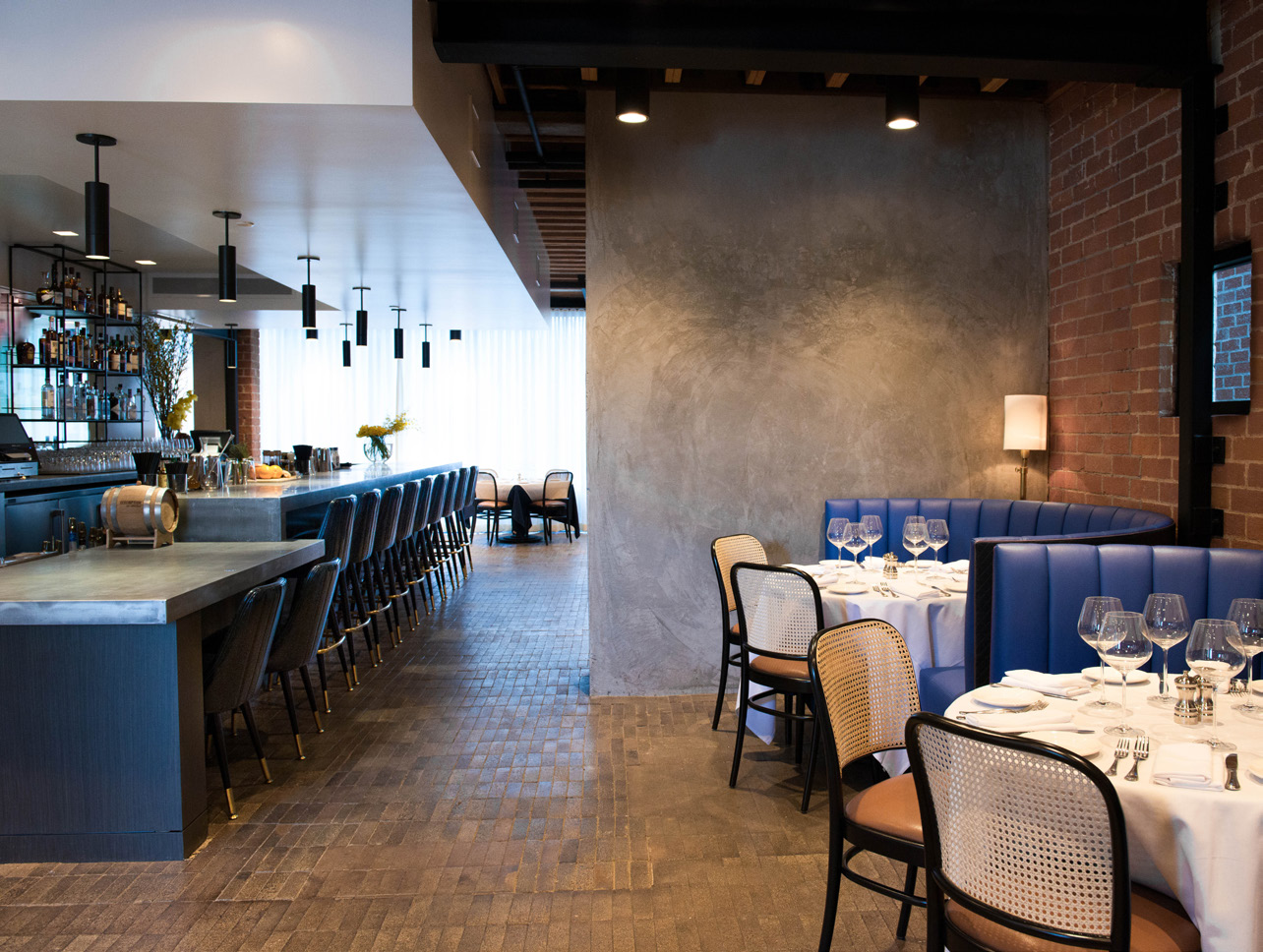 Found in a 4,000-square-foot, 1950s building—adjacent to The Peninsula and Waldorf Astoria hotels, and luxury residential tower Ten Thousand—the Belzberg Architect Group-designed restaurant features a duo of alluring environments on two levels. Think a 75-seat downstairs dining area and full bar, combined with the sleek BG Lounge upstairs offering a complete bar and dining for 40.
Guests enter via a brick alleyway that has been transformed into a stunning courtyard by Rios Clementi Hale Studios, complete with gleaming beacons crafted from hand-blown glass floats (traditionally tied to fishing nets) beneath wooden benches that lead to the restaurant's main entry, along with a brick wall that has been sandblasted to reveal a full moon rising from a bubbling fountain, a carpet of smooth beach pebbles and hanging vines. Inside, sexy and sophisticated Tim Clarke-crafted interiors are highlighted by curvy banquette seating, sofas and sculptural bar seats resting atop narrow, tapered legs; a glass-enclosed display kitchen; colorful pops of vintage Ferrari red and navy blue; custom lighting; and artwork by notable and contemporary artists.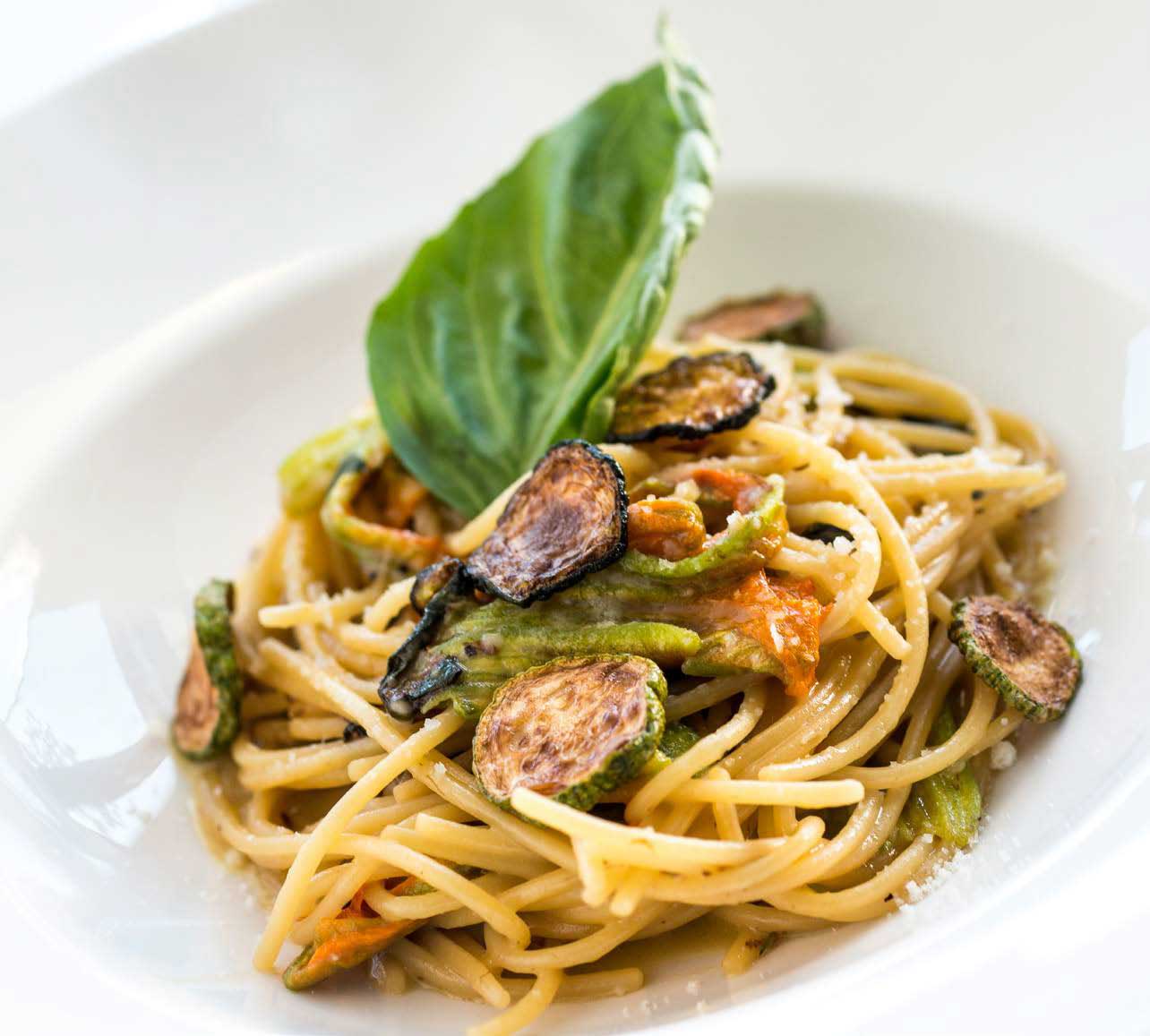 As for the culinary offerings, Executive Chef Michele Lisi currently is serving up a light yet satisfying fall menu rife with California and imported Italian ingredients. Among the favorites: Lisi's version of the classic Spaghetti alla Nerano (the signature pasta
found in many restaurants in this Italian coastal village) made with sautéed zucchini, squash blossoms, provolone and basil, along with four varieties of pizza roasted at more than 600 degrees in a Forno Classico wood-burning brick oven and an indulgent white truffle menu available through the end of the year.
Also not to be missed is more than 200 selections of Amalfi, classic Italian and California wines curated by sommelier Samantha Johnson, as well as an array of contemporary classic cocktails. One of the most popular: the Nerano Negroni Blanco, an authentic Italian masterpiece created in 1919 by Count Camillo Negroni at Caffe' Casoni in Firenze featuring a modern twist of Plymouth Gin, Luxardo Bitter Bianco liqueur and aromatic Cocchi Americano wine.
"We appeal to wide demographic—people in the entertainment business, local residents, travelers based in Beverly Hills and aficionados of our style of cuisine," says Andy. "And we have a group of customers who love to come to our bars—downstairs and upstairs in the BG Lounge—to enjoy our Italian-style craft cocktails in a sumptuous setting."
NERANO
9960 Santa Monica Boulevard
Beverly Hills, CA 90212
301.405.0155 | NERANOBH.COM
Related Post
Come one, Come all to Catalina Coffee Company In 1999, Jeff Sallee and his mother, Ellen Brown, set up their coffee shop in a building along...
South-of-the-border style and tastes to savor comes to Santa Monica with Tallula's A favorite childhood haunt in Santa Monica's Rustic C...
A new mobile bar service is bringing the party to L.A. doorsteps About four years ago, California restaurant and bar entrepreneur Greg Medow...