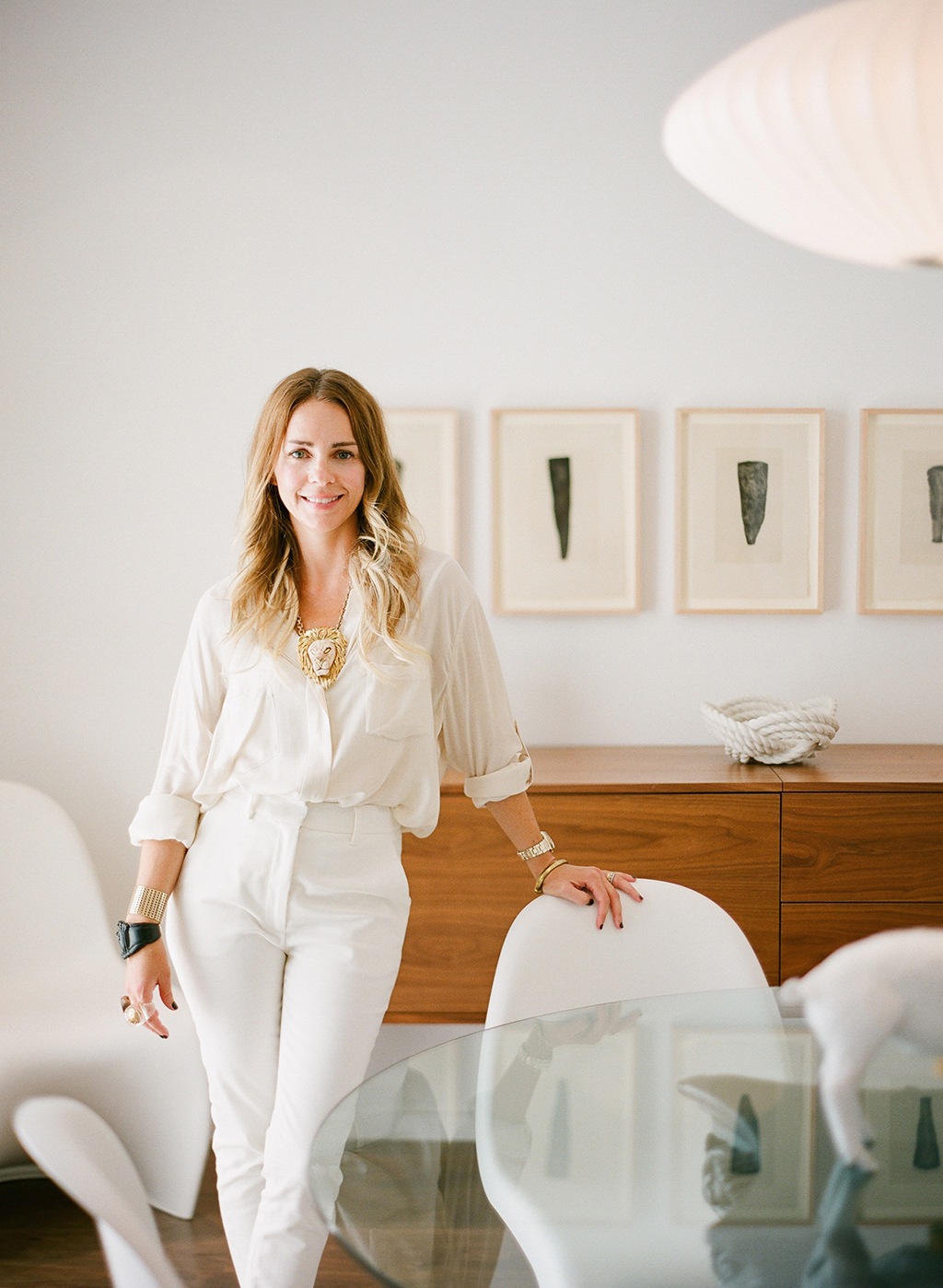 Interior Designer Tamara Kaye-Honey taps her own instincts to conjure truly mesmerizing designs
"I was doing people's houses and pretending I knew what I was doing. Of course, I'd gone to design school so I had the basics, but I didn't have any subcontractors or any resources out here," says interior designer Tamara Kaye-Honey, describing her early industry forays.
It's clear that the fearlessness apparent in her work isn't an act,but an integral part of who she is.
Witness her first big break, which took place while she was having her hair done. "The owner of the salon said 'I'm going to redo the space and we're going to hire a big design firm and this is what we're going to do. What do you think?'" Kaye-Honey had a different vision and proceeded to explain.
"I remember walking around with the foils in my hair and showing him." She was hired. That strong sense of conviction, coupled with curiosity and adventurousness, has steered Kaye-Honey, in a little bit over a decade, from a career in fashion as a buyer for Bergdorf Goodman in New York, to a place on magazine interior design hot lists. Though Lonny christened her style "New Vintage," she's less driven by a theme than by a sense of story.
"I let the architectural elements guide what the rooms wanted to be," she recalls, referring to a house, featured in a recent issue of California Home + Design, that she conjured up for a family in Altadena.
Originally designed by Reginald Johnson, who also did The Biltmore, in Santa Barbara, the sprawling 13,000-square-foot estate, built in 1915, might have intimidated another designer.
Not Kaye-Honey. Seeing past its size, its dark wood paneling and its history, she transformed the home into a space that is at once stately and inviting. Modern and vintage, high and low are swirled together in a seamless mix that renders the house comfortable and playful.
She's using those same instincts to steer her work on a mixed-use property in downtown Los Angeles' Arts District and a hotel in Santa Barbara.
"It's got a really interesting past and I'm going to use that to guide the design," she says of her plans  for the hotel.
The ability to trust her gut may be one reason why Kaye-Honey has endeared herself to some of the city's top chefs, who've turned to her to interpret their passions via design. Crossings in Pasadena, Providence in Hollywood and Otium, The Broad Museum's highly anticipated restaurant, have all been brushed with Kaye-Honey's rich yet approachable glamour. Her work on Providence, she recalls, began with a lot of meetings, often over meals.
"[Chef Michael Cimarusti] would cook for me and I would get to see his style and his passion in the food and that translated into the new design of the restaurant," a transformation that she orchestrated in under a month.
"I think we actually closed for only 11 days total," a Herculean feat that was wildly successful.
"When I did Crossings, I never thought that one restaurant would turn into an opportunity to do [Providence] and I love food and wine… so it was a natural extension and progression of my passions."
And, in the small world that is the restaurant business, it also opened the door to more opportunities.
"With Otium, as you can imagine, there are many people involved: a kitchen designer, Timothy Harrison, who does the most high-end kitchen designs in the world; two contractors; two architects; myself; and then [restaurateur Bill Chait's go-to design firm] Studio Unlimited.
So I've never really worked in this forum before but it's just great. I'm just going for it."
Working on Otium has also given her the chance to collaborate with the craftspeople she admires, like lighting designer Neptune Glassworks and furniture creator Chris Earle, to design custom pieces for the restaurant.
Though there are things she'd like to do in the future — "I'd love to do an airport lounge!" — for right now she's excited about the adventures unfolding right in front of her.
"We'll see where it goes. I think part of the fun is not knowing where it's going to take you." Wherever the journey leads, Kaye-Honey will always conjure up beautiful spaces.
House of Honey
1518 Mission Street, South Pasadena, CA 91030 — 626.441.2454
525 San Ysidro Road, Montecito, CA 93108 — 805.969.7444
HouseofHoney.com