Hi-Lo Liquor Liquid Culture
The traditional liquor store has never held much appeal. A low-margin, commoditized business, the prevailing impression it offers is that of a dark labyrinth of long, narrow aisles with dusty, disorganized shelves and an indiscriminate approach to inventory.
A place to run in and run out. Maybe leave the car running.
Not so at Hi-Lo Liquor.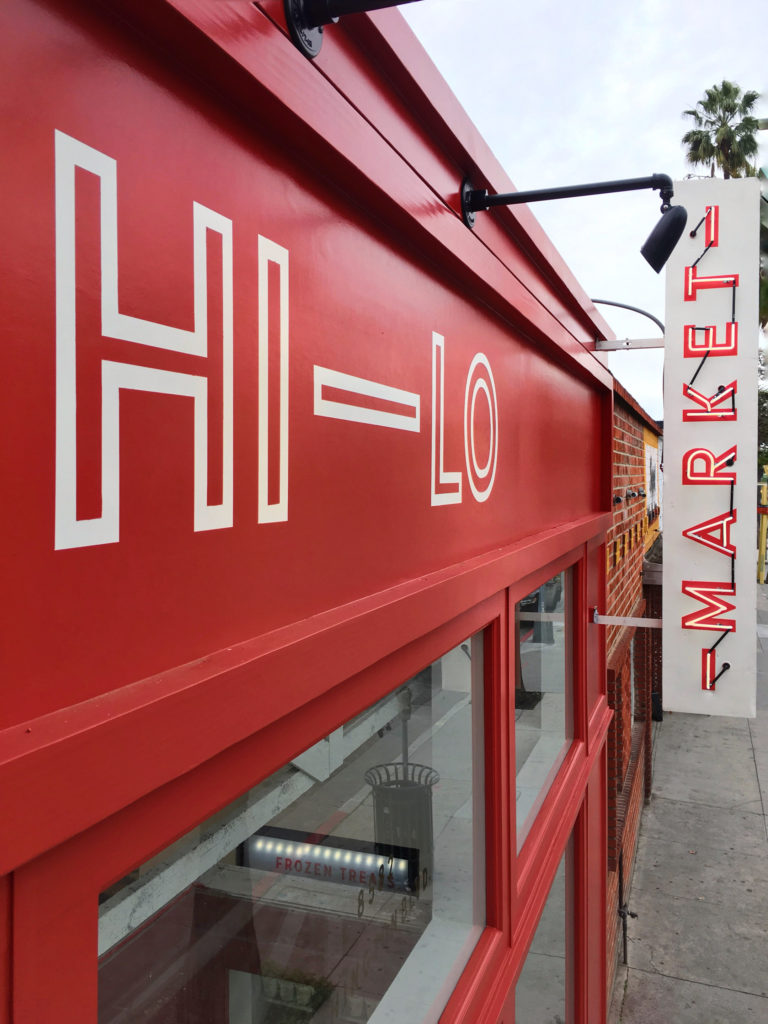 At the end of 2016, Hi-Lo Liquor became the new kid on the block in Culver City. It up-ended the liquor store stereotype as a clean, well-curated, cleverly branded space designed by L.A.-based collective Project M Plus.
The highly conceptualized store serves a spectrum of beer, wine and spirits, along with unique goods. The interior is unfussy and the storefront fun and Euro feeling. Hi-Lo is the opposite of just about every other liquor store out there. Run in and run out? Unlikely. But still welcome.
Hi-Lo Liquor is a credit to its co-owners Chris Harris and Talmadge Lowe (founder of L.A.'s custom cocktail catering service Pharmacie). After having been approached about overhauling another neighborhood haunt in Highland Park, they took one look at the place and knew they could do better, launching Hi-Lo not long after.
In a big-box world, at minimum, a gutsy move, but to Harris and Lowe, it simply made sense.
The market was void of anything else even remotely like it. Plus, they'd considered just about everything else—a coffee shop and bar hybrid, a wine enterprise. Nothing rang a bell like Hi-Lo.
"Every liquor store carries the exact same thing," explains Harris.
"So we thought, let's carry an amazing selection of beer, an awesome selection of whiskey, and sell some great regional and local wines and really show people some interesting stuff, but in a local liquor store format that's light, bright and friendly. Then, let's have some fun tastings with vendors to pour some good beers and wine."
Consumers come to Hi-Lo and get exactly that—a store somewhere in the middle. One finds some marble finishes, but also Downey-made Mulholland, an everyday American whiskey one can sip neat or use to mix drinks, a score at under $35 a bottle. There's craft brews and tallboys too. The connoisseur to the construction worker—all are catered too, guided by knowledgeable staff. "That's the concept," explains Harris.
We don't do a lot of high and we don't do a lot of low. We didn't want to go so high-end that we weren't serving the neighborhood. We're community based. But we also want to show people more interesting things, but without judgment. Just try it, you'll like it.
Now, recently acquiring its instructional license, Hi-Lo is elevating its drinking game with the beer and wine tastings. Harris and Lowe also are looking to franchise the brand, bringing it to other cities beyond its current location, each in the spirit of its neighborhood.
Photography Courtesy of Hi-Lo Steph Rrager (Signage), and Shade Degges (Books)
hiloliquor.com
8582 Washington Blvd. Culver City, CA 90232