The California Institute of Technology, where for three years in the 1930s the preeminent Albert Einstein was a visiting professor and today manages NASA's Jet Propulsion Laboratory, is, in many circles, as admired for its architecture as it is a place where big, scientific questions are considered—some solved. The question for L.A.-based Lehrer Architects? How to honor the institution's past while designing a future for one if its primary centers of discovery: the Keck Institute for Space Studies.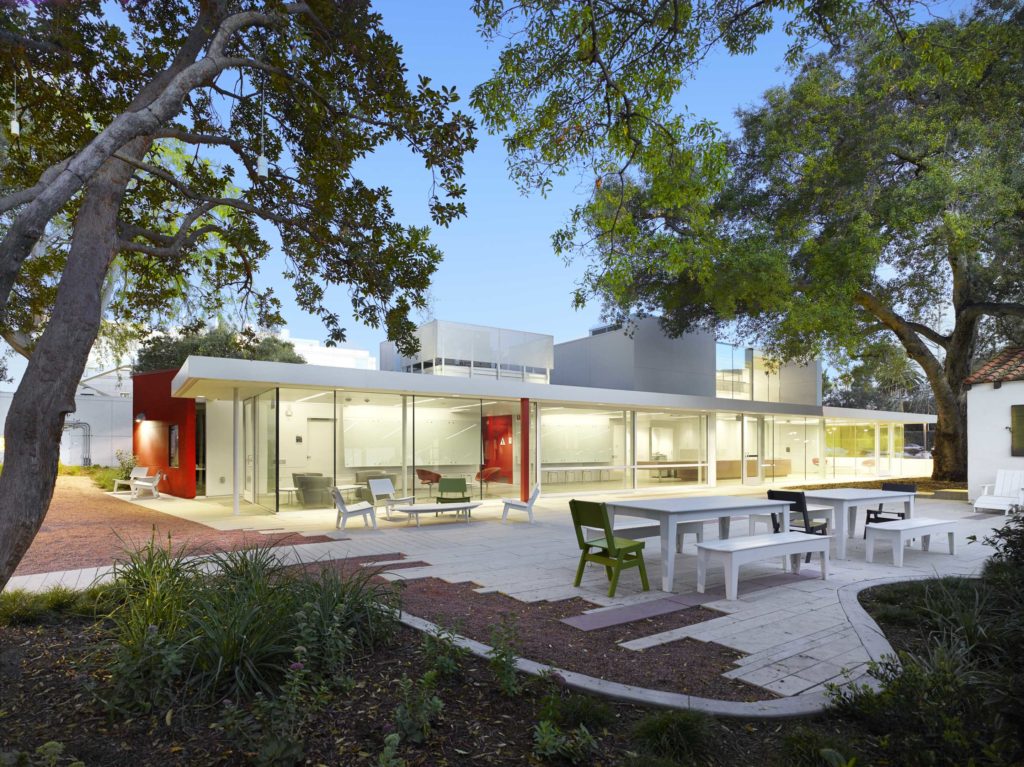 The new construction of this LEED Platinum project is a Modernist building that not only keeps with Caltech's tradition as a forward-thinking institution, but also serves as a kind of shorthand for Lehrer Architects. "Our starting point," says project designer Benjamin Lehrer, "is always natural light, function and collaborative space."
To this end, the project, which also includes the renovation of the 1920s-era Tolman-Bacher House to transform the one-time faculty housing into institutional space and meeting rooms, completes a bright, inviting picture that draws its visceral sense of expanse from outside light filtered through abundant glass—a substantial plane that directs the eye to and across an outdoor courtyard.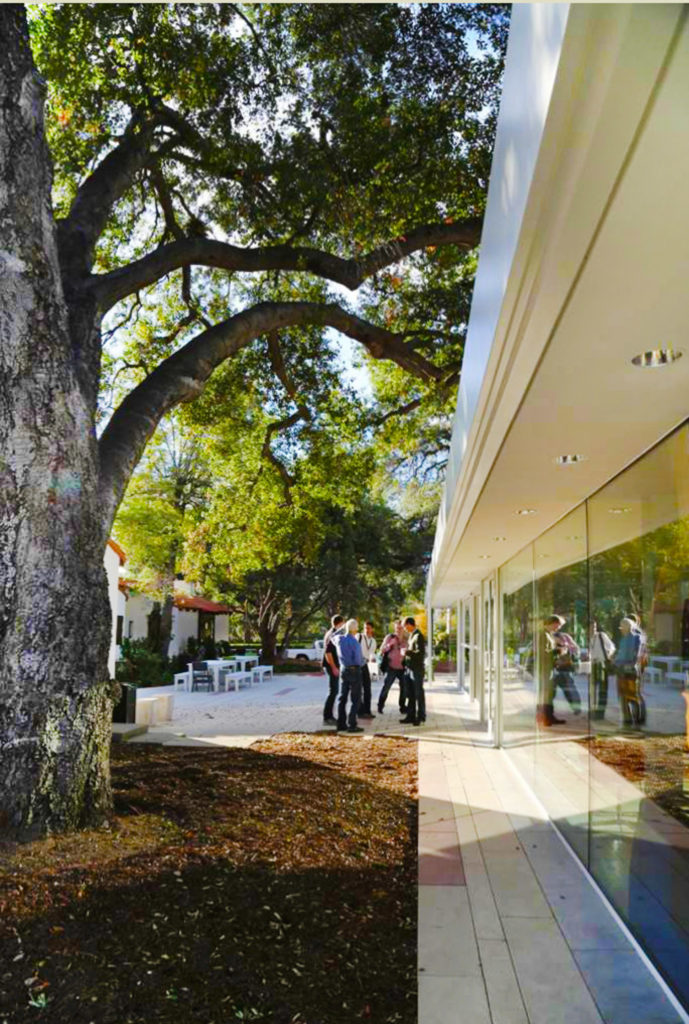 Created and landscaped to extend usable space to the natural environment while simultaneously opening up a dialogue between the architecture via floor-to-ceiling glass doors that bring the lobby and work space into the loggia, the exterior space also features a north side garden wall that, like the loggia, is a transitional element that also offers built-in bench seating.
Inside the Modernist structure, desk-height seating, removable walls, and a lengthy white board complete a collaborative environment defined by openness and imagination. Interestingly, the building's purpose—a think tank for international astrophysicists—expanded during construction.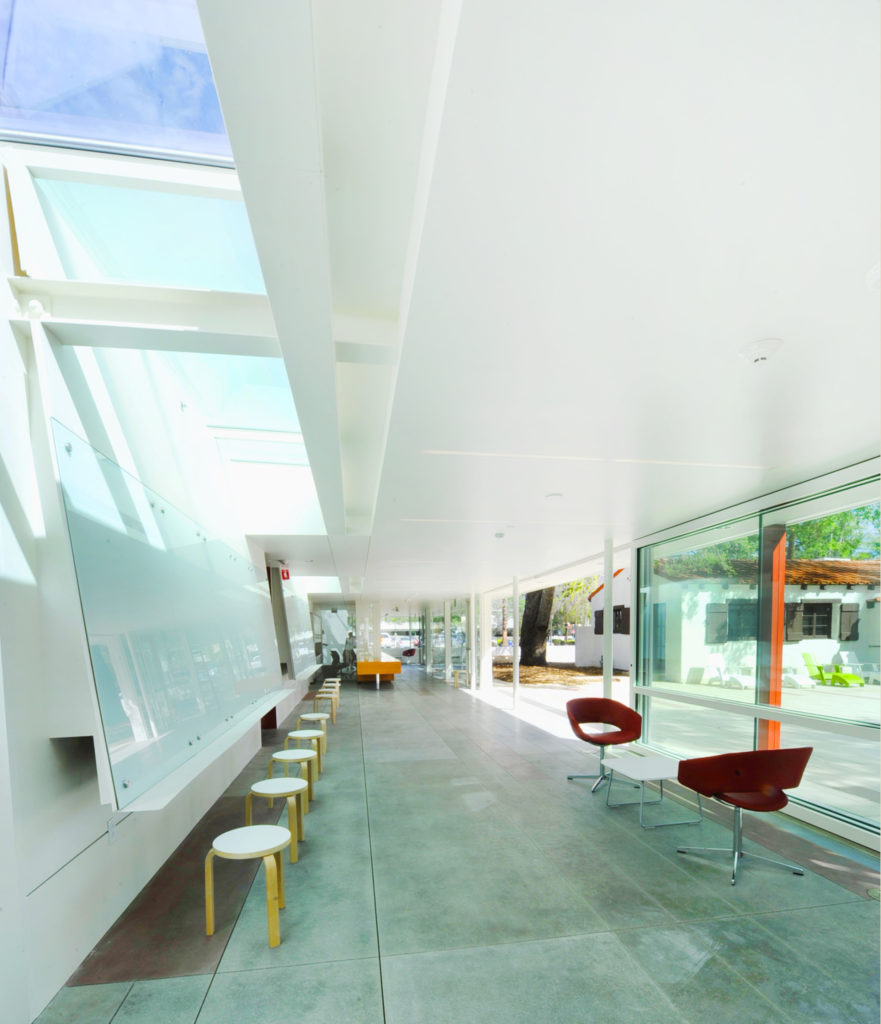 "We didn't know that the university was looking for a home for its board of trustees," Lehrer shares. "Once they saw how the building was developing, they said, ''Well, the acoustics are on, the space is inspiring, this is where we want our leadership to meet." That they now do, although the space is, at its heart, still very much a think factory for scientific inquiry.
Notable throughout the project is the idea of human scale. One sees this in a low-hanging eave echoing the existing Mission style of the adjacent buildings. It announces itself again with the previously referenced white board. A protracted stretch that runs across the building, the element allows for the type of actual written work of science conducted before the digital age.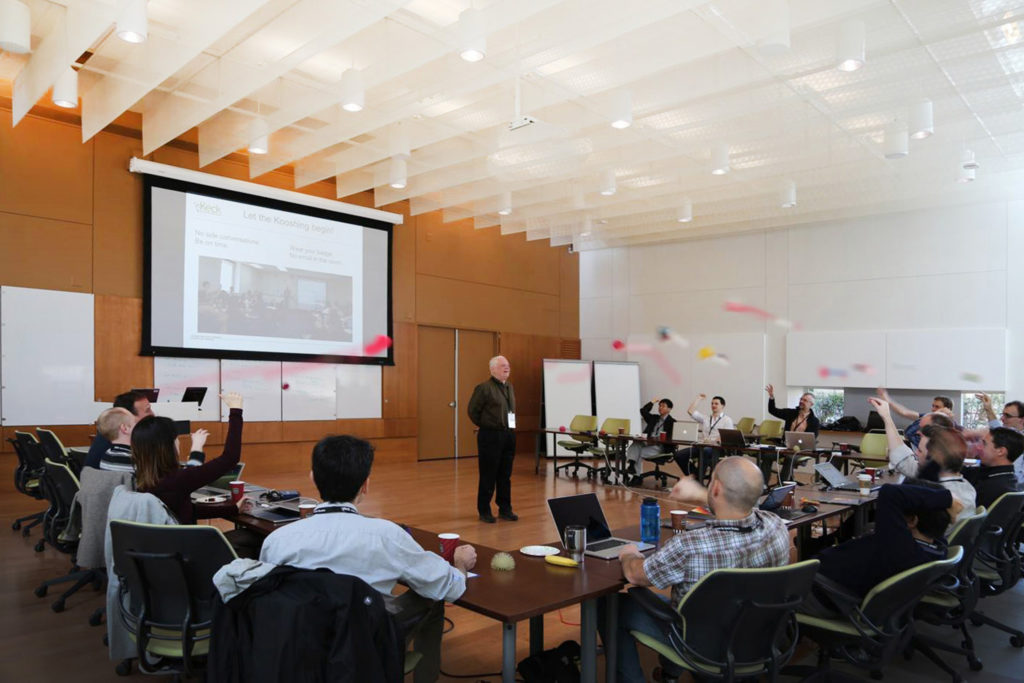 "We made it dozens of feet long so that people inside and out could get down and dirty about problems and formulas," shares Lehrer, "but we brought it down from the heights of the lecture hall." This feature affirms a high degree of thought and workability.
Taken as a composition of spatial and physical connection to an iconic Southern California campus, the project is a study of place-centered architecture. One of the most significant places in this world—and, perhaps, in others yet to be discovered. Possibly this very spot. lehrerarchitects.com
PHOTOGRAPHS: COURTESY OF LEHRER ARCHITECTS/CHAN FOTOWORKS, MICHAEL LEHRER AND MICHELE JUDD