Craig Steely is a native of California but has found a certain flow in Hawaii. He works in both places, but Hawaii is where the architect placed his ambitious Lavaflow series, a sequence of striking modern homes in stupendously attractive landscapes. Different residences, same idea. Which is, says Steely,
"how architecture can augment and amplify the power of living in an environment as visceral as Hawaii." Beautifully, harmoniously, pick your platitude. Yet none is likely to capture the degree of refinement, nuance, and lack that characterize these sensitively and intuitively approached buildings.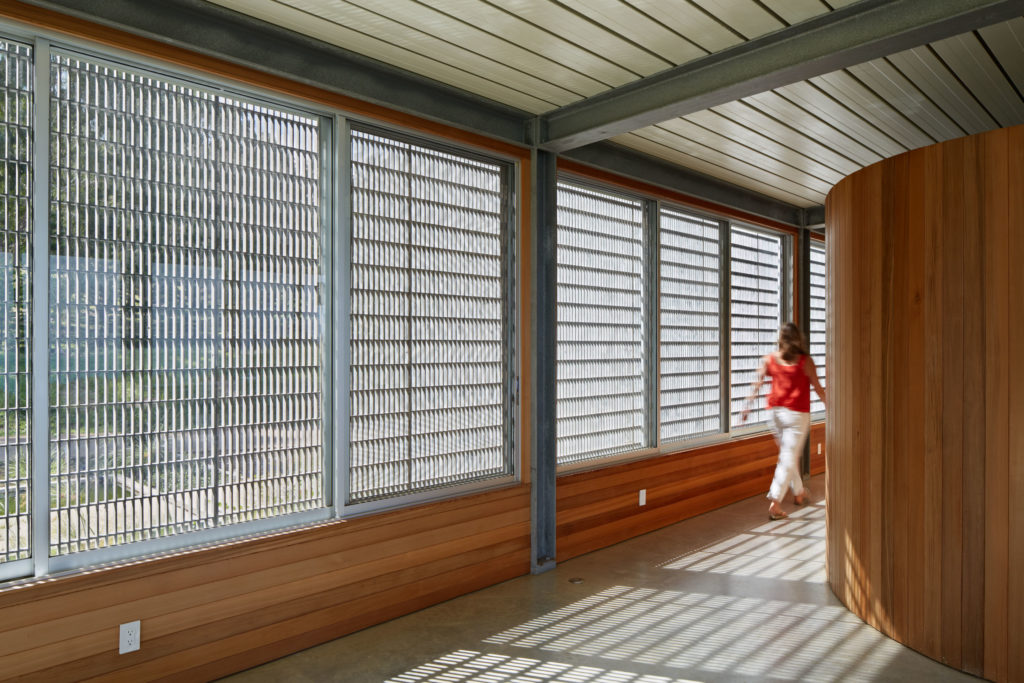 One of the most majestic of all is Lavaflow 5, which interacts with 30 acres of remote pastureland overlooking the Hamakua coastline on the eastern slope of Mauna Kea on Hawaii's Big Island. Trapping "sea and sky with structure and line," the home expresses a broader want of "large open expanses."
This the home is, positioned on top of the property, protected from a perpetual assault of strong winds, and prominent with light and walls of varying opacity supported by the slenderest of steel frames.
At the outset of the project, Steely was immersed in researching early steel-framed houses—X100 by A. Quincy Jones, Case Study House 26 by Beverly Thorne. "I like how light these houses sit on their sites," he says of the references. "There is nothing heavy about them—neither in the size of the structure or detail.
This is one of my complaints about most current steel houses. Their proportions feel wrong and they all seem so heavy. I was lucky to meet Beverly Thorne through the process. I learned so much about detailing 'lightly' from him." This would account for the perceptible lightness and near perfect proportions of Lavaflow 5, which, elevated over a reflecting pond, has a kind of mesmerizing floating effect.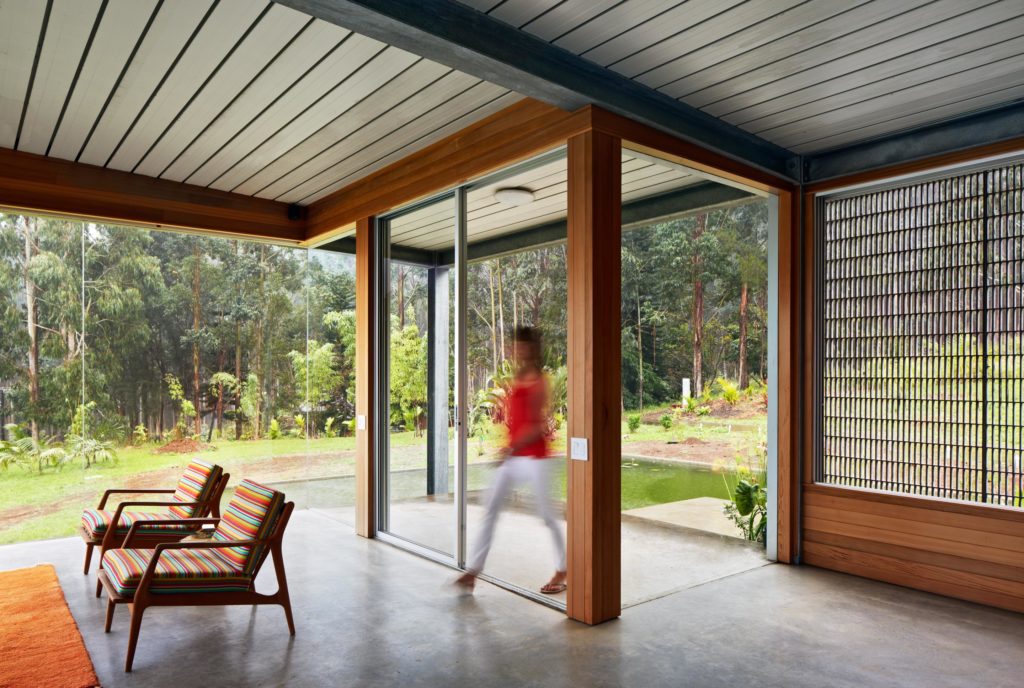 The home's reedy profile, its overall trim profile, is what allows it to melt into the immediate vicinity as if careful to not disturb it. "The interesting thing about the property," says Steely, "is it still retains the original shape from the ancient Hawaiian land grant called an ahupua'a," a long thin lot running from the mountain towards the sea.
Land was divided up this way so a single hui (group) could grow diverse crops at different elevations." (This is not just an interesting side note: That Steely considered Hawaii's rich traditions of land, of living itself shows his broader sensitivity to the project.)
Beyond the view, the extent of the ahupua'a is visible, a facet of the home that Steely, who was raised on a walnut orchard in the country and spends a great deal of time surfing—"I don't like being inside," he says—was certain to highlight. Given that the architect also derives artistic inspiration from the city, Lavaflow 5 is as pristine as it is primordial, an intersection of his everyday influences.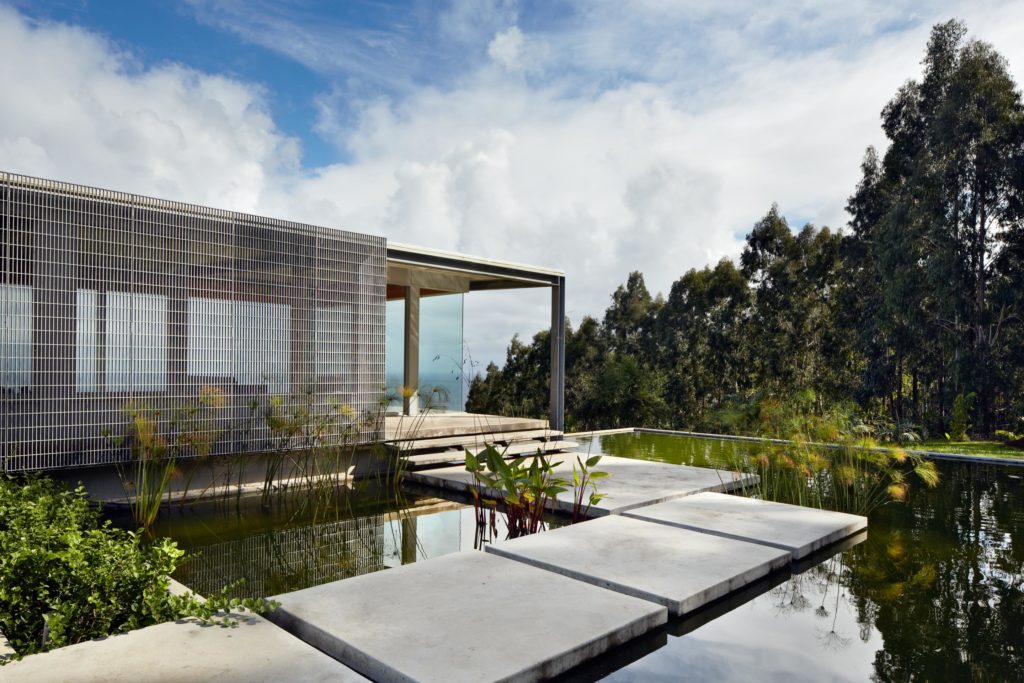 A more literal interpretation of the environment also found its way into Lavaflow 5; this too is a Steely signature. The home features passive cooling through cross ventilation and solar heating; it is also responsibly scaled at a sensible 2,500 square feet, which accommodates three bedrooms, two bathrooms, and a carport more than comfortably.
Outside is a lovely lanai. The intentionally spare palette of galvanized steel, waxed concrete, western red cedar and pine complete the home's natural progression "from nothing, to glass, to screen, to solid." Its minimalism might be seen as a metaphor for Steely's reductive approach: limited materials, sparse construction, and a linear plan to open the home to the surrounding elements of land, sea, and sky.
The strong sense of economy that underscores Lavaflow 5 shows that the home was bestowed far more imagination than those with sprawling square footage, disparate elements, and little context. Rather, Lavaflow 5 is much like the scene on the other side of the glass, intentionally and pervasively unfolding. A view of before recalibrated for now. craigsteely.com
PHOTOGRAPHS: COURTESY OF BRUCE DAMONTE