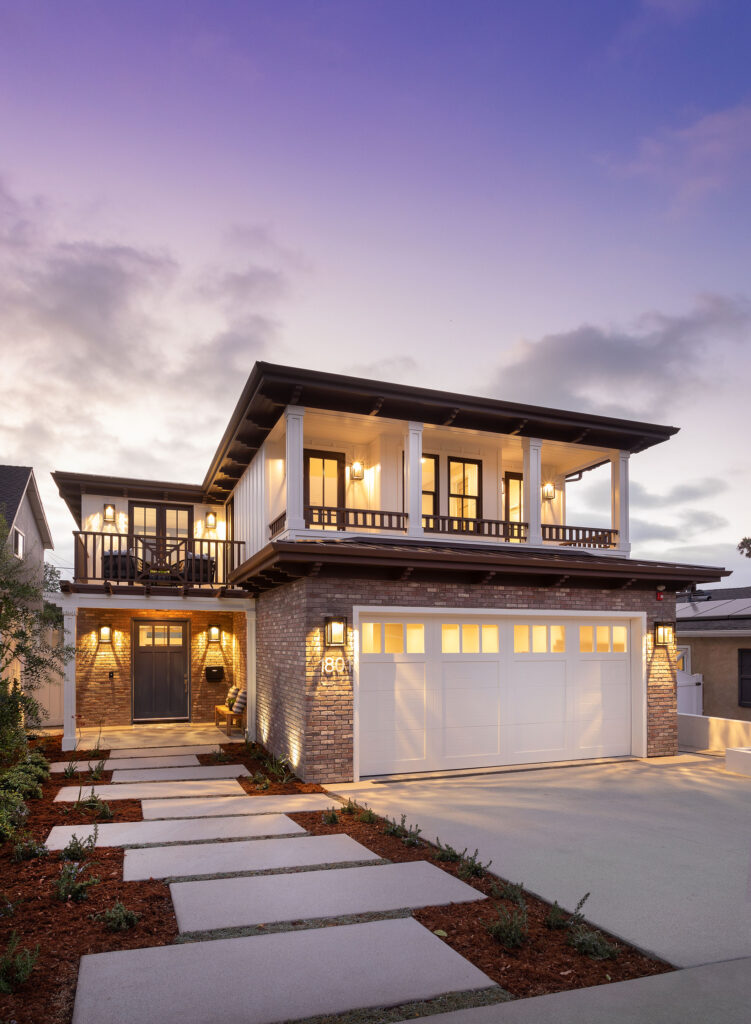 A roomy Coastal Plantation home in the heart of the Tree Section delivers of-the-moment amenities along with elegance and fresh-air living.
"It just says 'beach,'" notes designer Rick Sellers of Residential Design Studios. "It's soothing. It's calming. It exudes the Manhattan Beach relaxation lifestyle."
He's talking about a new Tree Section home—a labor of love by Maria Reinhart of Four Hearts Development and Michael Mushaney of MJM Construction—that is sunny and luxurious and modern-family sized at over 5,200-square feet, with six beautifully finished bedrooms.
"From the time you hit the front door and walk through this home," he points out, "it's elegant and sophisticated. If you have a family, you'll feel this is a really good place to raise children."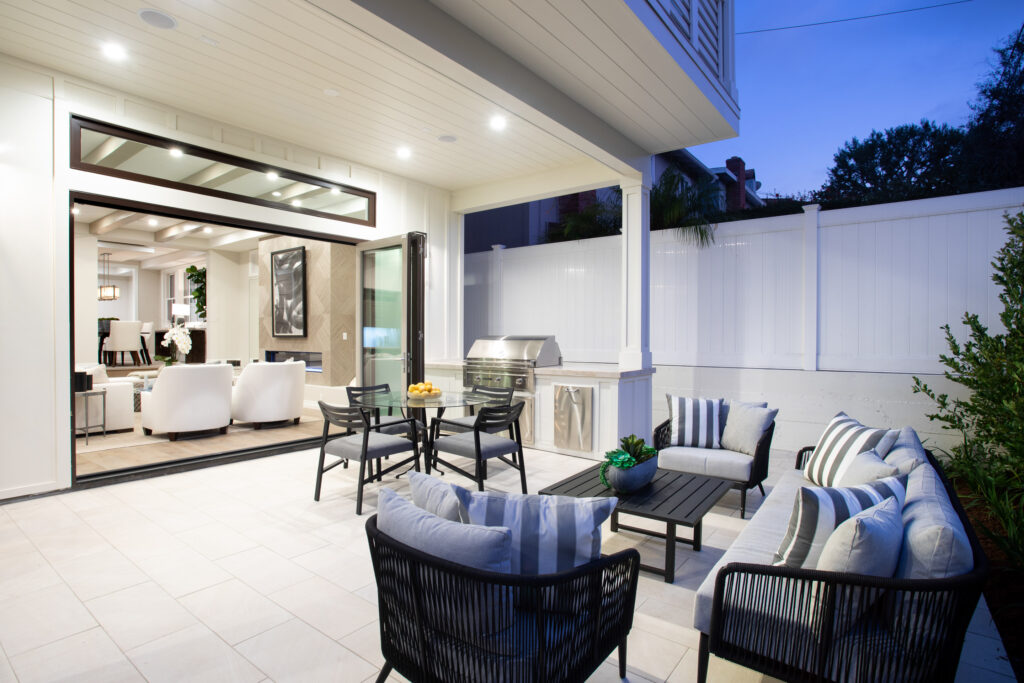 One may feel it a bit before entering the door, as the inviting, family vibe starts curbside while gazing at this singular Contemporary Coastal Plantation design, its eye-catching exterior a textured contrast of blush brick and crisp-white shiplap. There are balconies and glass galore, with dark, overhanging eaves giving definition and contrast to the horizontal silhouette of the home. Native green trees dot the walkway, courtesy of Miriam Rainville of Rainville Design Associates, known for creating thoughtful modern landscapes on beachside properties.
She also designed the home's clean, porcelain-tiled outdoor lounge, one of the many outdoor spaces Sellers has neatly carved into his design that, when tallied up, add significantly more living space to the home's already generous footprint. Rainville's patio, for instance, is a great room unto itself—an uber-private space connecting to the interior via La Cantina glass doors.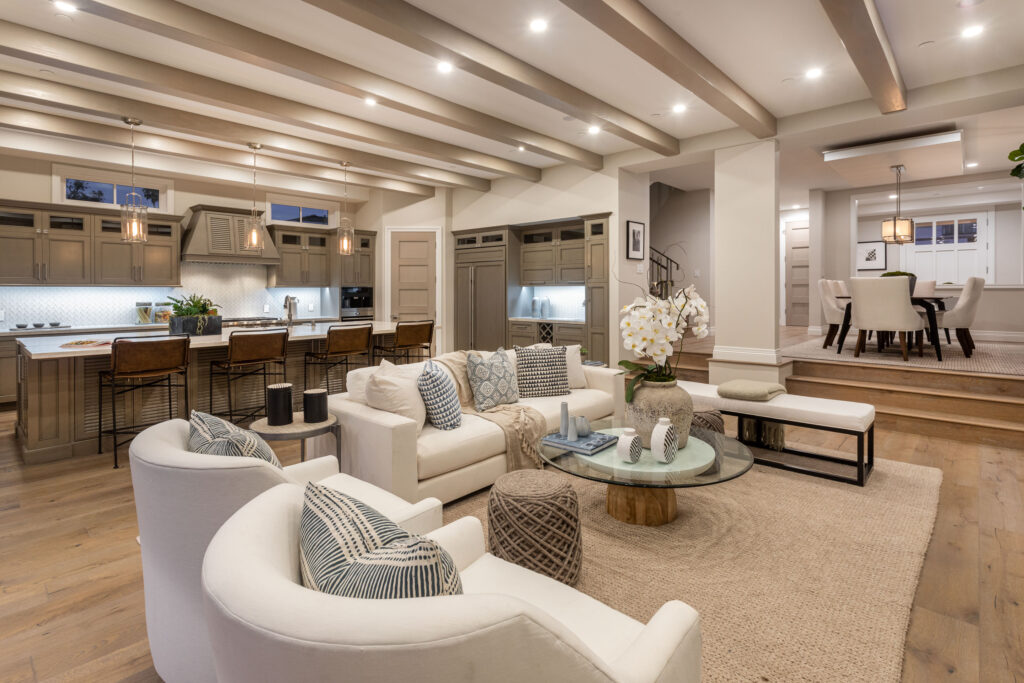 Sellers have equipped the area with year-round possibilities thanks to a ceiling overhang that shields the space from direct sunlight. (Due to the orientation of the lot, the sun cascades nicely to the rear of the home, where the patio is located.) The pale, oversized tile floor, textured beams and ceiling lend an indoor feel to the fresh-air room, which is equipped with a gleaming Lynx barbecue.
"I love to stress indoor-outdoor living, especially in a place like Manhattan Beach," says Sellers, whose strategic use of windows and skylights plays against a calming color palette of whites, grays and beige, establishing a serene and sunny backdrop for everyday life.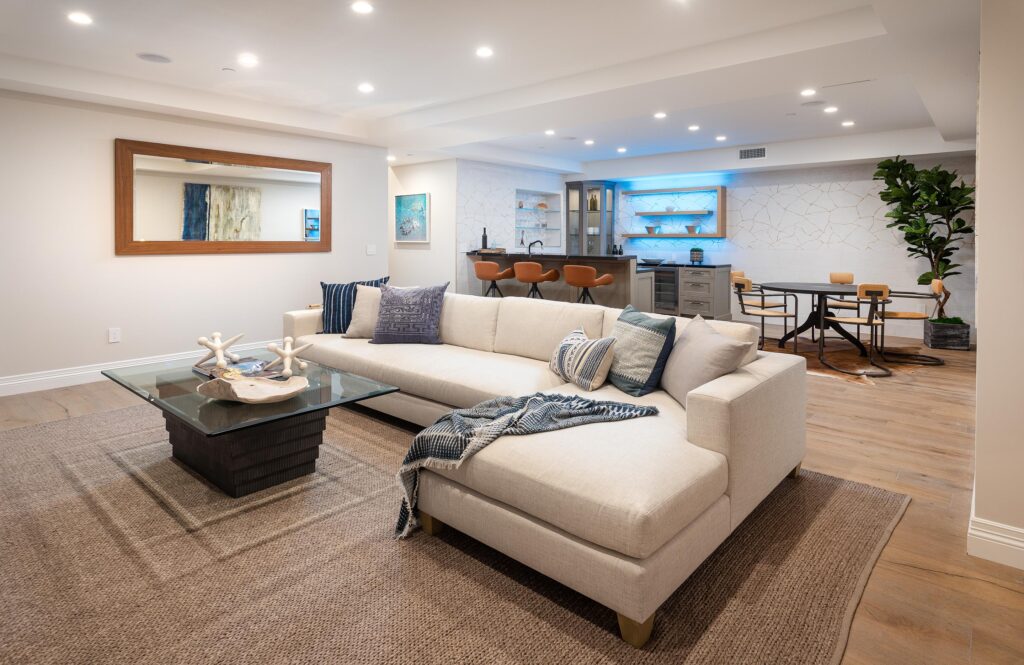 Sumptuous details imbue the space with intimacy and make main gathering spots—with 10-foot beam ceilings and wide-planked oak floors—feel warm and inviting. Sharpening the luxe factor are features like a three-stop elevator; a sleek fireplace in the great room, textured in a zig-zag of custom tile; and a gourmet kitchen that's a showpiece unto itself, with a glowing Quartzite island—white with subtle gold veining—and appliances by Wolf, Sub-Zero and Bosch.
"All the finishes are custom and high end," says real estate agent Lynn Range. "Exquisite. It's a very elegant, warm and welcoming property."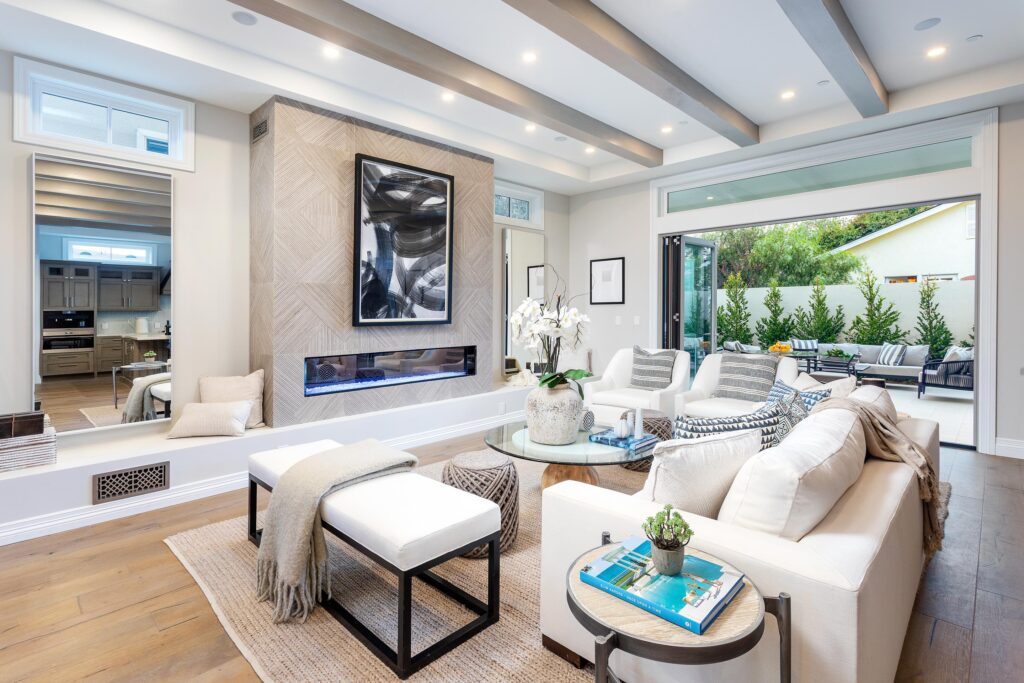 The master bedroom is a sunlit cocoon where plank ceilings nestle against a white-washed brick fireplace and custom shelving. There's a thoughtfully designed walk-in closet with plenty of space, and a softly-hued gray and white master bath with radiant-heat floors, a roomy steam shower and a high-tone feel that is enhanced by Carrara marble finishes.
The suite is enveloped in additional light due to the spacious, trellis-top deck that merges with the bedroom via oversized sliding doors, allowing one to step out and luxuriate in the Southern California climate whenever one gets the urge. (The bedroom suite next door also has a deck.) Like the home's fenestration, Sellers has positioned such open spaces for privacy as well as beauty and views.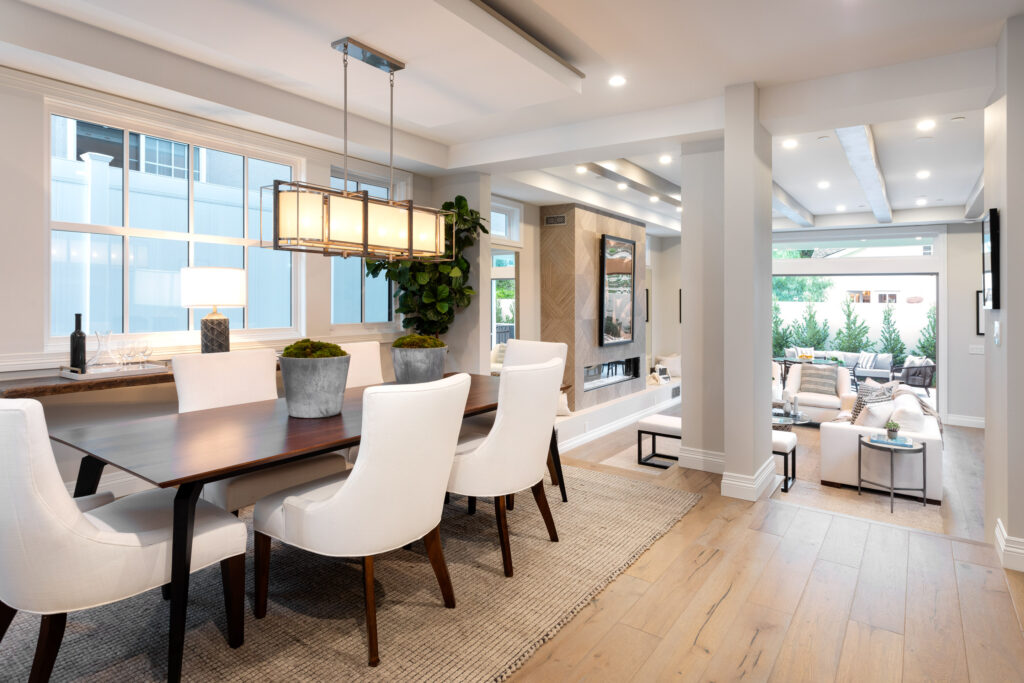 While the house sports a modern take on beachside traditionalism, nice surprises abound when one heads to the lower level. "That's when the '[w]ow' factors hit you," says Sellers.
"It's a bit of surprise, for this is a very sophisticated house on the main living levels, with a party option downstairs with lots of entertaining options."
Nearly 2,000 square feet are dedicated to leisure. There's a professionally outfitted movie theater with stadium seating, and a wine cellar with a capacity for about 1,000 bottles, tucked behind glass that one can see from the game room, smartly continuing the luxurious aura of the home's other two levels. (Even the bathroom on this floor is tiled in marble.) Nearby is a full bar decked in Italian tile, with a Sub-Zero beverage center and ice maker.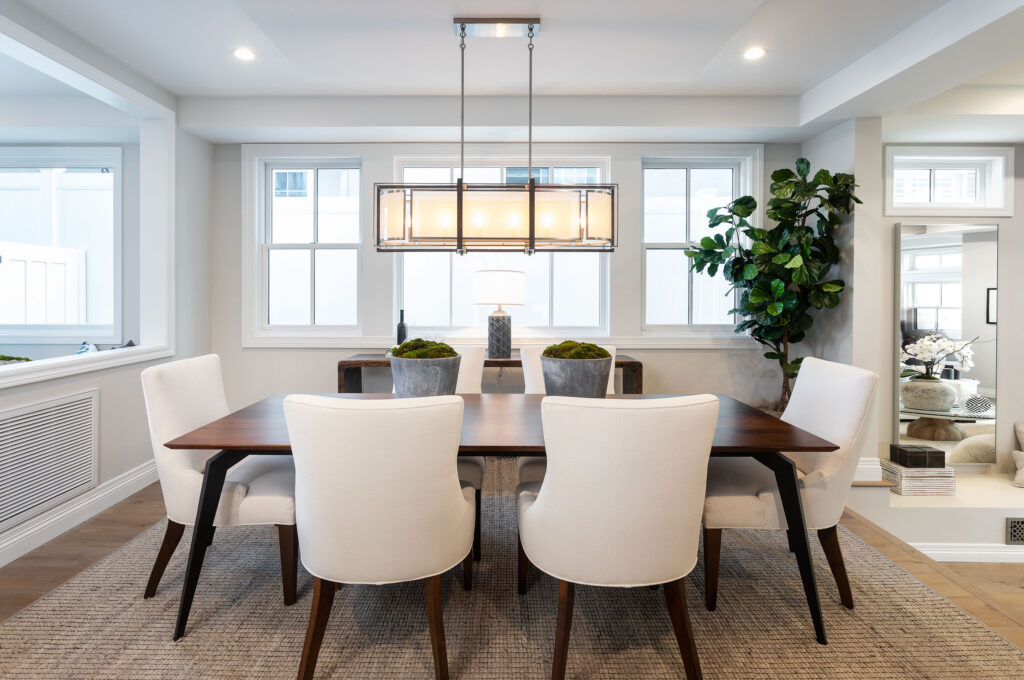 Of note on this floor is the abundance of light and air throughout; a feat Sellers achieved via the use of light wells: essentially, vertical tunnels that reach below ground to create a window.
"Light wells are key," says Sellers, pointing out that by creating an above-ground atmosphere on a lower level, the home is able to have its voluminous footprint. "Most houses around here are not above 5,000 square feet on this size of a lot," he explains.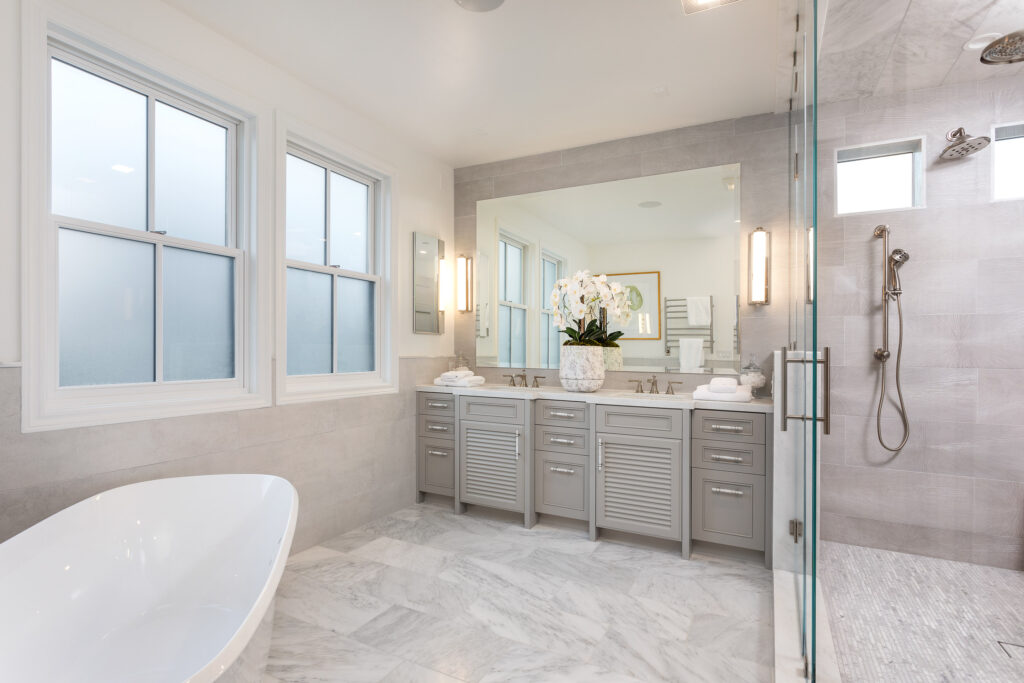 Speaking of location, the home is located on a relaxing street in Manhattan Beach's Tree Section, named for its bounty of old-growth trees. It's also an especially family-friendly part of town, making this home's mix of easy living elegance and smart, roomy floorplan a particularly keen fit for the neighborhood.
"It's a custom-level built home with every amenity that you would like for your family for entertaining, for the epitome of the Manhattan Beach lifestyle," muses Range. "You can live here for the rest of your life."
Lynn Range | 310.546.7611
Darin DeRenzis | 310.418.6210
Meredith Johnson | 310.600.7973
Vista Sotheby's International Realty
List Price $4,999,000
Photographs by Adrian Tiemens