Easy sophistication and elevated California cuisine at Margo's on Montana Avenue
Written by Constance Dunn | Photography Courtesy of Paul Jonason
A sunny new restaurant perched on the corner of Montana and 16th Streets in Santa Monica is fueling the upmarket lifestyle spiral of this fashionable section of the city. Margo's, which opened in

November for brunch/lunch and dinner, features a modern American menu that's heavy on seafood and seasonal farmers' market produce—very California, yet executed and presented in the style of haute cuisine,

which is to say, sophisticated and fastidious.
It's a nice addition to the area. "On Montana, people want to have a light lunch or a healthy dinner. I think that's key if you want people to come back more than once every couple of months," says Executive Chef Greg A. Daniels, who, before Margo's, was at Salt Air in nearby Venice. The restaurant is still young, yet there are fledgling stars among the seasonal menu, from the halibut with truffles and buttered cauliflower to the Scottish salmon with wild rice and fennel. Also popular is the acorn squash served with brown sugar and sriracha butter.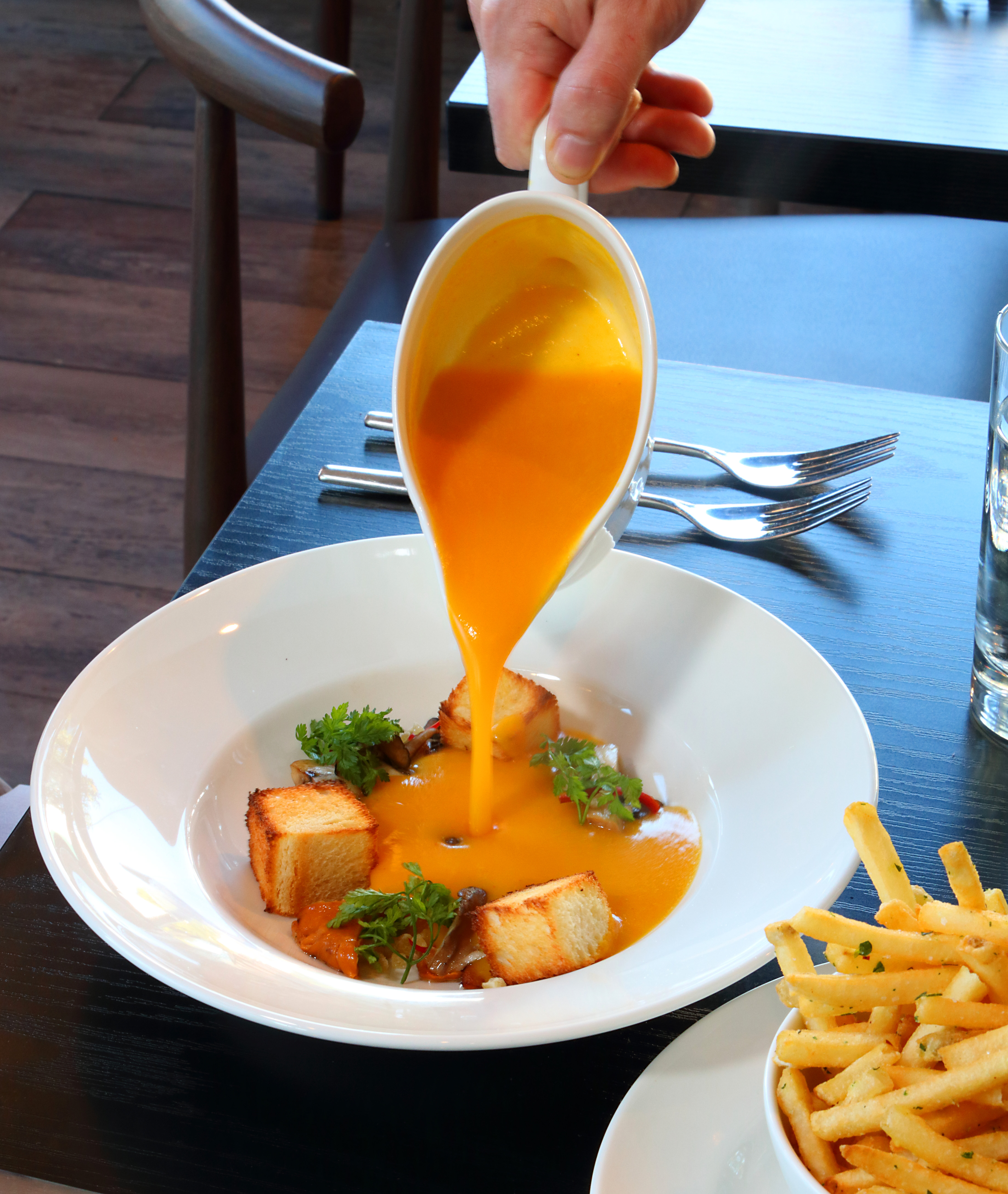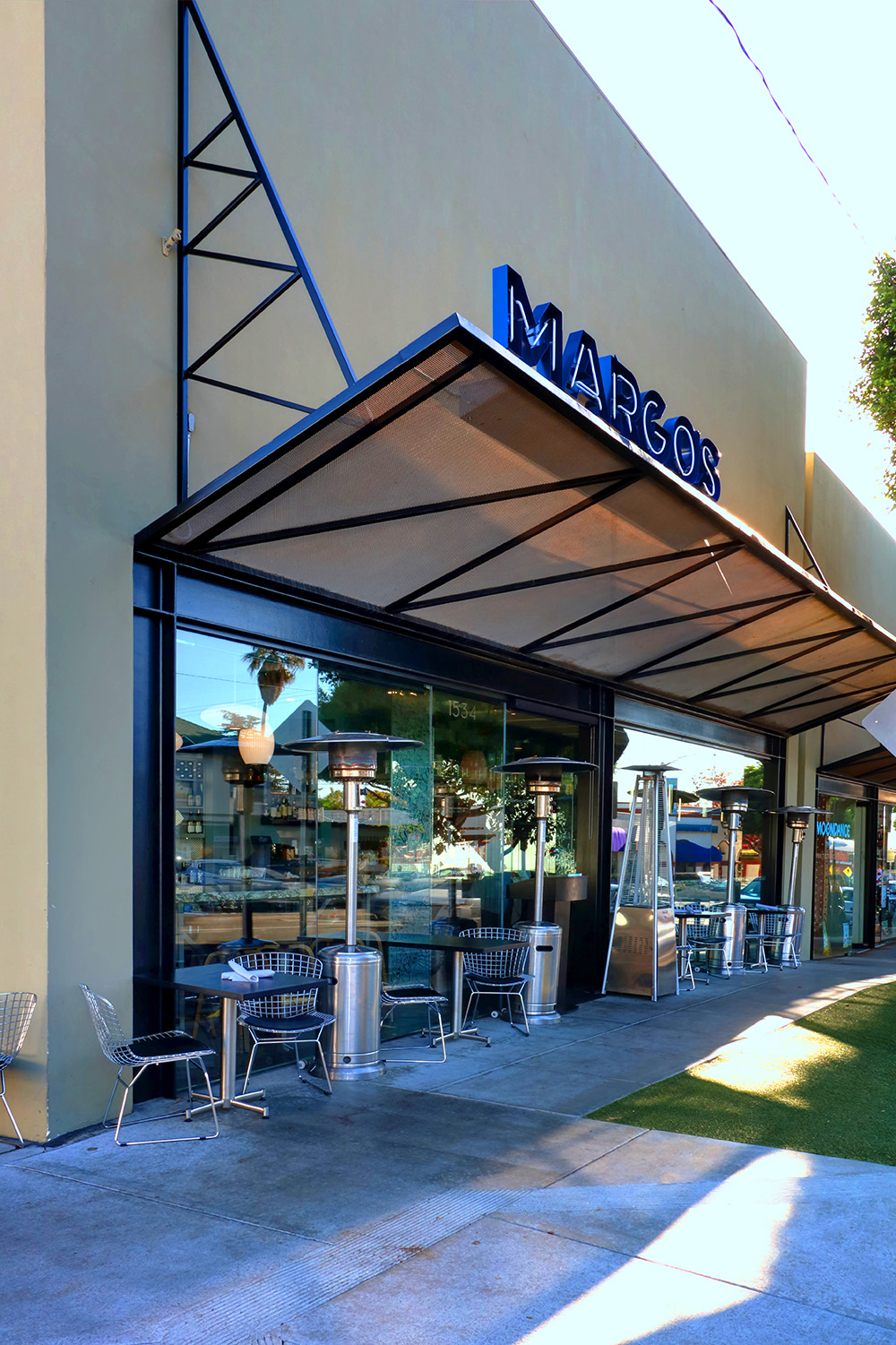 It's Daniels' pedigree, which also includes time at Perry St, one of famed French chef Jean Georges Vongerichten's fine-dining restaurants in New York City, and his training at the top French Culinary Institute, alma mater of Bobby Flay and David Chang, that has much to do with his approach. "He's so meticulous about detail and flavor and presentation," says manager Chrissy Anderson. "Every plate is perfect when it goes out."
In line with Margo's fine-casual cuisine is the restaurant's streamlined look, featuring a deliberately minimalist use of contrasting textures and fabrics. "We wanted to go Mid-Century Modern a little bit," says Daniels, pointing out the tufted banquettes and grainy tile along the wall—all used to bring depth to the uncluttered space, and counter-balance the abundance of windows and natural light. At night, sunlight is swapped with a moody glow from hanging pendant lights, and the bar hums with locals sipping revised classic cocktails like the Cider House Mule (with vodka, cider, ginger beer and bitters) and the Margo-Rita with orange and jalapeño added to the classic recipe.
Margo's regulars do not risk boredom either, as about 75-percent of the menu is expected to change seasonally. And, despite a contained number of selections—just a dozen small plates and no more than 10 main entrées at dinner—there are creatively spun classics like a lunchtime Mussels Frites, served in a coconut green curry, and at dinner, a Fried Chicken dish served with honey-glazed baby vegetables and apple celery slaw.
Even the butternut squash soup is poured table-side, atop brioche croutons. "I wanted to pick dishes that under-promised and over-delivered," says Daniels. "Dishes that read fairly simple on the menu, but when they get to the table, people are surprised. It's a little more than they expected. Better thought-out, better executed."
MARGO'S
1534 MONTANA AVENUE
SANTA MONICA, CA 90403
310.829.3990