Kali on Melrose combines years of industry know-how to offer a new style of dining to LA
Written by Wendy Bowman
Photos courtesy of Kali on Melrose
The name Kali—a Hindu adage meaning "that which brings all things to life"—could easily be used to refer to this Melrose Avenue hot spot that took over the former site of Midtown Bar & Kitchen almost a year ago. But the founders of this passion project instead chose the moniker to reflect their nuanced twist on the contemporary Cali cuisine—a mix of fresh ingredients and industry know-how that has garnered them praise from critics and food bloggers alike since the restaurant's opening in early 2016.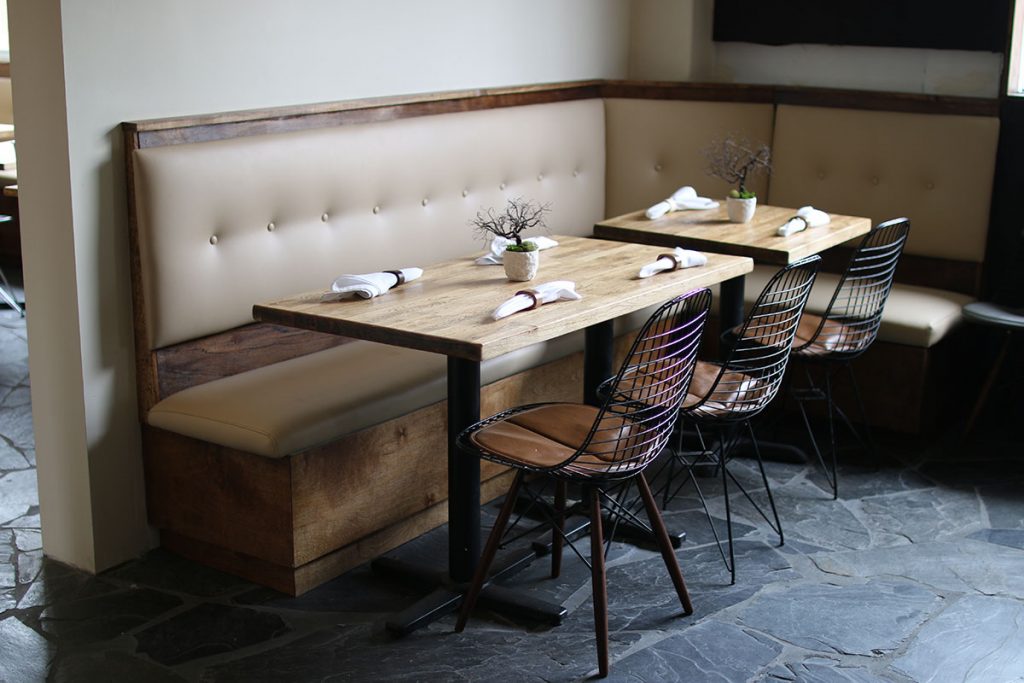 Situated in the Larchmont district—between Hollywood and Hancock Park, mere steps from the iconic Paramount Studios film lot—the restaurant was formed by longtime friends and professional colleagues, chef Kevin Meehan and wine aficionado Drew Langley. An outgrowth of Meehan's roving private dinner party series, Kali Dining, the venture pairs acclaimed food with ingredient-focused cocktails and a curated wine program.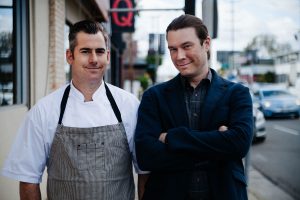 "Kali was born out of Drew's and my desire to offer a new style of dining in Los Angeles—Michelin-level cuisine, wine and hospitality, re-imagined and stripped of the white tablecloths and tension of a formal environment," says Meehan, who first met Langley at the legendary L'Orangerie in 2001 and went on to work with him at the now-closed restaurants Bastide and Citrine.
"We envision Kali as a neighborhood haunt for the everyday," adds Langley. "It's as appropriate for an impromptu weeknight meal with friends as it is for a business dinner, date night or post-work drink."
Visitors to the restaurant will find an à la carte menu of first courses, entrées and desserts served in a modern yet comfortable environment. Like the restaurant's culinary offerings, the design also was conceived by Meehan and Langley to reflect a shared vision—complete with slate stone flooring, high-arched exposed ceilings, beige-cushioned banquets and paneled oak tables simply dressed with minimalistic wire Banzai trees. A moss-covered wall at the front entrance and an open kitchen rimmed with an exposed refrigerated cooler of hanging ducks add a playful touch.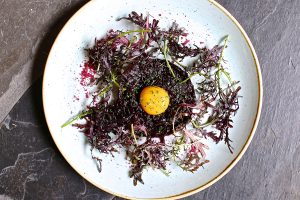 As for Meehan's succinct à la carte and drink menu, expect offerings rife with locally sourced ingredients—including pistachios from a Santa Barbara farm and black garlic fermented in house for more than a month. Among the favorites are Meringue Gelato with candied yolk shavings; Black Barley Risotto with black garlic and toasted cheese; and the New Pad Thai cocktail made with St. George Green Chile Vodka, Aqua Perfecta, lime and coconut ice. This fall, diners also can expect more local seasonal ingredients (such as red kuri squash Romanesco broccoli), along with fennel sauerkraut, added to the menu.
What's next for Kali and its crew? The team is considering ideas for a potential Kali cookbook, in addition to—perhaps—the creation of a new more casual dining concept. The air is thick with anticipation as to exactly what these restaurant vets will bring to life going forward!
KALI ON MELROSE
5722 Melrose Avenue
Los Angeles, CA 90038
323.871.4160
KaliRestaurant.com