Architect by Day, Artist Always
Dan Janotta flexes his multi-media creative muscle at his new Pier Avenue gallery
Written by Constance Dunn | Photography Courtesy of Paul Jonason
It's a strange idea that a creative person must work in a single lane; confine oneself to producing paintings, sculptures or other works in a single discipline. It's a concept certainly not adhered to by Dan Janotta, whose output includes paintings, furniture and home decor—when he's not designing buildings. "See those models?" the artist asks while sitting behind the desk in his new Hermosa Beach gallery, pointing to a series of crisp-white 3D architectural models that rest along the counter. "That's what I do during the day. I design high rises." A senior design architect who's been with the same Los Angeles firm for 30 years, Janotta recounts exploring furniture design in the early 1990s and, for a brief spell, having a store where he sold his works. "It's like designing a building," Janotta says of the discipline. "You have to come up with a concept. You have to figure out how the measurements work." Then there are materials, engineering, and so forth. About a dozen years later, Janotta expanded his creative repertoire by painting—first watercolors, then acrylics, now oil. "It's a contrast to what I do at work," he says, citing the painstaking detail and precision, not to mention long computer hours, work with clients, and creative compromise of his profession. "When I paint it's just me and the canvas. A different creative energy."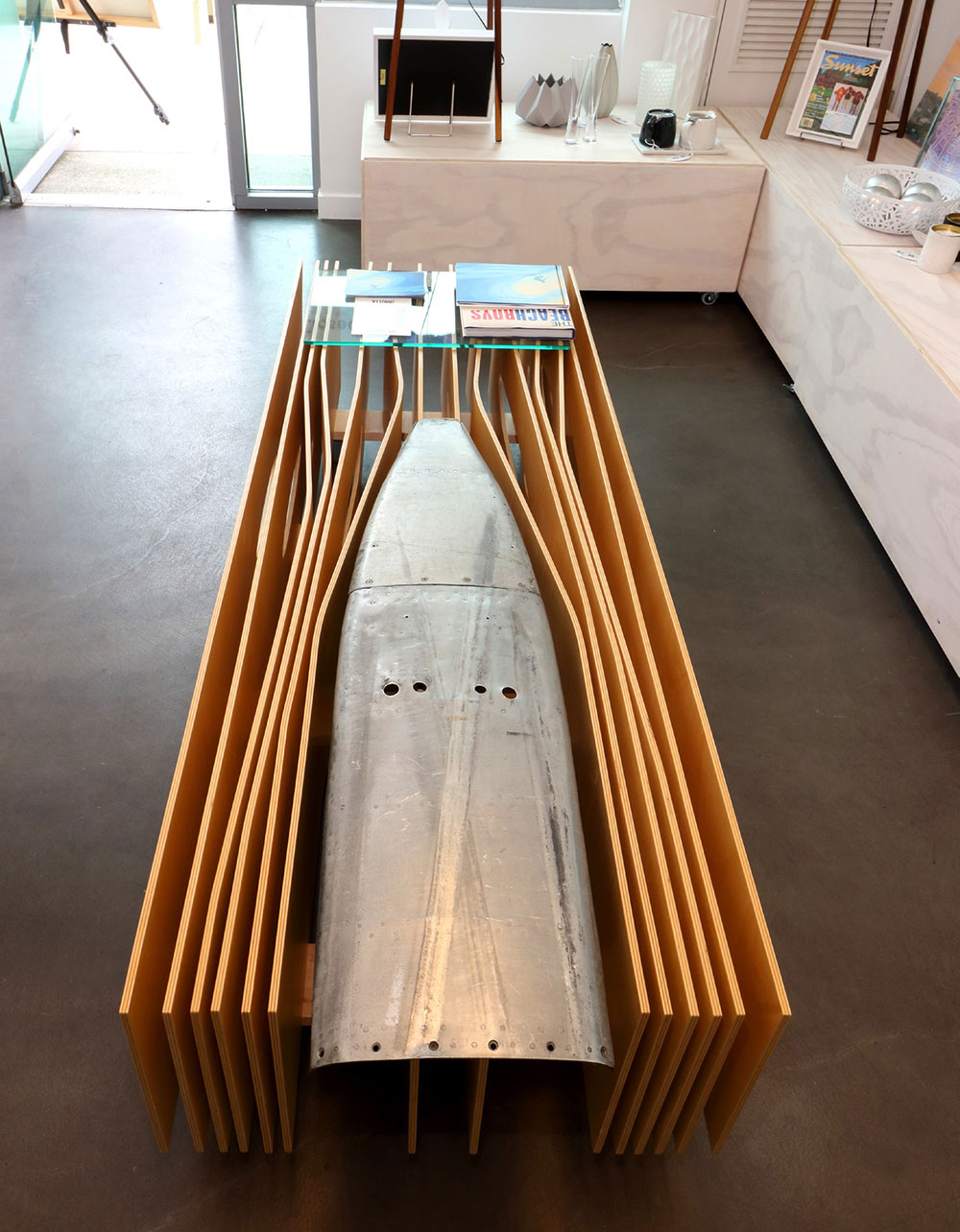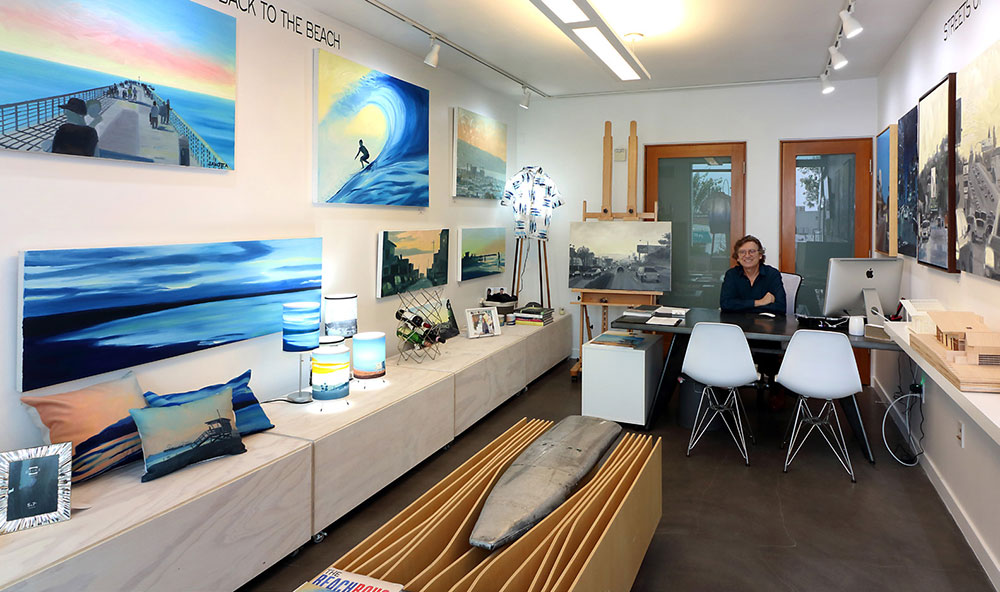 To showcase his works on his terms, Janotta (who's lived in both California and Florida for many years, and currently resides in Marina del Rey) recently opened a sunny, intimate gallery amid a new cluster of boutiques that line Pier Avenue, a block or two from where the street meets the beach. Much of the walls are given over to Janotta's canvases—oil paintings depicting the surf-meets-sidewalk sensibilities of current-day Los Angeles, with plenty of beach scenes and cityscapes. "I like to bring architectural influence to beach scenes and surfing," says Janotta, referencing perspective, color and composition, where his formal design background comes into play most prominently.
There's also a revolving display of his furniture designs, including a birch plywood coffee table with part of an airplane wing in its center, and a Hawaiian shirt lamp—where a starched, antique shirt cloaks a lamp poised on a Koa wood base, with a fishing lure switch dangling below. Home accessories range from printed pillows to lamps. Janotta designs some items; all are selected to be consistent visually: geometric, un-ornamental and influenced by the clean lines and patterns he works with in his architectural practice.
The gallery, opened in January, is the ideal vehicle for the entrepreneurial-minded artist to exercise control over how his works are marketed and displayed. "It's better from a business point of view and from a creative point of view," says Janotta, who can freely choose what he wants to showcase and, creatively unconstrained, can usually be found painting away at his gallery on Saturday afternoons, his easel set up inside or on the sidewalk. "It's satisfying to have everything in one place so it explains the whole story, from painting to furniture to other designs. It's a one-stop shop."
JANOTTA GALLERY
200 PIER AVENUE, STE. 304, HERMOSA BEACH, CA 90254
Related Post
Inventive, audacious and contemplative, Pantone's 2018 color of the year—Ultra Violet—brings freshness and mystery to every home Curat...
The ninth annual Art Los Angeles Contemporary lands at Barker Hangar this month Written by Jenn Thornton The global art community turns its ...
The local real estate market has been booming the past couple of years, and 2017 was no exception. With 107 closed sales in Hermosa Beach an...